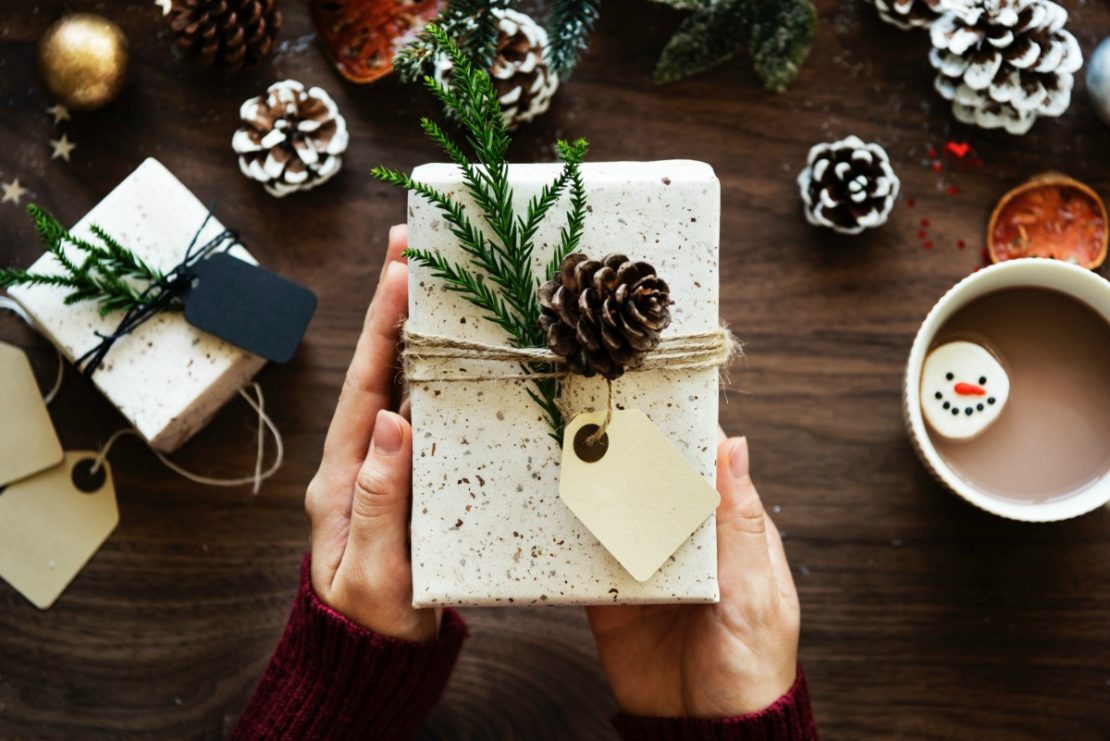 The Herbal Academy Holiday Pop-Up Shop Is Open!
For the past several months, busy little elves have been hard at work here at the Herbal Academy! They've been planning, sourcing, designing, and packaging new items for our Holiday Pop Up Shop—just in time for Christmas deliveries. Now that the work has finished, we'd like to introduce you to the newest items in our Goods Shop.
If you're searching for that perfect gift for the plant lover in your life, you may find what you're looking for below!
New Herbal-Inspired Products—Just In Time For The Holidays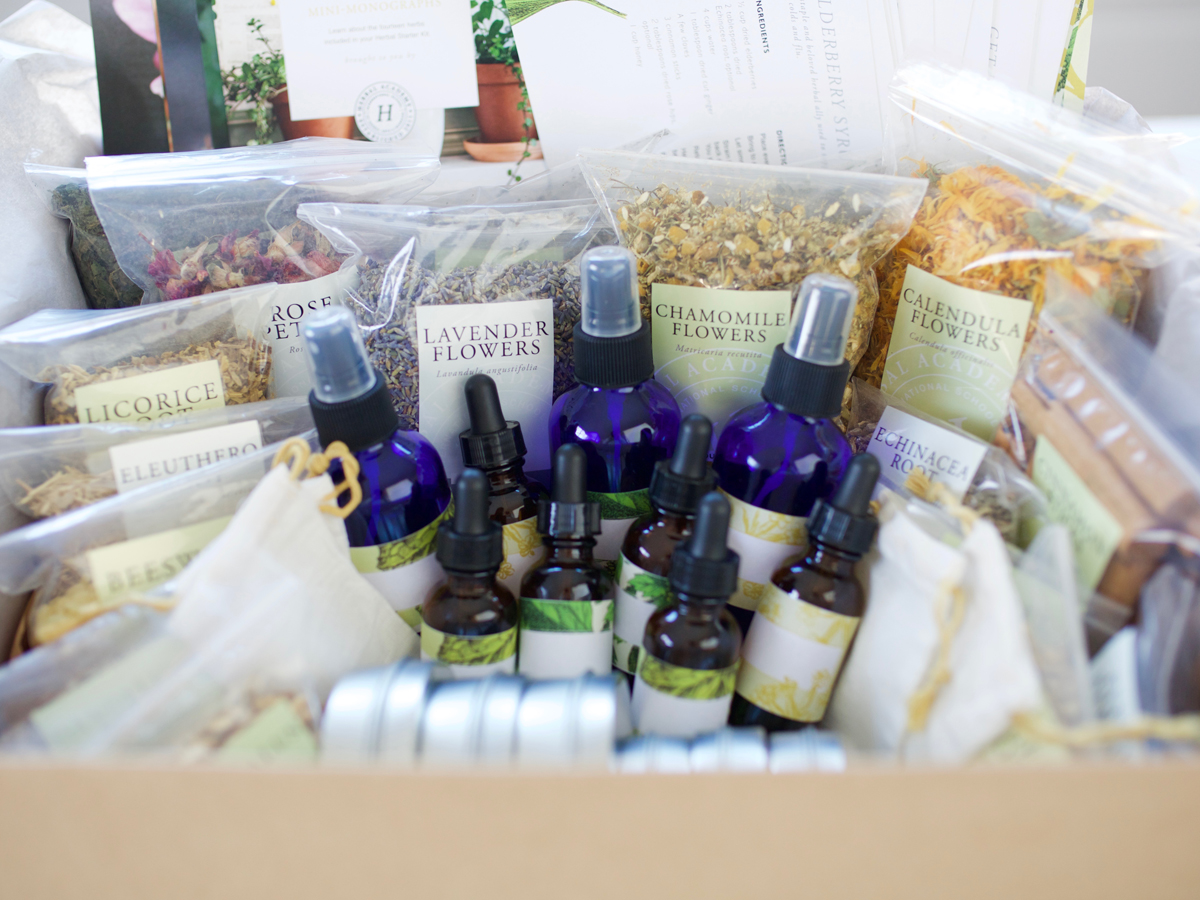 1. Herbal Starter Kits
Looking for the perfect thing to get your herbal creative juices flowing? If so, the Herbal Academy Herbal Starter Kits are back, and this time, they're better than ever.
These kits include sustainably sourced, high-quality herbs along with Herbal Academy recipes and herbal monographs to make it easy to create a variety of herbal preparations. Each box is shipped directly to your home and is complete with 22 herbal recipes, 14 plant mini-monographs, and up to 18 herbs (and beeswax). If you're looking to get hands-on with herbs, these Herbal Starter Kits will help you do just that!
Get them in the Goods Shop for $99 – $149 each.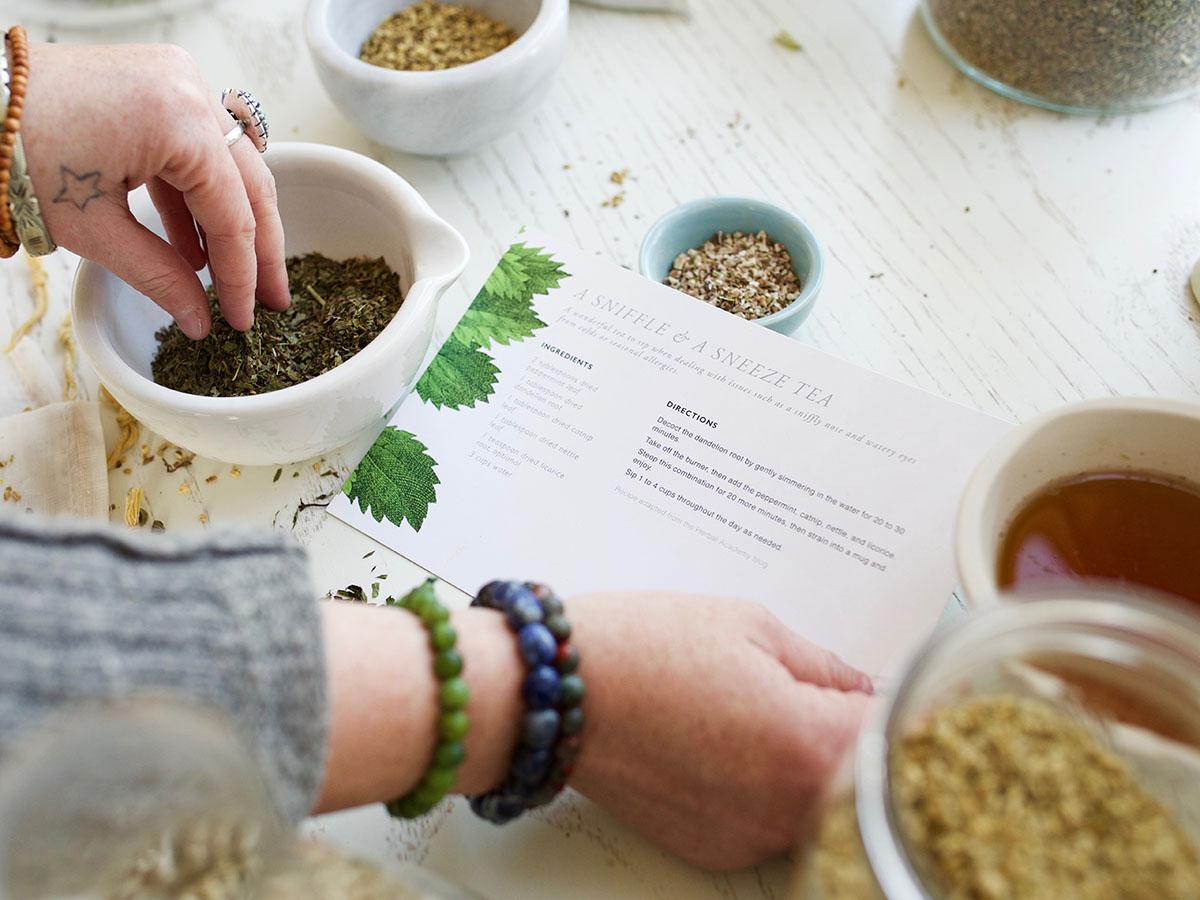 2. Herbal Recipe Card Set
Looking for some great herbal recipes to help you incorporate herbs into more parts of your daily life?
These Herbal Recipe Cards are beautifully designed with botanical illustrations and are printed in full-color on high-quality cardstock paper. This set includes 25 favorite herbal recipes selected by Herbal Academy educators and covers several different kinds of herbal preparations such as tinctures, salves, teas, sprays, and more. Plus, there are tasty herbal recipes like herbal chocolate truffles and a nourishing herbal broth, too! If you're looking for some extra experience making herbal preparations or you just want some favorite herbal recipes to keep on hand, this set of Herbal Recipe Cards is a great choice.
Get them in the Goods Shop for $28 a set.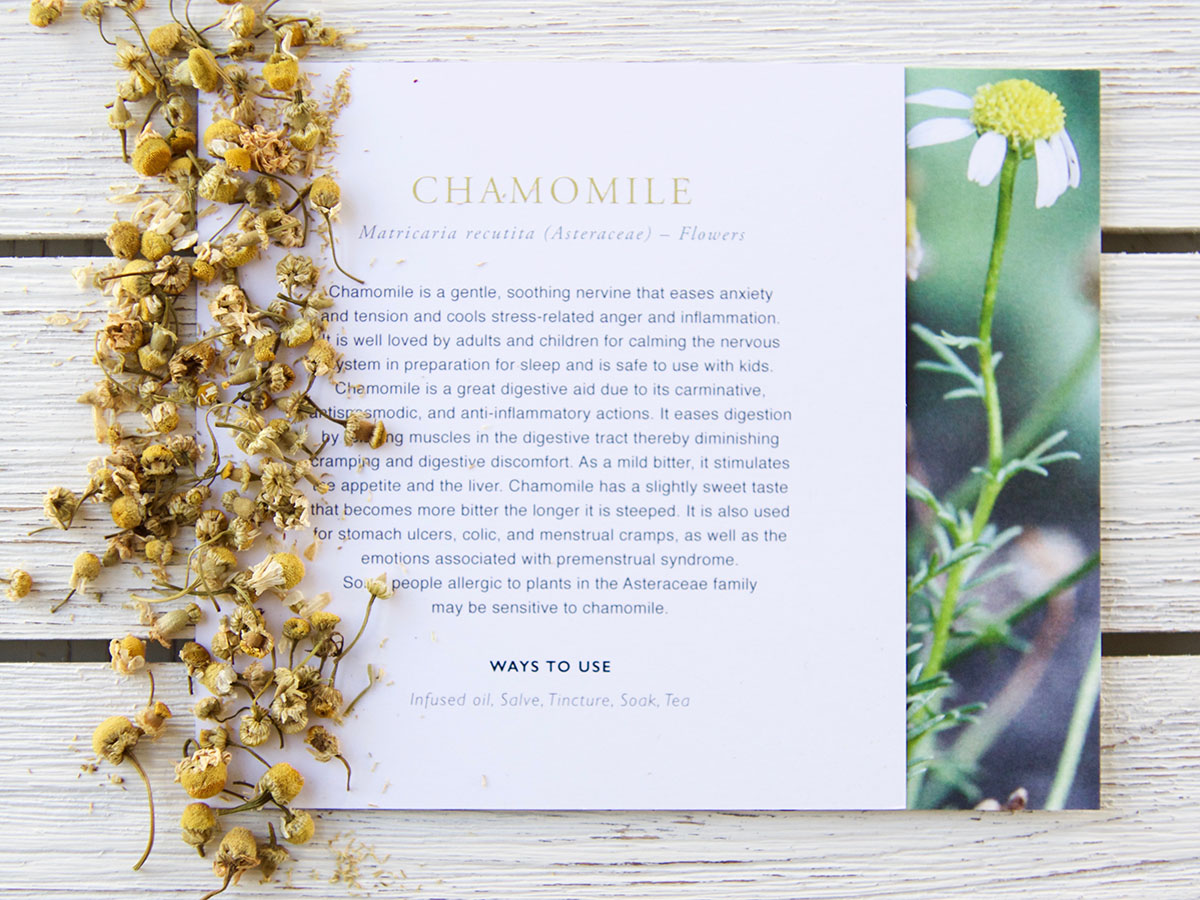 3. Mini Plant Monograph Cards
Want to learn about herbs one at a time? If so, herbal monographs are a great way to do so.
Discover this set of beautifully designed, full-color, double-sided Mini Plant Monograph Cards featuring 14 plants we use often in our Introductory Herbal Course. Each card features a full-color plant photograph and in-depth plant profile. These are great to use in your herbal studies, and they make beautiful decorative items for your herbal apothecary!
Get them in the Goods Shop for $12 a set.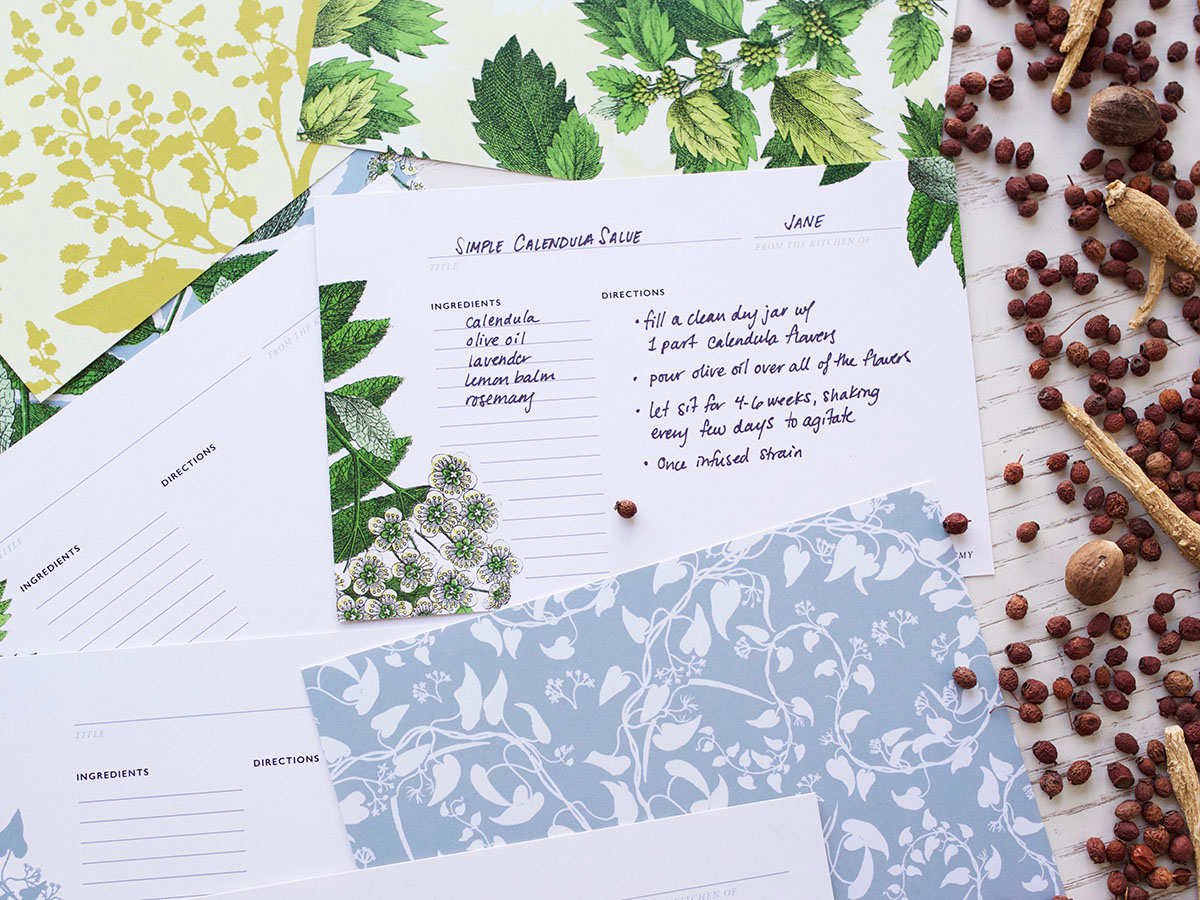 4. Botanical Design Recipe Cards
Tired of pulling out scraps of paper or flipping through pages of books to find your favorite herbal recipes?
This set of 12 Botanical Design Recipe Cards is the perfect way for you to organize herbal recipes! Whether it's a favorite recipe from a fellow herbalist or a recipe of your own, these cards will help you keep track of your herbal recipes, beautifully. Each card is printed in full-color on high-quality cardstock paper and comes with plenty of room for ingredients and directions. These cards are sure to inspire you each and every time you use them!
Get them in the Goods Shop for $14 a set.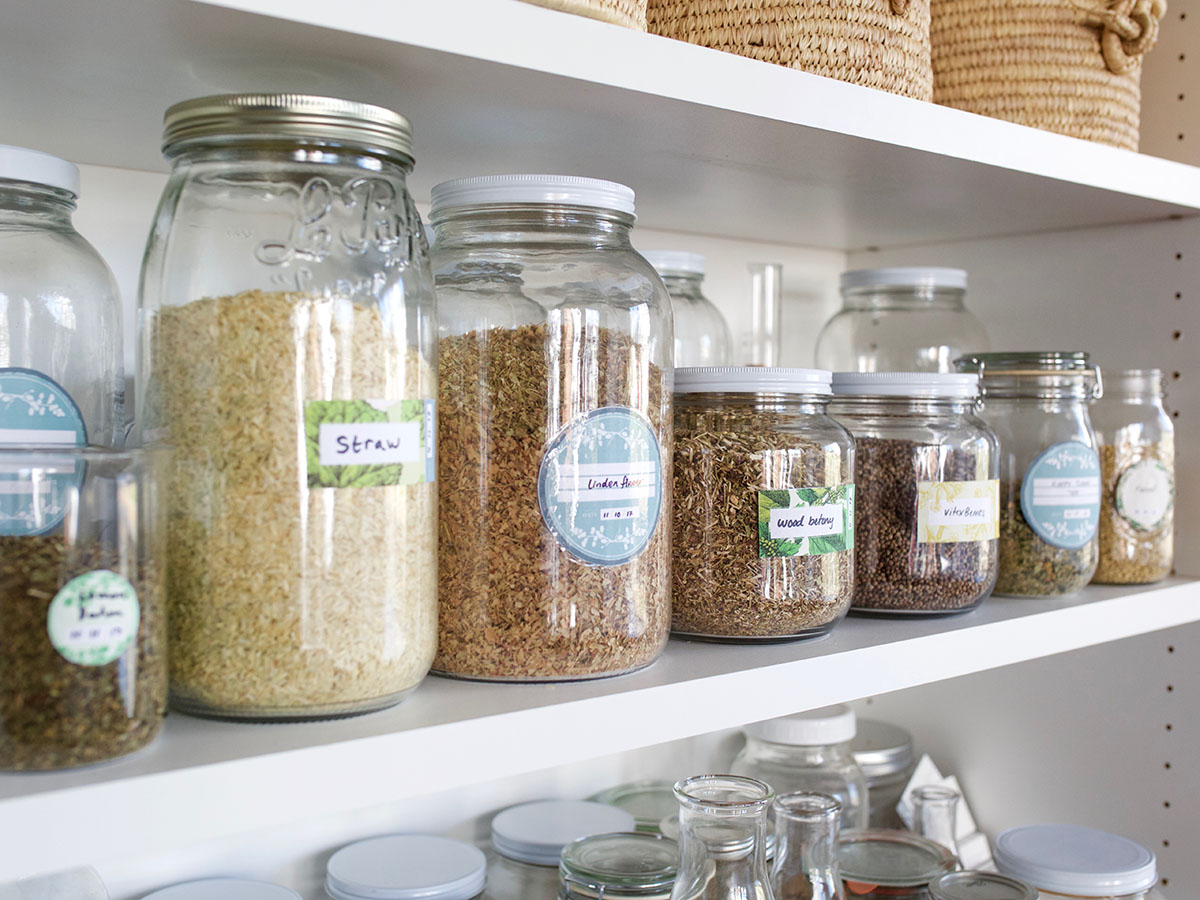 5. Assorted Apothecary Labels
Looking to take your herbal preparations up a notch or two where aesthetics are concerned? Perhaps you simply want to get in the habit of properly labeling your herbal preparations. Either way, we have just the thing to help you!
This set of Assorted Apothecary Labels is intended to simplify the labeling process and make your herbal preparations look lovely. All labels are designed with botanical patterns and come with plenty of room for you to fill in the name and dates for each herbal preparation. They are available in a variety of sizes and shapes, including 3 sizes scaled to fit our Salve Tin Set and 1 size scaled to fit both Tincture and Spray bottle sets. Give yourself or a loved one the perfect final touch for your herbal preparations.
Get them in the Goods Shop for $19.99 a set.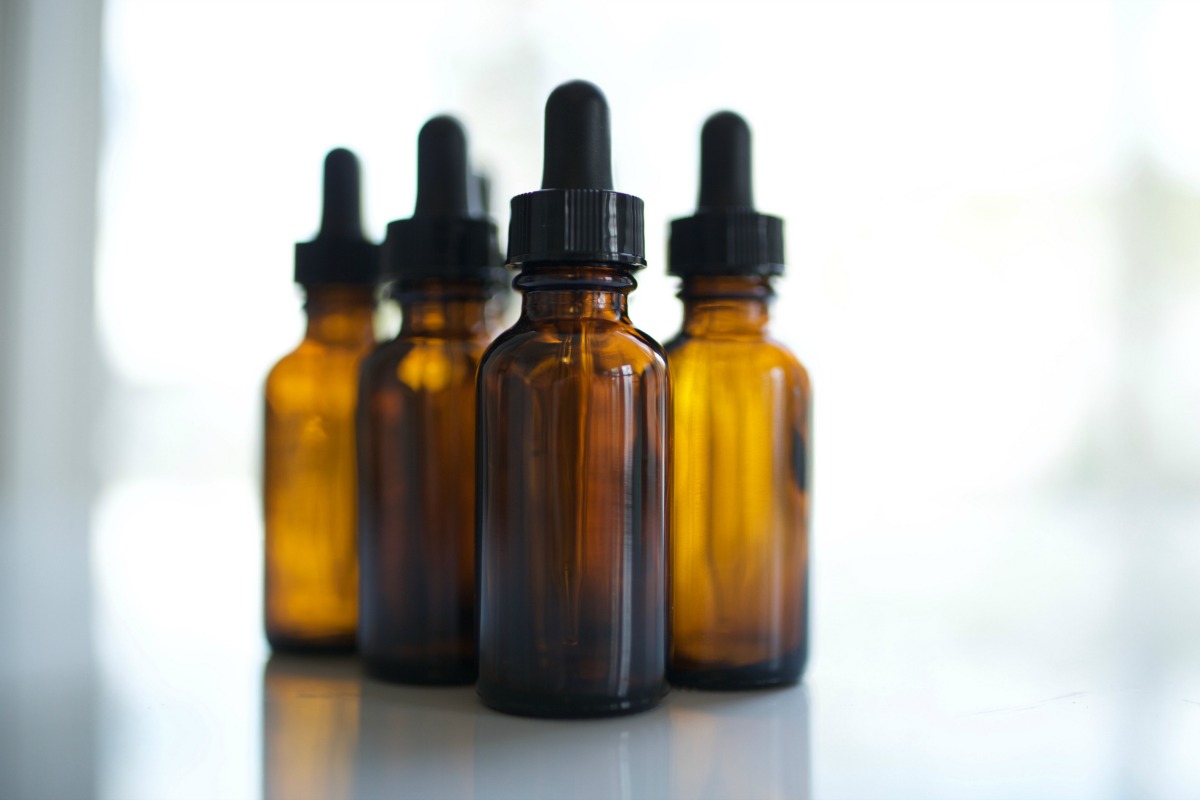 6. Tincture Bottle Set
Whether you're bottling tinctures to give to friends or you only need to take a small amount on your next trip, having a supply of empty tincture bottles is a handy thing!
This Tincture Bottle Set comes with everything you need to store a few batches of a finished tincture. Each set includes 6 – 1 oz. Boston Round Amber Tincture Bottles with droppers as well as a favorite Herbal Academy tincture recipe and 6 labels for your bottles. Each label is beautifully designed, and everything comes packaged in an Herbal Academy white muslin storage bag that you can use over and over. These tincture bottles will look so nice filled with your creations and labeled with these labels that you may choose to hang on to them instead of gifting them to others!
Get them in the Goods Shop for $12 a set.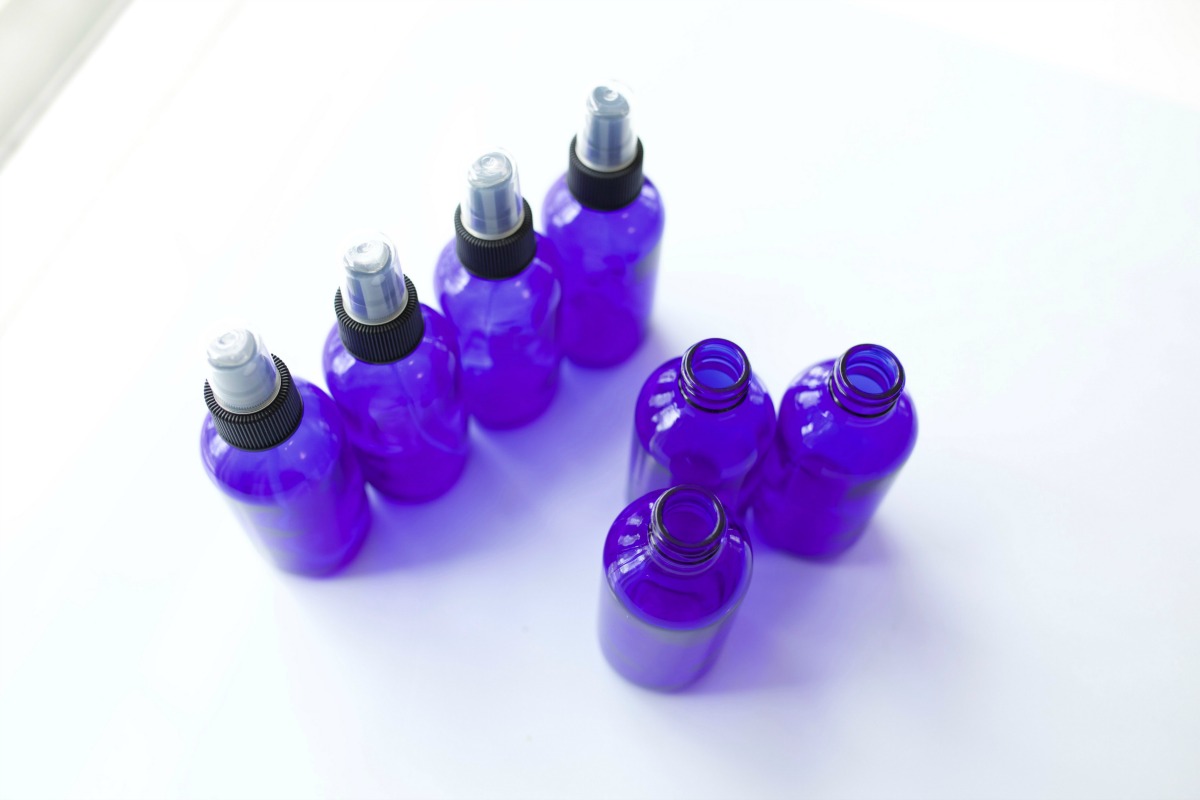 7. Spray Bottle Set
Need spray bottles for your newest herbal bitter recipe or that bedtime linen spray?
Our Spray Bottle Set may be just what you're looking for! This set includes 4 Cobalt Blue Boston Rounds with a 4 oz. capacity and black atomizer cap. These bottles are perfect for storing and using a variety of herbal preparations such as room sprays and herbal bitters. The set also comes with a favorite Herbal Academy recipe and 4 lovely bottle labels for your herbal preparation. Everything in this set will be delivered to your door, packaged in our signature muslin storage bag which can be used again and again. These spray bottles make lovely gifts for the holiday season!
Get them in the Goods Shop for $12 a set.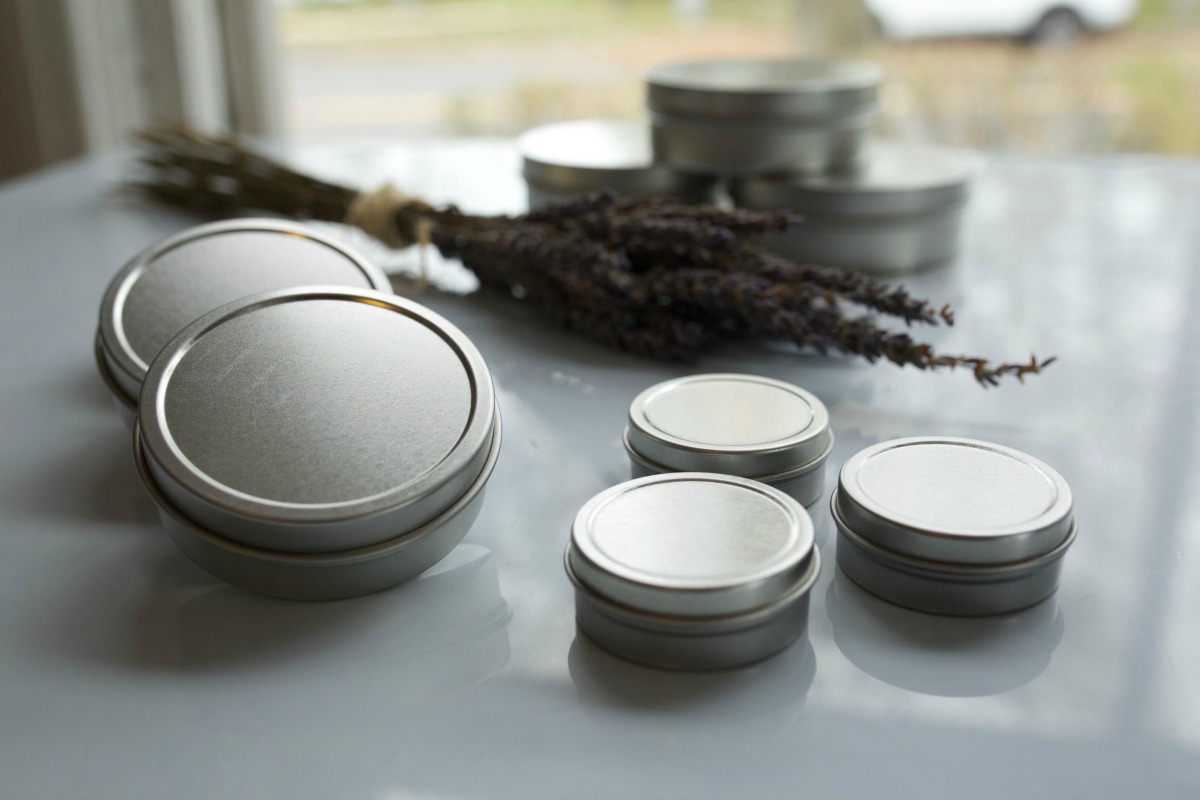 8. Herbal Tin Container Set
Do you need an assortment of tins in various sizes for the many salves, balms, and body butter recipes you'd like to make?
If so, we have put together a set of 9 seamless flat metal tins in a variety of sizes to meet your needs. Our Herbal Tin Container Set includes an Herbal Academy salve recipe as well as 9 labels for each size tin. Like our other sets, our tin set comes packaged in a muslin storage bag with the Herbal Academy crest printed on the front. These muslin bags can be reused and are useful for carrying your favorite herbal products wherever you go. If you're looking for a great tin starter set, this is it!
Get them in the Herbal Tin Container Set for $16 a set.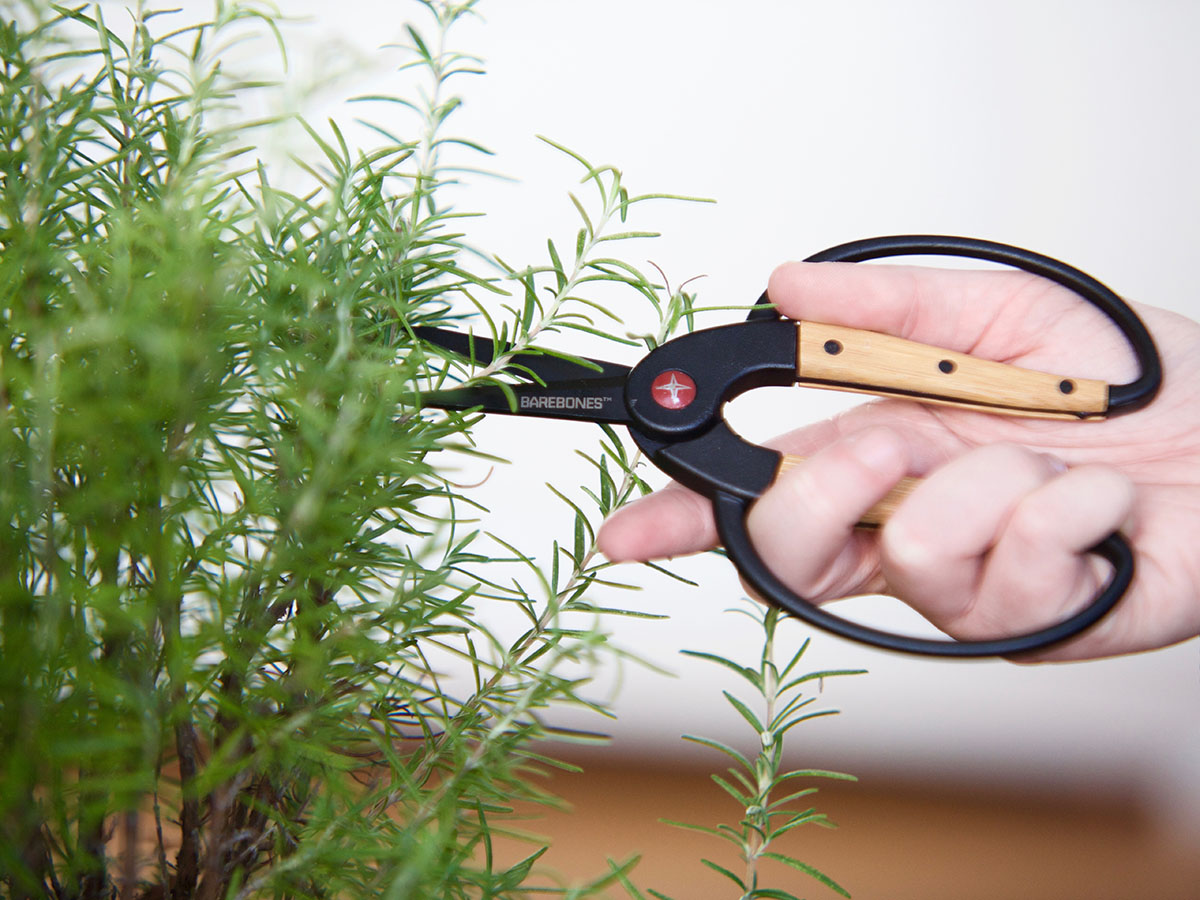 9. Foraging Scissors
When was the last time you went foraging for herbs only to find your scissors didn't quite meet your wildcrafting needs?
If you've experienced this in the past, let us introduce you to our favorite Foraging Scissors! These scissors are made of rust-resistant stainless steel blades and have a stylish bamboo handle—creating a comfortable grip no matter if you're right-handed or left-handed. Whether you're pruning herbs in your garden, clipping sprigs to tonight's dinner, or cutting herbs on an herb walk, these scissors will get the job done well. If your herbal toolkit is missing a good pair of Foraging Scissors, these scissors are a must-have item!
Get them in the Goods Shop for $29.
The holiday season is officially here, and the time to plan thoughtful gifts for friends and family is now. By offering these new products in our Holiday Pop Up Shop (available for a limited time), we hope we can fill a need by providing some practical gift ideas, beautiful packaging, and treasured keepsakes your gift recipient will remember for years to come.
Happy Holidays from your friends at the Herbal Academy!