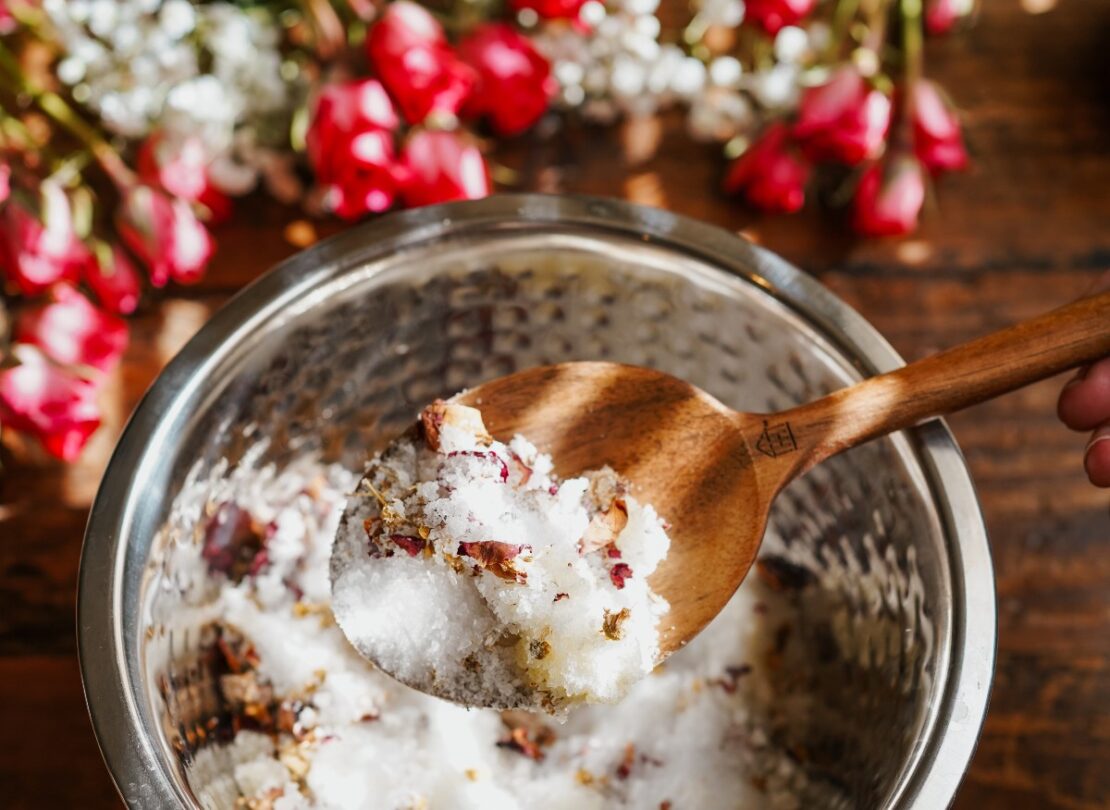 3 Ways to Use Your Summer Rose Harvest
Roses are red, violets are blue, we've got three herbal rose (Rosa spp.) recipes for you! This ever-so-classic flower is a staple in Valentine's Day bouquets. It's a gesture of love and serves as a universal symbol of romance for good reason. This is a heart-opening, uplifting, and aphrodisiac herb – and it's also a delightful ingredient in many different herbal preparations. Let's shine a spotlight on the iconic rose by using it in these 3 easy-to-make, oh-so-wonderful self-care recipes you can share with others or spoil yourself with!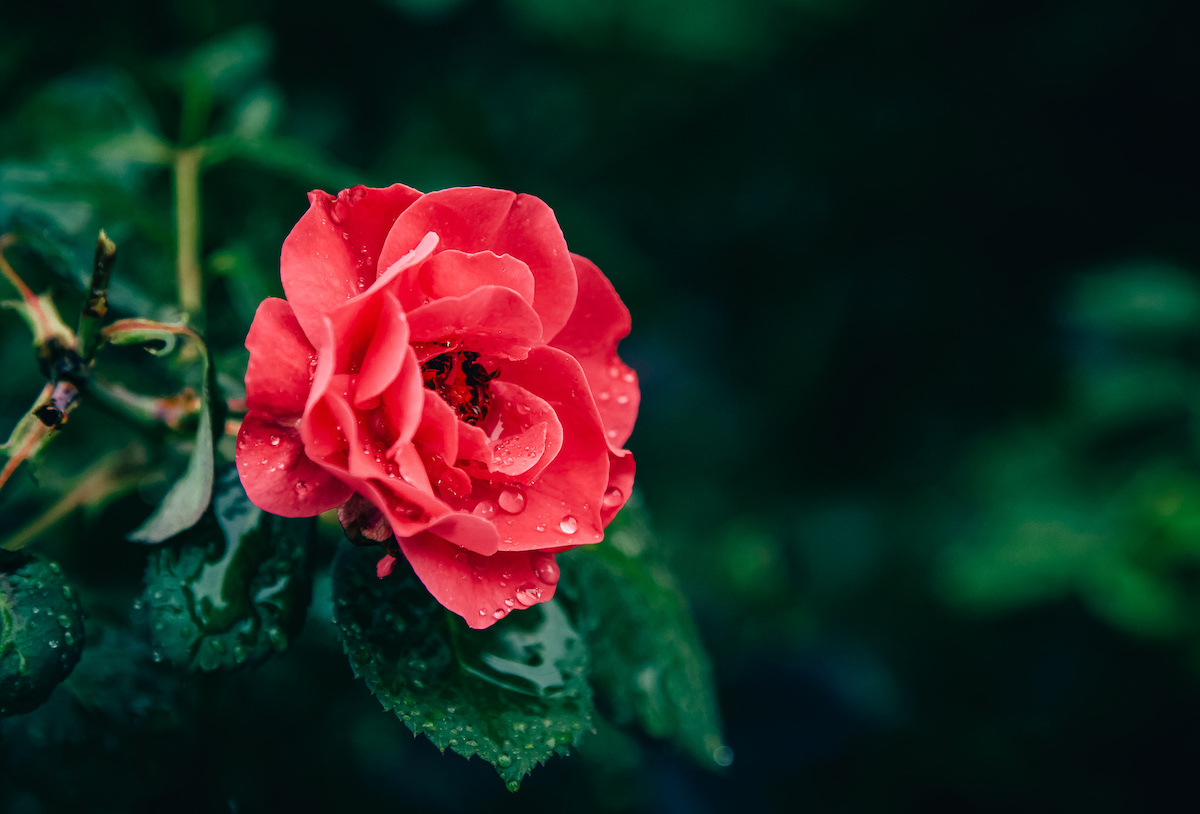 A Rose By Any Other Name
The rose holds such beauty and such variety. Boasting over 30,000 varieties, it has been planted, cultivated, and enjoyed worldwide—as decoration, in edible form, and of course, as a beneficial herb. The oldest one dates back thousands of years—what a testament of how revered it is to still be planted and adored today. Not just planted and admired, but fittingly named the "Apothecary's Rose", because during the past thousand years, it has been used by herbalists worldwide (Boeckmann, 2021).
The soft, fragrant petals contain different beneficial components such as tannins, flavonoids, fragrance, glycosides, and pigments (Bunney et al., 1996). These constituents lend those amazing anti-inflammatory and astringent properties that have, in part, been responsible for herbalists' love of this beloved flower. 
Versatility
In herbalism, the use of rose has unique benefits for both internal and external preparations. Studies have been conducted over the years to find those beneficial properties. One such study found that rose essential oils and extracts act as therapeutic respiratory antiseptics, anti-inflammatories, mucolytics, expectorants, decongestants, and antioxidants (Mileva, 2021). 
Additionally, another study goes deeper into the benefits and the list gets even more impressive! It has the ability to be antimicrobial, antioxidant, anticancer, protective neuronal, cardiac, gastrointestinal, and has hepatic effects. This was demonstrated in 30 in vitro and 21 animal studies. On top of that, there is promising evidence for the effectiveness and safety of Rosa damascena Mill in pain relief (Nayebi, 2017). 
Want even more reason to love it? As we mentioned at the beginning, this flower has strong symbolism tied to it for good reason. When you think of roses, images of love, hugs, kisses, romance, and gestures of adoration come to mind. Here's one reason why: it is believed that the essential oil and the rose water bring happiness, self-confidence, and are known as sensual and aphrodisiac agents. It has been confirmed that rose essential oil helps infertility and libido via increasing the diameters of seminiferous tubules, sperm count and motility, and enhancing the testosterone production (Mahboubi, 2015). 
After such an impressive list of therapeutic ability, it's hard to look at the rose in the same way. She's not just a pretty flower, is she? Now let's get into some of the herbal recipes and ways you can use it to reap the benefits. 
3 Rose-Centered Herbal Recipes

Classic Rose Tea
Rose Tea
Sweet, calming, and brimming with benefits, brew up this tea if you're in need of a little dose of relaxation, a boost of antioxidants and vitamin C, and a touch of pretty pink in your life. 
Ingredients
One part rose (Rosa spp.) petals
One part lemon Balm (Melissa officinalis) aerial parts
One part hibiscus (Hibiscus sabdariffa) flower
Directions
Mix dried herbs together and store in an airtight container.

To make the tea, infuse 1 tablespoon of herbal mixture in hot water for about 5 – 10 minutes, strain & enjoy!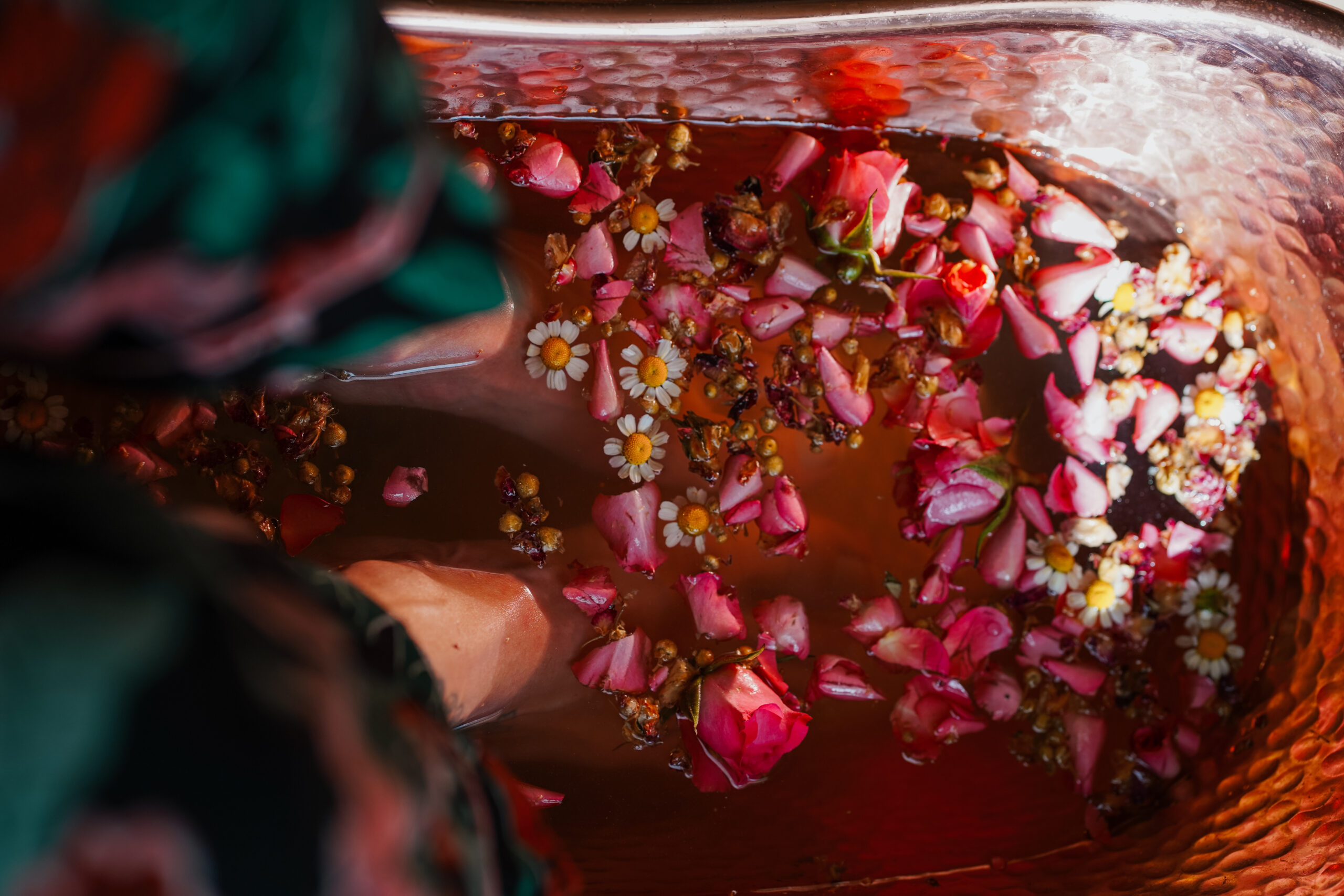 Rose + Chamomile Foot Soak 
Rose Chamomile Foot Soak
Unwind in a warm foot bath filled with relaxing, moisturizing, and anti-inflammatory herbs. Your feet will feel silky smooth after a long day and will thank you!
Ingredients
1 cup epsom salt
2 tablespoons of rose (Rosa spp.) petals
1 tablespoon chamomile (Matricaria chamomilla) flowers
2 tablespoons rose infused oil* 
Directions
Mix the herbs together and pour a heaping scoop into a warm foot bath. Save the rest in an airtight container for 6-12 months. 
*You can purchase rose-infused oil from the store, or learn methods for making your own herb-infused oil in our blog post How To Make Herb-Infused Oils.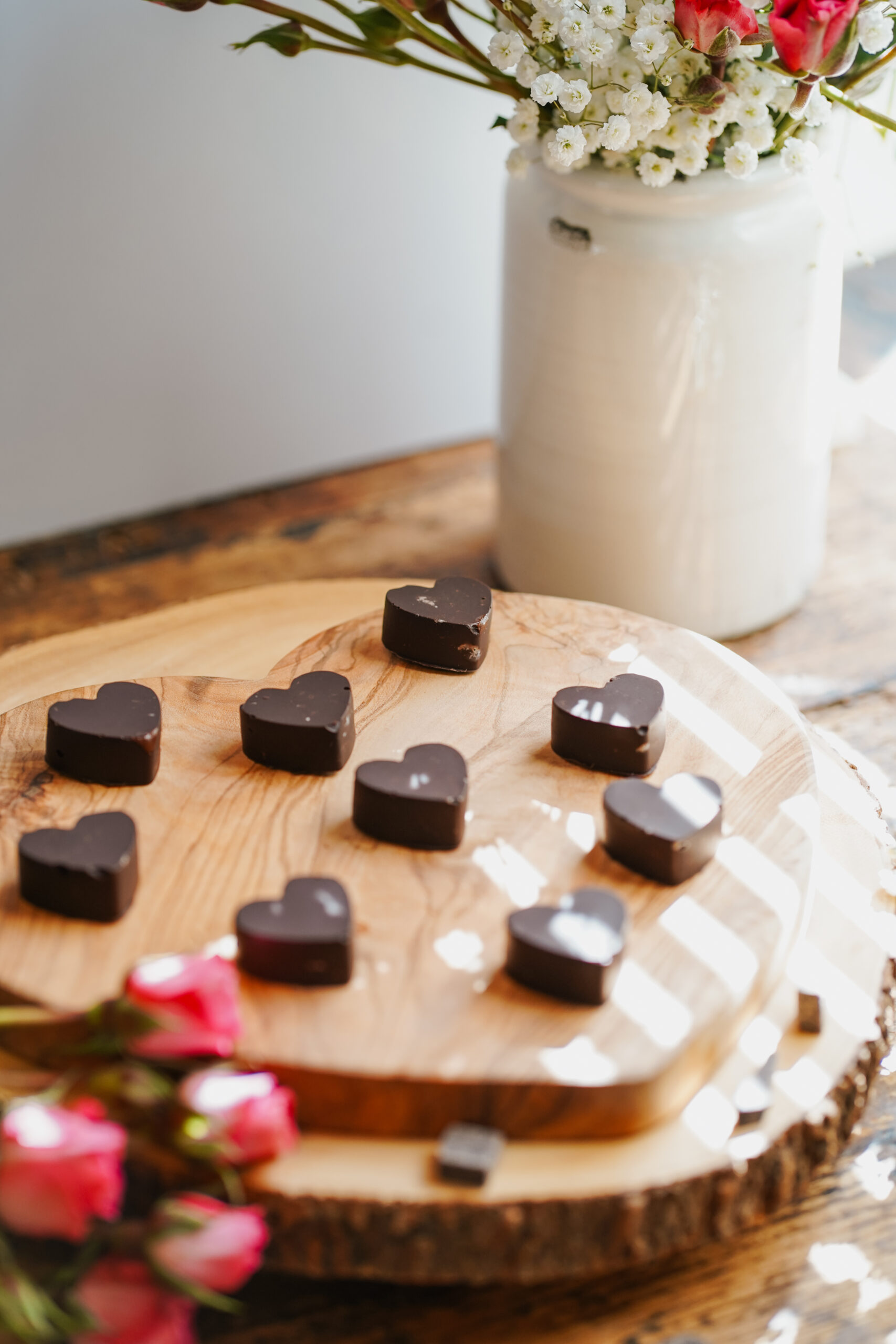 Chocolate Infused With Rose
Rose Infused Chocolate
Can we say yum?! Two favorite things melt together to create a decadent treat. A subtle hint of rose tickles your taste buds with each bite!
Ingredients
1 cup melting chocolate
1 tablespoon rose (Rosa spp.) petals, powdered
Directions
Melt the chocolate slowly in a double boiler

Stir in the powdered rose petals. 

Pour into the mold, let set, and enjoy! 
In Closing, 
Roses towering in your garden, steeping in your tea cup, spritzed over your skin, or gathered in a bouquet to give to a loved one, have been and will be a classic and versatile flower for any who wishes to benefit from the gifts of this revered flower. The soft silky petals, fragrant aroma, and beautiful color varieties are as amazing as the list of beneficial properties the rose lends. As you take a warm stroll on a hot summer night, we encourage you to stop and smell the roses!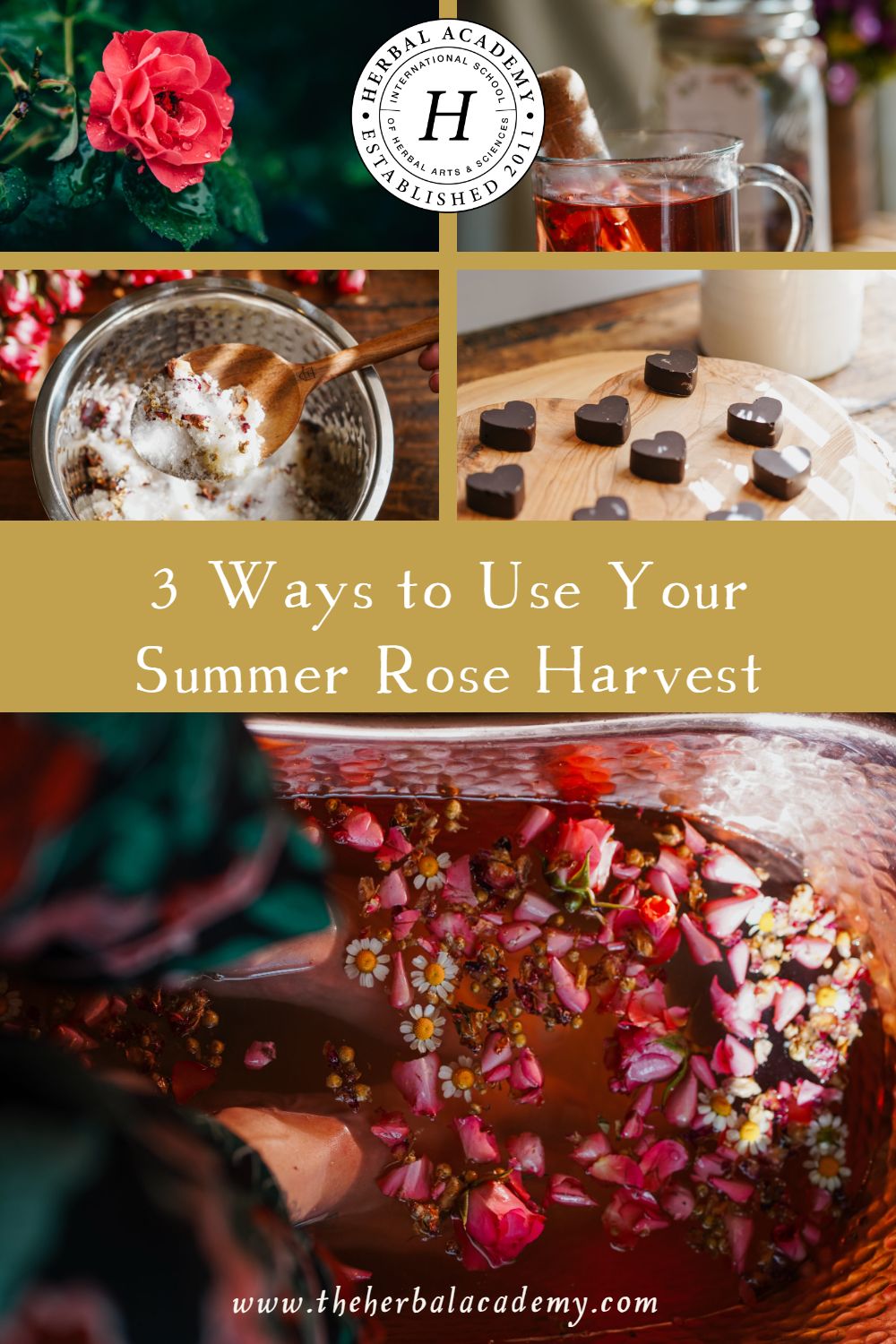 REFERENCES
Bunney, S., Jiří Stodola, & VolákJ.. (1996) The illustrated encyclopedia of herbs : Their medicinal and culinary uses. Barnes & Noble Books.‌
Mahboubi, M. (2015) Rosa damascena as holy ancient herb with novel applications. Journal of Traditional and Complementary Medicine, 6(1), 10–16. https://doi.org/10.1016/j.jtcme.2015.09.005
‌Mileva, M., Ilieva, Y., Jovtchev, G., Gateva, S., Zaharieva, M. M., Georgieva, A.,…Najdenski, H. (2021). Rose flowers-A delicate perfume or a natural healer?." Biomolecules, 11 (1), https://doi.org/10.3390/biom11010127
Nayebi, N.,Khalili, N., Kamalinejad, M., & Emtiazy, M. (2017). . A systematic review of the efficacy and safety of Rosa damascena Mill with an overview on its phytopharmacological properties." Complementary Therapies in Medicine, 34, 129–140. https://doi.org/10.1016/j.ctim.2017.08.014
Boeckmann, C. (2021) Rose history antique old flower garden | The Old Farmer's Almanac. Almanac. https://www.almanac.com/content/history-roses-living-legends