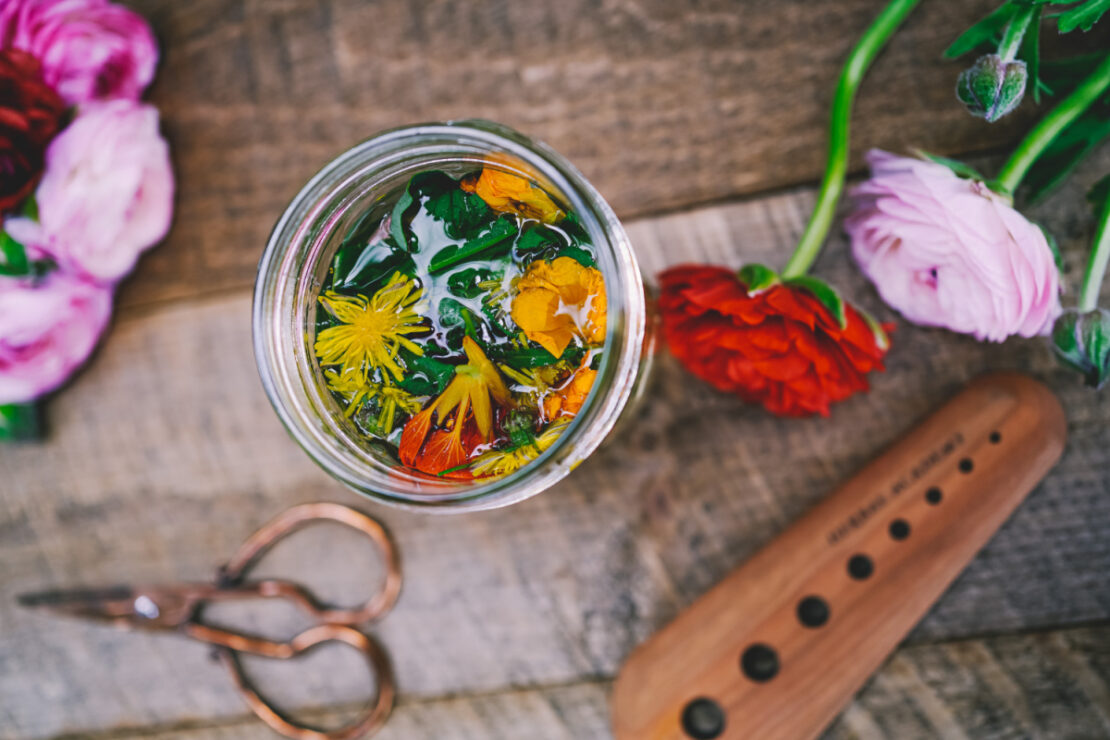 How To Make A Floral Vinegar Infusion + Spring Salad Recipe
Spring blooms make their way from the once cold soil, emerging and bringing life back to our gardens. The vibrant flowers and leaves that were deep in sleep are now wide awake, swaying in the breeze, soaking up the warm sun, and ready to be used once more for homemade herbal creations. The particular recipe that follows is the epitome of garden-to-table eating. Plucked from the ground and drizzled onto your plate, a delicious herbal spring vinegar infusion is a seasonal recipe you won't want to miss out on making!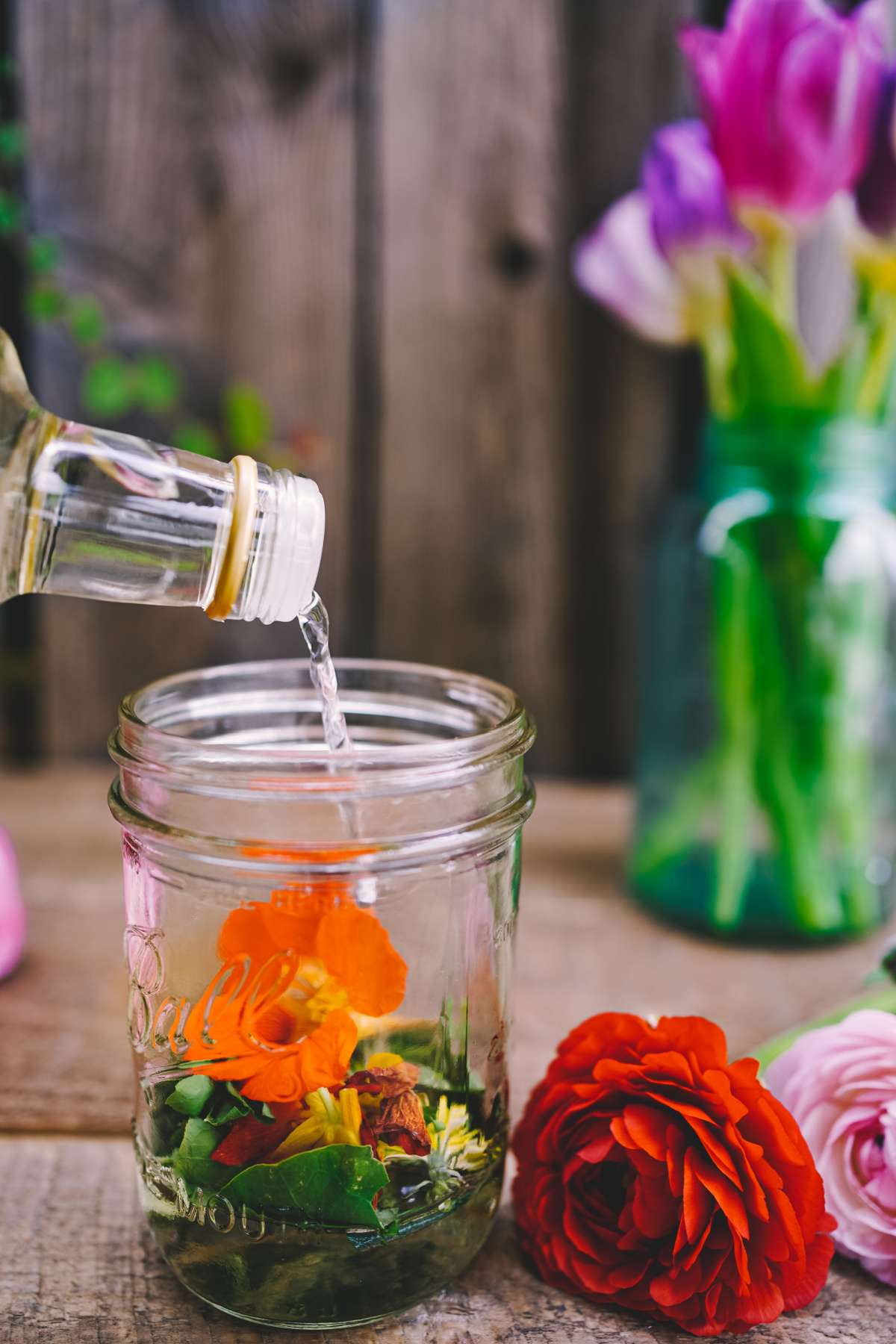 Nasturtium
(Tropaeolum majus)
A favorite garden bloom of mine is the nasturtium. My first nasturtium seeds were gifted to us by my husband's grandmother. Each year they burst with color. Large round leaves blanket the garden bed as vibrant red and yellow flowers shine through the sea of green. It wasn't until years after receiving these seeds that I learned these beauties were edible! That's right, the leaves and flowers make a delicious addition to salads and herbal infused vinegars as well. The nasturtium has a unique pepper-like flavor, a spiciness I wouldn't expect to taste in a flower. The flowers, when infused into vinegar, turn a beautiful vibrant pink color almost immediately—it's fascinating to watch! As the nasturtium bathes in the vinegar, the acidity pulls out some wonderful flavor notes along with vitamin C (Daisley, 1985).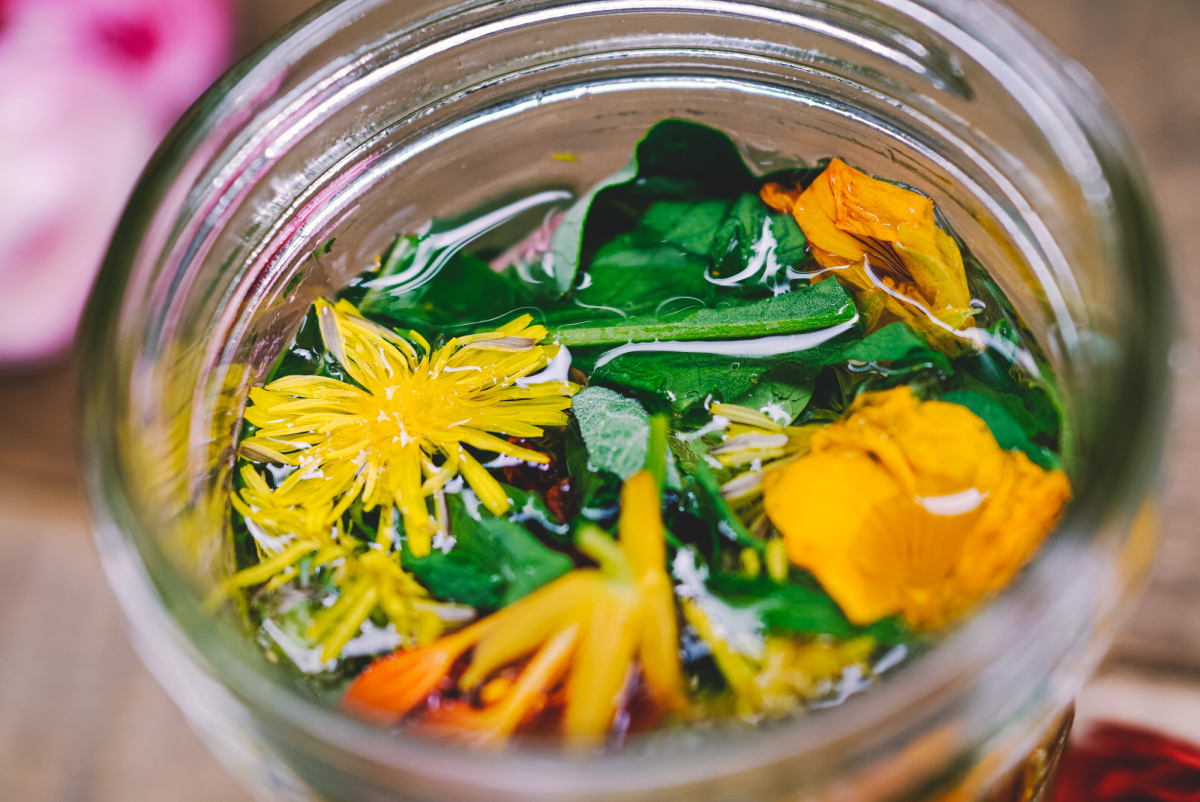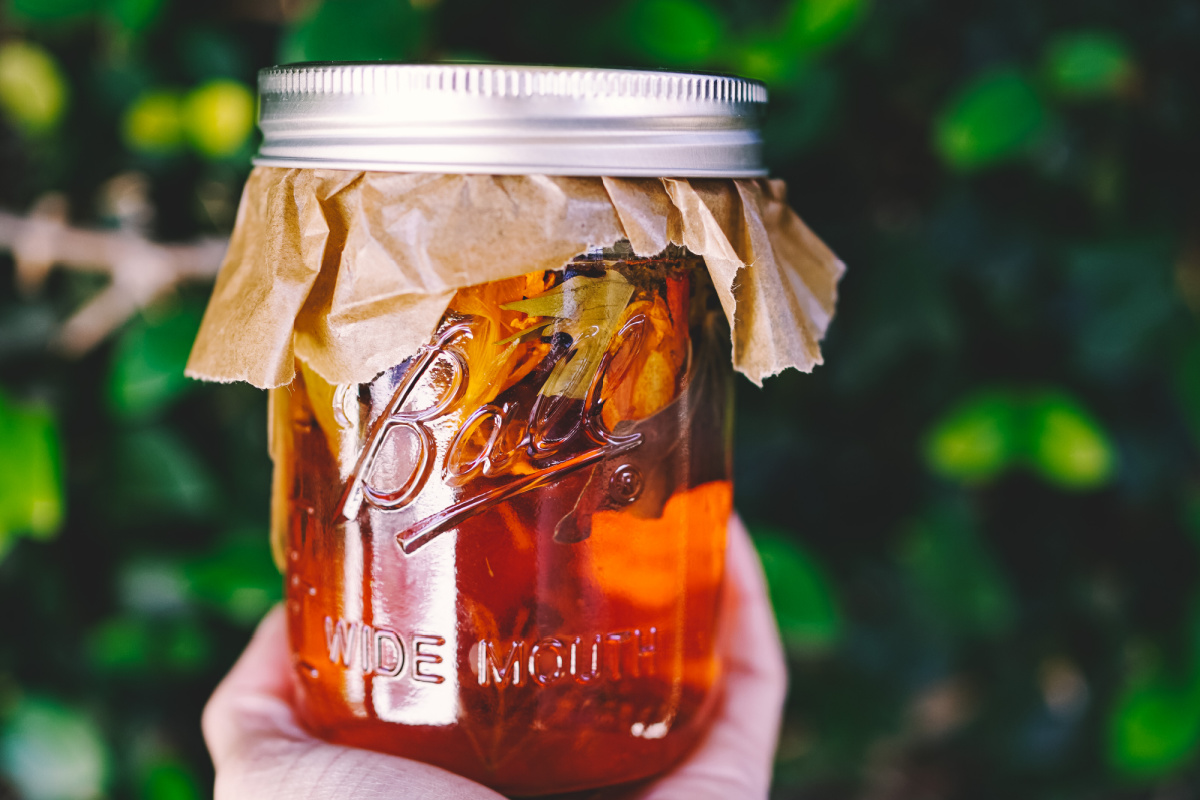 Dandelion
(Taraxacum officinale)
Dandelion is misunderstood by most but praised by herbalists. Plucking a few of the happy little yellow flowers and using them in an herbal vinegar infusion makes for a lovely addition. Most people are familiar with the bitter-tasting leaves that are used in salads and smoothies, but have you tried creating recipes with the flower itself? It offers a slightly sweet taste, perfect to balance out the other two strong flavors in this spring vinegar infusion. Dandelion has been studied for its numerous potential health benefits. The flower's phenolic compounds, including flavonoids such as luteolin, lend antioxidant potential (Wirngo et al., 2016). The flower itself also offers some unique benefits you may not have known. Helenin, vitamin A, and vitamin B2 are constituents that aid in eye health (Heinerman, 1996).  Isn't it incredible that a "weed" can do that! 
The flower also contains the carotenoids beta-carotene, lutein, and zeaxanthin (USDA, n.d.). Vitamin A (and its precursor, beta carotene) is well known to support eye health (Tillotson, 2001). Lutein and zeaxanthin compromise the pigment that concentrates in the macula of the retina, and in a literature review, Eisenhauer et al. (2017) concluded that dietary sources of these carotenoids can help to protect against age-related macular degeneration that can lead to blindness in older adults.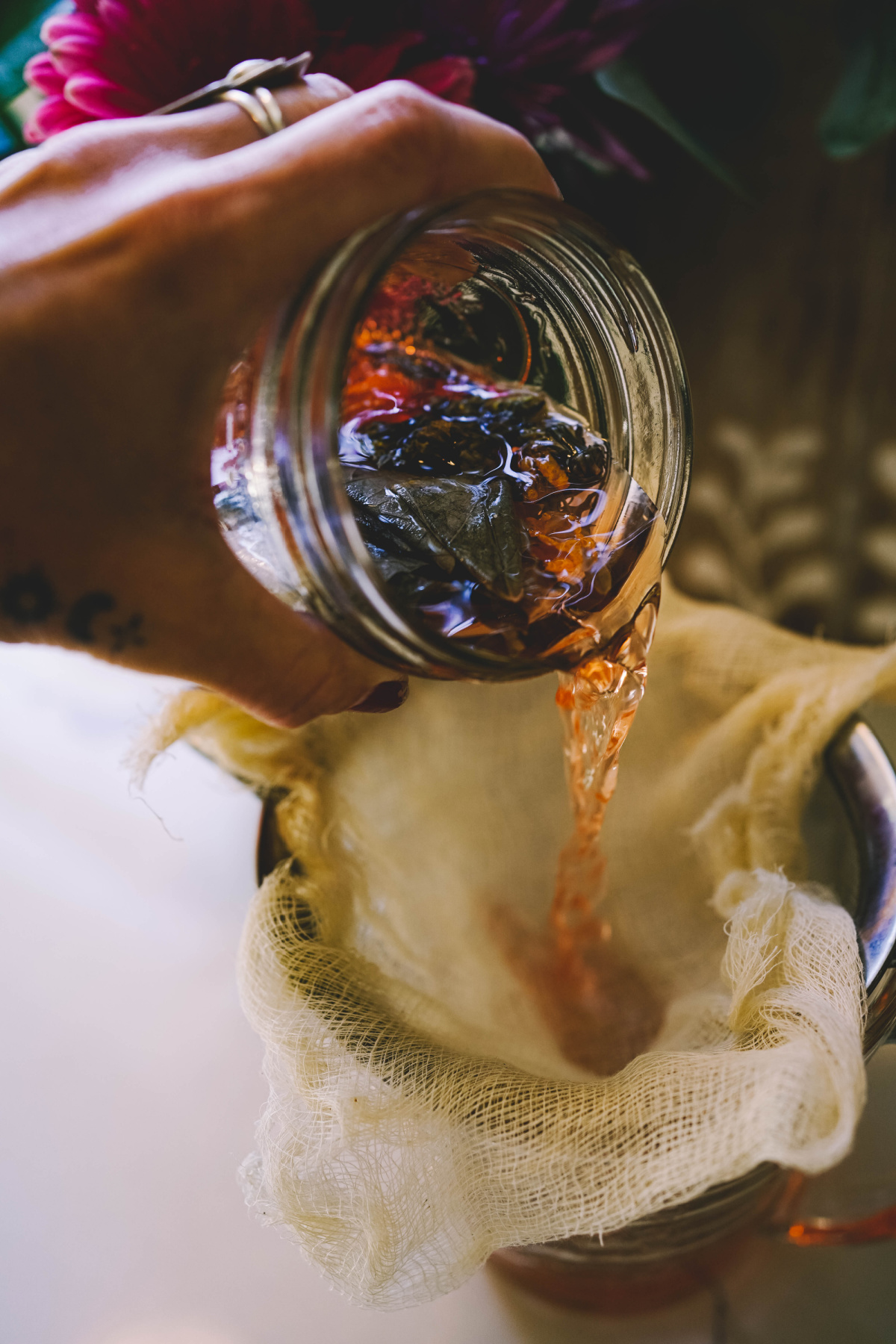 Wild Mustard
(Sisymbrium irio)
If you like your vinegar to have that intense tang and punch of flavor, look no further than wild mustard! The tiny yellow flowers, unassuming leaves, and potent seeds all pack a punch. There are many mustard varieties, but this one, in particular, is called the London rocket mustard (maybe because the power of the flavor is out of this world – ha). Adding wild mustard to the herbal-infused vinegar brings its flavor profile way up. It complements the other two herbs and creates a memorable taste experience. Much like its potent taste, it has powerful health benefits as well. Mustard seeds contain magnesium, a mineral that's considered good for bodily functions such as blood cholesterol regulation, blood sugar levels, heart rhythm regulation, and more (Hurley, 1995). The mustard leaves contain vitamin A and vitamin C and they stimulate digestion (Hurley, 1995). Both seeds and leaves are used in this herbal vinegar. What a win-win!
Combining all three springtime blooms into vinegar makes for one delicious condiment. The flavors dance on your taste buds, providing layer after layer of intense flavor. The tang of the vinegar, the pepperiness of the nasturtium, the power of the mustard, and the subtle sweetness from the dandelion flower will have you going back for more drizzles!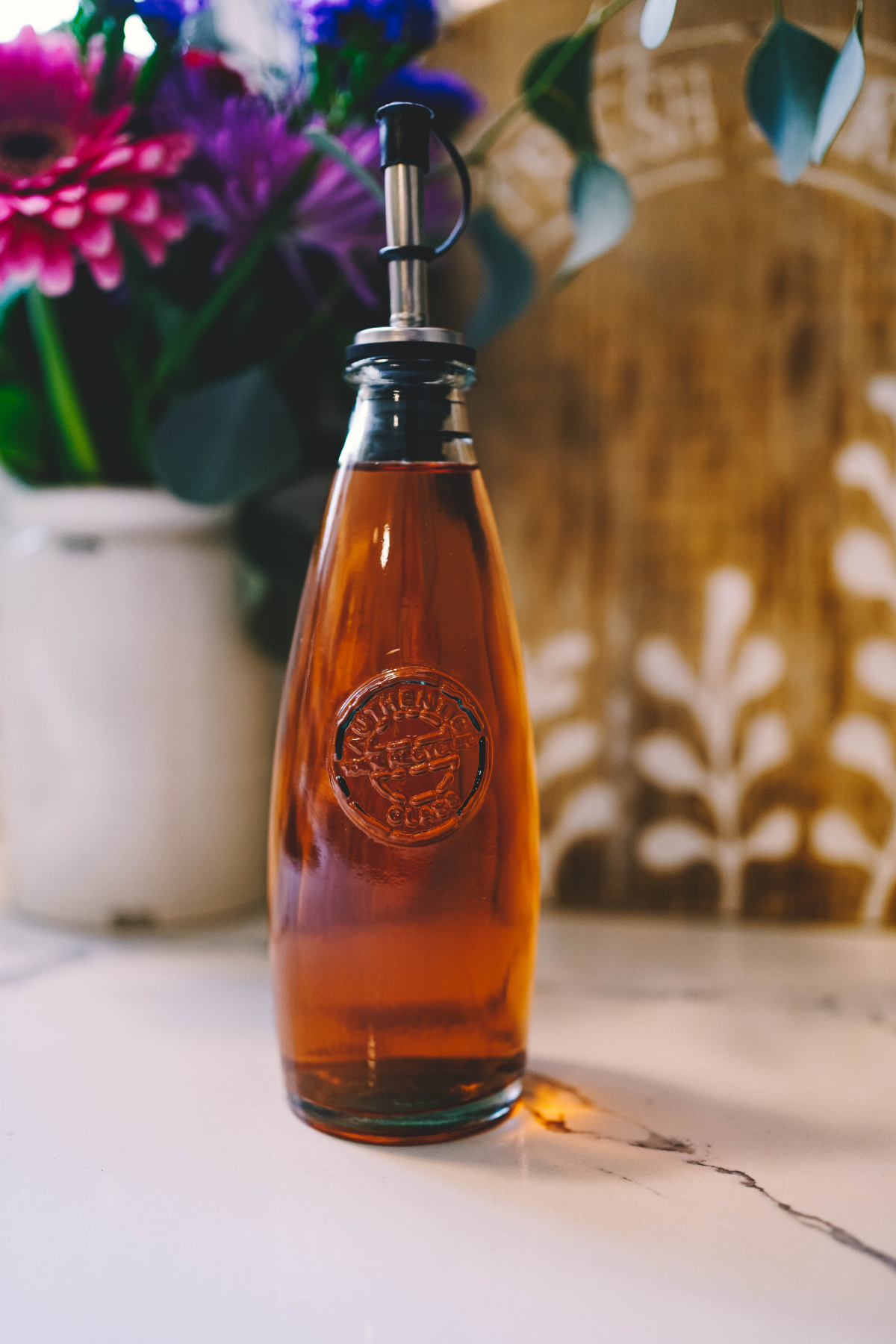 How To Make A Floral Vinegar Infusion
Floral Vinegar Infusion
Garden-to-table freshness bursting with flavor, nutrients, and a gentle spring cleaning from the inside out.   
Ingredients
A handful of fresh nasturtium (Tropaeolum majus) flowers and leaves
A few fresh dandelion (Taraxacum officinale) flowers
A couple of mustard (Sisymbrium irio) flowers, leaves, and seeds
White wine vinegar
Directions
Pick fresh blooms from the garden such as nasturtium flowers and leaves, dandelion flowers, and mustard leaves, flowers, and seeds. 
Place the fresh herbs into a pint-sized glass jar, filling up the jar ¾ of the way full. Pour white wine vinegar over the herbs, filling the jar the rest of the way.
Cap the jar with wax paper and a lid. 
Infuse for 7 days, placing the vinegar infusion somewhere in sight so you remember to give it a daily shake.
After 7 days, strain the herbs out using a fine mesh strainer and cheesecloth, preserving the vinegar and composting the herbs. 
You will have a beautiful vibrant pink floral vinegar infusion perfect for a spring salad!
Bonus Spring Salad Recipe
In a bowl, mix together spinach, arugula, and a few mint leaves. 
Toss in fresh strawberries, pickled beets, and candied walnuts.
Top with a sprinkling of feta cheese and don't forget the floral vinegar dressing.
Mix and enjoy.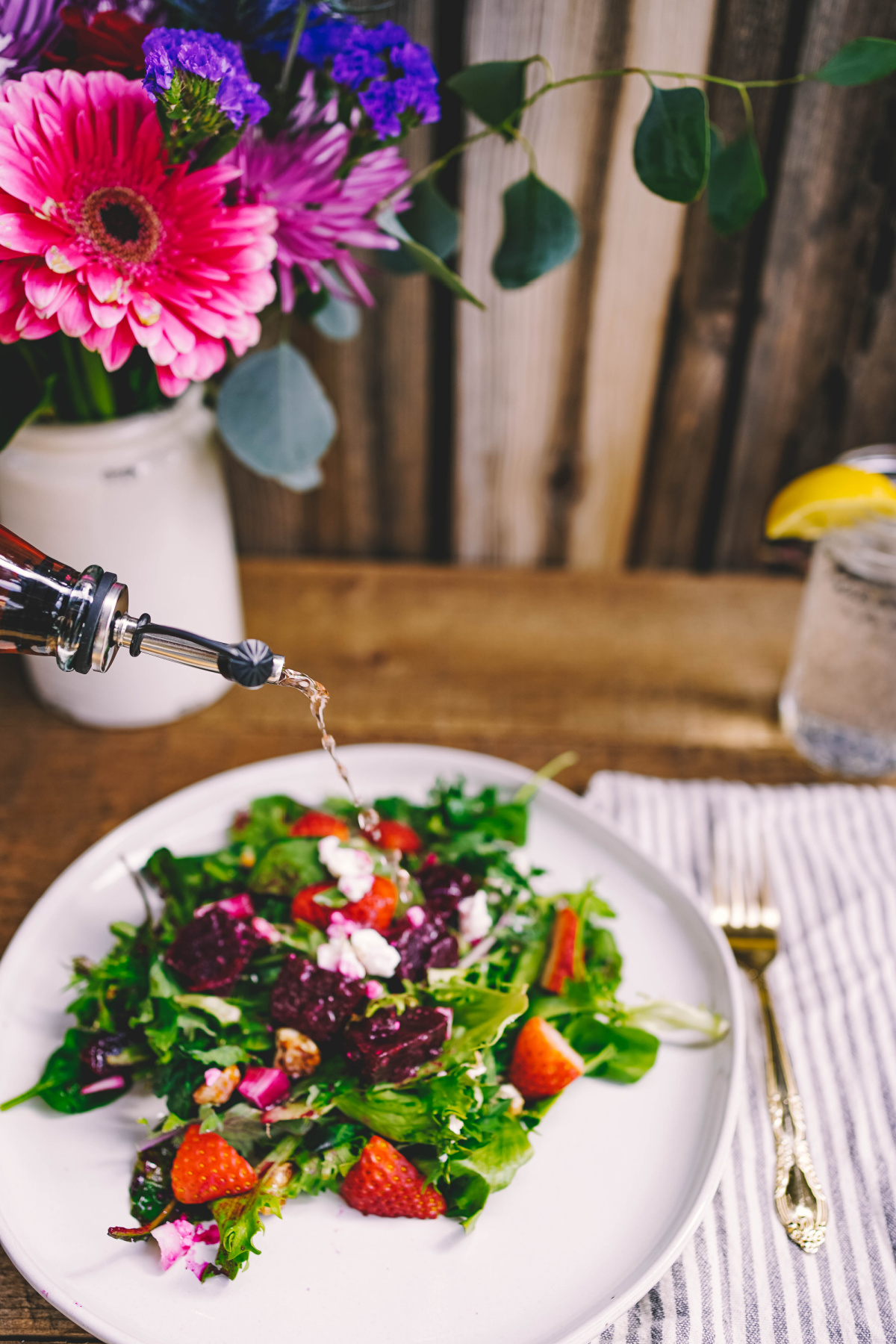 In Closing, 
As spring invites us to eat lighter, to cleanse, and to nourish with greens and seasonal fruits and vegetables, pairing ingredients with a homemade herbal vinegar infusion is a way to honor the season. Growth in the garden, taking in the freshness of the blooms, and enjoying the awakening of the earth makes spring a special time of year.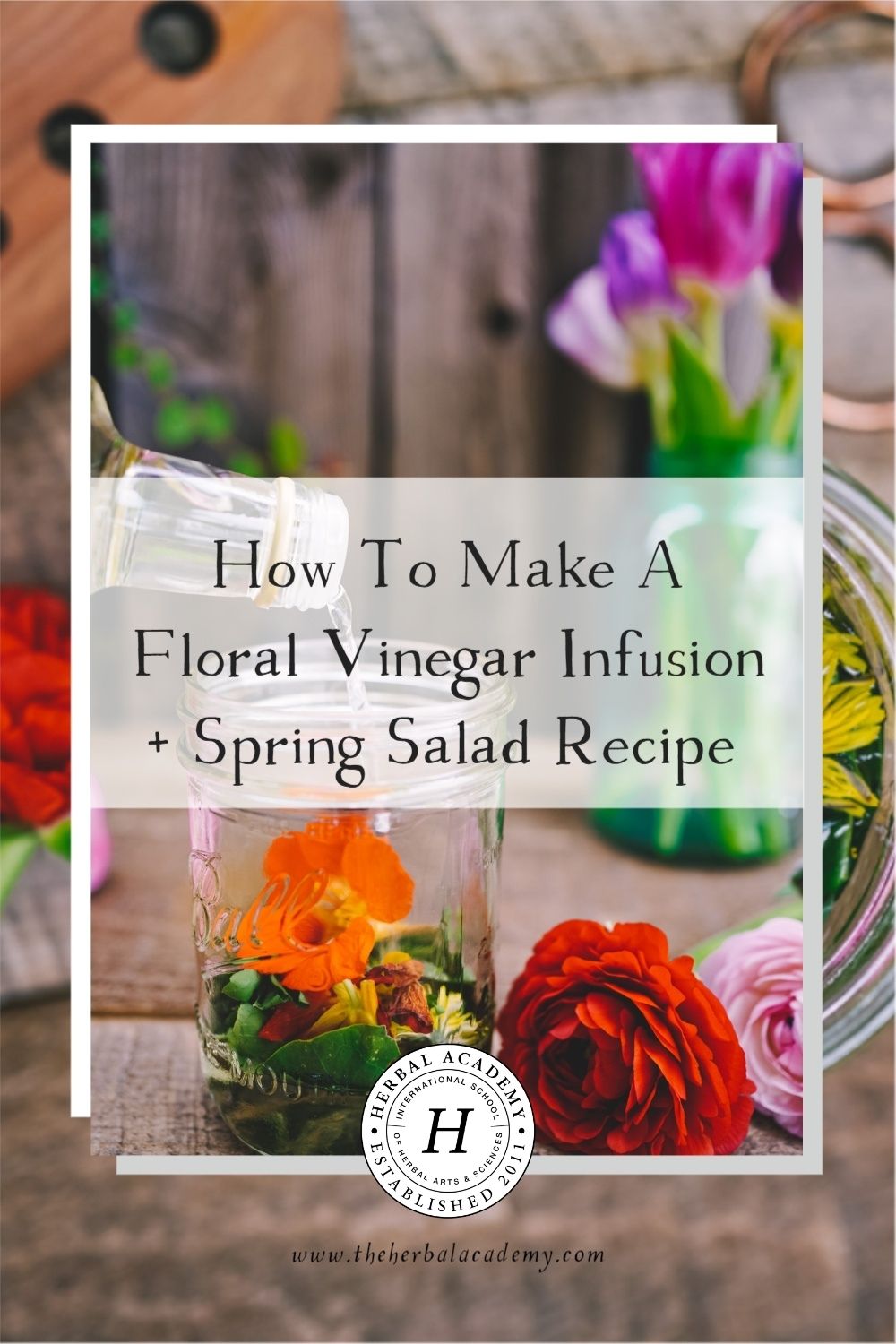 REFERENCES
Clifford, L.J., Turnbull, A.M.J., & Denning, A.M. (2013). Reversible night blindness – A reminder of the increasing importance of vitamin A deficiency in the developed world. Journal of Optometry, 6(3), 173–174. https://doi.org/10.1016/j.optom.2013.01.002
Heinerman, J. (1996). Heinermans Encyclopedia Of Healing Herbs & Spices. Prentice Hall.
Wirngo, F. E., Lambert, M. N., & Jeppesen, P. B. (2016). The physiological effects of dandelion (Taraxacum officinale) in Type 2 diabetes. The Review of Diabetic Studies, 13(2-3), 113–131. https://doi.org/10.1900/rds.2016.13.113