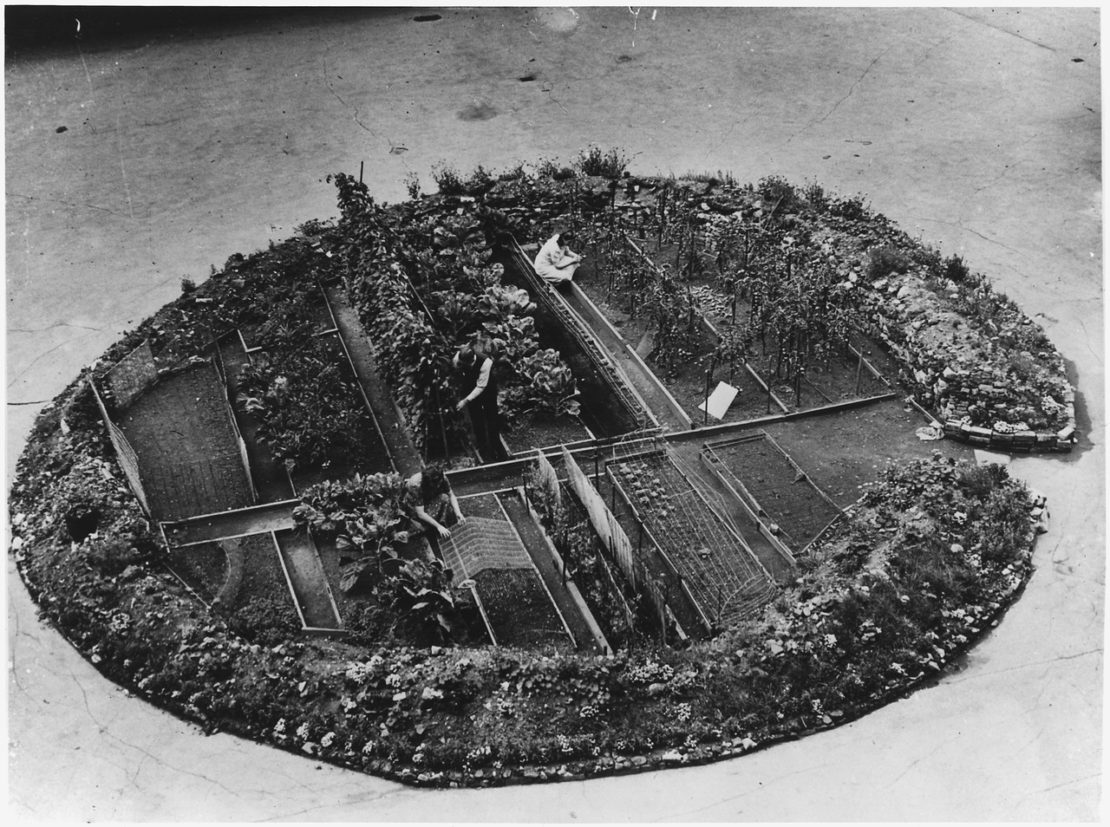 The Interesting Story Behind Victory Gardens
Community gardening and composting have become common in the last 10 to 15 years, but their history goes back to World War I (1914-1918) and World War II (1939-1945) when gardens became a necessity both in the United States and in the United Kingdom.
Food was an issue in World War I, and victory gardens were planted. With only 21 years between the end of World War I and the outbreak of hostilities that lead to World War II, both sides learned a lot—the Allies on how to better manage their gardens, and the Nazis on how to use food better as a means of destruction.  
In the United States, the dynamics of farming changed. We went from male-dominated roles in farming and industry to women having to take over those roles when the men went off to war. We hear about "Rosie the Riveter" (symbolizing women who went to work in plants to build munitions, cars, tanks, etc.), but the agriculture side of helping to win the war is often overlooked.
President Woodrow Wilson said, "Food will win the war." So important was this effort that a United States School Garden Army was established and funded by the War Department.
What Was A Victory Garden?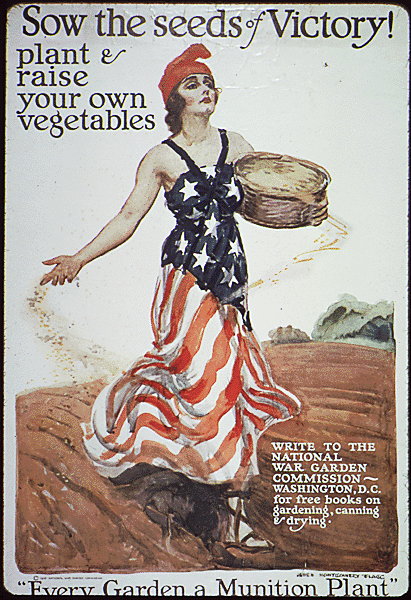 Often called "war gardens" or "food gardens for defense," victory gardens were comprised of civilians growing food to help the war effort for themselves, the troops, and our allies. The government enlisted the help of those who were not serving in other capacities to help the war effort by growing food.
These gardens were located at private homes, in public parks, vacant lots, baseball diamonds, even window boxes! Lawns were converted into vegetable gardens. Flower beds were replaced with lettuce gardens. Schools had gardens to help feed students.  Various companies planted food on their grounds to help their employees.
Food was common on farmlands, but patriotism brought agriculture to the cities. Communities got together and grew what was needed and often traded with other communities. Businesses, schools, and seed companies provided more land, seeds, and instruction on how to grow food. Since metal was precious and used for munitions, gardening utensils made of steel were shared by communities and families.
The Allies started to grow food, each person trying to do their part to bring about a swift victory. Victory gardens were located in the United States, Canada, Australia, and the United Kingdom. As the war raged on in Europe, the Nazis used starvation and food, or lack thereof, as a weapon. Blockades around the United Kingdom kept food scarce. Without the help of domestic and our allies' victory gardens, many more people would have perished.
Millions of pounds of food were required by the Armed Services which put a strain on food for the homeland. The average rations, at the time, allowed for 4700 calories a day for our soldiers (Way, 2015). Rationing and scarcity were common at home. (Rationed foods included sugar, butter, milk, cheese, coffee, canned fruits and vegetables, and meat.) There were national meatless and wheatless days, and recipes were distributed to help. Ask your grandparents about conditions during the war for those who remained at home.
What Was Grown In Victory Gardens?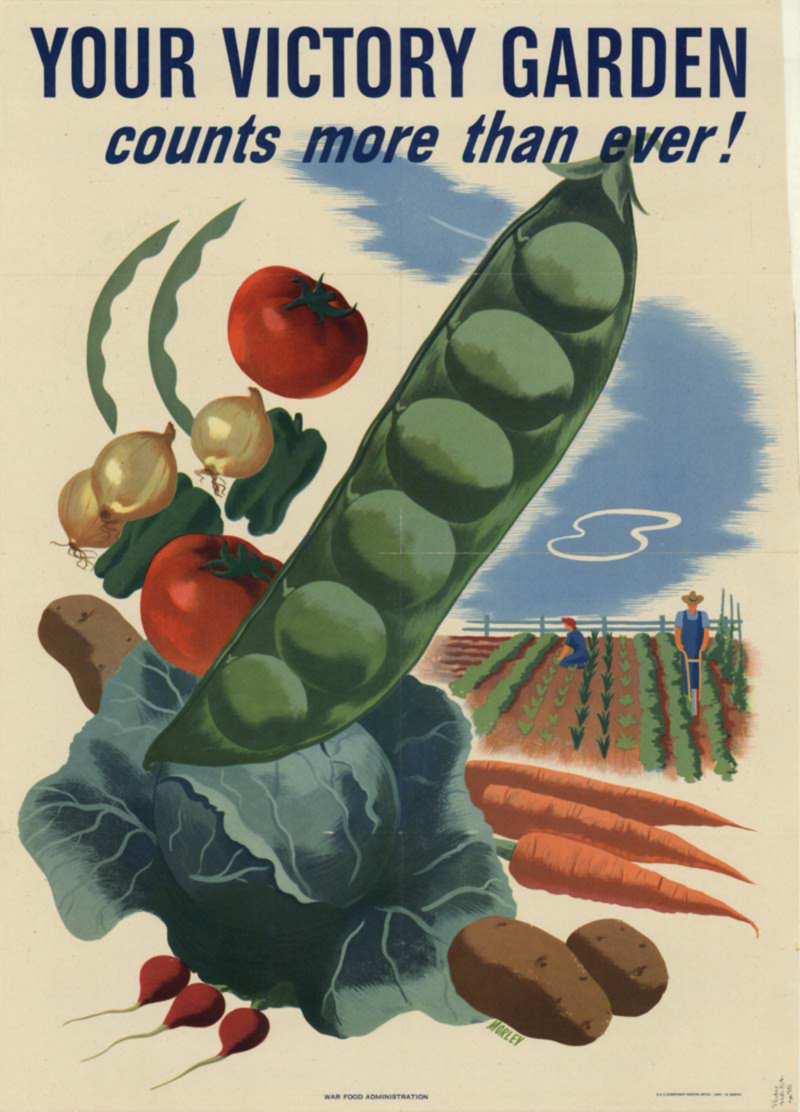 The United States government established the U.S. National War Garden Commission and distributed colorful posters and leaflets on the basics of how to garden, what to plant, how and what to use as fertilizers, both here and with our allies.
Vegetables were the largest crop followed by fruits and herb gardens. It is estimated that approximately one-third of the vegetables grown during World War II came from victory gardens.
Along with teaching people how to till and grow vegetables, the government and various women's magazines also taught how to can and preserve the produce. Sales of pressure cookers increased dramatically.
Seed collection was encouraged, and many garden groups, already experienced in saving seeds, shared seeds, both in the United States and in the United Kingdom.
After World War I, my grandfather preserved their root crops in Pennsylvania by digging a large hole in the ground in the fall. He lined it with burlap and placed various root crops on layers of burlap with sand between them. Each week he would go and dig up a week's worth of food.
The Smithsonian Institute in their flyer, "Grow Your Own Victory Garden!" (available online), lists the following plants used during the World War II era:
Spring Gardens
Start indoors: Tomatoes, basil, peppers, carrots, lettuce, kale, onion, peas, radishes
Summer Gardens
Basil, beans (pole, bush, and lima), corn and popcorn, cucumbers, eggplants, muskmelon, okra, peppers, pumpkin, both winter and summer squash, tomatoes, watermelon.
Fall and Winter Gardens (to extend the growing season)
Beets, broccoli, cabbage, carrots, cauliflower, lettuce, kohlrabi, parsley, parsnips, radish, spinach, swiss chard, turnips.
For more information about Victory Gardens, contact: Smithsonian Gardens, Smithsonian Institution, P.O. Box 37012, Capital Galley, Suite 3300 MRC 506, Washington DC 20013-7012 or www.gardens.si.edu
Victory Garden Recipes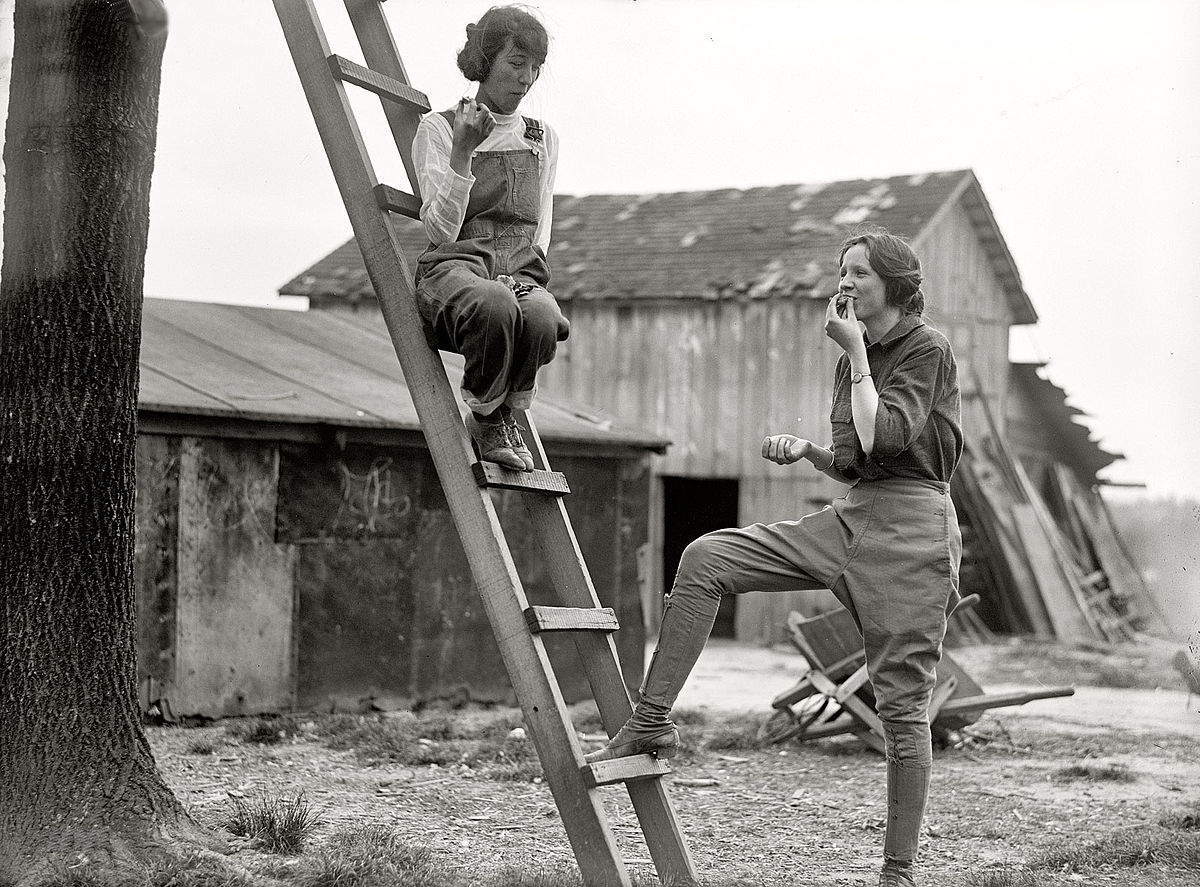 Kohlrabi and kale were two uncommon plants that were easily grown in victory gardens. Both of these were introduced on the list of plants that were available. Below, you'll find a couple recipes that could be made from foods grown in victory gardens.
Kohlrabi Pickle Chips
Adapted from The Victory Gardens Cookbook
Try substituting kohlrabies for cucumbers when making refrigerator pickles in your favorite recipes.
Ingredients
1-1/2 – 2 lb small kohlrabi
3 small onions
¼ cup pickling salt
2 cups vinegar
2/3 cup sugar
1 TBL mustard seeds
1 tsp celery seeds
¼ tsp turmeric
Directions
Peel and thinly slice kohlrabi and onions.  

Mix salt with 1 quart of ice water, pour over the vegetables, and soak for 3 hours.  Drain, rinse, and place in a bowl.  

Bring remaining ingredients to a boil, cook for 3 minutes and pour over the vegetables.  

Cool, cover, and refrigerate for 3 days. Makes 1 quart.
Cornpancakes
Ingredients
6 ears corn (to make 2-1/2 cups corn kernels)
2 cups flour
2 TBL sugar
2 tsp baking powder
1 ½ tsp salt
Dash of freshly ground pepper
3 large eggs
¾ cup milk
2 TBL melted butter
Directions
Cut the corn from the cobs and scrape the cobs for additional corn milk.
Sift the dry ingredients together.
Combine eggs, milk and butter, and stir into dry ingredients, blindingly only until moistened.
Add corn and corn milk.
Cook on oiled frying pan. Serves 10-12
A Modern Day Victory Garden (AKA: Community Garden)
So how can one take this concept and apply it to our modern lives? Let's start by looking at how some of the oldest victory gardens have been (and continue to be) operated.
The oldest and continuously operated victory gardens in the United States is the Fenway Victory Gardens in Boston. They were established in 1942 and have 7.5 acres and 500 gardens. They also include an apiary for learning about beekeeping. This garden was established by the Roosevelt Administration. Today, there are more 350 community members who maintain it, and it contains more flowers than it did during the war. For more information visit: fenwayvictorygardens.org.
Also, in Milwaukee, Wisconsin, the "Victory Garden Initiative" is a grassroots organization using the victory gardens of World War I and World War II as the basis for starting community gardens throughout the city as a way to build communities and help them grown food. See their blog at victorygardeninitiative.wordpress.com for more information.
If you would like to see what a community garden looks like, check your local agriculture agents and see what is offered. Sometimes botanical gardens have an area for community gardens. For specifics, go to the Milwaukee Gardens website cited above for details on how they got started.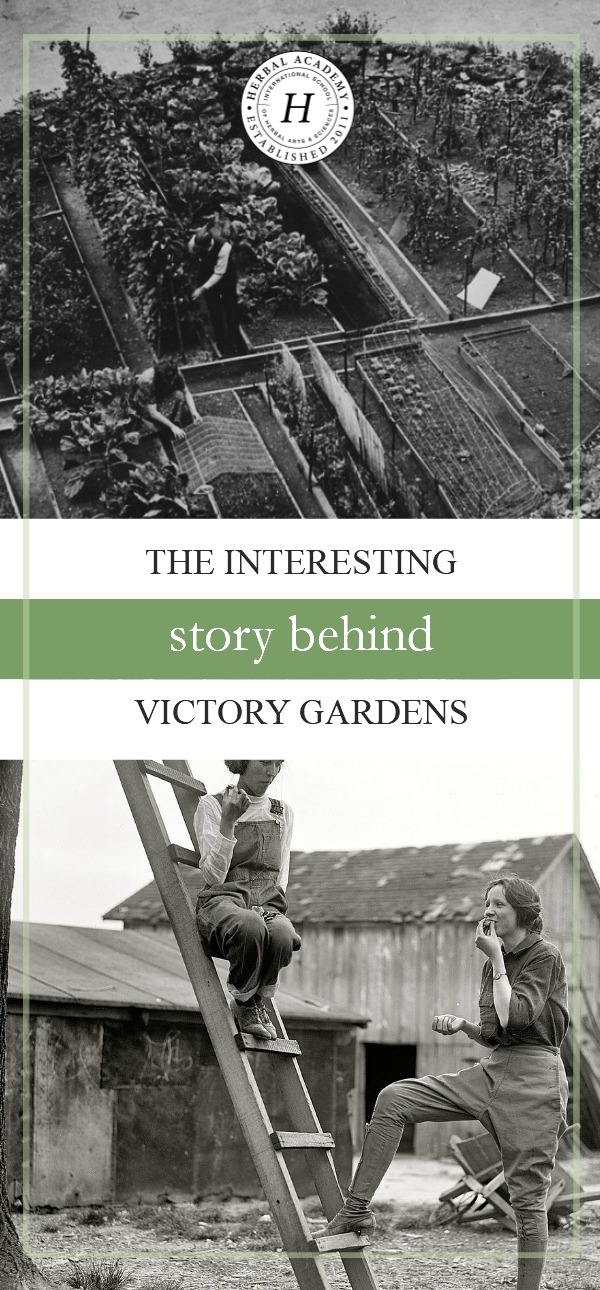 REFERENCES
Morash, M. (2010). The victory garden cookbook. New York, NY: Knopf.
Pack, C. L. (2016). The war garden victorious. Middletown, DE: Publisher not identified. (Kindle)
Way, T. (2015). The wartime garden. Oxford: Shire Publications.