Urban Farming in Nashville, Tennessee: A Family Lineage
If you find yourself in Nashville enjoying one of its hippest neighborhoods, East Nashville, you may stumble upon an unexpected, yet welcome, attraction: Double N Urban Farm, home to Stomping Ground Herbals. Amidst this growing city that draws new inhabitants estimated at close to 100 people a day (Reicher, 2018), Nashville native, Nicole Mattingly, runs her thriving farm and herbal business.
With all the new faces flocking to Nashville over the last several years, it's rare to meet a Nashville native. Nicole is one such "unicorn," and her alternative career as an urban farmer and herbalist makes her all the more unique.
A Farming Lineage
Perhaps even more uncommon than being a native to Nashville is the fact that Nicole farms the very land her great-grandmother once lived and gardened on. Her roots on the land run deep. Nearly 40 years ago, in 1979, her parents and great-grandparents moved onto the property. Before this, dating back to the 1940s, the land was a tree nursery.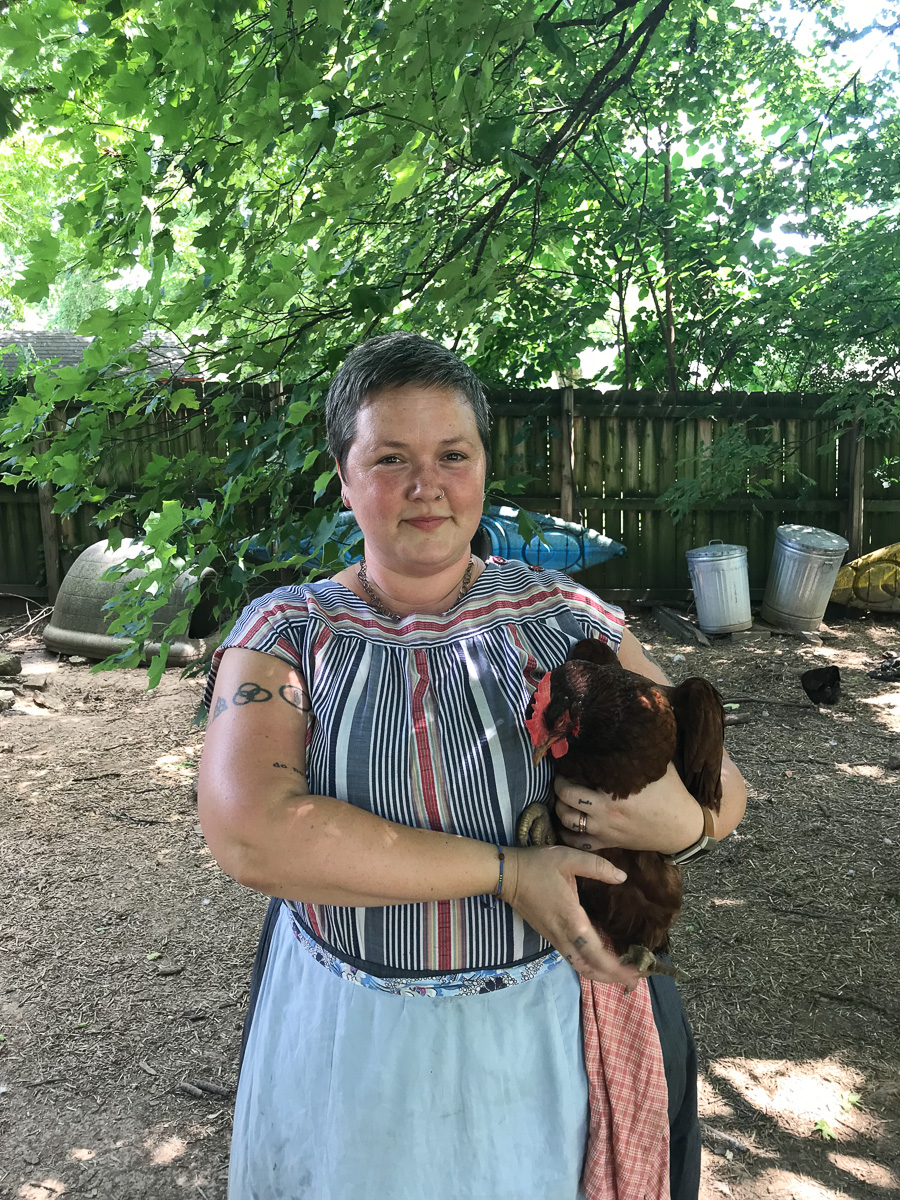 Nicole grew up alongside her great-grandmother, doing the things we would now classify as homesteading and herbalism, but to both her and her great-grandmother, they were simply what you did, born of necessity and tradition. She learned to make salves and poultices, the art of sewing, how to harvest and ferment, among many other useful skills. Nicole playfully shares, "I was a weird kid! I didn't do extracurriculars — just played in the garden."
Nicole finds a deep connection in this history and takes her lineage seriously. Now, as she gardens in the same spot as the woman who taught her how, she sees her work as honoring where she came from, as her upbringing and adult career now come full circle.
Coming Home
We all have to find our path, and Nicole was no different. During her college years, she found herself away from the farm, discovering who she was, what she wanted to do, and who she wanted to be. With dreams of becoming a crime scene photographer, she studied criminal psychology for a few years.
As paths can be — winding and unpredictable — Nicole chose to leave her studies when her boyfriend was diagnosed with cancer. After being on a meandering path for five years, Nicole says this was the turning point in finding her way back home.
She took on the role of caretaker for her boyfriend and uncovered years of deep knowledge on herbalism and healthy living that she had neglected. She began incorporating mushrooms, tinctures, teas, clean food, and as many herbs as possible into their diet. She shares, "I knew all of this. I just had to remember it."
It was 2002, and Nicole moved back to Nashville to continue supporting her boyfriend through his sickness. For a time, she had her own natural fiber clothing store. Her boyfriend went into remission, and they got married. Sadly, only six months later, he passed away from cancer. It was 2006, and this was the year Nicole had her first big garden, all by herself. So began her passion for farming and herbalism, ignited from the spark lit by her upbringing with her great-grandmother.
A Business Forms
In 2012, after years of growing her food and dabbling with herbs, Nicole began making natural skincare products for herself. She took classes on herbalism, studied on her own, and enrolled in Susun Weed's herbal program. Her friends began to request her herbal skincare creations, so she continued to refine the products, and eventually, sold them in the local community under the name Stomping Ground Herbals.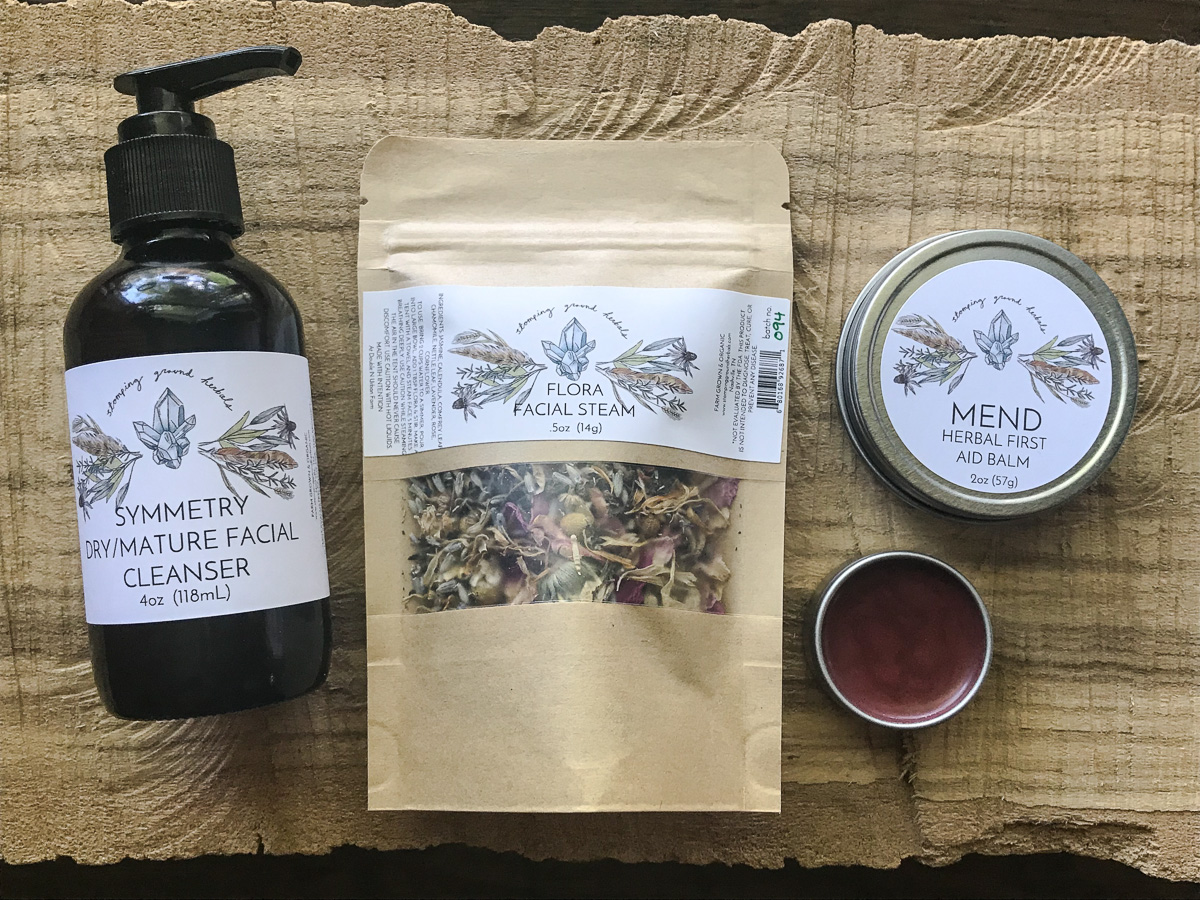 In 2014, she began her first year of selling the vegetables and herbs from her farm through a CSA program. The inspiration to start both ventures — the farm and herbal products business — were born from an experiment she and her current husband, Nick, did. They tried to grow all the food they consumed in one year. Nicole shares: "We tried it, and we did it. I got so addicted, I realized I just wanted to do this urban homesteading thing. I didn't want to move out to the country. Instead, I wanted to be a model for people who don't want to move out of the city." Other models she'd seen showed that it is possible to make a living off your homestead, so she knew they could do the same.
Looking Forward
Now, Nicole farms on just over 1/2 acre of land at Double N Urban Farm, growing a variety of vegetables, fruits, trees, and herbs. The farm recently became Certified Naturally Grown as a way to strengthen and demonstrate their deep commitment to growing crops as nature intended:
Foregoing chemical inputs for natural practices like mulching for weed control,

Composting and adding organic matter for fertile soil, and

Crop rotation and companion planting for pest prevention.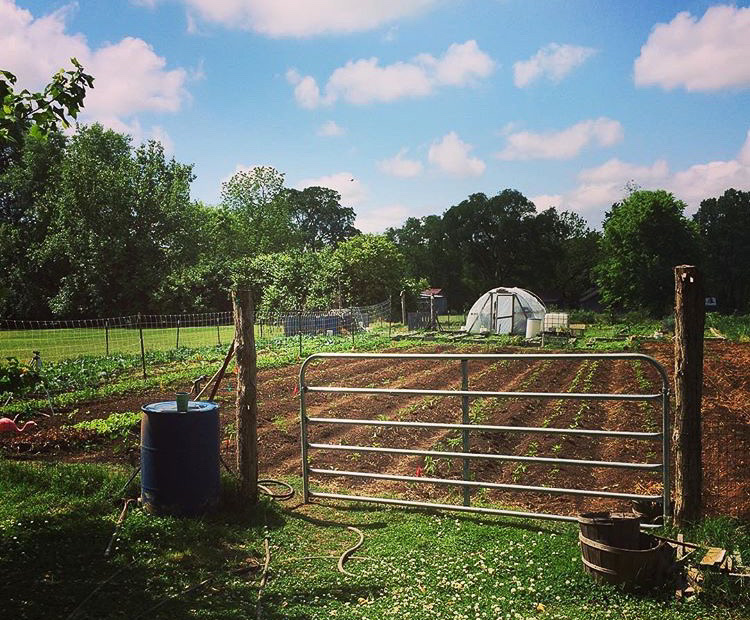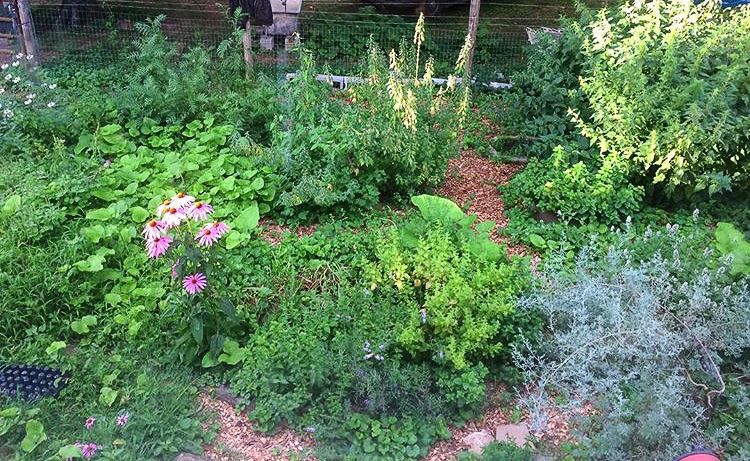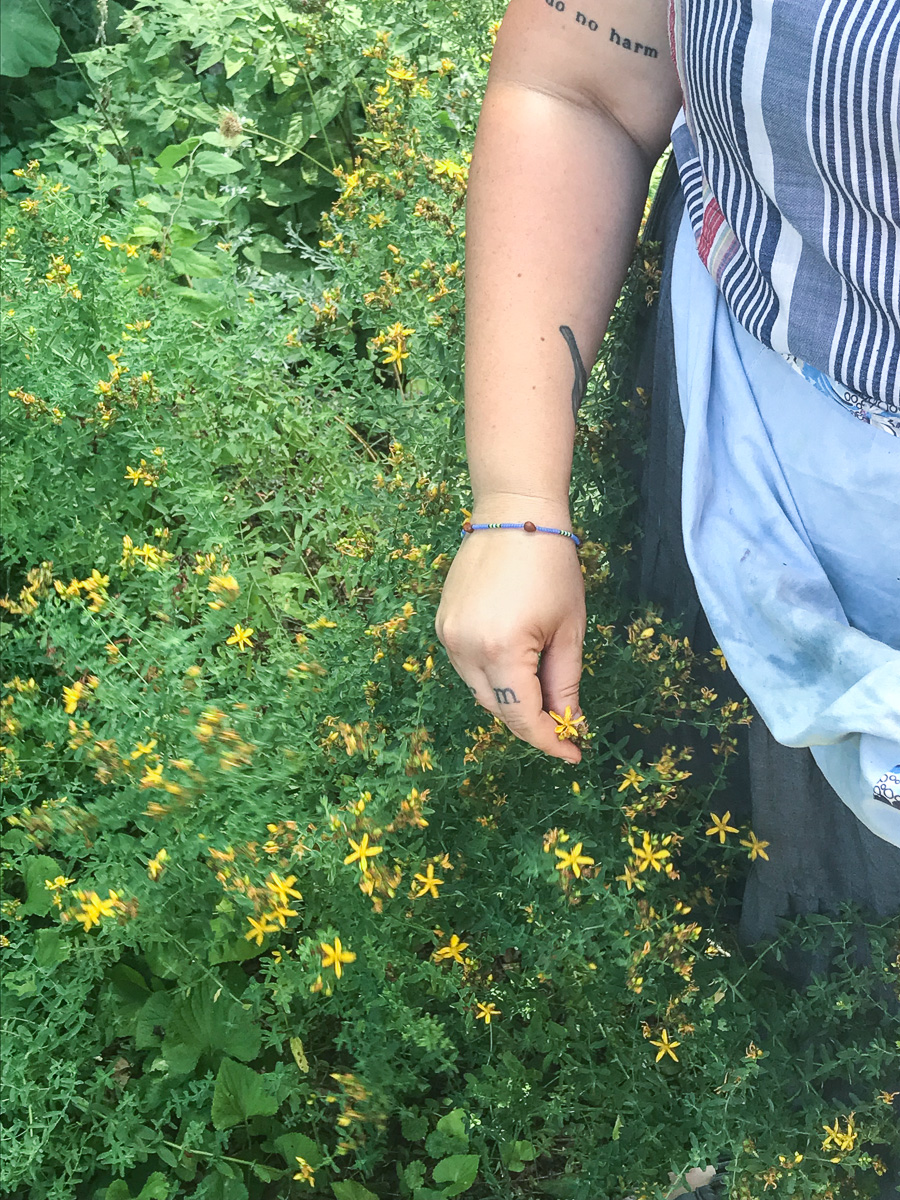 Nicole's business grows an impressive 80 different varieties of herbs, many of which are found in her Stomping Ground Herbals products. In fact, she's so committed to high-quality, locally grown herbs that her products feature herbs she grows. You can find Stomping Ground Herbals products online, in nearly 20 retailers across the country, and at three local farmers markets in Nashville.
Going forward, Nicole is answering the call of the land to transition a significant portion of her farm to an orchard, returning it to its former state as a tree nursery. She will continue to grow an abundance of herbs and vegetables but will do so more intensively. She also hopes to connect with a commercial kitchen in the near future to be able to offer her herbal tea blends more widely in the community.
When asked about her favorite part of farming, Nicole shares, "It makes me feel so strong and powerful. I feel like a superhero every day. Farming gives me the opportunity to use my body and prove to myself and other people that women can be tough and strong." She goes on, "I think we, as women, need that because we get told we can't." As a seasoned farmer with more than a decade of experience, Nicole's advice to beginning farmers is simple, yet incredibly helpful, "Be kind to yourself."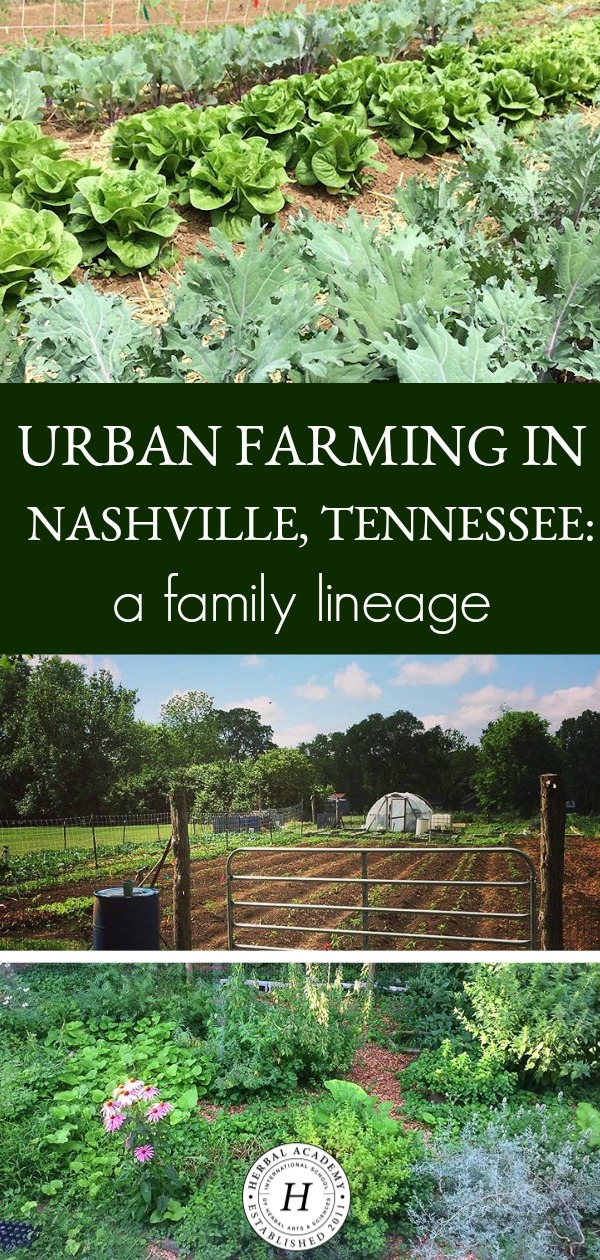 REFERENCES:
Reicher, M. (2018). Nashville population growth drops below 100 people a day. [Online Article]. Retrieved at https://www.tennessean.com/story/news/2018/03/26/nashville-tn-population-housing-apartments-rent-jobs/458757002/