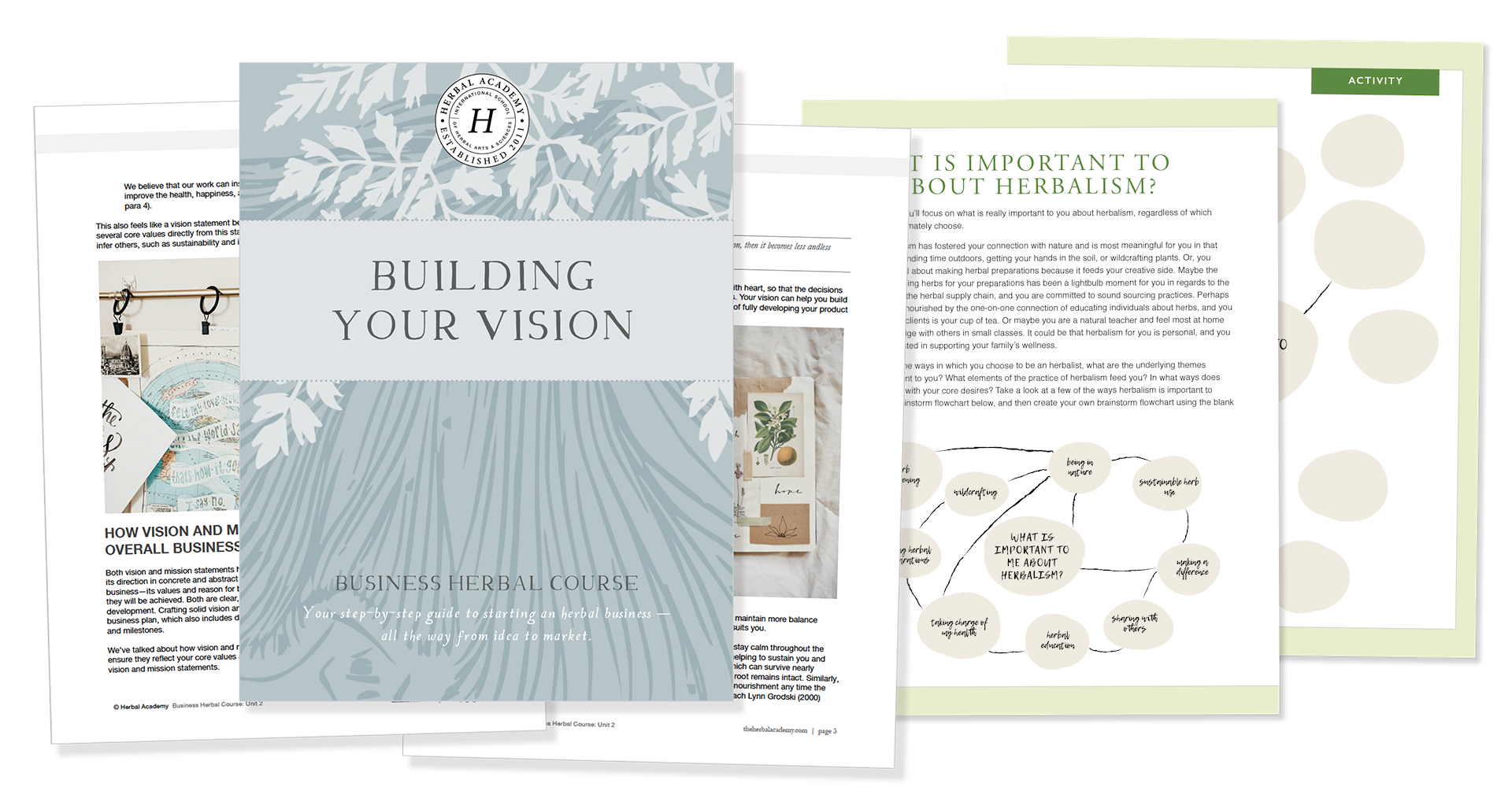 EDUCATIONAL ACTIVITIES & LEARNING
---
Values Activity by Herbal Academy
In this exercise, you'll focus on what is really important to you about herbalism, regardless of which direction you ultimately choose. Work through this activity and discover your key values to help inform your business direction. 
Building Your Vision Lesson by Herbal Academy 
Before you start coloring in all of the details of your business plan, it's a good idea to step back and look at the bigger picture of your business in the context of your overarching goals and intentions. That way, you can be sure that each decision you make, whether big or small, is in service of your overall vision. For those antsy to get into class and moving on your business, start putting pen to paper with the guidance from the Building Your Vision Lesson!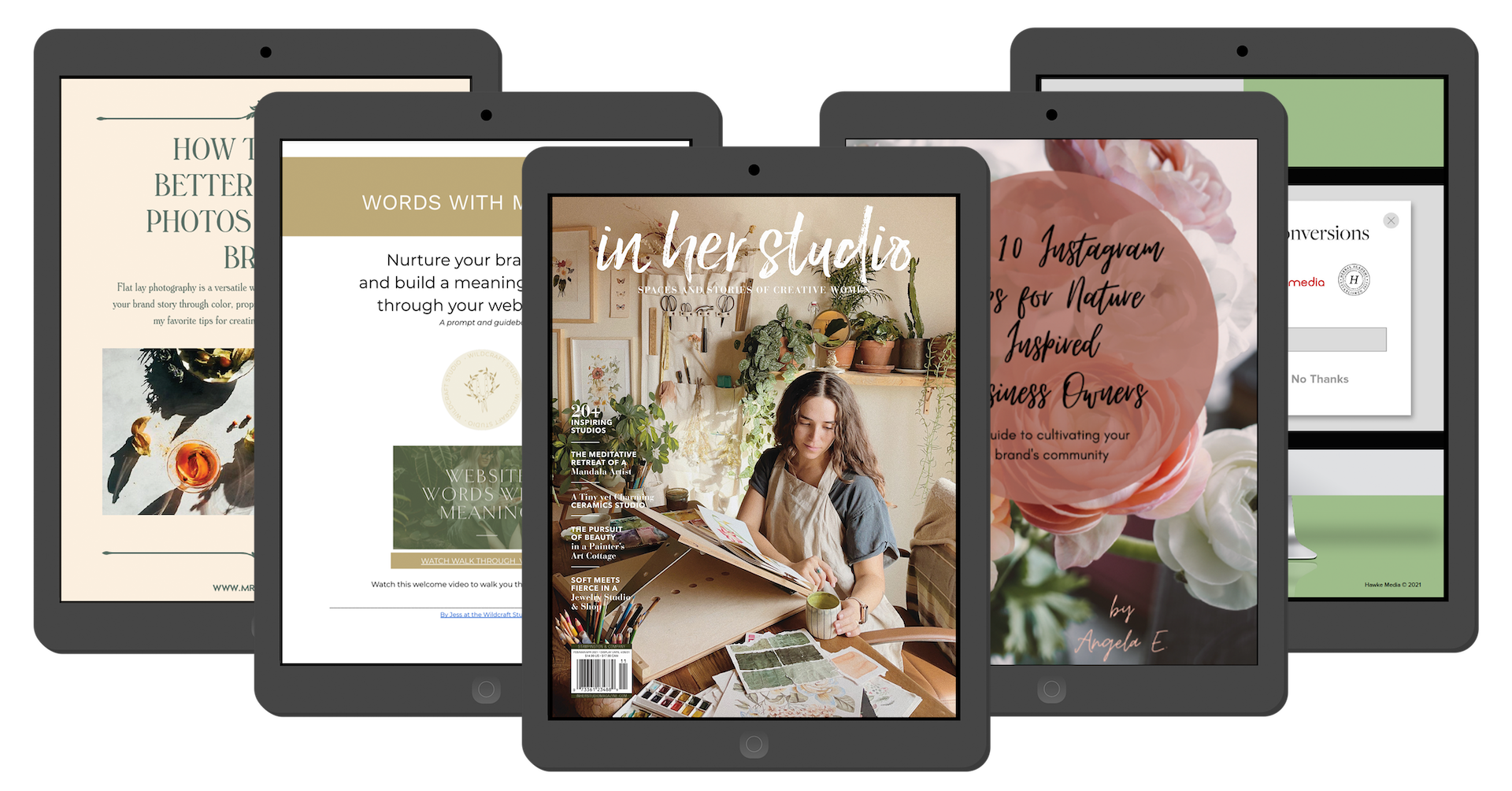 ENTREPRENEURIAL EBOOKS & MAGAZINES
---
Words with Meaning by The Wildcraft Studio
A website copywriting and prompt guide for heart centered brands built with strategy and intention to create meaningful connection through your brand story.
Increasing Website Conversions Ebook by Hawke Media
There are numerous ways to increase website conversions, and utilizing pop-ups is top of the list. Here's a guidebook to get you started with making the most of your pop-up strategies and boost sales. 
Flatlay Photo Guide by mrsbarnes.com
Flat lay photography is a versatile way of showcasing your product and telling your brand story through color, props, and composition. In this guide, discover the best tips for creating engaging, eye catching photos!
Instagram for Nature-Inspired Businesses by Simply Growing Joy
When people have a great experience with your brand, they will want to share with others. Discover key strategies to help you build flourishing relationships with folks that will love your brand. 
In Her Studio Digital Magazine by Stampington & Company
Get inspired by creative spaces! This digital magazine download will give you a tour through the studios and lives of artists, designers, and makers featuring organizational tips and success secrets.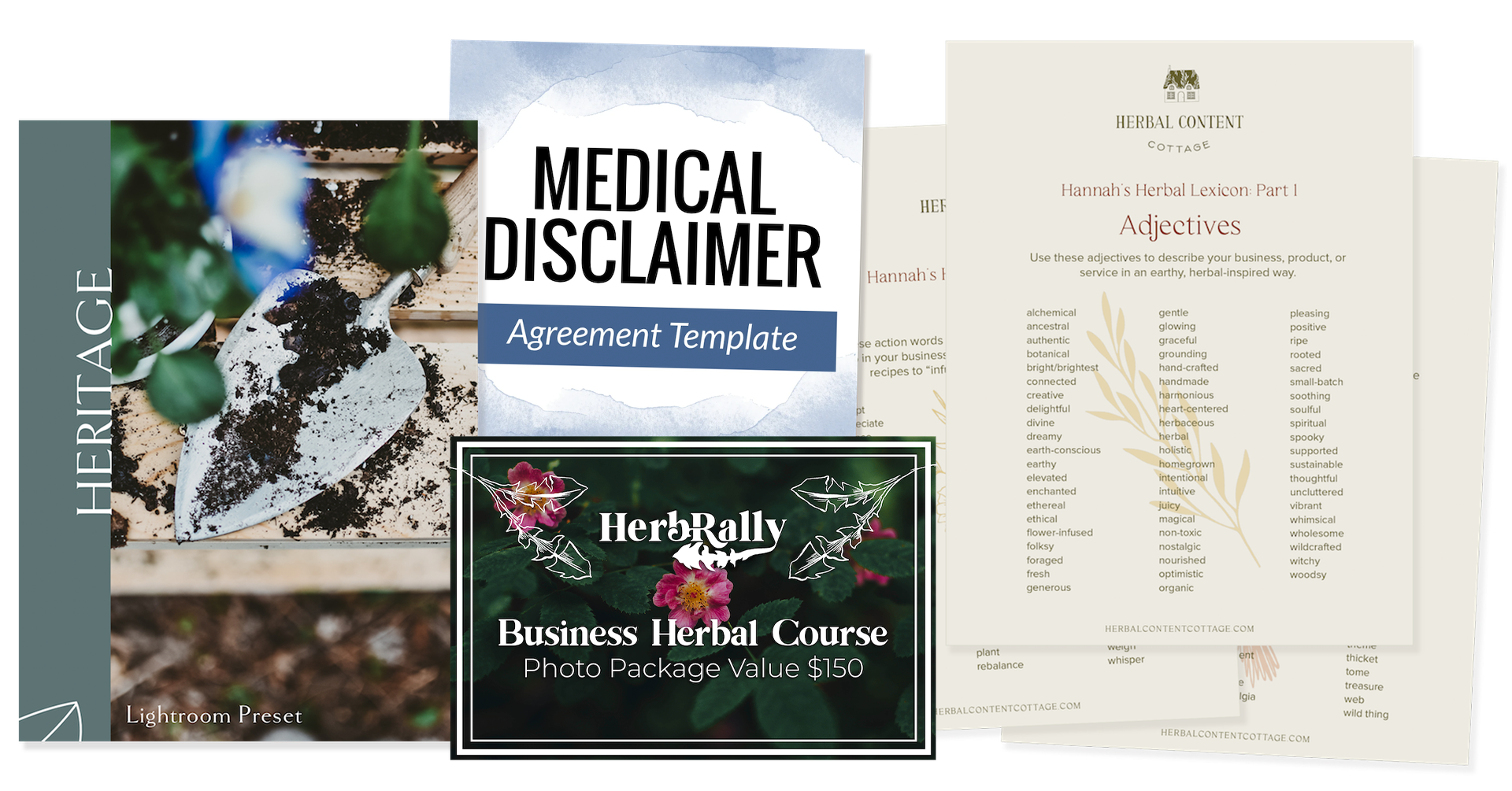 TOOLS & RESOURCES
---
Stock Photography Package by HerbRally
Valued at $150, get a full botanical photography package download with a commercial use license to enhance your social presence, website imagery, and more! 
Heritage Lightroom Preset by Whimsy and While
A moody and cool hygge preset with a vintage feel, this download will transform your photos with a touch of old soul. Use this preset with Lightroom mobile or desktop application.
Botanical Copy Lexicon by Herbal Content Cottage
Refer to this list of nearly 200 herbalist-related nouns, verbs, and adjectives while writing your website copy, product descriptions, blog posts, or social media captions to give your brand a rooted, botanically-inspired tone. 
Medical Disclaimer Template by Entrepreneur Legal Corner
If you're a health coach or consultant, a blogger who blogs about health, fitness, nutrition, and well-being, then you must have a Medical Disclaimer. It will protect you from liability if someone thinks you're providing medical advice. The policy template is straightforward and super simple to customize. It even comes with built-in instructions on how to customize it for your brand and needs.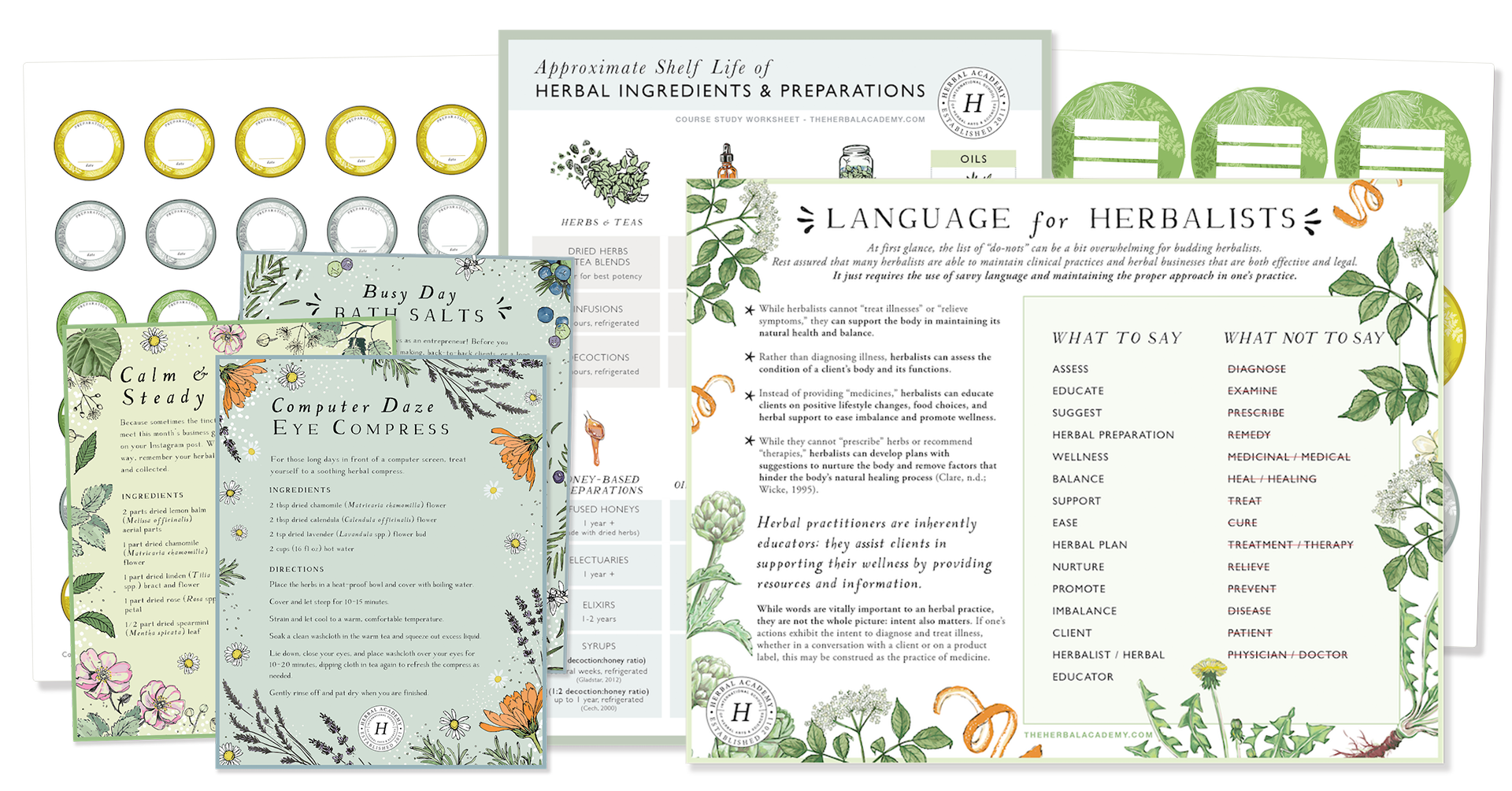 POSTERS, RECIPES, CHARTS, & MORE
---
Language for Herbalists Poster by Herbal Academy
A list of "do-nots" can be a bit overwhelming for budding herbalists. Rest assured that many herbalists are able to maintain clinical practices and herbal businesses that are both effective and legal. It just requires the use of savvy language and maintaining the proper approach in one's practice. Enjoy this beautiful download as a reminder of what to say and what to not say in your practice!
Printable Apothecary Label Set by Herbal Academy
Download and print two variations of round labels to use with your herbal preparations and to beautify your apothecary jars! Use with Avery templates for a peel and stick label or print on cardstock or computer paper. 
Entrepreneur Recipe Cards by Herbal Academy
When the workday doesn't quite go your way, when your eyes need a rest from screentime, or when you need to find some calm in the midst of chaos, enjoy these curated recipes designed for the herbal entrepreneur!
Shelf Life Cheat Sheet by Herbal Academy
Can't quite remember the shelf life of your tincture, oils, or basic ingredients? Download and print this easy guide for a beautiful reference!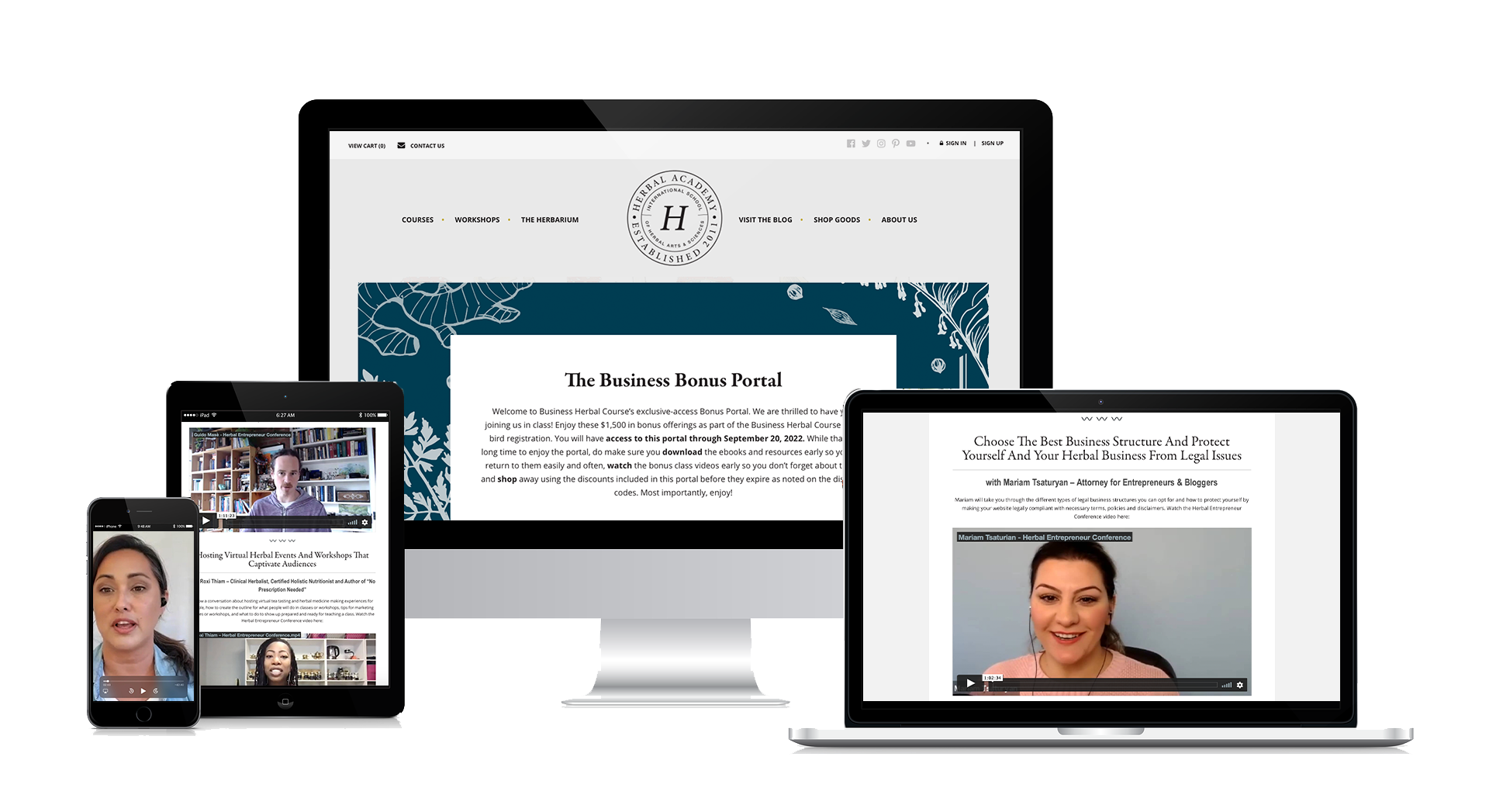 BUSINESS-FOCUSED CLASSES & VIDEOS
A special thanks to Herbal Academy alumni Yolanda Joy for providing these resources from the Herbal Entrepreneur Conference!
---
Herbal Product Imagery and Messaging To Captivate Customers with Melissa Casey – Midwife, Herbalist, Maker at NAANI Botanicals
Learn how to craft your overall herbal product marketing strategy, what to consider when you have a new product to market to your audience to plan the promotion, how to take and edit beautiful herbal product photos (with your phone!), and tips to master your product imagery and messaging. 
Choose The Best Business Structure And Protect Yourself And Your Herbal Business From Legal Issues with Mariam Tsaturyan – Attorney for Entrepreneurs & Bloggers
Mariam will take you through the different types of legal business structures you can opt for and how to protect yourself by making your website legally compliant with necessary terms, policies and disclaimers. Watch the Herbal Entrepreneur Conference video here:
What You Need To Know About Labelling Herbal Products with Marie Gale – Author of Soap and Cosmetic Labeling: How to Follow the Rules and Regs Explained in Plain English"
Discover the top label design considerations for herbal product makers, must-have requirements for a herbal product labels, how to correctly list ingredients on labels, and what claims are acceptable on a label (and what is not okay). 
Good Manufacturing Processes (GMPs) and Herbal Business Regulations with Guido Masé – Herbalist, clinician, author of "The Wild Medicine Solution and DIY Bitters"
Discover what a "professional" herbalist actually does, get a simplified overview of GMPs and FDA regulations, and learn how to record important processes in your herbal business. 
Hosting Virtual Herbal Events And Workshops That Captivate Audiences with Roxi Thiam – Clinical Herbalist, Certified Holistic Nutritionist and Author of "No Prescription Needed"
Follow a conversation about hosting virtual tea tasting and herbal medicine making experiences for people, how to create the outline for what people will do in classes or workshops, tips for marketing classes or workshops, and what to do to show up prepared and ready for teaching a class. 
Grow And Nurture Your Online Audience To Feed Sales Of Herbal Products and Services with Sarah Corbett – Clinical Herbalist and Founder of Rowan + Sage
Sarah will show you how to approach social media in a refreshingly genuine way to grow a following and build awareness for your herbal products to ultimately make more sales.

BONUS DISCOUNTS
---
50% OFF the Assorted Apothecary Labels at Herbal Academy
Complete with 72 labels in a variety of sizes and shapes allows you the flexibility to use these gorgeous labels however you like, wherever you like! The assorted labels can also be easily applied to a variety of containers you may already have at home to fill your apothecary. 
20% OFF herbs and supplies at Frontier Co-Op
This discount is offered exclusively to Herbal Academy students enrolled in the Business Herbal Course! Enjoy 20% herbs and supplies when shopping online.
10% OFF marketing services at Hawke Media
Along with a free marketing consultation, get an ongoing 10% discount for marketing services. Hawke was founded on the idea that every modern business needs a CMO-level expert to lead its digital marketing efforts. Hawke tailors their business around helping yours, providing you with customized, performance-driven solutions, à la carte services, and month-to-month contracts to suit your every need.
Plus you'll gain access to Herbal Academy partner discounts with Bulk Herb Store, Rosemary's Garden, Mountain Rose Herbs, and Foster Farm Botanicals. 
---
WHO IS READY TO TAKE THE PLUNGE INTO HERBAL ENTREPRENEURSHIP?
Your love and enthusiasm for herbalism brought you here; it's time to springboard your passion and launch your own business! We're here to prove it's possible, and we're honored to guide you along your own unique entrepreneurial path. The Business Herbal Course is made specifically for you, to start you on your way. Ready to turn your herbal passion into a career-worthy pursuit?
We have a seat in this comprehensive online herbalism course with your name on it! Sign up by September 19th to gain access to the $1,500 Business Bonus Portal!
JOIN US IN THE BUSINESS HERBAL COURSE!