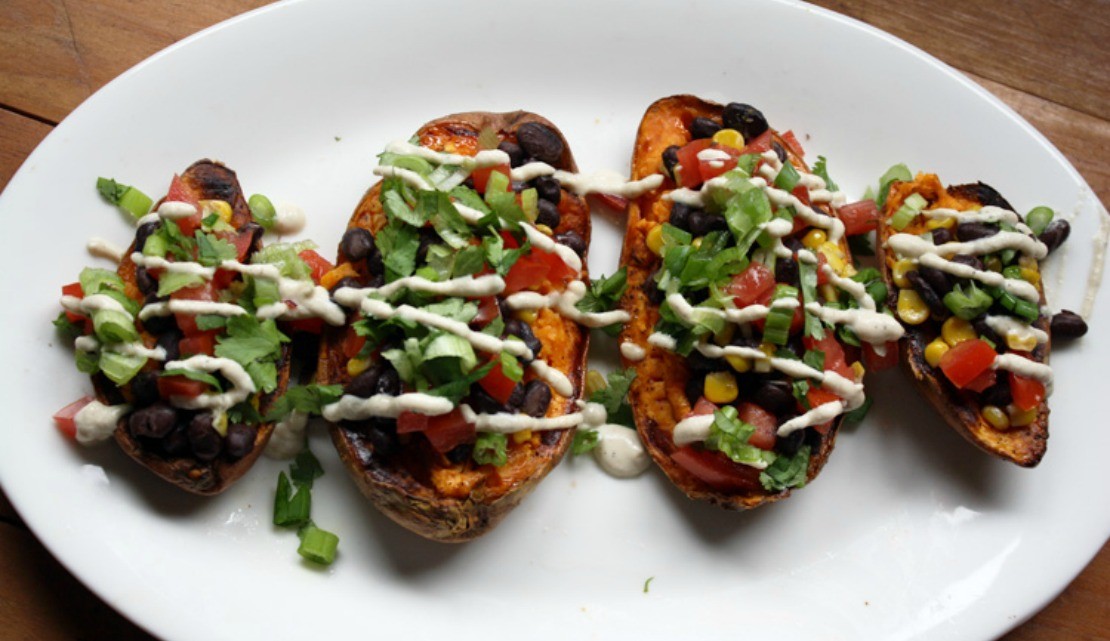 Stuffed Sweet Potatoes with Cashew Queso
Superbowl munchies might be over now that the Pats are officially champs, but fun, game-day food should be enjoyed all year long! Perfect for any sporting event, Sunday fun day, or just a creative, beautiful appetizer to serve when you're hosting a party, these Southwestern stuffed sweet potatoes are easy to make and a healthy side dish that everyone will love. Roasting the sweet potato halves rather than spending an hour waiting for them to bake in the oven cuts your cooking time in half while making the potatoes extra sweet. Paired with a spicy cashew queso, hearty black beans, sweet corn and crisp tomatoes, cilantro, and green onions, these spuds have lots of texture — and nutrition!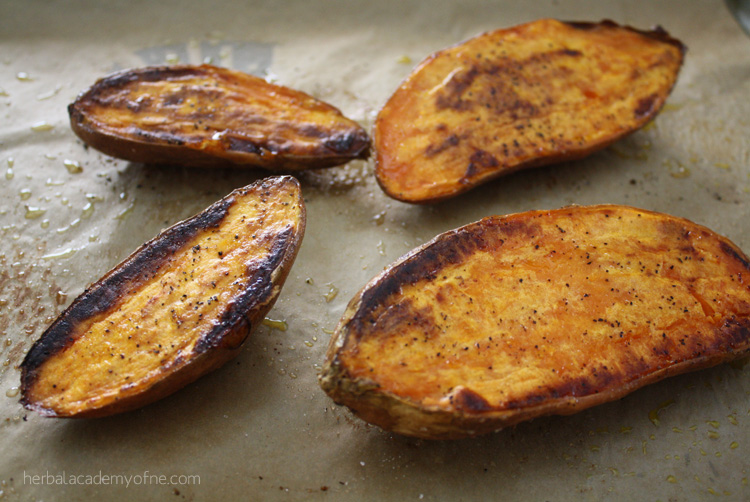 Stuffed Sweet Potatoes with Cashew Queso
Ingredients
Sweet Potatoes:
3 medium organic sweet potatoes, halved
1 1/2 cups cooked black beans
1 cup frozen corn kernels, cooked
2 Roma tomatoes, chopped
1/2 cup green onions, diced
1/2 cup fresh cilantro, minced
Olive oil, salt, and black pepper for roasting
Cashew Queso:
1 1/2 cups soaked raw cashews
1 cup coconut milk
1 tablespoon olive oil
Juice of 1 lemon
3 tablespoons nutritional yeast
1 chipotle pepper in adobo sauce
Dash of paprika, sea salt and black pepper
Directions
Preheat oven to 400 degrees.
Coat sweet potatoes with a little olive oil on both sides, then season with salt and pepper.
Lay potatoes face down on a parchment paper-lined baking sheet and roast at 400 degrees for 30 minutes.
Once cooked, fluff sweet potato filling with a fork, keeping it inside the skin.
Mix together corn and black beans and stuff about 1/3 cup of it into each sweet potato.
Top with cilantro, green onions and tomatoes and drizzle with cashew queso.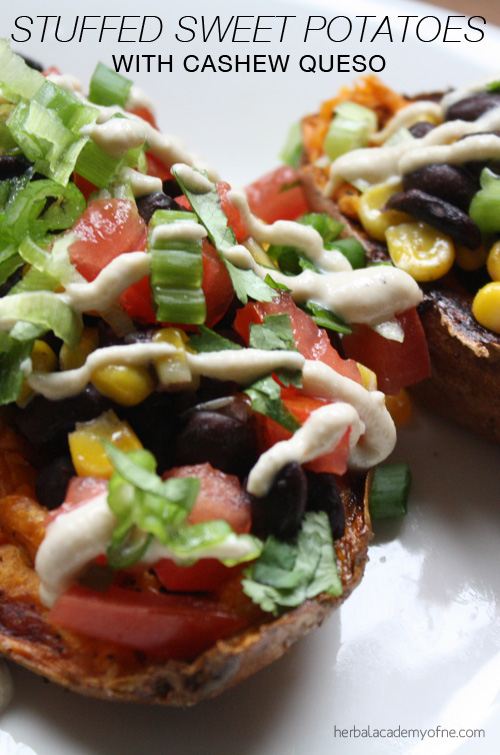 This post is provided by the Herbal Academy of New England's vegan cooking teacher, Lisa Kelly. Lisa is the founder, personal chef, and blogger at The Vegan Pact. Images provided by Lisa.