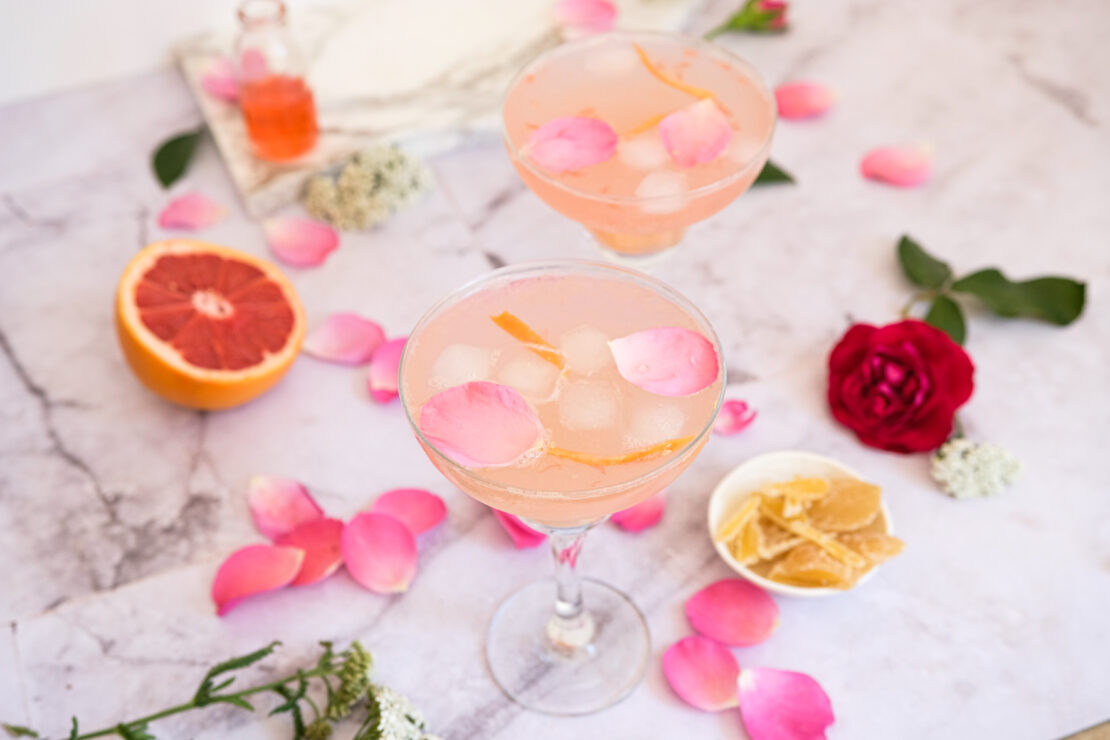 How to Make a Rose, Grapefruit, and Ginger Mocktail
The whole second half of summer is ours to celebrate! Let's make sure that we squeeze the most out of the hot sunny days and enjoy the expansive energy that comes with summer and the season's extended daylight hours by making an herbal deliciousness like this Rose, Grapefruit, and Ginger Mocktail. The higher sun and warmer weather tend to make us more open to connections with the outside world, unlike winter when most of our energy goes inwards. Now is the time of year that we may crave more time with our pals and loved ones, be inspired to create new friendships, and build stronger bonds with the people we have in our lives.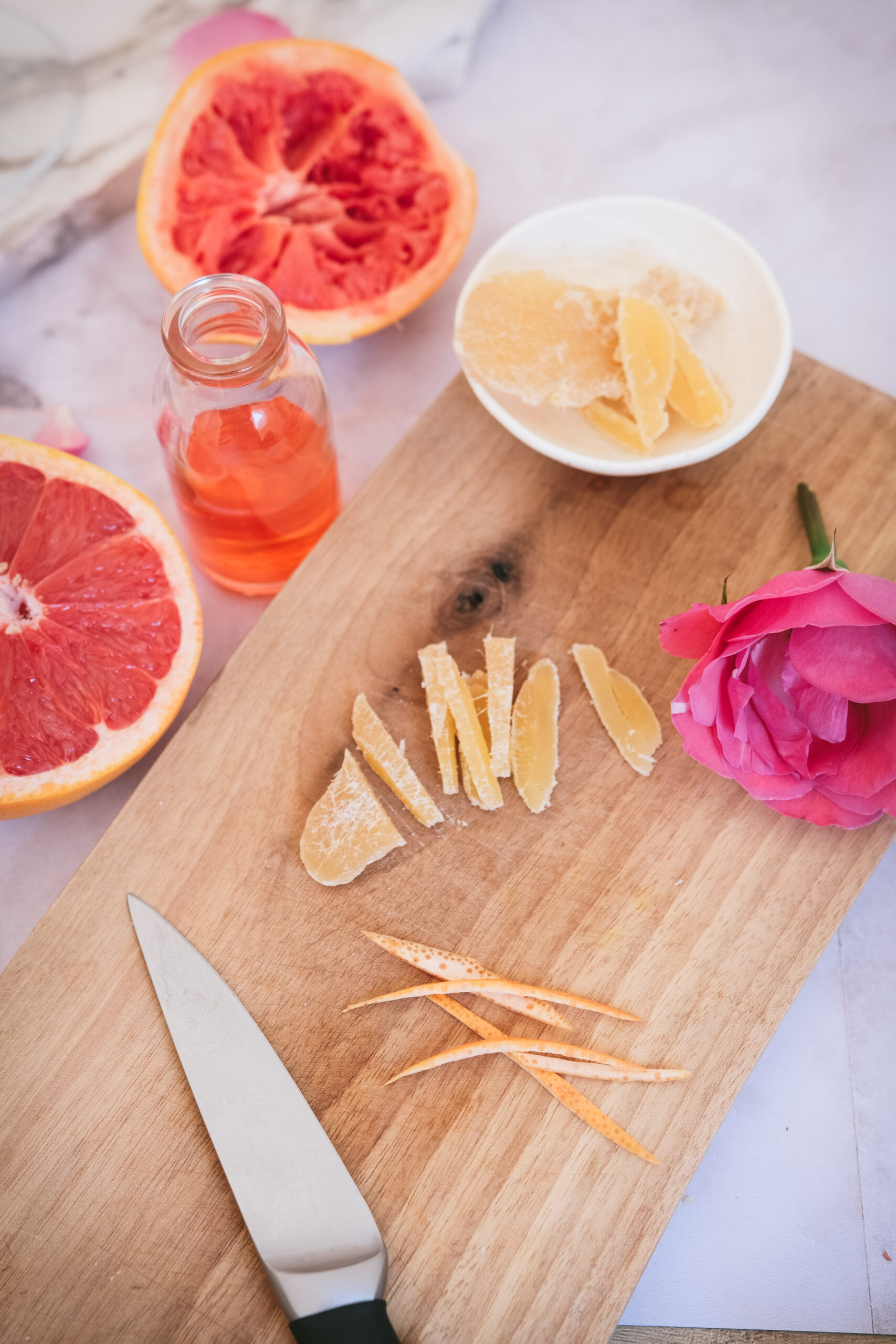 All of this sounds like a perfect recipe for a summer party! Do you have a celebration coming up? A baby shower, birthday, or bachelorette party? Or simply a good time with friends or family? This Rose, Grapefruit, and Ginger Mocktail will be the perfect celebratory beverage. 
The velvety-rich rose aroma of this ginger (Zingiber officinale) mocktail may have a mildly calming and mood-lifting effect on you and your guests—thanks to a volatile oil consisting of geraniol, nerol, citronellol, and geranic acid contained within rose (Rosa spp.) flower. Also, since this refreshing summer beverage is alcohol-free, it is appropriate for almost anybody, at any time of day.
Roses have a very special place in the world's history. Sappho, the 6th-century BCE Greek poet, described the red rose as the "queen of flowers." In Rome, it was often used in festivities and the petals were consumed as food. The rose was regarded as a support for depression during the Middle Ages and the Renaissance (Chevallier, 2021).
Make sure to source your rose syrup from a trusted business practicing organic farming. It takes a lot of fresh roses to make a syrup, so if any pesticides, herbicides, or other toxic additives are involved in the flower growing process, unfortunately, all those substances will be preserved in the syrup as well. Seemingly small choices like this contribute to a healthy lifestyle and help define both our future and the future of our planet. Alternatively, you can make your own rose syrup using rose petals, water, and honey or sugar! Find the instructions here.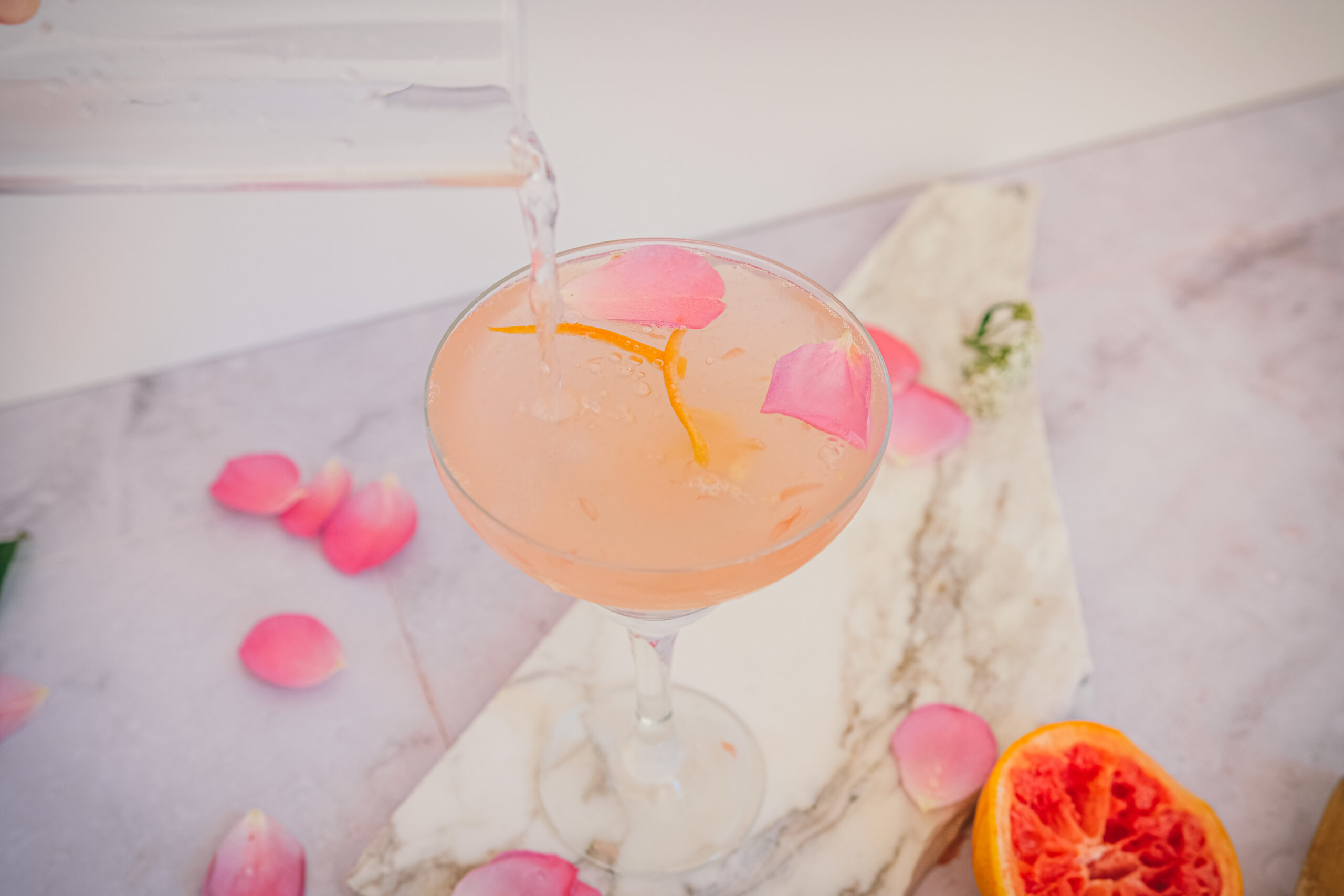 On the note of supporting the body's organic systems, let's embrace the role of ginger in this mocktail. Ginger has been revered in Asia since the earliest times, and in medieval Europe, it was thought to have originated in the Garden of Eden. Ginger's warming and anti-inflammatory properties can bring support to problems as varied as headache and migraine, joint pain, indigestion, motion sickness, and morning sickness. Ginger also optimizes the assimilation of nutrients from the digestive tract (Chevallier, 2021).
Using a candied ginger will add some extra sweetness to this mocktail. This form of the root is a great tried and true way to preserve a ginger harvest for a cold winter ahead, and it is very easy to make at home. Alternatively, if you are extra cautious with your white sugar intake, you can use fresh ginger juice and add the same amount to each mocktail (5 mL of juice instead of 5 grams of candied ginger).
It is no secret that as a society we consume far fewer bitter foods nowadays than ever before. But beneficial bitter compounds in foods activate our digestion and liver function, making anything eaten after better digested. The bitterness of tonic water and fresh grapefruit juice in this mocktail do just that. This can be of particular benefit if you are enjoying delicious party food that is perhaps a bit more decadent than your everyday fare. This aromatic, sweet, spicy, and slightly bitter Rose, Grapefruit, and Ginger Mocktail stands on its own or serves as a perfect pairing to summer picnics and celebratory feasts!
As for food pairings, go for some light and bright foods: grilled veggies and cream cheese, pasta primavera (spring pasta with fresh veggies like peas, corn, cherry tomatoes, etc), or make delicious crunchy bruschettas with homemade pesto or olive tapenade spread topped with some lovely microgreens! 
Rose, Grapefruit, and Ginger Mocktail
Savor the irresistible aroma of the beloved rose, balanced with a touch of bitter for optimal digestion and absorption of this delicious herbal beverage.
Yields: 2 mocktails
Ingredients
2-3 teaspoons candied ginger (Zingiber officinale) (or use equal amount of fresh ginger root juice)
2-3 teaspoons rose (Rosa spp.) flower syrup
1/2-3/4 cups fresh grapefruit juice (from 1 whole grapefruit)
1 cup tonic water
6-8 ice cubes
Grapefruit peel for garnish
Directions
Thinly slice the candied ginger and divide between two serving glasses. 

Pour a teaspoon of rose syrup into each glass. (Note: Since rose syrups will vary in taste, aroma, and sweetness around the world, it is suggested that you try yours prior to making the mocktail by mixing a couple of drops of rose with 50 mL of tonic water. After you familiarize yourself with the intensity and floral flavor profile of your unique rose syrup, you can add it to the mocktail with confidence and adjust the amount if needed). 

Squeeze the juice from the grapefruit and divide between the glasses. 

The final step, when all the guests are ready and waiting, is to add the ice cubes and pour the tonic water. 

Garnish with some sliced grapefruit peel and a few rose petals. (Note: As with the syrup itself, only use rose petals from organically sourced roses,).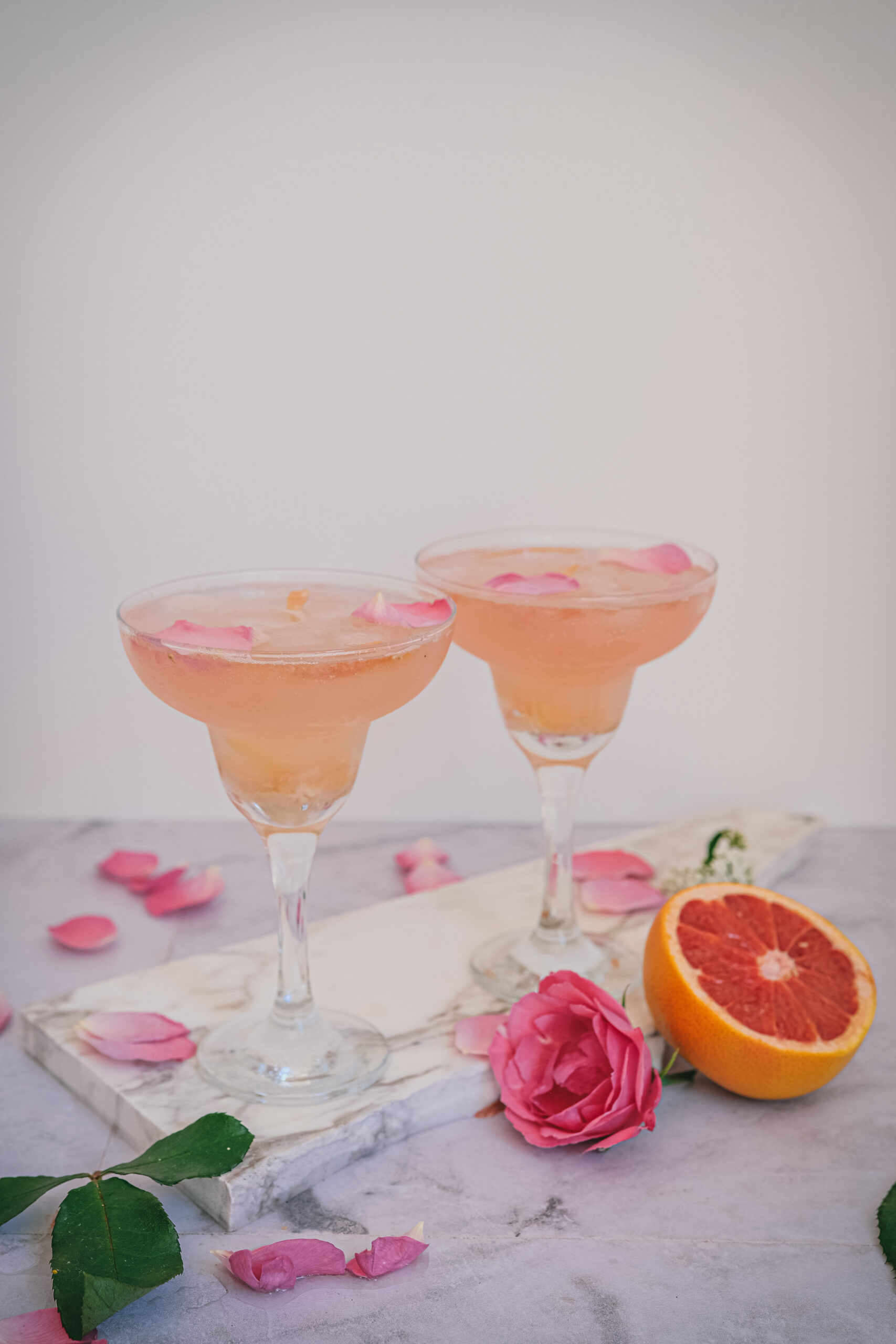 In Closing,
Whether summer brings you dry heat, sticky humidity, days of sunshine, or afternoon thunder showers, this Rose, Grapefruit, and Ginger Mocktail is perfect for sipping in the shade on a midsummer afternoon. Serve it at your next summer gathering or enjoy it with an intimate backyard picnic. Savor the irresistible aroma of the beloved rose, balanced with a touch of bitter for optimal digestion and absorption of this delicious herbal beverage.
REFERENCES
Chevallier, A. (2021). Encyclopedia of herbal medicine: 550 herbs and remedies for common ailments. Dorling Kindersley.