Introductory Herbal Course V1
Introductory Herbal Course V1
This course offering is currently on a registration freeze, but it will be back soon! Please add your email to the waitlist below if you would like updates regarding its return.
---
Have you ever wished you could start your journey into herbal education, but felt you didn't have the time, resources, or opportunity?
Our affordable and convenient online self-paced program gives students with little or no herbal experience a glimpse into the world of herbs, kindling an enthusiasm for a lifelong path of learning. By the end of the Introductory Herbal Course, you will feel more comfortable AND excited about making your own teas, tinctures, and body care products.
Get ready to mix up new recipes in the kitchen, use spices and herbs you never knew had medicinal properties, and walk away inspired to pursue your herbal studies at the intermediate level and beyond!
Join Our Waitlist
This course offering is currently on a registration freeze, but it will be back soon!
Description
It has been said that the journey of one thousand miles begins with a single step. If you are here, then congratulations because that means you have already taken your first step towards learning what plant medicine is all about. As with any first steps, it is much easier to learn when someone is there to guide you. We are delighted to walk beside you in the Introductory Herbal Course while you begin your herbal journey, to help you and lead you so you get the most out of your experience!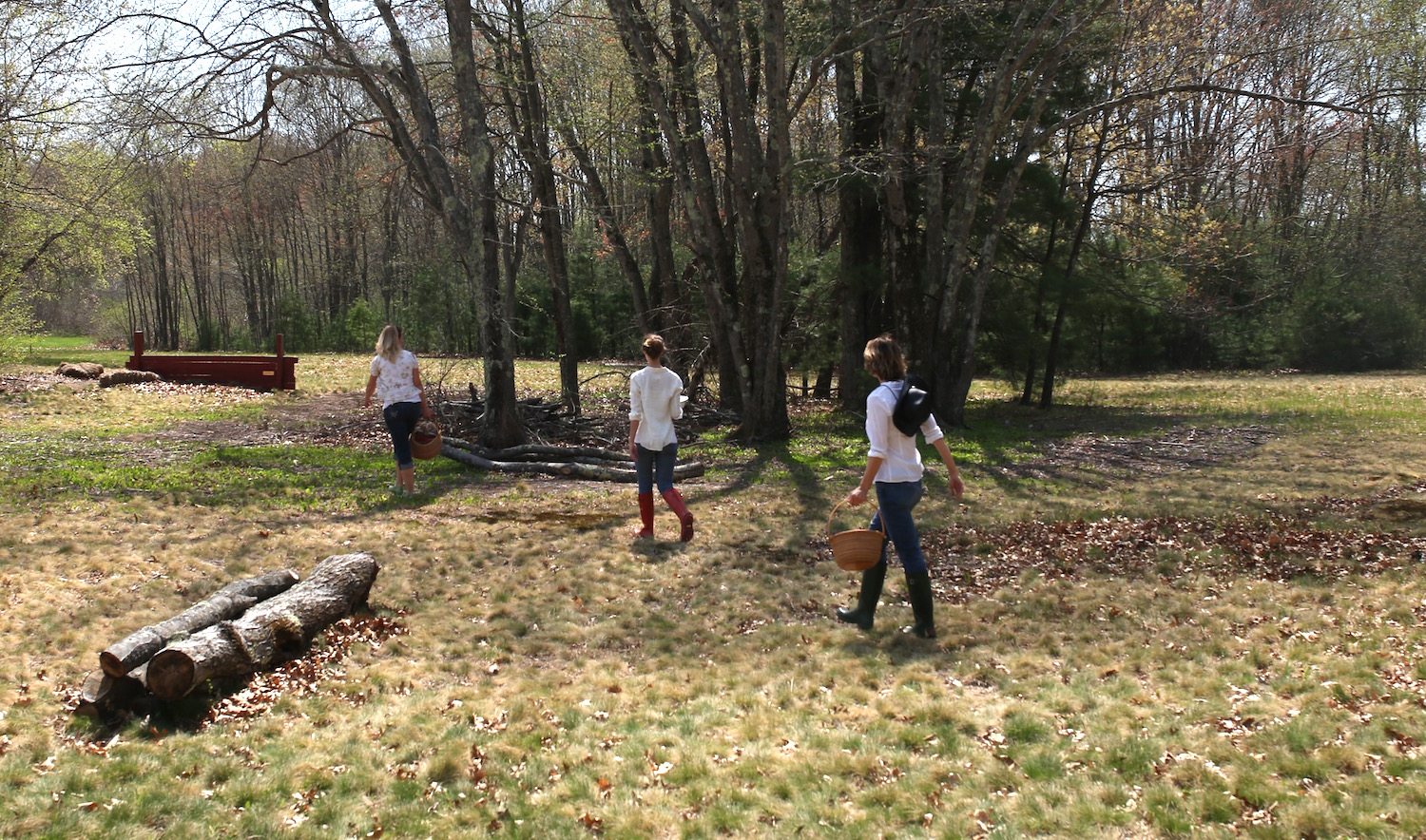 Perhaps you found your way here because you've been wondering about all those beautiful green weeds growing along roads and in your backyard. Ancient wisdom and natural beauty have been tugging at your heart, and you're naturally curious about how you can integrate these plants into your life. You don't feel like you need someone pushing you to learn, because you believe the knowledge you gain is its own reward. You just seek guidance on how you can directly apply that knowledge to your life, and live happier and healthier.
The Introductory Herbal Course is your online self study program!
Our intention for this self-paced herb course is to give those of you new to herbalism a taste of a holistic approach to wellness and vitality supported by herbs. This introductory level class will teach you how to integrate herbs into your daily life and how to make herbal preparations and body care products for daily care and common ailments. You'll learn the medicinal properties of familiar herbs and spices (as well as those not yet familiar to you) and explore their therapeutic uses. The engaging lessons, beautiful presentation, and sound knowledge will delight the learner in you and instill an appreciation for the gifts herbalism has to offer, inspiring your future studies as well.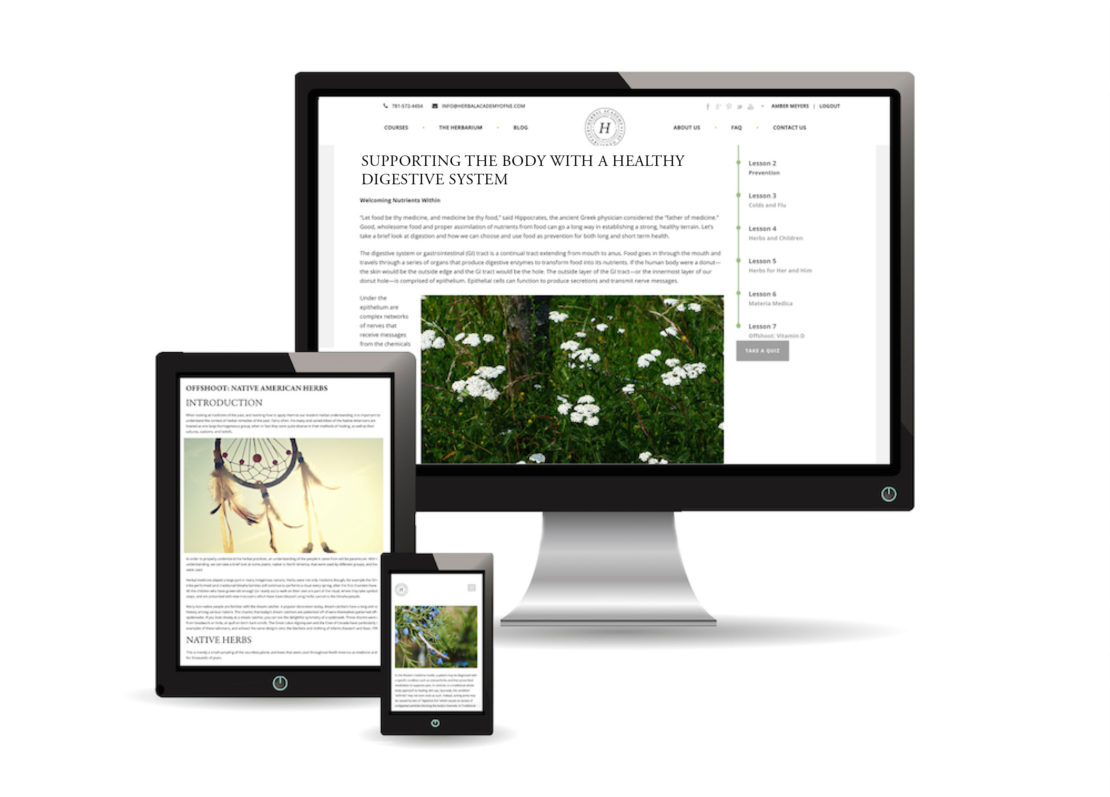 In the Introductory Herbal Course, you will discover: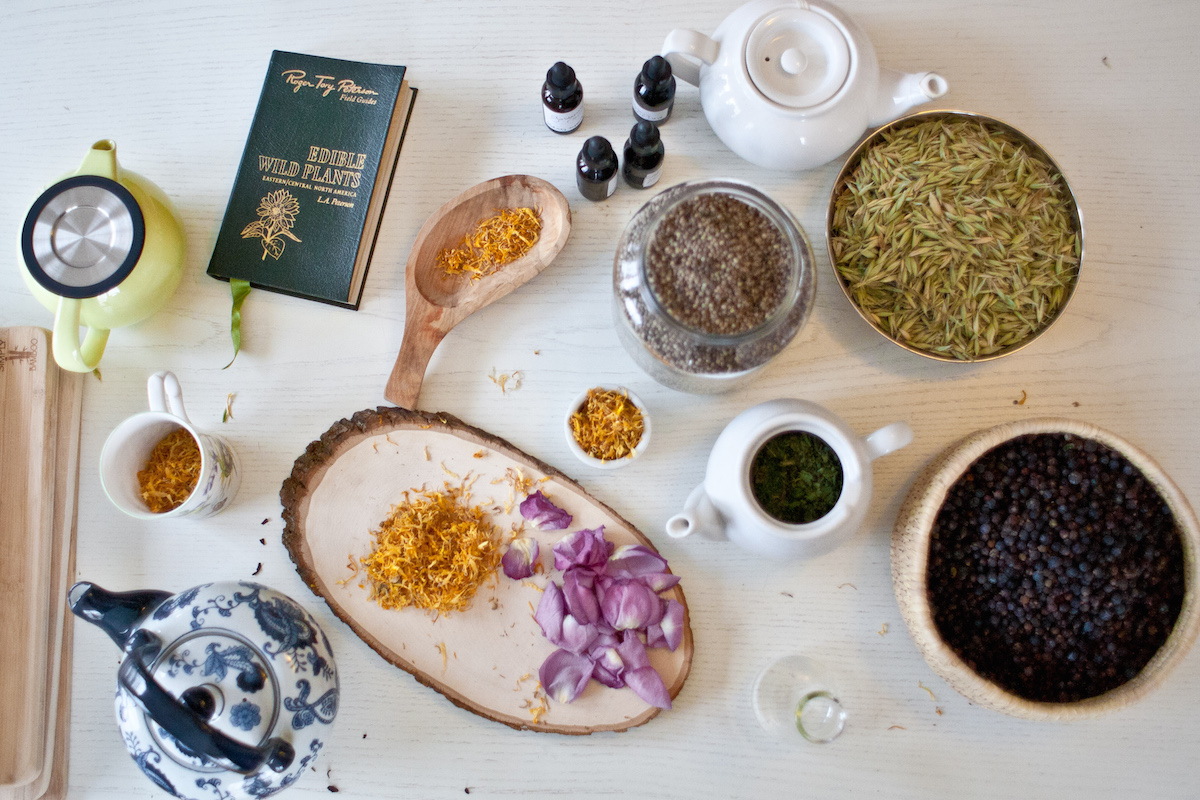 Curriculum
In this beginner's herbalism course, you will learn about the herbal approach, why herbs are important, and how to use herbs in healing teas, infusions, decoctions, tinctures, syrups, topical applications, and body care products. We'll discuss internal and external application of these preparations, herbal actions, and dosing.
The Introductory Herbal Course covers the various body systems including the immune system, and discusses herbal support for maintaining balance in these systems as well as for common complaints such as colds and flu, bronchitis, and allergies. You'll find discussions on herbs for children, women, and men. Because stress is such a prevalent factor in our overall well-being, we'll talk a bit about the nervous system; why a calm, strong nervous system can lay the foundation for better health; and provide suggestions for headache relief and herbs and lifestyle habits to support good sleep. We delve into body care and skin as well as anti-aging lifestyle approaches. Finally, we finish up with the holistic approach—what it is and how it differs from the conventional medical approach, and how to put it into practice.
While we recommend spending at least one month of serious study in each unit, students have the ability to work at their own pace towards completion of the course, and can spend more or less time in each unit. Students will have access to the online portion of the program for twelve months after starting the course. The expiration date is triggered when you select the Start Course option in class; not at registration. Each of the units and lessons, recipes, charts, and ebooks are available to download and print so students can continue to use these resources even after completion of the course.
The Introductory Herbal Course Outline

UNIT 1: HERBAL BASICS
The Herbal Approach and World Healing Traditions; Choosing Herbs; Storing Herbs; Making an Herbarium; Developing your Materia Medica; Herbal Teas and Tinctures; Syrups and Topical Applications; Herbal Actions; Anatomy Overview

UNIT 2: COMMON DISCOMFORTS
The Immune System; Prevention; Detoxifying and Cleansing; Colds and Flu; Respiratory System; Herbs for Kids; Herbs for Her and Him; Materia Medica

UNIT 3: KITCHEN REMEDIES
What's in Your Kitchen; Spices; Kitchen Materia Medica; Making Kitchen Remedies; Wildcrafting and Foraging

UNIT 4: NERVOUS SYSTEM
Overview of the Nervous System; Stress; Headaches and Migraines; Essential Oils; Sleep and Insomnia

UNIT 5: BODY CARE
Introduction to the Skin; Body Care Recipes; External Health, Internal Health; Salves, Balms, and Butters; Topical Oils; Scrubs; Cleansers; Herbal Baths; Moisturizers; Toners; Hair Care

UNIT 6: THE HOLISTIC APPROACH
History; Conventional Medicine; The Holistic Model; The Holistic Body; Herbalism Is More Than Just Herbs; Placebo Response; Holistic Approaches
Testimonials from Class
Start your journey!
We've designed our online herbalist training programs for an international audience, so no matter where you call home, the Introductory Herbal Course will be relevant! We keep our enrollment open which means new students are joining us each and every day. So when you are ready to begin your studies, you'll be registering with a group of students working through the same lessons you are. We welcome you!
Additional Information
| | |
| --- | --- |
| Payment Mode | At Once, 3 months installment |