Natural Dyes Workshop
Natural Dyes Workshop
Enrollment is closed for the season. Join our waitlist, below, to be notified when doors reopen in 2024!

In this self-paced and hands-on workshop for all skill levels, you'll explore how to use the plants you already know and love, in a creative new way! From tie-dyeing to bundle dyeing and even learning how to dye with mushrooms, we have you covered with so many inspiring natural dye projects. You will learn exactly how to use dozens of natural elements to dye everyday items, including fabric, homemade cosmetics, paper, and more!
You'll discover:

The history of botanical dyeing, including traditional uses and sustainability

Which plants create which colors – and how to unlock their most vibrant hues

How to naturally dye fabrics, cosmetics, paper, food, wood, and more

The supplies needed to get started – and the role they play

Troubleshooting tips for any issues that may arise

How to care for your naturally dyed items so the colors last

A plethora of hands-on projects that will bring your lessons to life

Reflections and advice on the natural dyeing journey from course contributors

And more!
As an added bonus, upgrade your enrollment with our Botanical Dye Kit, filled with everything you need to naturally dye organic cloth napkins (included) with beautiful calendula flowers and marigold powder.
Get your dye baths ready as we scour, mordant, dye, and modify our way through the rainbow of color that nature provides! 
Description
Imagine taking the plethora of colors shown in nature, carefully extracting those pigments, and transferring them to the very items you use on a daily basis, like clothing, linens, paper, and even your cosmetics! Welcome to the world of natural dyes, where flowers, roots, and minerals hold the mystery of color within them.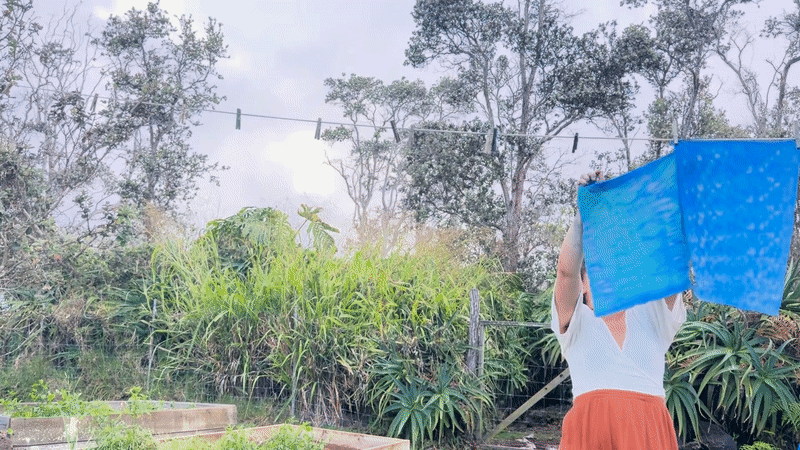 Exploring the world of natural dyes is like opening your eyes to a whole new realm of nature-inspired knowledge, beauty, and possibility.
The 3-part Natural Dyes Workshop will guide you through the natural dyeing process from start to finish, from preparing a fiber of your choice, to the actual dyeing process, to caring for the item after the natural dye has been applied. 
If you're ready to chase the rainbow and explore the science and art of natural dyeing, grab your plant material, dye pots, and a piece of fabric or two, and join us in this fun, hands-on summer workshop!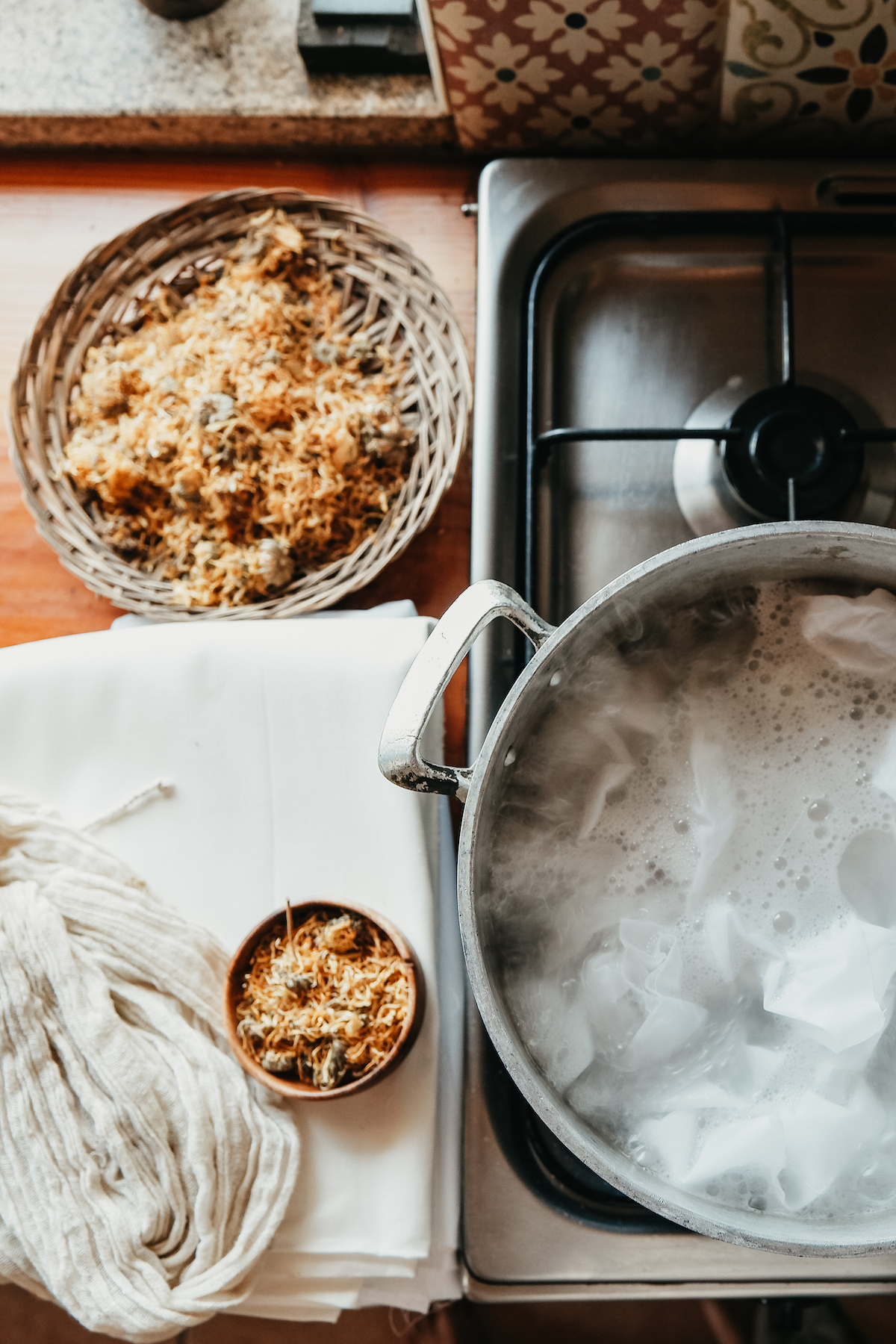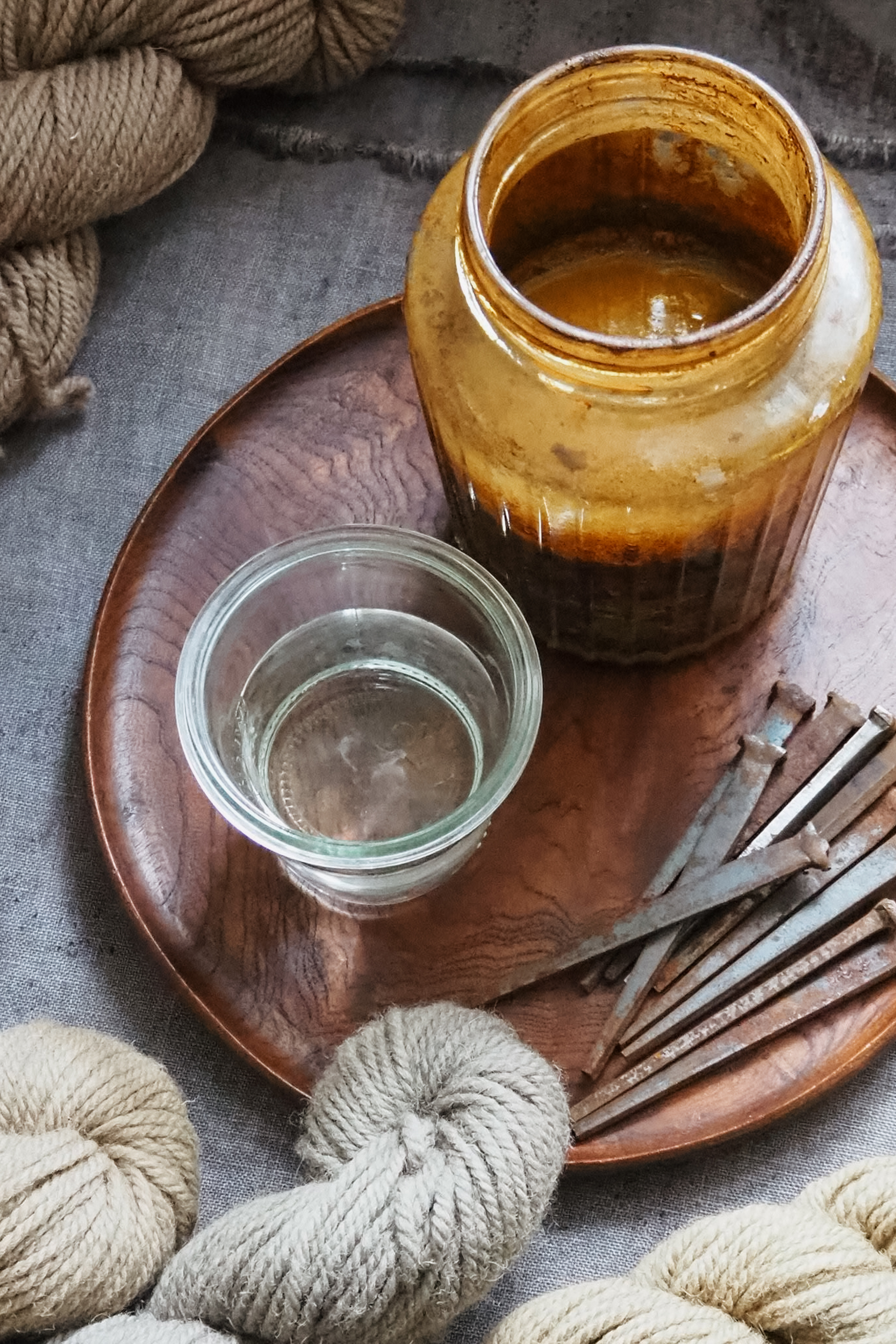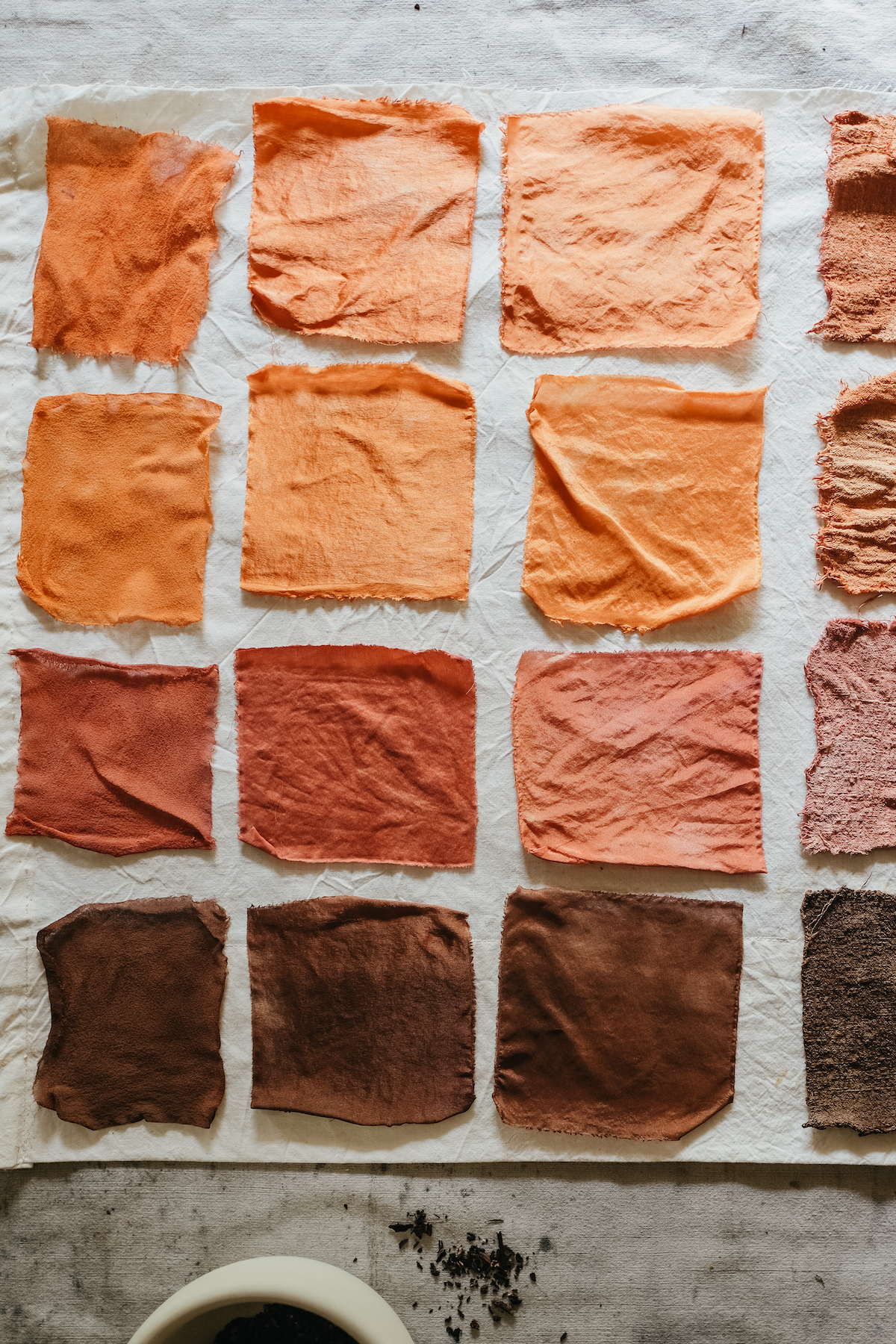 Decorating with botanicals isn't the only way to add natural color to a space. Why not take your love of color, whether bright and invigorating or muted and grounding, to the next level by incorporating natural dyes into your life? Whether you're decorating your home, adding color to your wardrobe, writing thoughtful notes in vibrant cards, or crafting naturally tinted cosmetics for a friend, the colors of nature are all around you—just waiting to be enjoyed!   
As you learn how to take various botanicals and other natural elements and turn them into eco-friendly dyes, paints, powders, and pigments that are pleasing to the eye and safe for use, you will find that a new world of possibility has opened to you. Before you know it, you will be looking at nature through rainbow-colored glasses!

WHAT'S INCLUDED IN THE NATURAL DYES WORKSHOP:
This workshop will teach you how to use natural materials—like flowers, roots, and mushrooms—to create different types of dyes, including dye baths, pigments, and powders. You will then use your homemade dyes to color fabrics, cosmetics, food, and more! 
Learn from an inspiring and well-versed educator team of botanical dyers and herbalists who've come together to design this special workshop, including Allie Feldman, owner of Rooted Botanics, a rooted-in-nature, plant dyed vintage clothing brand; Babs Behan, author, owner of Botanical Inks, and producer of Bristol Cloth- the UK's pioneer large scale natural dye fabric production system; Daniella Esposito, certified teacher gone homeschooler, and the creator behind LittlestWildlings; Lauren Smith, owner of Lauren Ink, a studio of botanically dyed handmade paper and letterpress printed goods; Leya Williams, owner of Rowan Lane Fibres, a shop of botanically dyed goods for self and home; Sarah Arch, with a natural dye background in hosting workshops and dyeing vintage clothing; Wai'ala Ahn, the artist and educator behind Misty Mountain Homestead, a small family floral farm and botanical dyery; Catarina Seixas, Meagan Visser, and Stacy Karen, staff herbalists and botanical dye enthusiasts at the Herbal Academy.

LESSON 1 | GETTING STARTED WITH NATURAL DYES
Curious why you should care about the craft of natural dyeing in today's modern world? This lesson will start out by exploring what natural dyes are, the traditions of using natural pigments, why we should continue to use natural dyes today, and how these dyes are commonly used in the 21st century. Not only will this give you plenty of context for natural dyeing, but you'll also learn why natural dyes are better for the environment and your health! 
To top this lesson off, we'll share a complete natural dye supply list that includes both basic and advanced supplies, as well as various sources where you can begin gathering the supplies you need.

LESSON 2 | USING NATURAL DYES WITH FABRICS
Perhaps the most common way to use natural dyes is to dye fabric. This lesson will walk you through the entire process of dyeing fabric with natural dyes. From plant fibers, such as cotton, linen, ramie, or hemp, to animal fibers, like silk and wool—you will learn how to prepare, scour, mordant, dye, and care for each type of fabric so your dyes take to the fabric properly. Not only that, but you'll also learn the chemistry behind natural dyeing, from what mordants and pH modifiers are to how water temperature affects dyes. 
In this lesson, you will find our Wild Color Guide, which will explore where various botanicals and natural elements land on the color wheel. You may be surprised at the color some plants yield, and which mordants and water temperatures they prefer so you get the best results! You'll also find a plethora of videos and hands-on projects in this lesson, such as making homemade iron water, making various tie-dyeing patterns, bundle-dyeing with fresh and dried flowers, dyeing with mushrooms and lichens, and so much more!  

LESSON 3 | OTHER COMMON USES FOR NATURAL DYES
The natural dye fun doesn't have to stop at fabrics! This lesson will share a variety of ways to make the most of the colors you are working with, from exhausting a dye bath and turning it into a lake pigment and watercolor paint to making ink from plants and fungi. 
Not only that, but you'll learn how to use your natural dyes to color cosmetics and craft projects, like playdough, colored eggs, and naturally dyed paper and wood. You can expect both text and video-based content to make learning these projects even easier!

BONUS! | THE COLORFUL JOURNEY OF A NATURAL DYER
As an added bonus, you will also learn from several natural dye artists about their journey into the world of natural dyeing, how it has shaped their lives and career paths, and the advice they have for others following in their footsteps.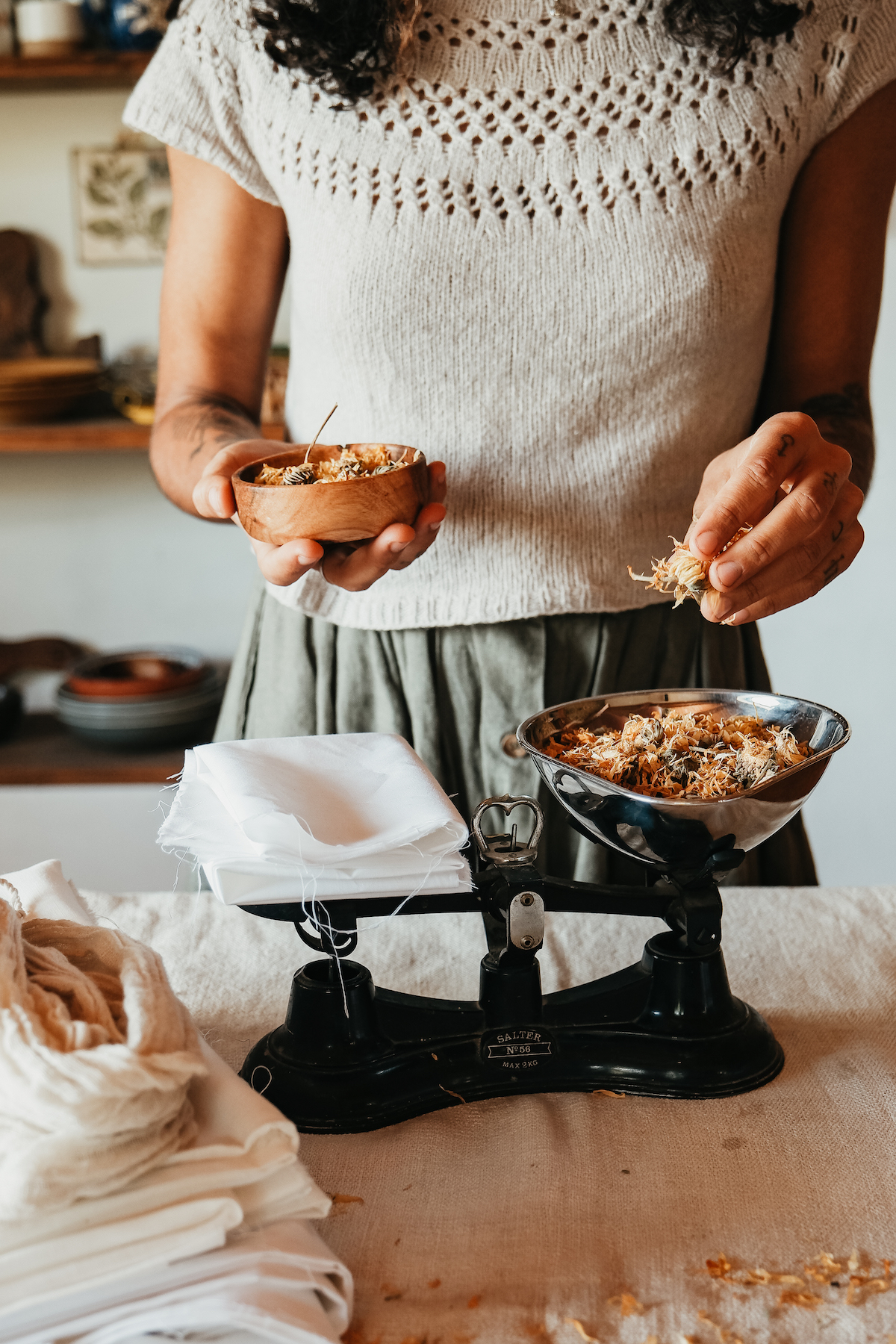 How the Workshop works:
The Natural Dyes Workshop is a 3-part series designed for you to complete over a two to three day period, such as a weekend. You will get immediate access to the first lesson with your registration. Sign up now and get access to the Natural Dyes Workshop – registration closes Monday, September 4th. 
This is a seasonal offering, so sign yourself up for the Natural Dyes Workshop while it's "In Stock" to gain access!

You will be able to get started on the Natural Dyes Workshop now, but you can begin at a later date if that's more convenient for you. Click the "Start Course" button on this workshop to trigger your 6-month access. 

PDFs of the workshop text, charts, and video transcripts can be downloaded to keep on hand for your continued reference.

After you complete the Natural Dyes Workshop, you will gain a badge of completion in your Student Dashboard.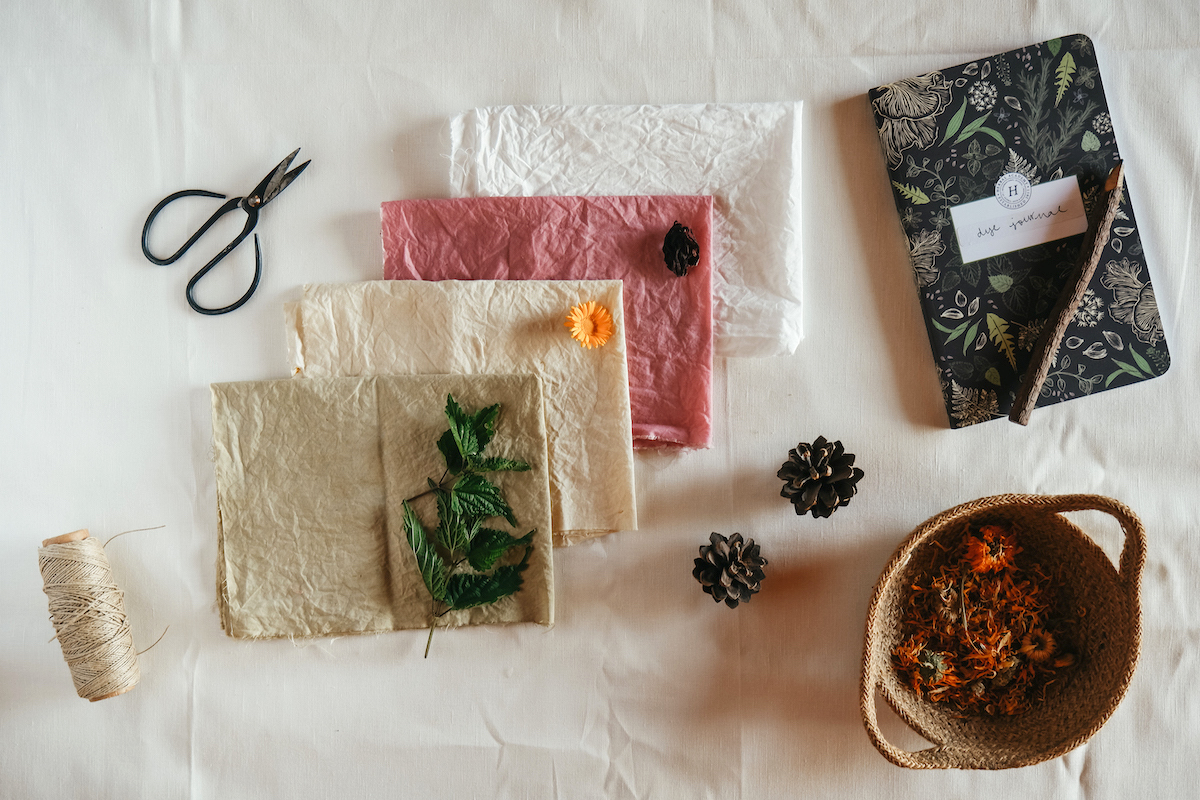 Explore your curiosity and creativity and grow your knowledge and skill as you learn how to use botanical dyes in a variety of ways inside the Natural Dyes Workshop.
Scroll to the top of the page to register!
Additional Information
| | |
| --- | --- |
| Weight | 0.38125 lbs |
| Dimensions | 8 × 6.3 × 0.5 in |
| Enrollment Type | Workshop Only, Workshop with Booklet, Workshop with Dye Kit |