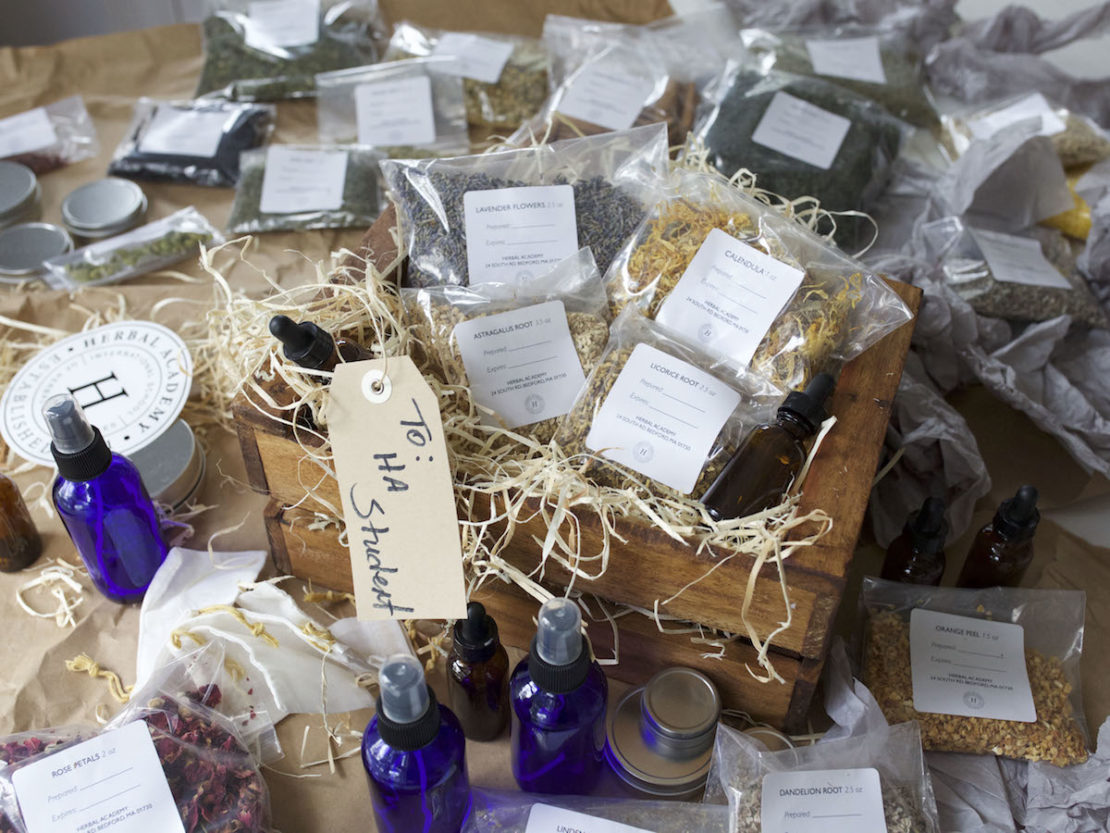 Introducing the Herbal Starter Kit
Are you eager to get some hands-on experience with herbs but are not quite sure where to begin? Have you devoured all the herbal books within your reach and want to put that knowledge into practice? Are you ready to invest some hard-earned money but want to make sure you get the most useful staples for your home apothecary?
The Bright Beginning of Herbalism
Beginner herbalists can relate to that feeling of simultaneous exhilaration and overwhelm at the many possible directions they can take their herbal studies.
Have you ever felt excited to forage plants you've learned to identify, but at the same time, you don't want to waste their life force until you've learned how to use them?
What about those times of standing in glassy-eyed wonder before vast shelves of large herb jars full of soft greens, magentas, and mustard yellows. You feel thrilled at the possibilities of the brightly colored contents of those jars but overwhelmed with the choice of which to take home with you.
We've all experienced this stalled enthusiasm, and many of us just wish someone would tell us what herbs to buy and what recipe to start with so we can put this enthusiasm to work.
Meet the Herbal Starter Kit
We at Herbal Academy understand that this struggle is real! With this in mind, and with prompting from our student community, we are helping to bridge the gap between knowledge and practice with an herbal starter kit!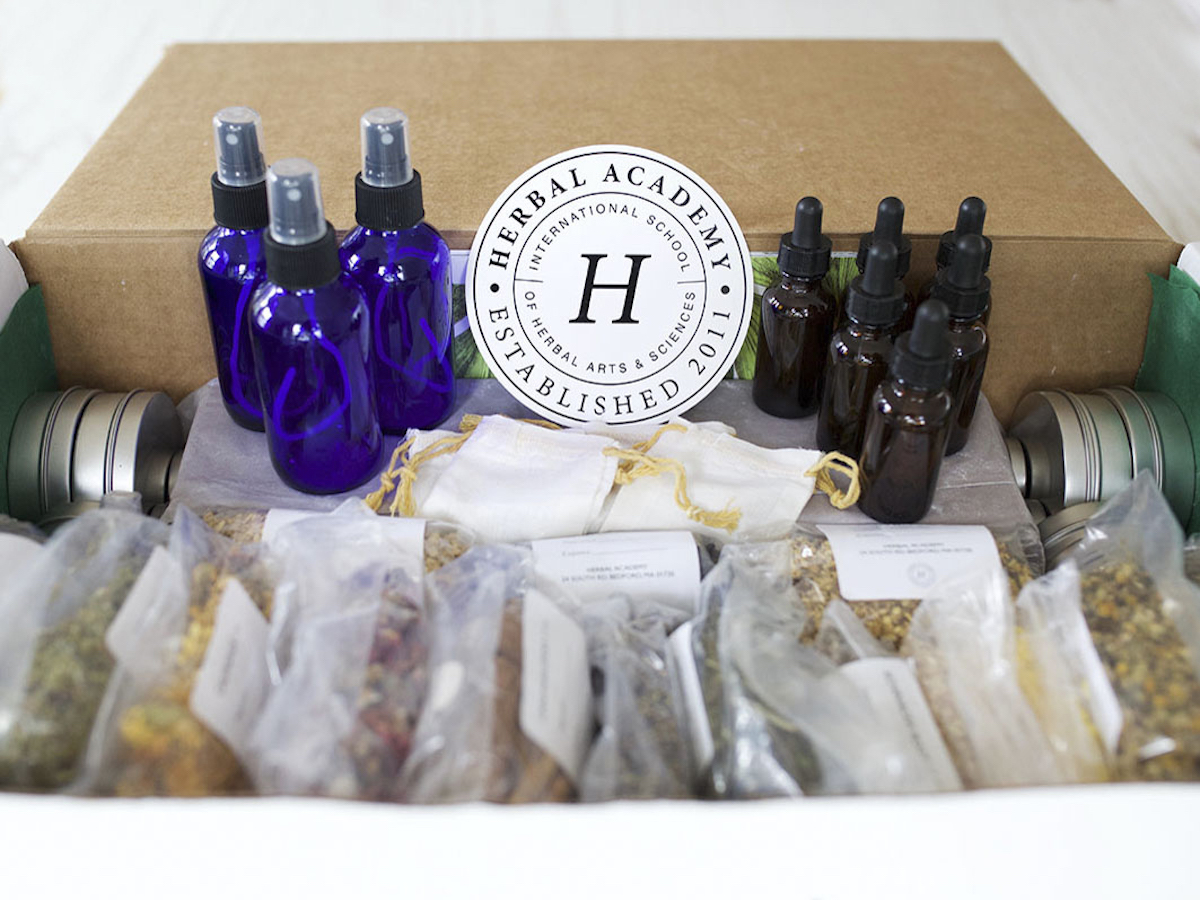 Designed for budding herbalists and students craving some hands-on experience with plants, this herbal starter kit includes recipes, instructions, and ingredients to help harness that enthusiasm and help you get up close and personal with herbs that we frequently discuss in our popular Introductory and Intermediate Herbal Courses.
What's Included In The Herbal Starter Kit?
Our educators have selected 25 herbal recipes (some from those courses!) that any beginner can prepare with confidence. These recipes cover a range of herbal preparations and some can even be eaten!
We've also included 14 mini-monographs for the featured herbs to deepen your understanding of each plant. These monographs will help acquaint you with each plant's energetics, actions, and common uses, as well as various ways to use them.
Each kit also comes with the beeswax and organic herbs you will need to make each of the 25 herbal recipes. We've sourced and measured all the amounts you'll need to prepare these recipes (and a little extra to experiment with).
You can get a sneak peek at some of the herbal recipes, monographs, and herbs included in our herbal starter kit right here!
Two Herbal Starter Kit Options
Because we know that building an herbal apothecary can be a challenge, we want to do all we can to make it easier on you, and to do that, we're offering you two different Herbal Starter Kit options—The Essential Herbal Starter Kit and The Deluxe Herbal Starter Kit.
The Essential Herbal Starter Kit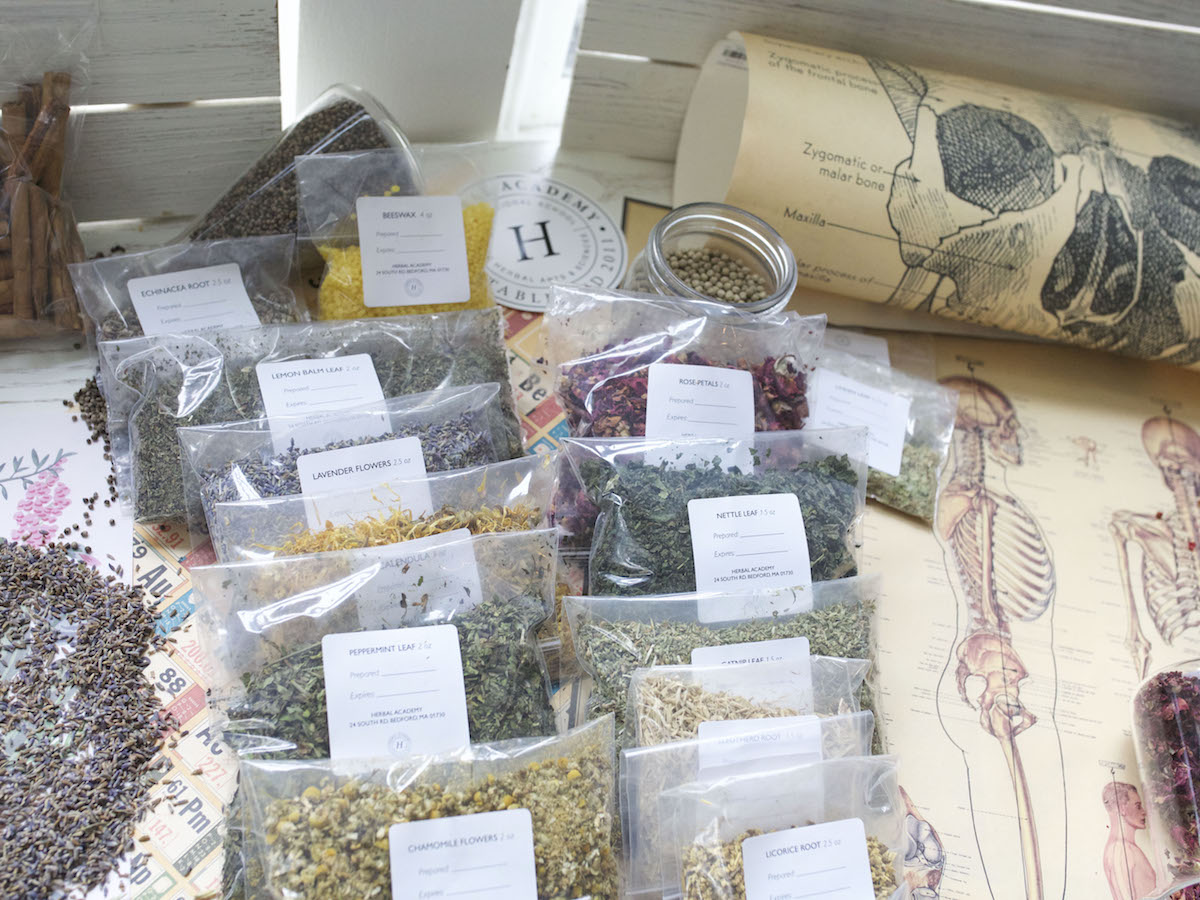 The Essential Herbal Starter Kit ($99 value) is our basic kit and includes 25 Recipe Cards and 14 Mini-Monographs that are beautifully laid out in full color on heavy stock cards. These are sturdy enough to endure long-term use in the kitchen and even lovely enough to adorn your walls! All 14 featured herbs are organic, and we've also added a bonus Herbal Academy 5" Decal so you can show your school spirit! With the addition of commonly found culinary herbs and spices, this kit has all the basics to get you started and grow your confidence in the kitchen!
The Essential Herbal Starter Kit includes the following:
Introduction to the Kit Card
25 Recipe Cards
14 Mini Monographs
14 Organic Featured Herbs
Beeswax
Herbal Academy 5" Decal
The Deluxe Herbal Starter Kit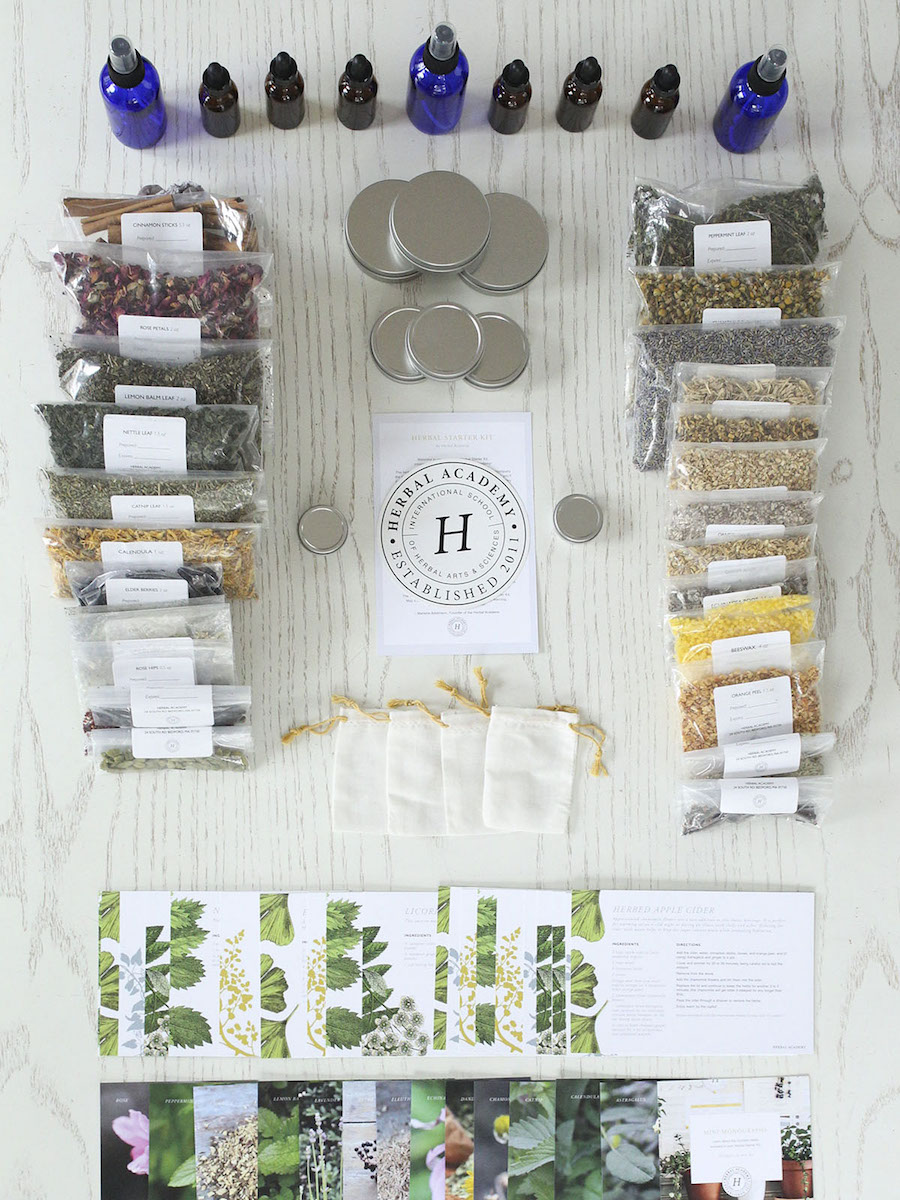 The Deluxe Herbal Starter Kit ($149 value) makes hands-on learning even more convenient for your busy life. It includes all of the same items as the Essential Herbal Starter Kit as well as 8 additional culinary herbs needed to complete all of the recipes as well as some containers to store your salves, tinctures, and other herbal preparations in. We've taken care of the legwork and sourcing to get you the best prices on herbs and containers, so you'll have every last thing needed to prepare and store these herbal recipes, without the hassle of tracking down all the ingredients. In fact, it would cost up to $250 if you purchased everything included in the Deluxe Herbal Starter Kit on your own!
The Deluxe Herbal Starter Kit includes the following:
Introduction to the Kit Card

25 Recipe Cards

14 Mini-Monograph Cards

Beeswax

Herbal Academy 5" Decal

22 Organic Herbs (14 essentials + 8 additional herbs)
4 Organic Muslin Bags
3 4oz. Salve Tins
3 2oz. Salve Tins
2 1/2oz. Salve Tins
6 1oz. Glass Dropper Tincture Bottles (Amber)
3 4oz. Glass Spray Bottles (Blue)
Please know that some recipes in the Herbal Starter Kit will require basic kitchen and bath staples such as honey, vinegar, olive oil, vodka or brandy, witch hazel, epsom salts, and aloe vera gel that you likely already have at home or can easily pick up locally.
Get Your Herbal Starter Kit Today!
Are you so enthusiastic about bringing herbs into your daily life that you want to treat yourself to some extra goodies? Do you have someone special in your life that deserves a little reward for their tireless dedication to herbal studies? Our Herbal Starter Kit may be just the thing you're looking for.
Click here to get your Herbal Starter Kit today!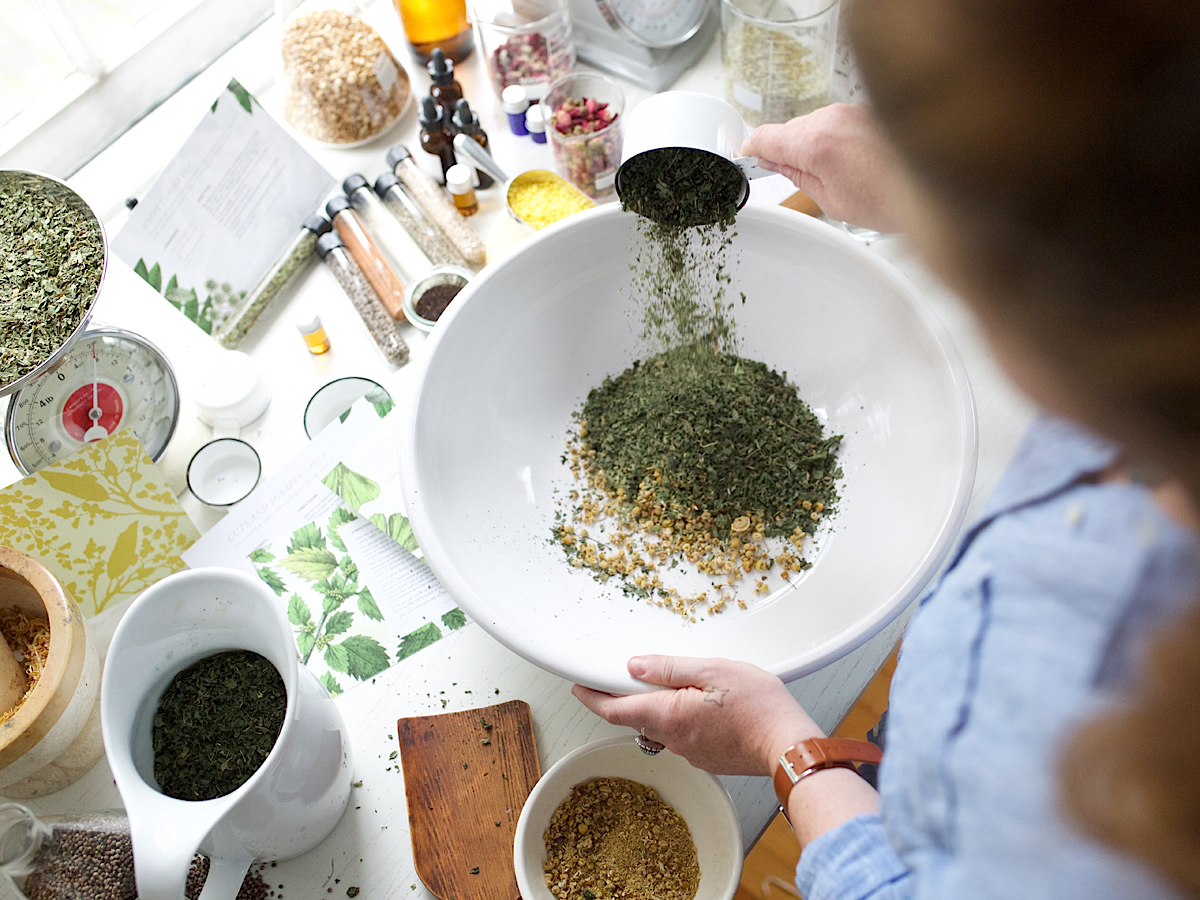 We are so thrilled to share these kits with you that we are letting you in on them early—releasing a limited run of each kit as a pilot release to see how you like them. They will be available until they are sold out, and if you like them, we'll keep 'em coming! We'd like to bring you the configurations that work best for everyone's needs so stay tuned for future iterations. In the meantime, we'll only have these kit models until they sell out.
Get all the details about the Herbal Starter Kit over in our Goods Shop.