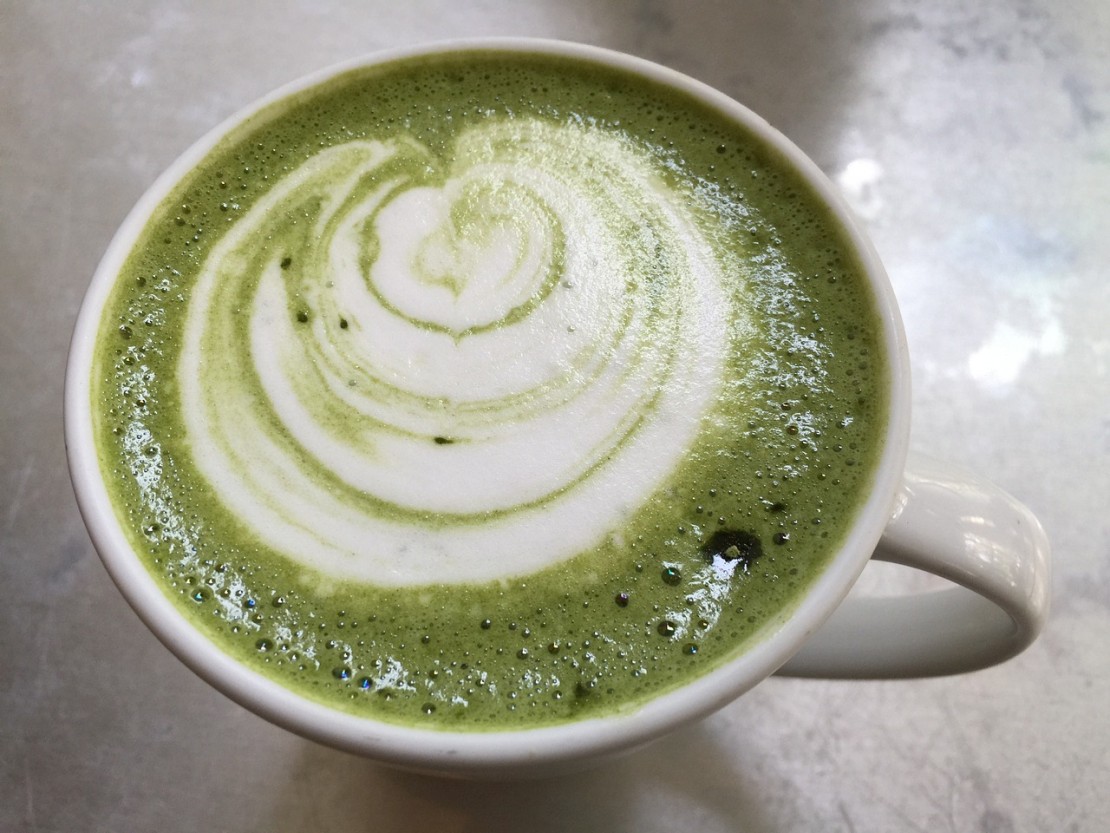 How To Boost Your Health With Matcha Tea
We're all aware of the benefits of green tea (Camellia sinensis). Research of green tea continues in the areas of cardiovascular health, diabetes, brain, bone and dental health, weight loss, digestion, headaches, and as an energy drink (Blumenthal, 2003).
Matcha is green tea processed in a way that allows the consumer to ingest the leaves, not just an infusion of the leaves. While drinking an infusion is advantageous, ingesting the whole leaf makes it more potent.
The History of Matcha
Legend tells us that tea was "discovered" around 2736 BC by Emperor Shen Nung. Around 1191 AD, a visiting Buddhist monk brought Camellia seeds back to Japan. Since then it has been associated with Zen Buddhism (Quinn-Doblas, 2015).
It's up for debate on who actually began to powder the leaves, but some sources believe the powdered matcha originated in China. Others believe that due to the Japanese Buddhist monk's propensity for developing medicines, it would have been natural for them to make a powder of the dried green tea leaves (Quinn-Doblas, 2015).
You can experience the taste of a Japanese ceremonial tea by adding ¼ to ½ teaspoon of matcha powder to a cup of hot water and frothing it up. Sometimes I make a latte by substituting milk for the water.
Pay attention to your body as you drink it. Matcha is often associated with the words focused, energized, and meditative.
How Tea Becomes Matcha
The U.S. imports most of its matcha from Japan. The process used in making matcha differentiates it from all other teas.
About three weeks before harvest, the bushes are covered, blocking out most of the sunlight. This results in slower growth, longer, greener, and sweeter leaves with more chlorophyll. Harvest by hand occurs in the spring with only the buds and the top three leaves taken. The age and type of bush also contribute to the quality.
The leaves are laid out flat to dry in little sunlight. Traditionally this was done outside, but now buildings with the ideal temperatures and light are available for drying. After drying, the leaves are deveined and their stems removed.
Traditionally, dried leaves are ground by hand on granite slabs, resulting in a very fine powder. As the popularity of matcha has increased in the west, machines have been developed for grinding the leaves into powder, allowing for higher production and lower cost.
The first matcha I purchased seventeen years ago was $32 an ounce. Now I get three ounces of ceremonial-grade at our local natural foods store for $17. Seventeen years ago it was called "Flat Stomach Tea" since it gave one a feeling of being full which reduced the appetite while energizing at the same time. I was told drinking matcha prior to exercise could increase the amount of fat burned.
Matcha is more susceptible to damage from air, humidity and light than other teas. It usually comes in sealed tins and should be stored carefully.  It can be frozen or refrigerated in an airtight container.
Matcha comes in grades. The ceremonial grade is a higher grade, while the premium grade is more common and can be used for cooking and drinking.
3 Recipes To Boost Your Health With Matcha Tea
When cooking with matcha, small amounts are the key, but experiment until you find the amount you like.
Generally, you should start with about ¼ – ½  teaspoon of the powder; less is best. Add this to hot water – about 175 to 180 degrees. Boiling water will cause bitterness or a taste like grass (the kind you walk on). Sweetener can be added if desired (I use stevia). You can drink it warm, or iced in the summer.
Matcha lovers consume it in various forms. Adding a half teaspoon (or to taste) to smoothies and shakes infuses additional nutrition.
I've added matcha powder to egg salad, deviled eggs, and frittatas. I've also made matcha shortbread, ice cream, and added it to whipped cream. It seems to pair well with dairy, veggies, dark chocolate, and fruits, especially pineapple, mango and lemon. It adds a lovely green color to dishes.
Here's a granola recipe I've been playing with for a couple of years:
Matcha Granola
Ingredients
1/3 cup maple syrup
1/3 cup light brown sugar, packed
1-2 teaspoons matcha powder (or to taste)
4 teaspoons vanilla
½ teaspoon salt
½ cup vegetable oil
5 cups old fashioned oats
2 cups chopped nuts of your choice (almonds, pecans, peanuts, cashews, etc)
2 cups dried fruit of your choice (raisins, apricots, dates, figs, cranberries, etc)
Directions
Mix the first five ingredients.
Stir in oats and coat thoroughly.
Fold in nuts.
If the mixture is dry, add more maple syrup.
Place in a parchment paper lined baking pan and tap down firmly.
Bake at 325 degrees for 35-40 minutes.
Cool completely.
Break into pieces and fold in dried fruit.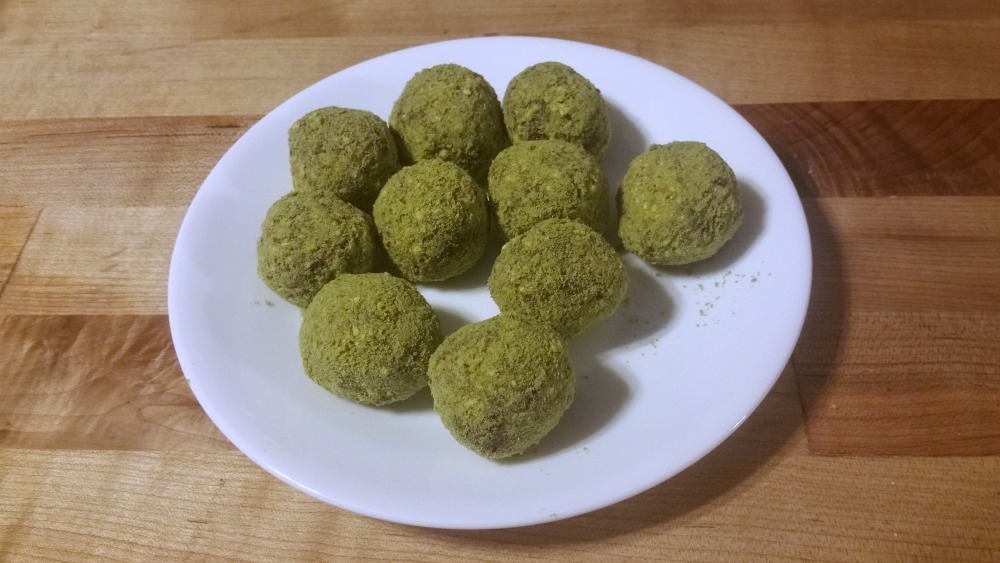 The following recipe for energy bars is a particular favorite and is quick and easy to make.
Matcha Energy Bars
Adapted from The Healthy Matcha Cookbook
Ingredients
Directions
Line an 8 x 8 square cake pan with parchment paper.
Put all the ingredients into a food processor and pulse until all the ingredients stick together.
Transfer the ingredient mixture into the parchment lined pan and press down.
Let bars sit in the refrigerator until firm (about 4 hours).
Remove parchment, and cut into bars, and store in the refrigerator.
For a dessert treat, here's one for dark chocolate lovers.
Dark Chocolate Truffles
Adapted from The Healthy Matcha Cookbook
Ingredients
12 ounces dark chocolate
1 teaspoon vanilla extract
¾ cup whipping cream
Matcha powder to coat
Crushed pistachios to coat
Directions
Mix vanilla and chocolate in a bowl and put aside.
In a medium pan, bring the cream to where it is just about to boil. There will be tiny bubbles along the edges of the cream in the pan. Don't let it boil.
Mix cream into the chocolate/vanilla and whisk until all the chocolate melts. (Up to 5 minutes).
Cover and put in the refrigerator overnight until it hardens.
Scoop and form into whatever sized balls you want.
Roll the balls into the matcha powder.
Roll balls in the crushed pistachios.
Keep refrigerated.
I've enjoyed matcha for years and experimented wildly along the way with very few failures. If you meditate, it's the perfect "before" drink. If you like to exercise, try it. I make a pint jar and sip it throughout the day at work to remain focused.
Enjoy!
Have you ever had matcha tea, or used matcha in recipes? Let me know in the comments below!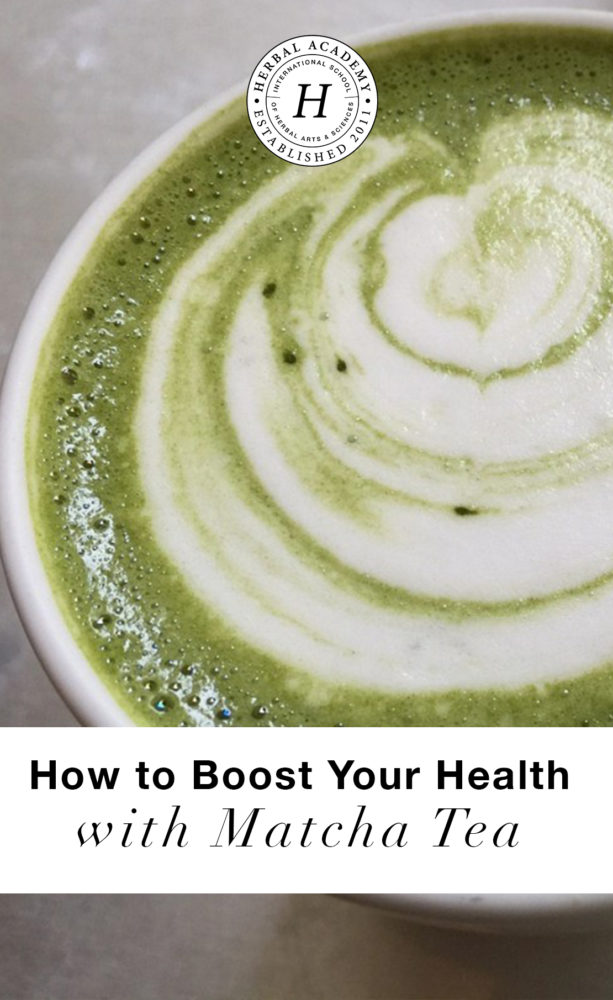 References:
Blumenthal, Mark,(2003). The ABC Clinical Guide to Herbs.  Austin, Texas: American Botanical Council.
Heiss, Mary Lou, (2006).  Green Tea.  Boston, Massachusetts:  Harvard Common Press.
Gold, Cynthia and Stern, Lise, (2010).  Culinary Tea.  Philadelphia, Pennsylvania: Running Press Book Publisher.
Quinn-Doblas, Miryam, (2015).  The Healthy Matcha Cookbook. New York, New York: Skyhorse Publishing, Inc.