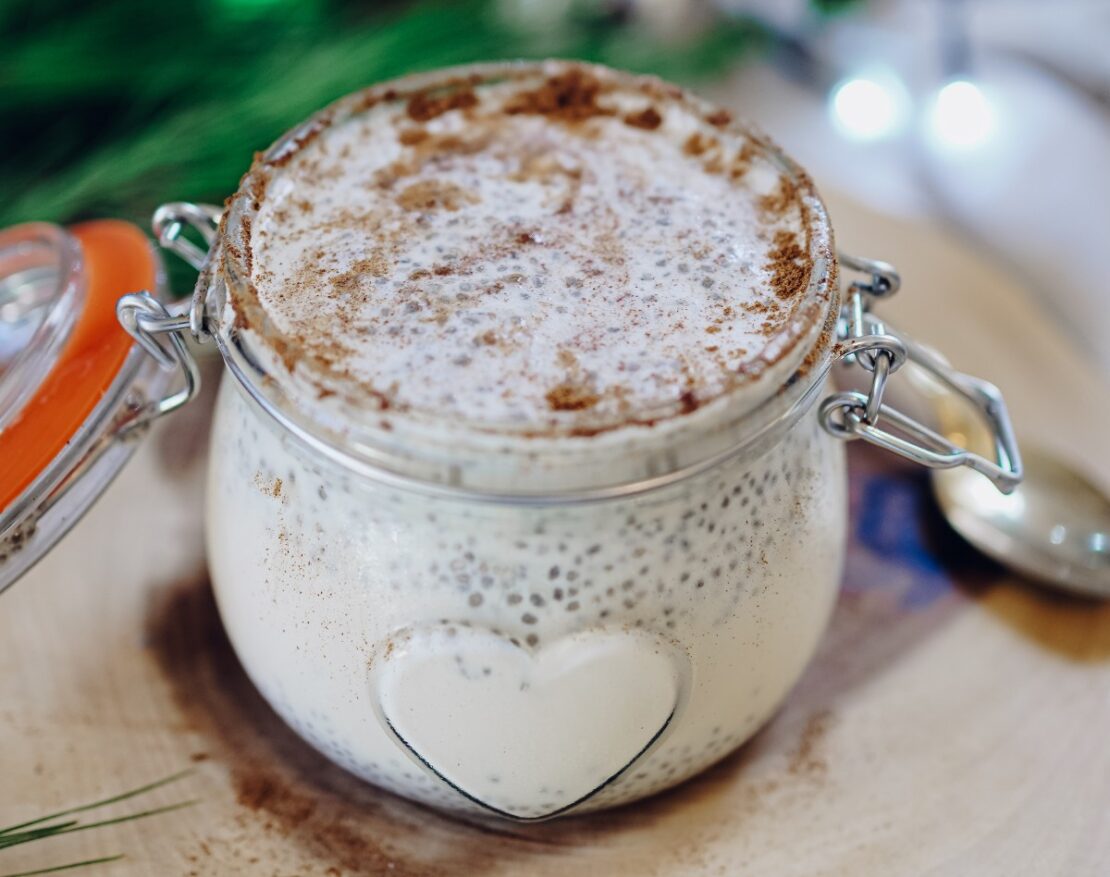 Homemade Eggnog Chia Pudding Recipe
There are some recipes that elicit a debate, and this, friends, is one of them… eggnog! Boasting a strong reputation– either you love it or hate it. A yuletide drink filled with sweetness, milk, cream, alcohol, and the infamous eggs. A classic holiday recipe that dates back to the medieval times. Variations have been enjoyed worldwide, however, the basic recipe for homemade eggnog has not changed over the years. Still a favorite during the holidays, this rich, creamy drink has stood the test of time. 
Renditions of this classic homemade eggnog recipe pull in some unique additions and we have one for you to try! An eggnog chia pudding, perfect for a morning snack, or holiday brunch. Make this ahead of time and keep it in the fridge. Spoon some in a small bowl when you're craving a velvety treat. 
Eggnog Pudding Ingredients and Benefits
This traditional holiday punch also packs a nutritional punch as well, let's break down the ingredients in the homemade eggnog pudding recipe. 
Eggs-

eggs are some of the most nutritionally dense foods on the planet! Packed with benefits, a single egg has— vitamin A, folate, B vitamins, selenium, zinc, and other trace minerals, making it a superfood (FoodData Central, n.d.). If you can, choose pasture raised eggs for an even denser nutritional profile. 

Milk-

 much like eggs, milk contains a host of beneficial nutrients. Milk is also protein rich, roughly 8 grams of protein per glass (FoodData Central, n.d.). Secondly, we've all heard that drinking milk makes your bones strong, and that is in large part due to the amount of calcium in a glass of whole milk. Coming in at 306 mg per cup, milk is an excellent source of vitamin c!

Heavy cream-

 a great source of fat. That's right, fat! Our bodies need fat for many metabolic functions, fat also helps our bodies to absorb nutrients better with fat-soluble sources, like heavy cream (American Heart Association, 2022). 

Spices-

 in eggnog you will find cinnamon

(syn. C. zeylanicum).

As a digestive stimulant and carminative, cinnamon is great for warming the digestive system (Herbarium, n.d.). Nutmeg

(Myristica fragrans),

is a warm spice with a nutty flavor, it is also rich in antioxidants (Abourashed & El-Alfy, 2016). Cardamom

(Elettaria cardamomum),

stimulates the gastrointestinal tract and the digestion, absorption, and assimilation of nutrients in the body, perfect addition for all of the nutrient dense ingredients that are used (Herbarium, n.d.). 

Chia seeds-

these little seeds are small but mighty. High in omega-3 and a great source of fiber, adding chia seeds to various recipes will increase the nutritional value of your dish (Ullah et al., 2015). 

Maple syrup-

although this is a sweetener with a high sugar content, we can say that by choosing a natural sweetener, like maple syrup, it is a much better choice than refined sugar. 

Brandy-

last but not least, the traditional addition of alcohol to eggnog. For centuries, various recipes called for alcohol that was familiar and accessible to the region. Spiking this unique concoction doesn't add any nutritional value, however, it does add a bold flavor profile and a little bit of fun!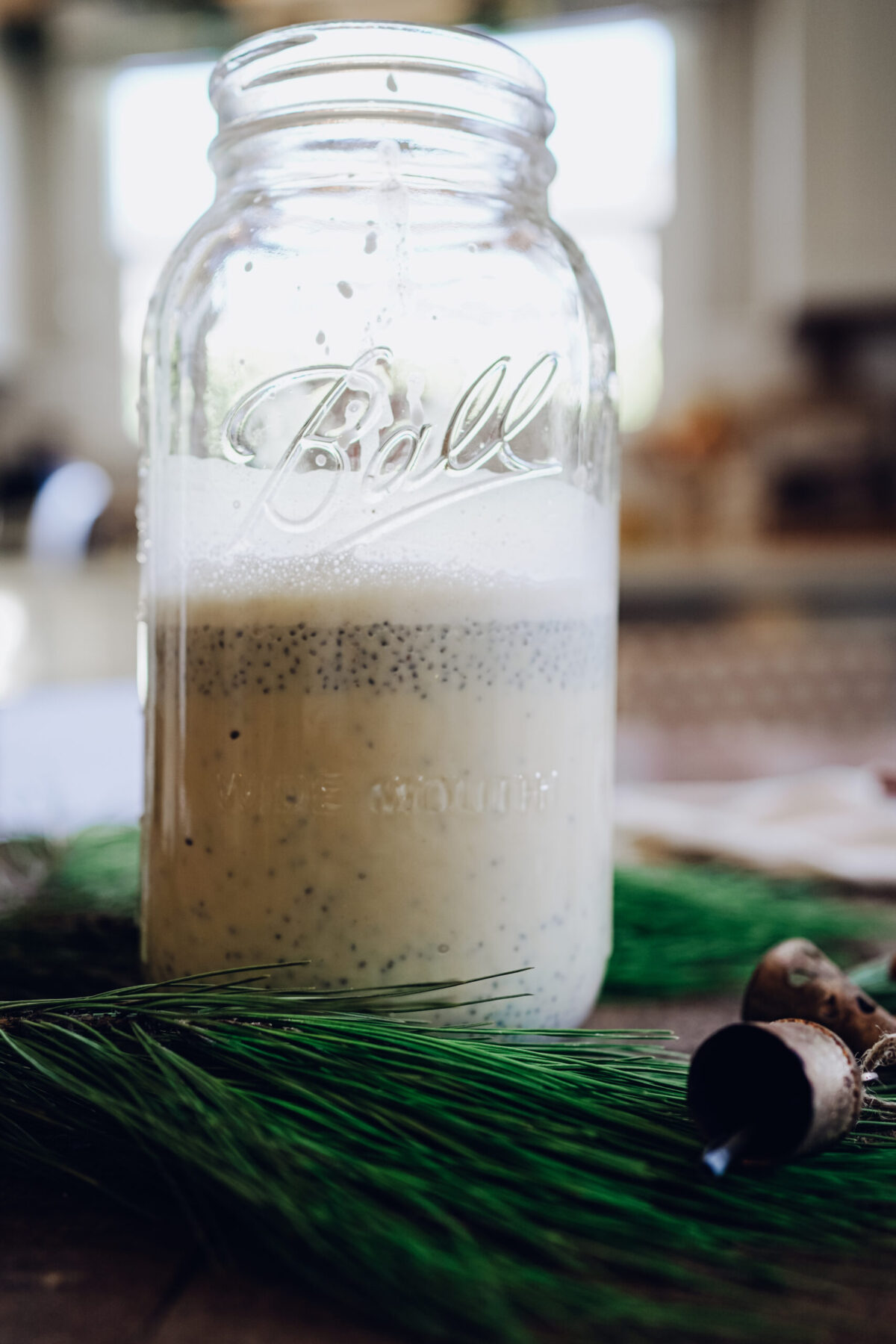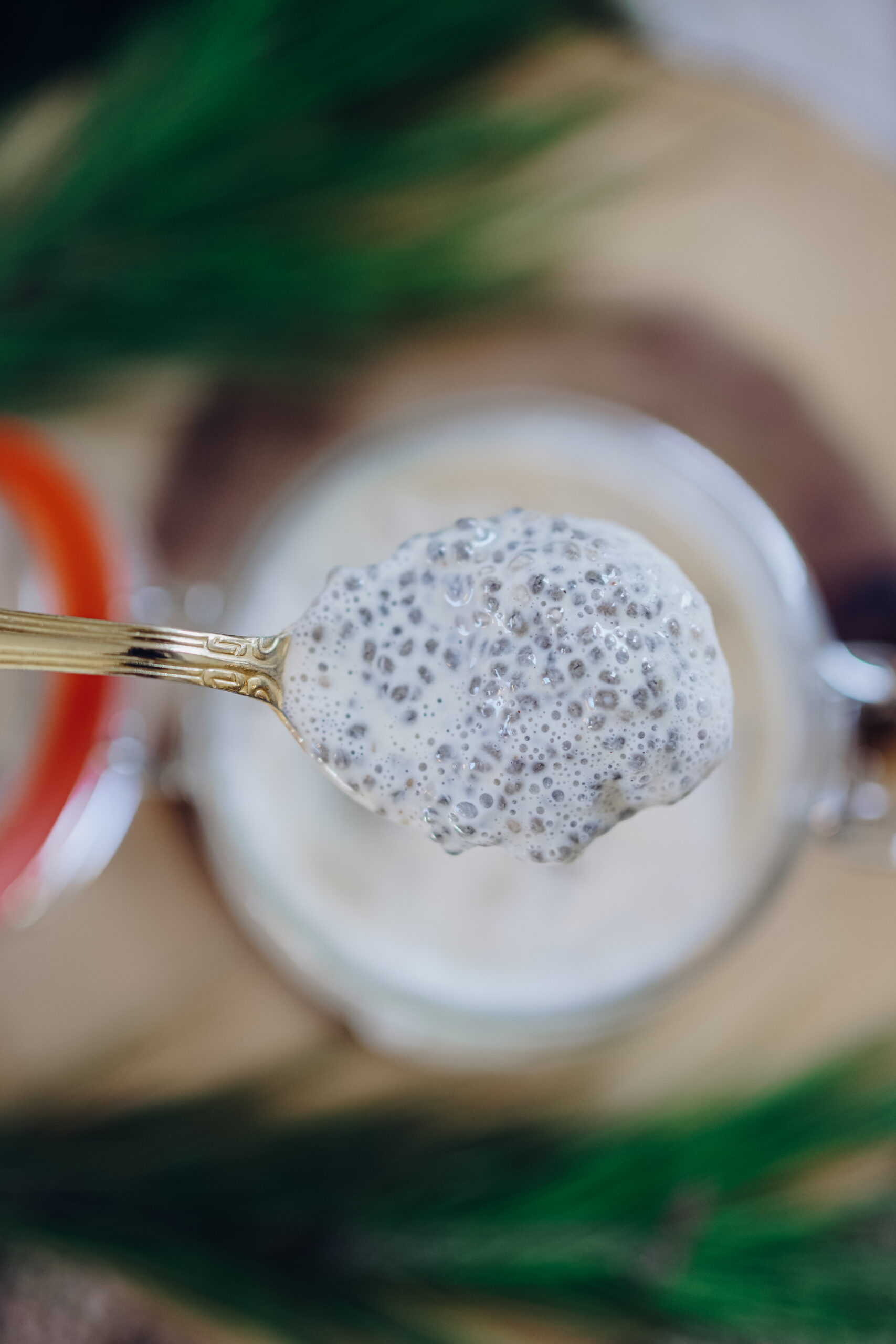 Homemade Eggnog Chia Pudding
Whip up something nostalgic this holiday season with a lovely velvet texture. That's right, eggnog! But make it eggnog chia pudding (with vegan option). Yield: 6 cups.
Ingredients
4 eggs, preferably pasture raised (omit to make it vegan friendly)
½ cup pure maple syrup
2 cups whole milk (vegan alternative to use— almond milk)
1 cup heavy whipping cream (vegan alternative to use— coconut cream)
4 tablespoons pure bourbon vanilla extract
⅓ cup brandy
1 cup chia seeds
1 teaspoon ground nutmeg
½ teaspoon ground cardamom
½ teaspoon ground cinnamon
Directions
Place the eggs and maple syrup in a blender cup.
Blend on high for 3-4 minutes until the mixture feels warm to the touch.
Next, add in the remaining ingredients and blend it again for a few seconds.
Pour the eggnog mixture into a large glass jar, cap it, and refrigerate overnight.
The eggnog pudding will set and you can spoon some into a little bowl. Make sure to sprinkle an extra dash of cinnamon on top!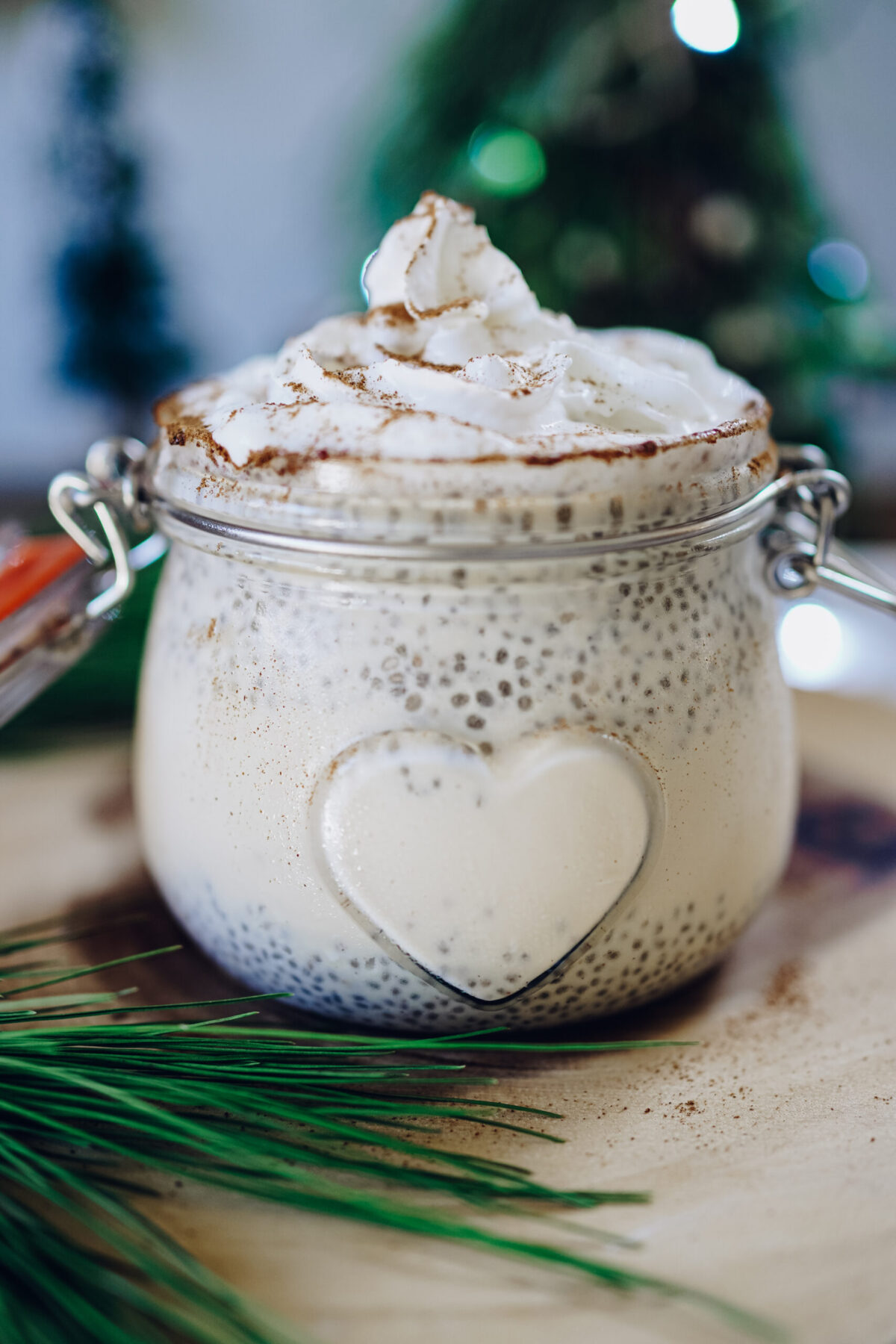 Holiday Spice and Everything Nice
Homemade eggnog chia pudding is a wonderful dish full of warm spices that feels like the holidays. It is a wonderful time of year to be liberal with a dash of cinnamon, a sprinkle of nutmeg, a pinch of cardamom, and a heaping spoonful of chai spice mixture! To read more about the individual benefits of various spices included in this eggnog recipe, find an informative article here. Needing more inspiration on how to include spices into your holiday dishes? We have some great recipes on how to create your own spice blends. 
The holidays are emblematic of good food, good drinks, and lots of spice! Take it back to tradition, each bite of eggnog chia pudding will bring out the holiday spirit.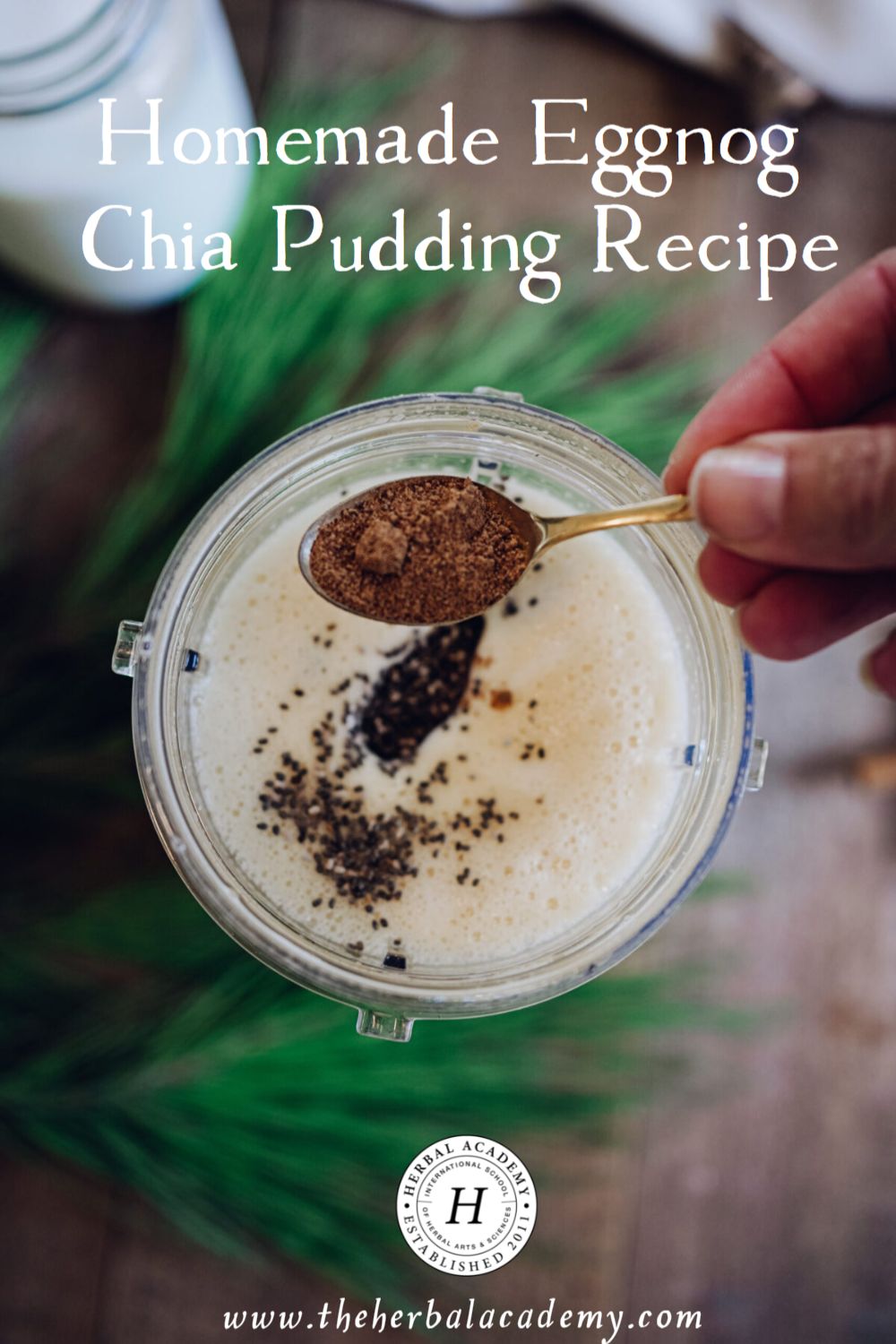 REFERENCES
Abourashed, E. A., & El-Alfy, A. T. (2016). Chemical diversity and pharmacological significance of the secondary metabolites of nutmeg (Myristica fragrans Houtt.). Phytochemistry reviews: proceedings of the Phytochemical Society of Europe, 15(6), 1035–1056. https://doi.org/10.1007/s11101-016-9469-x
American Heart Association. (2022). Dietary Fats. Www.heart.org. https://www.heart.org/en/healthy-living/healthy-eating/eat-smart/fats/dietary-fats#:~:text=Dietary%20fats%20are%20essential%20to
FoodData Central. (n.d.). Fdc.nal.usda.gov. https://fdc.nal.usda.gov/fdc-app.html#/food-details/173424/nutrients
FoodData Central. (n.d.). Fdc.nal.usda.gov. https://fdc.nal.usda.gov/fdc-app.html#/food-details/746782/nutrients
Herbal Academy (n.d.).  | The Herbarium. Herbarium.theherbalacademy.com. Retrieved November 7, 2022, from https://herbarium.theherbalacademy.com/monographs/#/monograph/5161
Herbal Academy (n.d.). | The Herbarium. Herbarium.theherbalacademy.com. Retrieved November 7, 2022, from https://herbarium.theherbalacademy.com/monographs/#/monograph/5094
Ullah, R., Nadeem, M., Khalique, A., Imran, M., Mehmood, S., Javid, A., & Hussain, J. (2016). Nutritional and therapeutic perspectives of Chia (Salvia hispanica L.): a review. Journal of food science and technology, 53(4), 1750–1758. https://doi.org/10.1007/s13197-015-1967-0