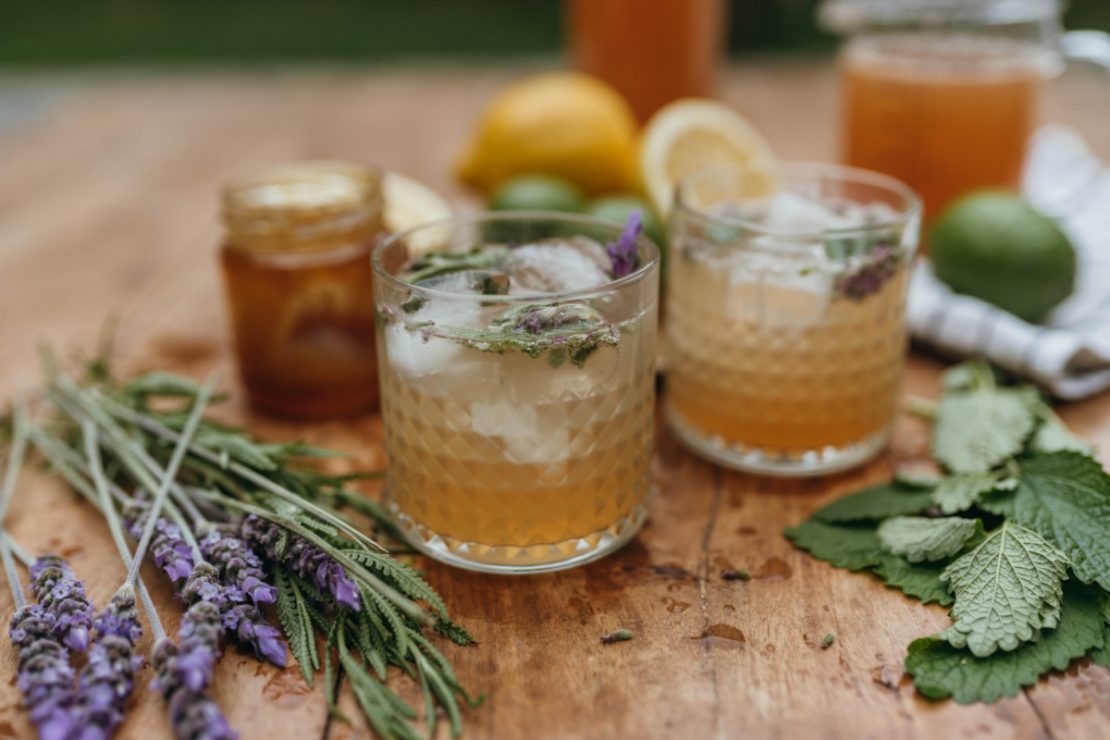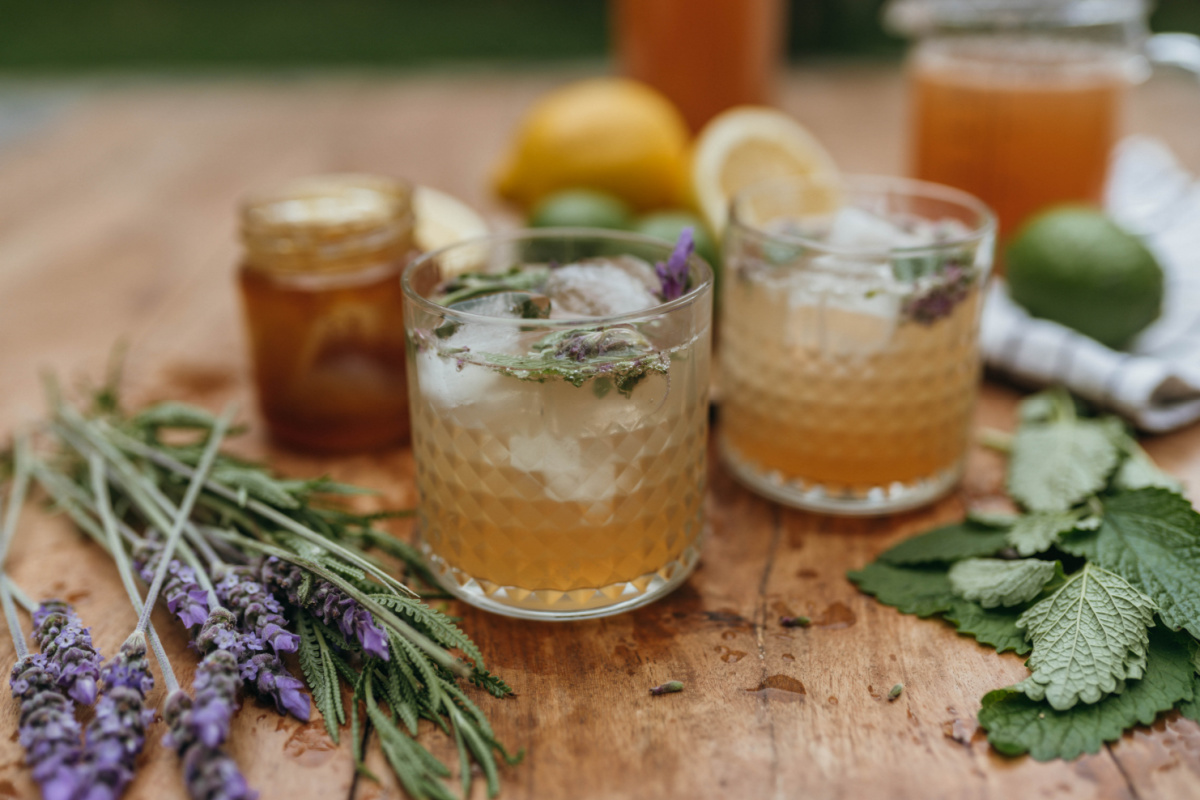 Lavender-Lemon Balm Lemonade
Summer is here and so is the time for long hours of gardening, hiking, picnics, and other outdoor activities and events! So what better way to stay hydrated during the day than with a homemade herbal lemonade? 
The following herbal lemonade recipe is perfect to cool down on a late afternoon, relax the body, and calm the mind from all the hustle and bustle of a long summer day—it's simply a fantastic refresher for the whole family!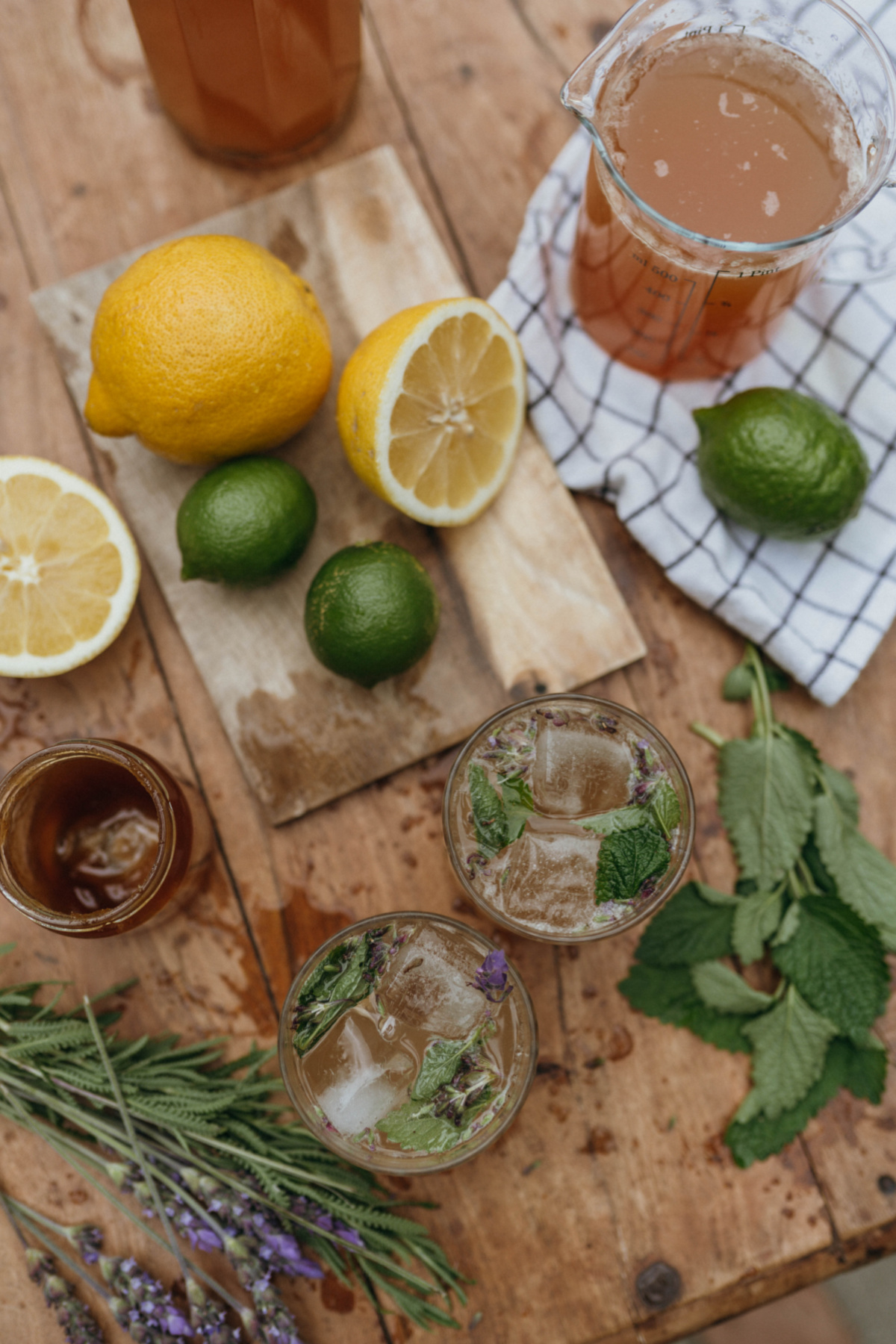 Herbal Lemonade Ingredients for a Great Taste & Calming Effect
Fresh herbs are ideal. The first two are easy to grow and are great to have on hand as they are incredibly versatile for a variety of herbal preparations.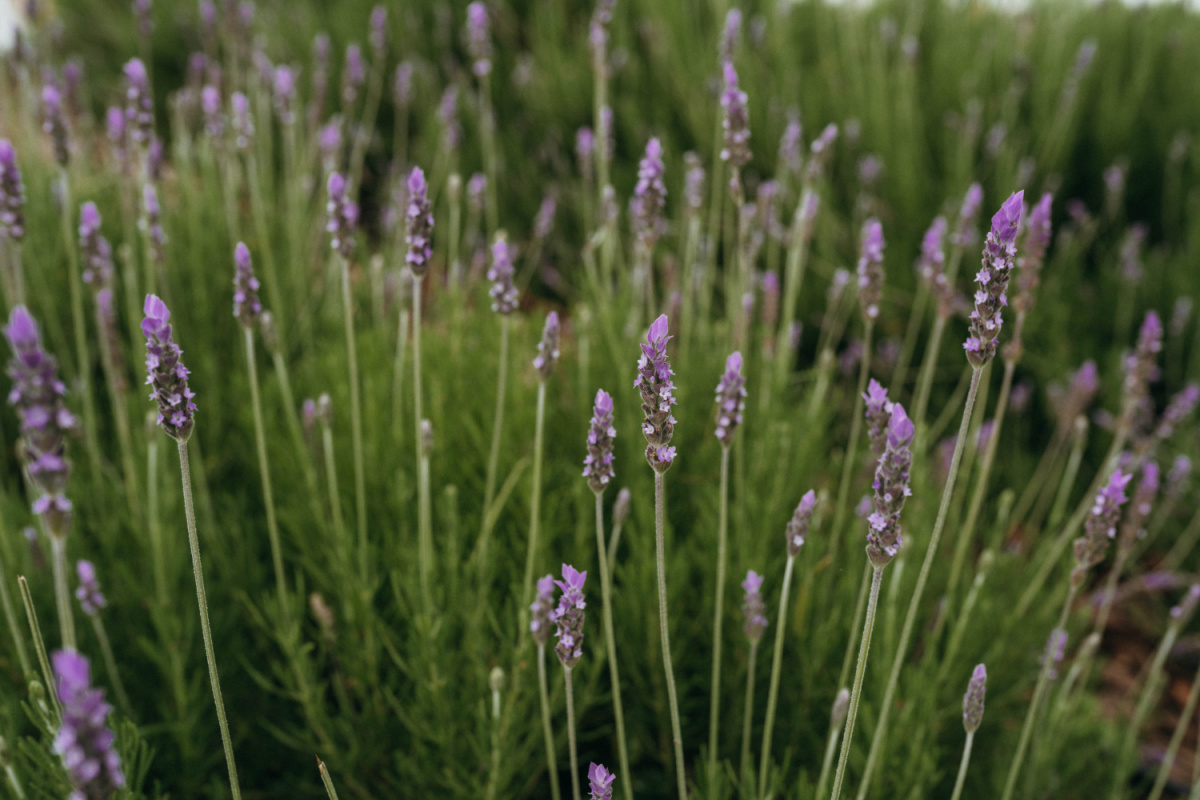 Lavender –
​Lavandula ​spp.
(Flower buds)
The lovely lavender is a delightfully aromatic nervine. By simply smelling the volatile oils of this plant, you will already experience a calming effect! Sometimes considered an analgesic herb (an herb that eases pain), much of lavender's effect comes from its ability to relax muscle tension and enhance circulation; in combination, these effects can work wonders on stiff muscles and tension headaches—perfect revival after a long exhausting day!
As with many of the other aromatic nervines, lavender makes an excellent digestive aid. Lavender is also a digestive bitter that promotes the secretion of digestive enzymes and helps rebalance overall digestive function (Boehm et al., 2012; Karaman et al., 2016). Lavender has a very strong, bitter-floral taste that can be overwhelming concentrated or as a simple, but in this lemonade, it makes a wonderful complement to the partner flavors!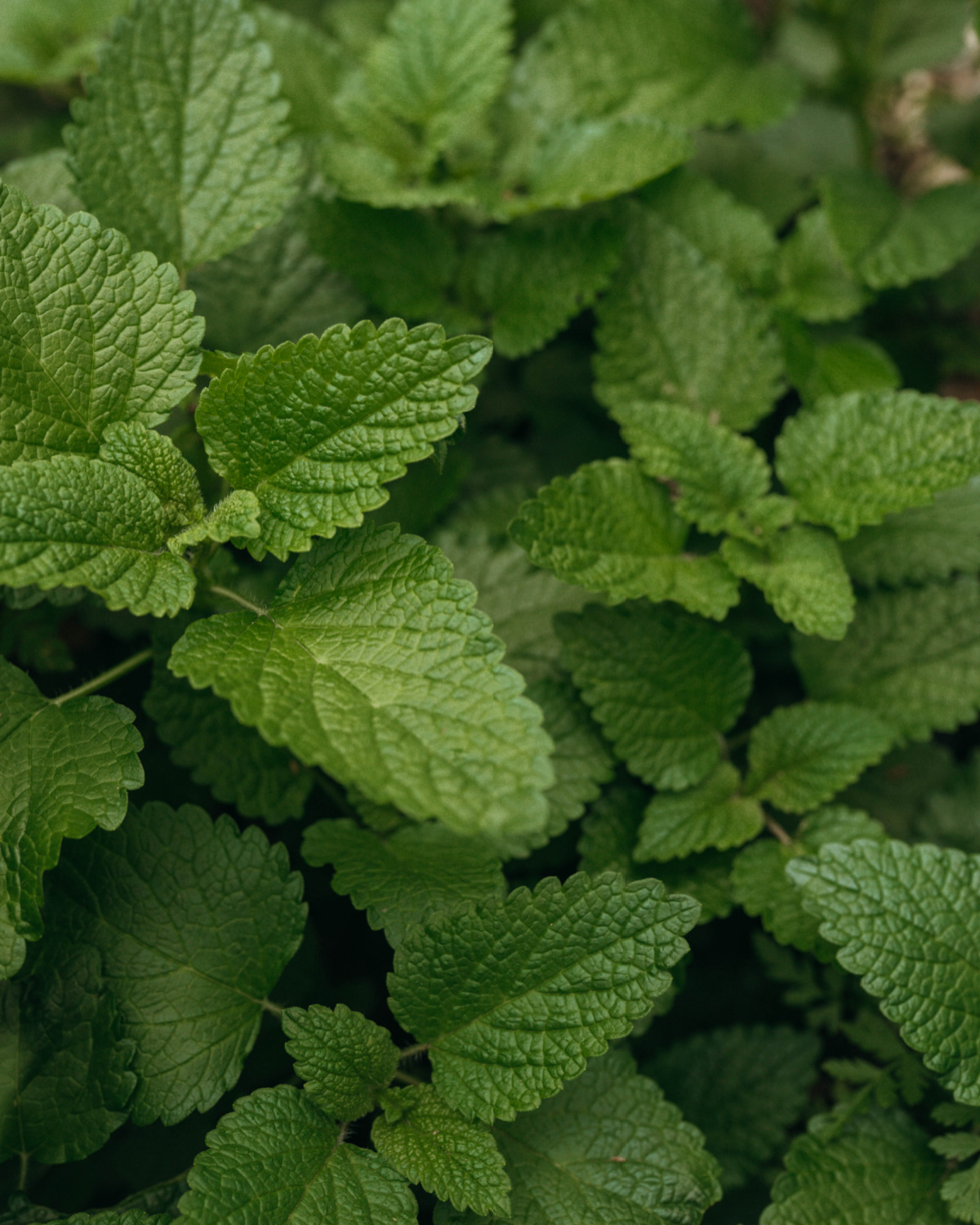 Lemon Balm –
Melissa officinalis
​ (Aerial parts)
As a gentle nervine, lemon balm helps to calm and rejuvenate the nervous system.
It can be used to ease anxiety, nervous tension, insomnia, headaches, and digestive upsets. Similar to other plants in the mint family, such as rosemary and clary sage, lemon balm helps to restore those who are overwrought and exhausted. In addition, rejuvenating lemon balm may be useful for easing parental exhaustion, for students studying for exams, and for overstimulated children, or anyone who is wired and tired from being on the go or working without rest and pause. In particular, lemon balm can calm restlessness in children and help bring sleep to little ones who are so overtired that they are wired (Gladstar, 2001).
Lemon balm is also a potent antiviral and can be of great help during viral illnesses. It can assist the body in fighting infection while easing the discomfort and restlessness that can sometimes accompany illness.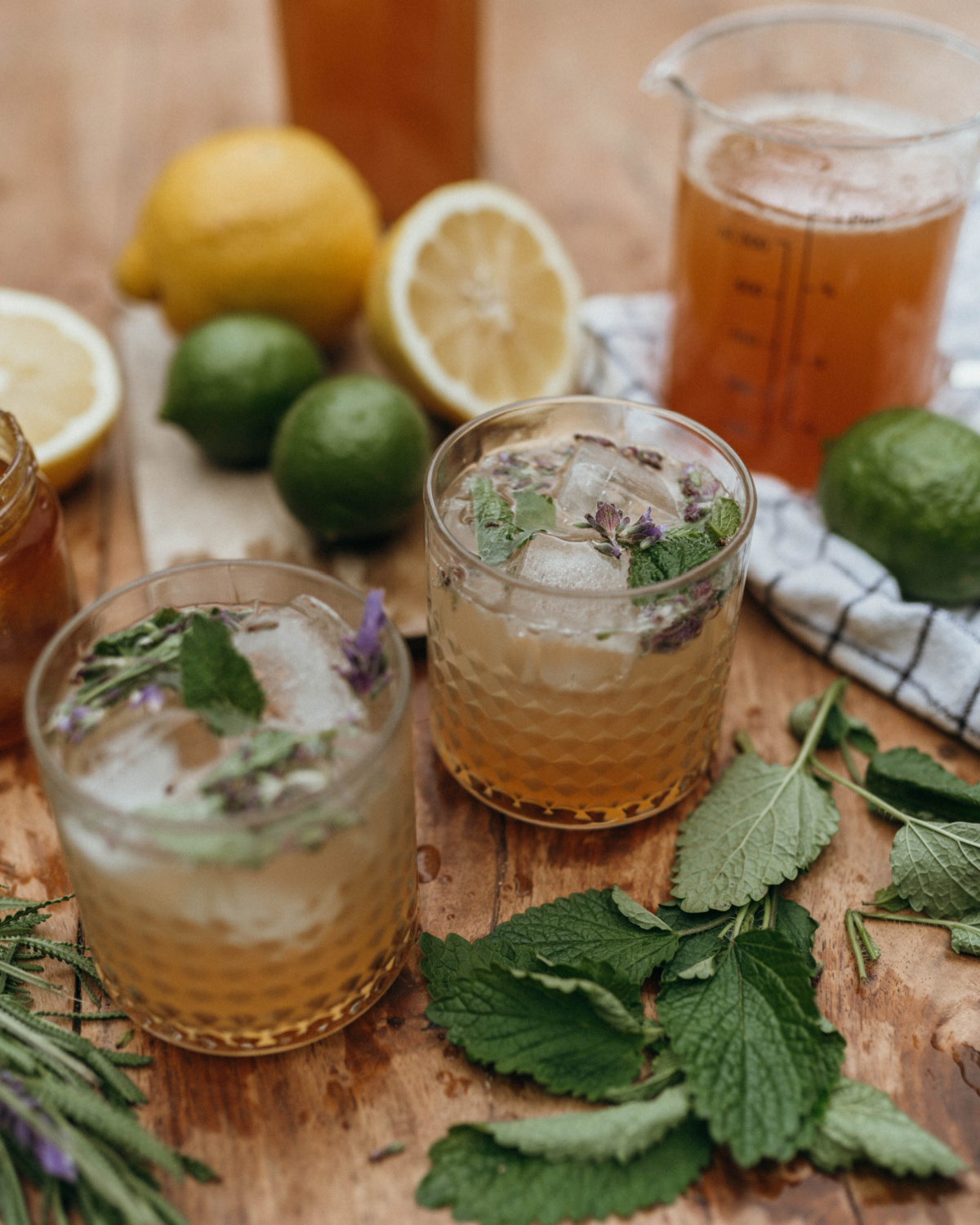 Lemon 
Fresh lemon juice in this herbal lemonade provides vitamin C as well as tartness, making the lemonade really refreshing and tasty! 
Raw Local Honey 
Raw, local honey, in particular, is really beneficial to humans. This is not to be confused with mass-produced refined honey, which may be adulterated with corn syrup or other synthetic sweeteners (Olmstead, 2017). Thanks to the vitamins, minerals, and other beneficial substances in raw honey, it is a great natural sweetener (Israili, 2014).

That said, it's important to keep in mind that bees work very hard to produce their honey, with each colony visiting over two million flowers to produce just one pound of honey (Siegel, 2011). While honey has been a food for humans for millennia, our impact on the environment means that we cannot take it—or honeybees—for granted. In 2016, United Nations researchers reported that 40% of bees, butterflies, and other pollinating insects are facing extinction, which has powerful and far-reaching implications for the world food supply, with honey just the tip of the iceberg (Potts et al., 2016). With respect for bees and ecology in mind, choose local, humanely gathered honey from small-scale beekeeping operations whenever possible.  Also, you can grow plants in your garden that attract pollinators to welcome in the bees!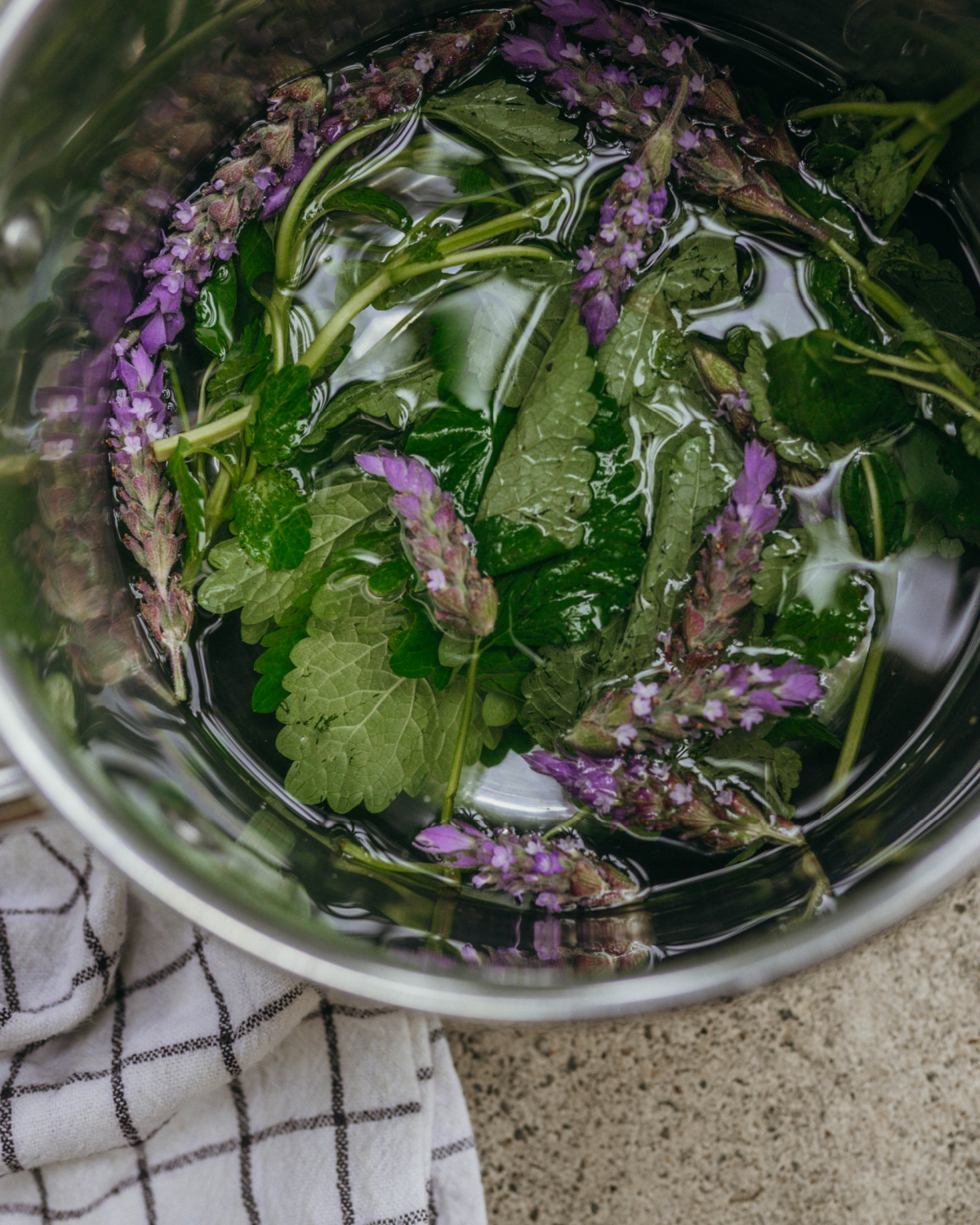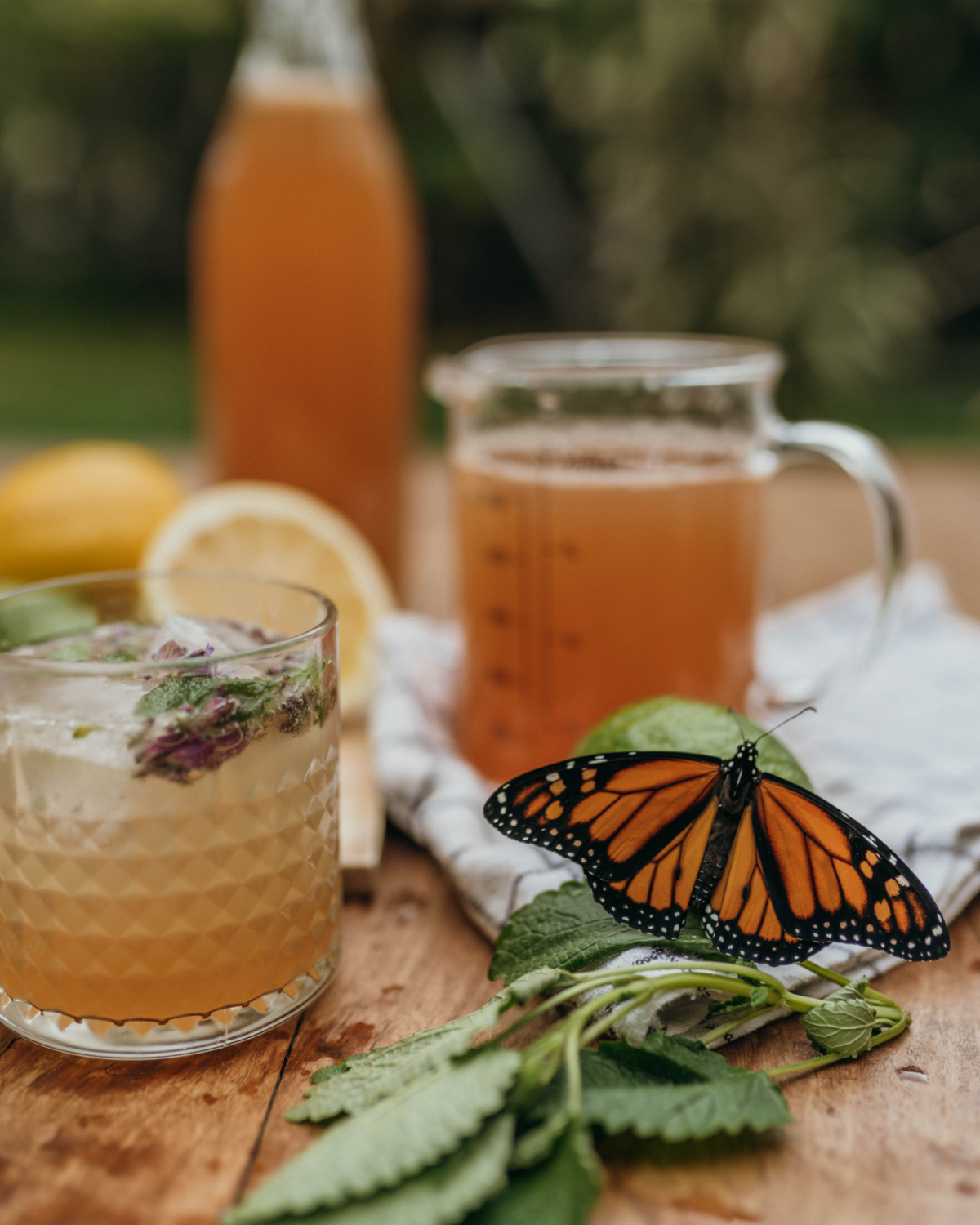 Lavender-Lemon Balm Lemonade
If you are craving a zesty refresher with an herbal twist, this easy herbal lemonade recipe will be a great choice!
Ingredients
1 cup filtered water
10-15 lavender (Lavandula officinalis) flower buds
1 cup fresh lemon balm (Melissa officinalis) (or 4 tablespoons dried lemon balm)
1 cup raw local honey
2 cups fresh lemon juice
2 cups sparkling water, ice cold
Directions
Bring 1 cup of filtered water to a boil.
Turn off heat and add lavender and lemon balm to the water.
Cover with a lid and let the infusion steep for 20-25 minutes. 
Strain mixture through a metal strainer, nut bag, or muslin cloth.
Let the liquid cool slightly before adding the honey. Mix until honey is completely dissolved.
Add 2 cups of ice-cold sparkling water and 2 cups of freshly squeezed lemon juice. 
Serve directly over ice and garnish with fresh lavender blossoms, lemon balm leaves, and lemon slices if desired.
Notes: Add more or less honey, according to your personal sweetness preferences.
In Closing,
If you are craving a zesty refresher with an herbal twist, this easy herbal lemonade recipe will be a great choice! Sometimes simple things, like a good old homemade lemonade, really creates a wonderful summer memory for the whole family. Also, taking the time to create fresh herbal concoctions can help you to embrace a moment of stillness and to connect with the vibrant nature that surrounds us this time of the year.

Let's stay calm, cool, and hydrated all summer long with this easy and delicious herbal lemonade!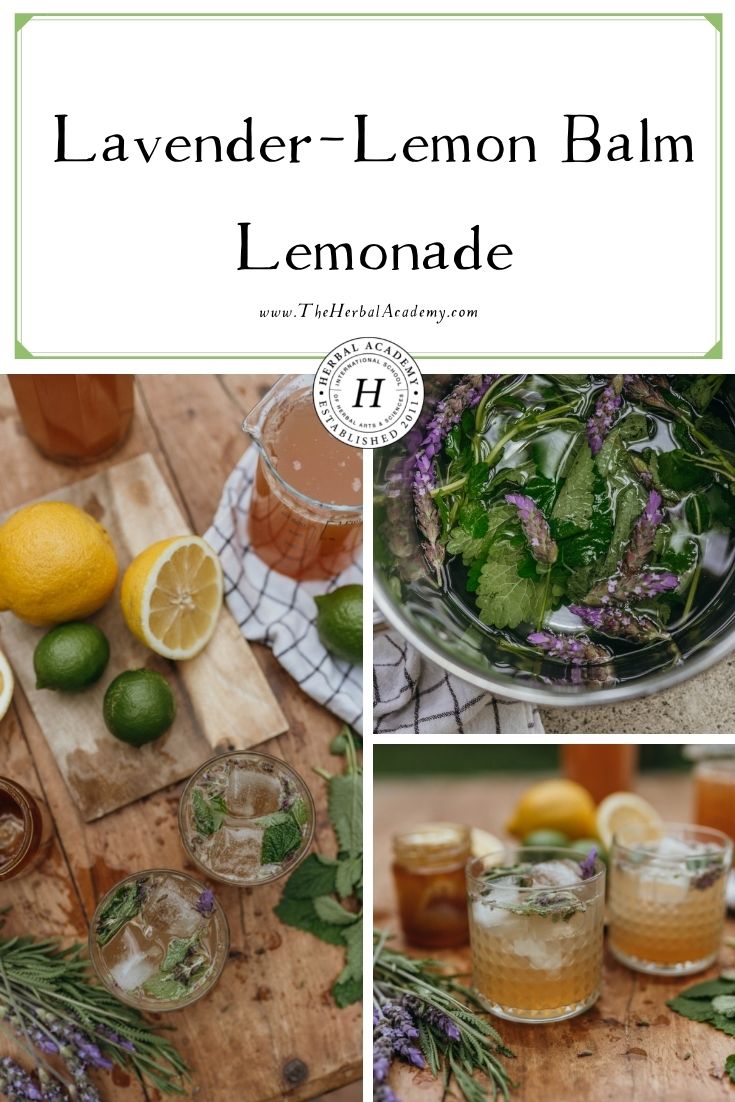 REFERENCES
Boehm, K., Büssing, A., & Ostermann, T. (2012). Aromatherapy as an adjuvant treatment in cancer care: A descriptive systematic review. ​African Journal of Traditional, Complementary and Alternative Medicines, 9​(4), 503-518.
Gladstar, Rosemary. (2001). Family herbal. Massachusetts: Storey Books.
Israili, Z.H. (2014). Antimicrobial properties of honey. American Journal of Therapeutics, 21(4), 304-323. https://doi.org/10.1097/MJT.0b013e318293b09b
Karaman, T., Karaman, S., Dogru, S., Tapar, H., Sahin, A., Suren, M., … Kaya, Z. (2016). Evaluating the efficacy of lavender aromatherapy on peripheral venous cannulation pain and anxiety: A prospective, randomized study. ​Complementary Therapies in Clinical Practice,​ ​23,​ 64-68. https://doi.org/10.1016/j.ctcp.2016.03.008
Olmstead, L. (2017). Real food fake food. Chapel Hill, NC: Algonquin Books.
Potts, S.G., Imperatriz-Fonseca, V., Ngo, H.T., Biesmeijer, J.C., Breeze, T.D., & Dicks, L.V., Safeguarding pollinators and their values to human well-being. Nature, 540(7632), 220-229. https://doi.org/10.1038/nature20588