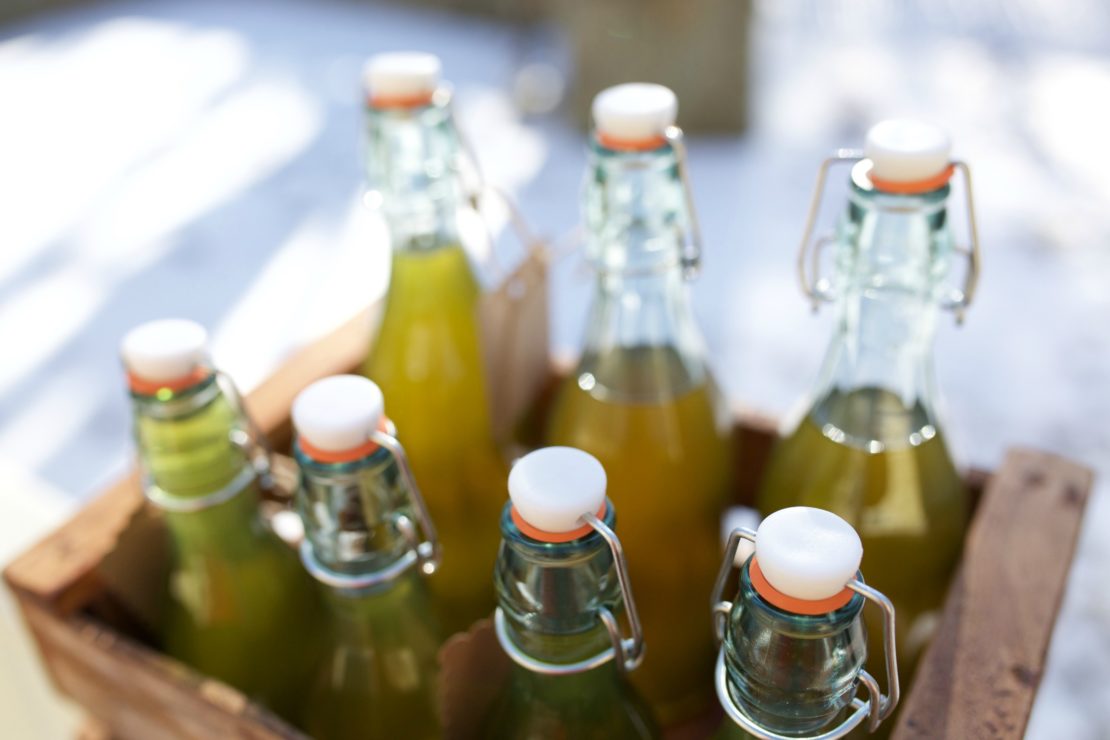 How To Make Herbal Kombucha Champagne
Our new Short Course—The Craft of Herbal Fermentation, is live and we're thrilled to be welcoming students into the world of herbal fermentation. In fact, we're getting so much great feedback about this course (including a lot of interest in the Kombucha Unit from class) that we are excited to share another recipe with you. If you're still on the fence about this course or wondering what exactly you'll be learning to make, today's post and recipe preview will help answer your questions!
Today, we're sharing one of our recipes for kombucha—Herbal Kombucha Champagne. This recipe is easy to make and will leave your kombucha with a light, lemon flavor that you'll love!
A Little About Kombucha
Kombucha is a fermented probiotic drink that is thought to have originated in China. It is made using a kombucha mother, also called a SCOBY, as it is a symbiotic colony of bacteria and yeast. The SCOBY feeds on black tea and sugar to produce organic acids and carbon dioxide as well as another SCOBY "baby". The result is a somewhat sour and vinegary-like fizzy liquid that kombucha proponents believe is great for your entire digestive system (Katz, 2003).

About Flavoring Your Kombucha With Herbs
Now, before we get to the Herbal Kombucha Champagne recipe, let's talk briefly about brewing kombucha and the creative (and tasty!) process of using herbs to flavor it.
Kombucha brewing can be a one-step or two-step process, but most people prefer to follow the two-step fermentation process. It's during the second fermentation that you add in your flavorings… like delicious blends of wellness-promoting herbs!!
Herbs are full of phytochemicals that are soluble in kombucha tea during the second fermentation process. This infuses not only their flavor to your kombucha, but their health benefits as well.
In our Short Course—The Craft of Herbal Fermentation, we walk you through both the primary and secondary fermentation processes for brewing kombucha in a step-by-step manner so you will learn how to confidently brew your own herbal kombucha from start to finish.
Now, for our kombucha recipe preview!

Herbal Kombucha Champagne
Herbal Kombucha Champagne
Ingredients
2 parts elderflowers (Sambucus nigra)
2 parts lemon verbena (Aloysia citriodora) leaf
1 part linden (Tilia spp.) flowers
Small handful of raisins or several large pieces of crystallized ginger
Directions
Blend herbs together, planning for approximately 1 ounce of herbal blend per 1 gallon batch of kombucha.

Follow the basic kombucha 2-step fermentation process you typically use, adding the herbal blend to the secondary fermentation.

When fermentation is complete, strain, bottle, and enjoy!
If you are already familiar with making your own herbal kombucha at home, feel free to use this recipe! Please do let us know what you think of it by sharing your photos and thoughts with us on social media using hashtag #myherbalstudies.
However, if you've never made kombucha before or you're a complete beginner to the second fermentation process and using herbs for flavoring, then we encourage you to join us inside of our newest Short Course—The Craft of Herbal Fermentation.
Not only will you learn how to make kombucha from start to finish, but we'll answer questions such as:
What are water kefir and kombucha, anyway?

What are some of the perceived benefits and cautions to consuming it?

What is a SCOBY?

What is the difference between using fresh versus dehydrated cultures?

What type of sugar can I use, or can I use honey?

At what stage of the fermentation processes am I meant to incorporate herbs?

What types of beneficial probiotic microorganisms are present?

How do I care for these cultures to ensure they stay healthy and vital?

How much sugar, alcohol, and caffeine is present in my kombucha?
Learn About Kombucha, Water Kefir, And More!
Inside The Craft of Herbal Fermentation Course, you will learn about each type of herbal fermentation process via step-by-step directions, and you'll receive access to downloadable written tutorials and resource and supply lists to equip you with all of the tools that you may need for various herbal fermentation experimentations. Plus, you'll get access to exclusive recipes and inspiring fermentation stories to support and enliven you along the way.
Registration is currently open, and we'd love for you to join us inside this new course. Get ready to learn all about herbal fermentations and have fun in the process!
Here's the link again in case you missed it!
REFERENCES:
Katz, Sandor Ellix. (2003). Wild fermentation: the flavor, nutrition, and craft of live-culture foods. White River Junction, VT: Chelsea Green Publishing Company.