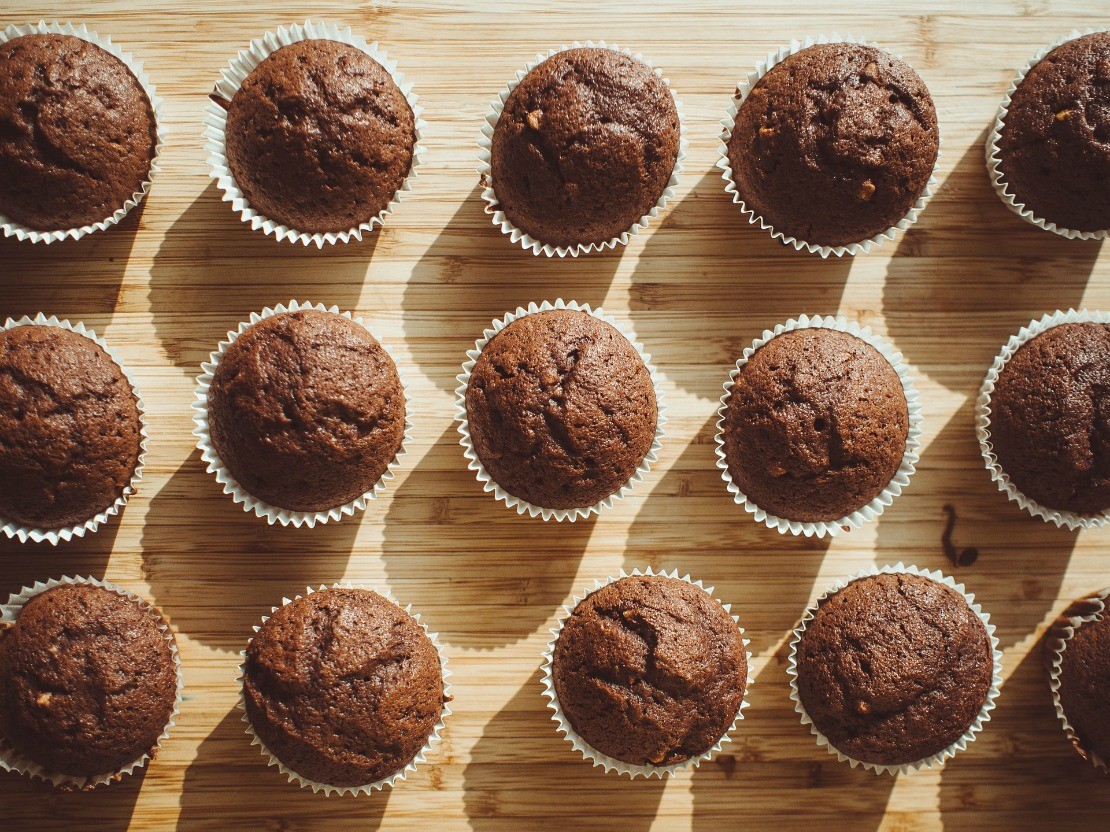 Healthy Muffin Recipe With Bran And Buckwheat
Spicy, hearty muffins baking in the oven on a cold New England morning will warm your heart and your kitchen. In recent years, many of us have moved away from baking or even from eating baked goods. We know that we don't need the sugar, fat, flour or extra calories. This is an enlightenment of sorts. But with all swings of the pendulum, we seemingly sweep away all that exists between the two extreme points of always and never.
Yes, eating less bakery items for most of us is a pretty good idea, but never enjoying a morsel of deliciousness from the oven is tragic!  There are just too many reasons to whip up a batch of muffins every so often, especially on a cold winter morning. Eating involves all of our senses, so we should not let our intellect make all of our food choices.
Are muffins really just cake in disguise?
Well, yes and no. It may be quite right to avoid bread and too many baked goods including overly sweet muffins, but let's not throw the baby away with the bath water! An occasional muffin can be nutritious and delicious, almost a meal by itself. Like everything else, it depends on what you do with what you've got! Last spring we shared how to substitute scoops of sugar for fruit, nuts, and honey to prepare a healthier oatmeal breakfast. The same is true here! We can choose a healthy muffin recipe without sugar and white flour and come up with a very delicious alternative that is meaty in its composition with nuts, seeds, grains and fruit. Add some spice and herbs and you are heading for delectable!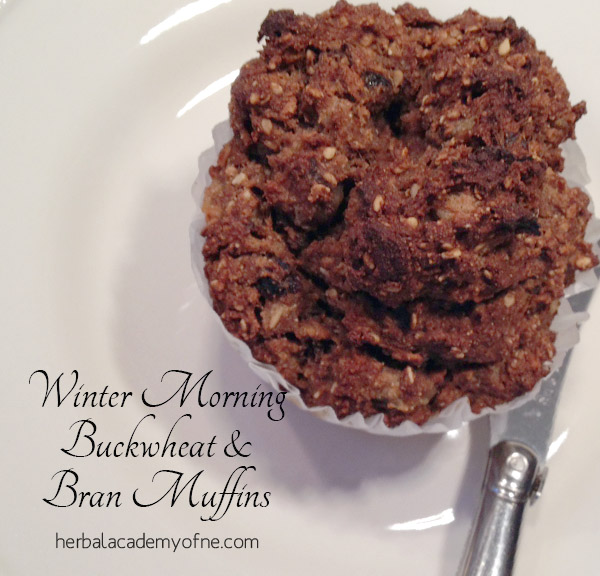 Here is a basic muffin formula to start with. Switch up the fats, flours and sugars and see what you can create.
Basic Muffin Formula
Ingredients
2 Cups flour
½ Cup sugar
2 ½ Tsp. baking powder
½ Tsp. salt
1 Egg
¼ Cup vegetable oil
1 Cup milk
Directions
General oven temperature is 375-400 degrees F.
Muffins bake for approximately 20 minutes.
Further notes: Use egg whites in place of eggs, purees in place of fats, dates, raisins and bananas in place of sugar and anything but white flour!
Here is a healthy muffin recipe that I created this morning, aptly named Winter Morning Buckwheat and Bran Muffins.
Winter Morning Buckwheat and Bran Muffins
Ingredients
1 Cup buckwheat flour
1 Cup oat flour
½ Cup almond flour
1 Tbsp. baking  powder
4 Tsps. Baking soda
½ Tsp. salt
2 Tsp. ground cinnamon
1 Tsp. ground nutmeg
1 Tsp. allspice
¾ cup melted organic, unsalted butter
1 large ripe banana mashed
1/2 cup coconut or maple sugar
½ Cup honey
½ Cup maple syrup
1 Tsp. vanilla extract
3 Large cage free, organic eggs
2 Cups organic buttermilk (buttermilk substitute-2 cups organic milk plus 3 Tbsp. vinegar)
½ Cup sesame seeds
½ Cup pumpkin seeds
1 Cup bran
½ Cup dates coarsely chopped
½ Cup chopped walnuts
Directions
Preheat oven to 400 degrees F. Prepare 2 large 6 cup muffin pans. Either line with butter or use parchment paper.
Blend all dry ingredients (first 9 ingredients) together using a whisk to break up any clumping and mix thoroughly.
In a separate, large bowl, mix the melted butter, mashed banana, sugar, honey, maple syrup and vanilla until well blended.  Add eggs and buttermilk and mix thoroughly. To this mixture add the bran and let it sit for 15 minutes.
Stir the dry ingredients into the bran mixture, and then using a rubber spatula stir in the coarsely chopped dates, nuts and seeds.
Fill muffin cups and bake for 20 minutes at 400 degrees F then reduce oven temperature to 375 degrees F and bake for about10-15 minutes until done.
Cool for about 5 minutes before removing muffins from the pan. Serve warm with plain yogurt and fruit for a hearty breakfast.
Smelling the cinnamon, allspice and maple syrup wafting through my kitchen as the muffins baked in the oven, I sat down at the kitchen window to watch the snow swirl in the early morning wind and was reminded of just how lovely a warm oven can be when I use it every once in a while!