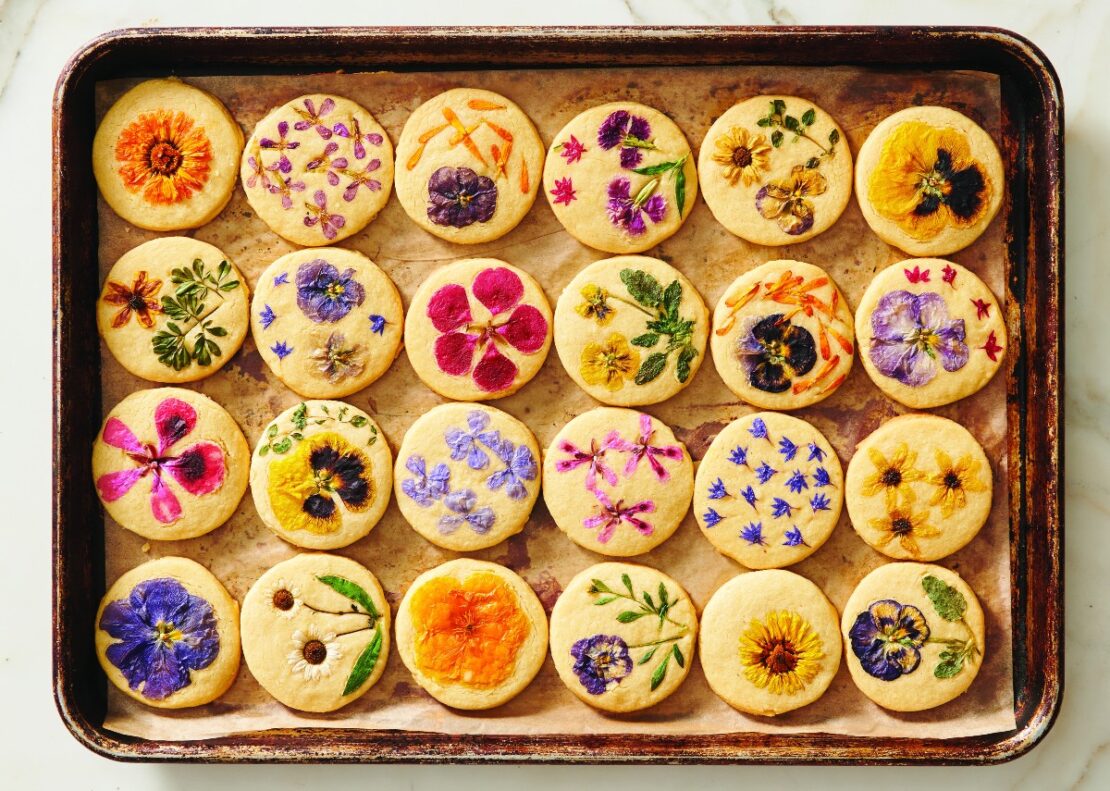 Edible Flower-Pressed Shortbread Cookies
The following excerpt is a brand-new release from Loria Stern's book Eat Your Flowers (published by William Morrow, an imprint of HarperCollins Publishers, April 2023) and is reprinted with permission from the publisher.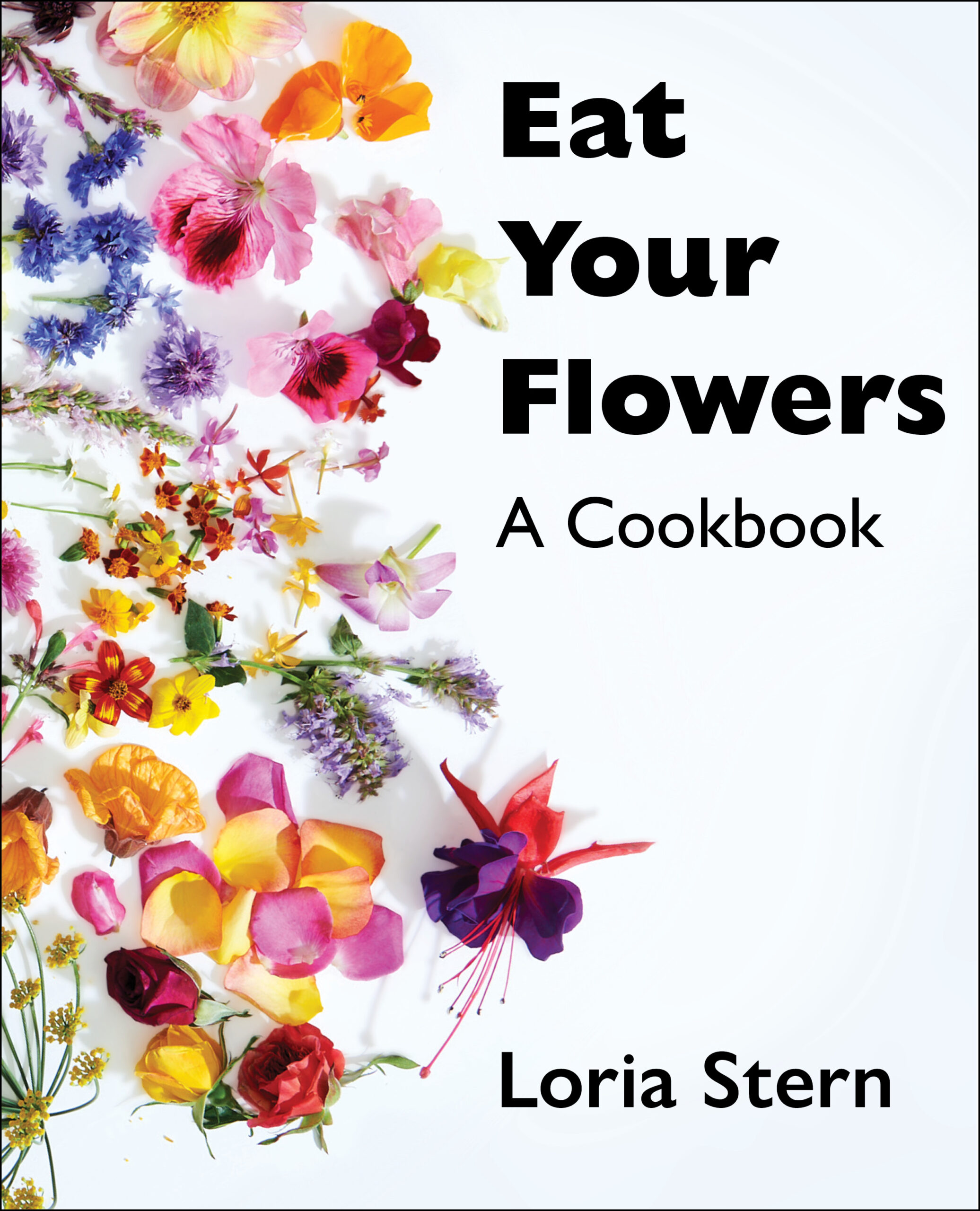 This is the recipe that started it all! These beautiful cookies catapulted my career in food. Delicately sweet, with a touch of salt, my signature cookies are as delightful to make as they are to share with others. I love using a variety of colorful flowers so that when presented on a platter, the cookies give the impression of pages torn from a book of pressed flowers.
The buttery shortbread dough takes the flavors of edible flowers and herbs wonderfully. Begonia will lend a tart apple- like taste, while a viola flower amplifies the sweetness naturally. In the recipe below I've used an array of different botanicals, but some of my favorites are pea tendrils for a verdant look; hibiscus and maple leaves, which are reminiscent of fall; and soft green herbs and freeze- dried peppercorns to celebrate the holidays. Get creative and don't be afraid to mix and match your favorite flowers and herbs! See page 209 for some of my favorite combinations. Just remember that if you press an entire flower into your dough, it may overpower the cookie flavor, so petals, smaller blooms, and soft stems work best here.
Adhering edible flowers to cookies was a common practice of the Victorians in the 1800s. The cookies were baked and then the flowers, crystallized for longevity, were attached to the cookie with egg white. I choose instead to fasten the botanicals by pressing and freezing them into the dough, then baking the cookies with the flowers intact. This works much better to preserve the flowers and herbs rather than painstakingly painting each flower with egg white, so the recipe is easier to make at volume; it also allows me to make these beautiful treats vegan (using a vegan cookie recipe, of course). Adding fruit dusts, flavorings, and spices to the dough is a beautiful way to flavor and color this base cookie recipe and add a different dimension to the pressed flower element.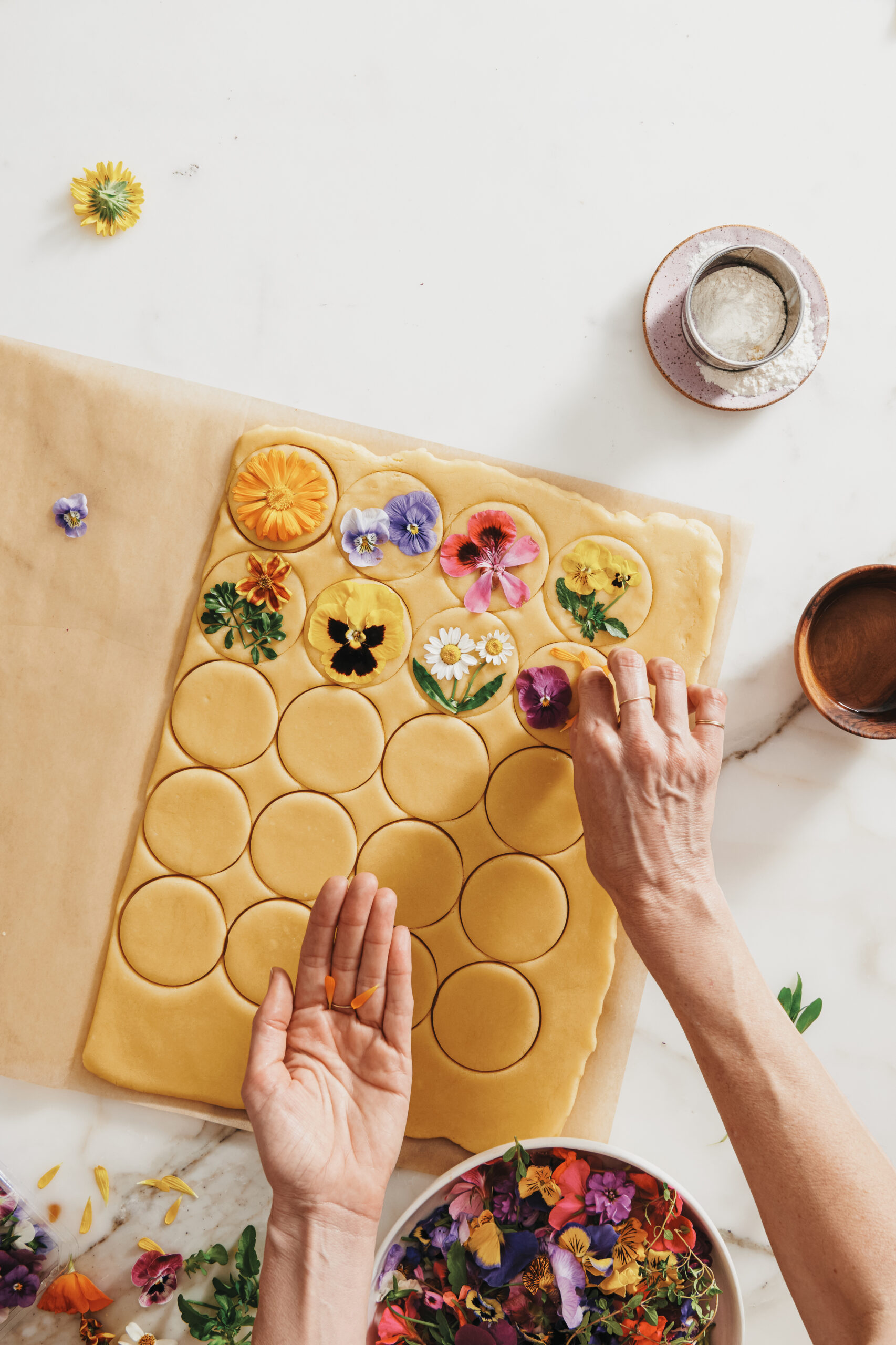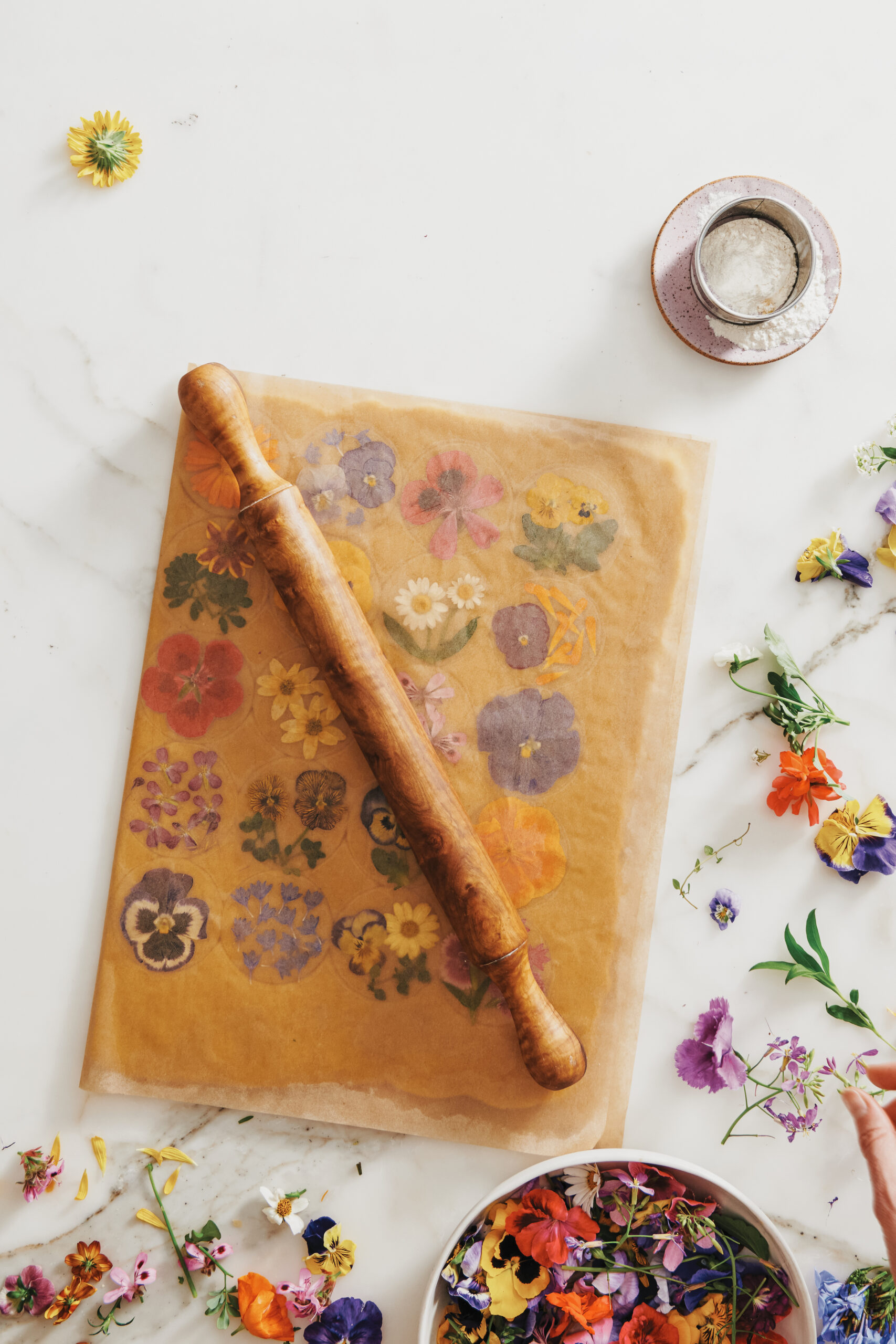 Flower-Pressed Shortbread Cookies
Ingredients
1½ cups (3 sticks/339 g) unsalted butter, at room temperature
1⅓ cups (300 g) granulated sugar
2 teaspoons kosher salt
3 large egg yolks
2 tablespoons (25 g) pure vanilla extract
4 cups (611 g) all-purpose flour
2 cups mixed edible flower petals and tender herbs
Cane sugar, for sprinkling
Directions
Line 2 flexible cutting mats with parchment paper and set aside.
In the bowl of a stand mixer fitted with a paddle attachment, beat the butter, granulated sugar, and salt on medium speed until completely combined, 1 to 2 minutes.
Add the yolks and mix until combined.
Add the vanilla and stir until just combined.
Add the flour and mix on low speed until the dough comes together in a ball, about 5 minutes.
Place the dough on a large sheet of parchment paper. Place another piece of parchment on top and roll out the dough to ⅓ inch thick.
Remove the top piece of parchment paper and stamp out the cookies with a 3-inch round cookie cutter, then artfully decorate each round with the edible flower petals and herbs. Replace the top sheet of parchment paper and gently roll over each cookie to fix the flowers in place. One by one, remove the flower-pressed cookies with an offset spatula and place them on a parchment-lined flexible cutting mat. Reroll and repeat with any remaining dough scraps.
Put the flexible mats with the unbaked cookies in layers in the freezer for 12 to 24 hours. This allows the flowers and herbs to keep their vibrant complexions in the hot oven.
When you're ready to bake, preheat the oven to 350°F with a rack set in the middle position. Line a sheet pan with parchment paper.
Arrange the cookies on the prepared sheet pan, leaving 1/4-inch space between them. Bake for 9 minutes; rotate the pan and bake for another 8 minutes, or until the edges are golden brown. Transfer to a cooling rack and sprinkle with cane sugar. Voilà!
Store in an airtight container in the refrigerator for up to 3 weeks and in the freezer for up to 2 months.
Purchase a copy of Eat Your Flowers at HarperCollins Publishing or on Amazon.