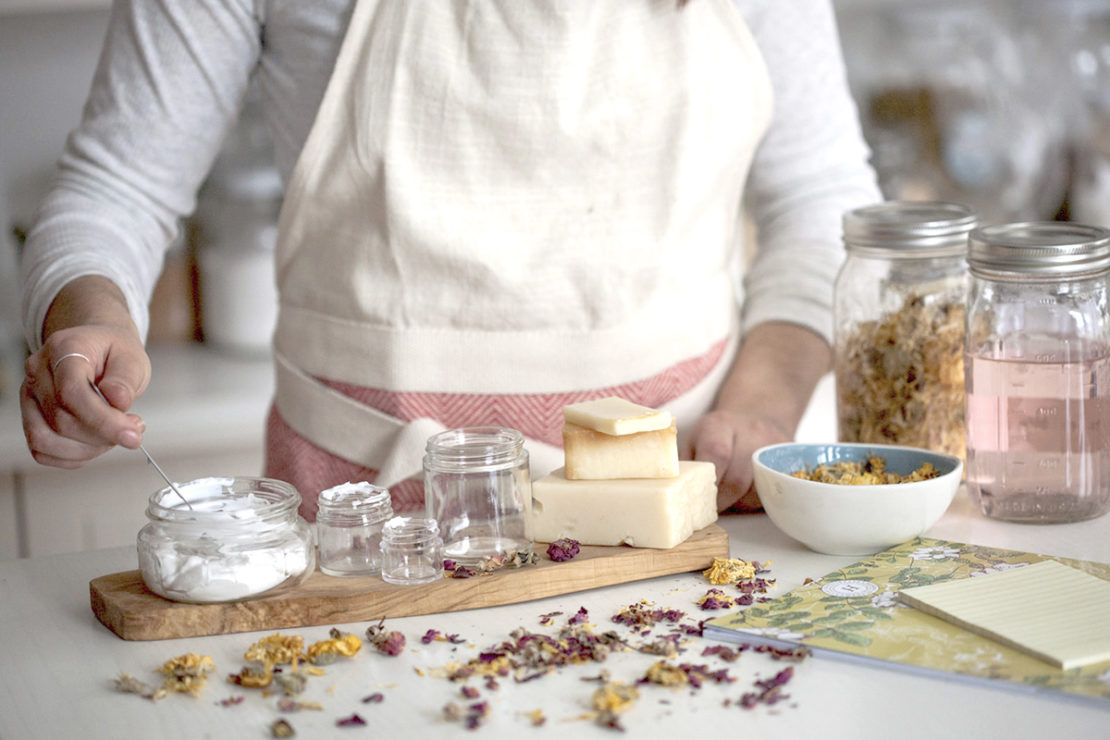 A DIY Floral Delight Soap Recipe You'll Love!
The craft of soapmaking is regaining popularity as people become more interested in learning more about traditional skills and homekeeping. While some people approach soapmaking as an artistic outlet, others make soap and shampoo bars in an effort to control the safety of the ingredients in the products they use in their homes, and some pursue this craft as a business opportunity. 
While soapmaking can be an intimidating and seemingly complicated process, if you start slowly, you'll gain the confidence you need to make soap, and ultimately, make soap as simple or as fancy as your skills allow.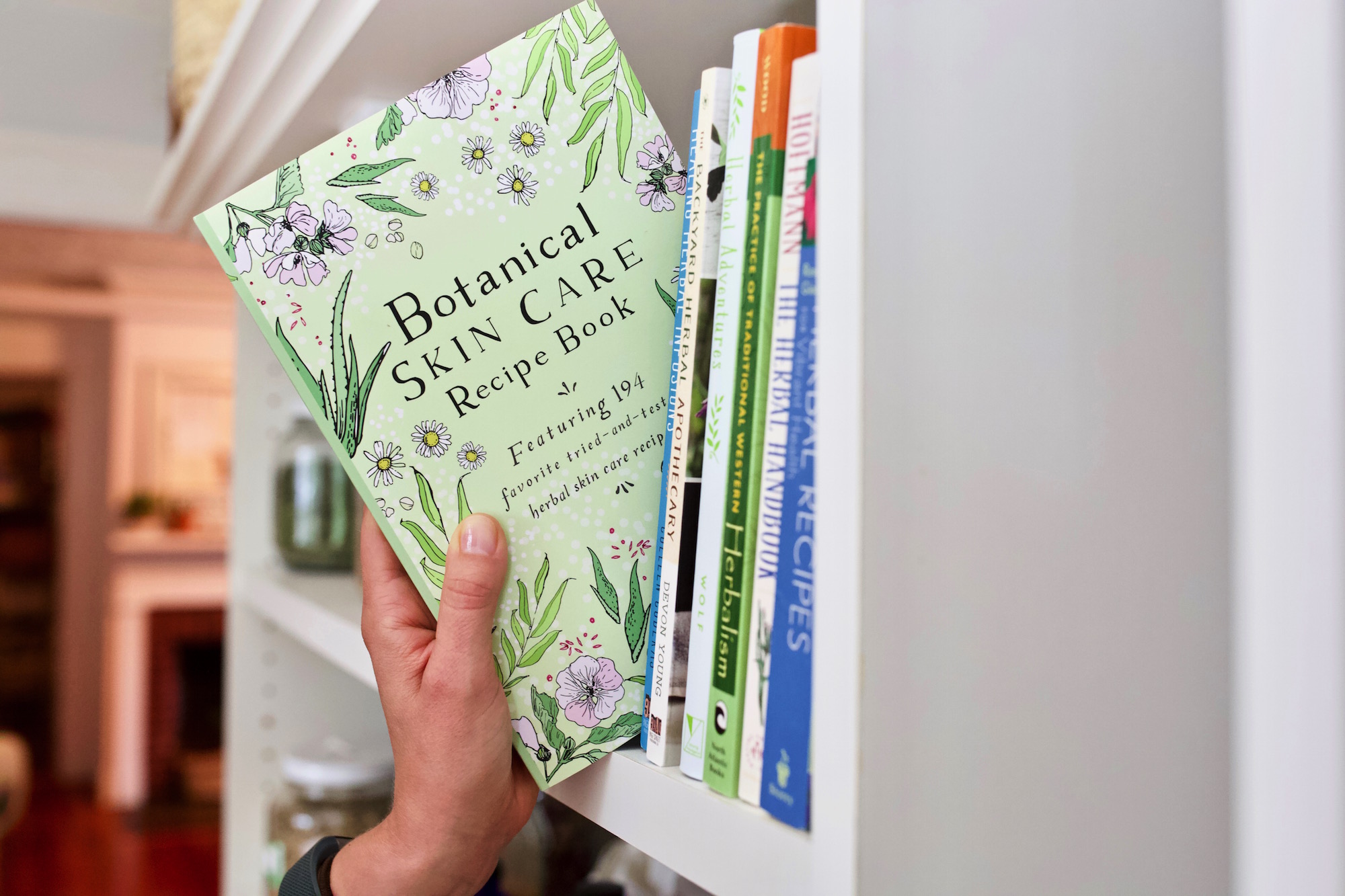 Our new Botanical Skin Care Course has an entire lesson detailing the soapmaking process and how to incorporate herbs and oils to nourish your skin and hair. In this course, you will learn the basics of cold-process soapmaking, including a step-by-step tutorial that will walk you through the process—start to finish—with text and photos. You will also learn how to formulate soaps for different skin types and how to creatively package soaps, and you'll get nine soap recipes to get you started.
Today we'd like to share one of the recipes from our course called Floral Delight Soap—it makes a lovely bar of soap that you can gift to friends, use in your own home, or sell to customers! Enjoy!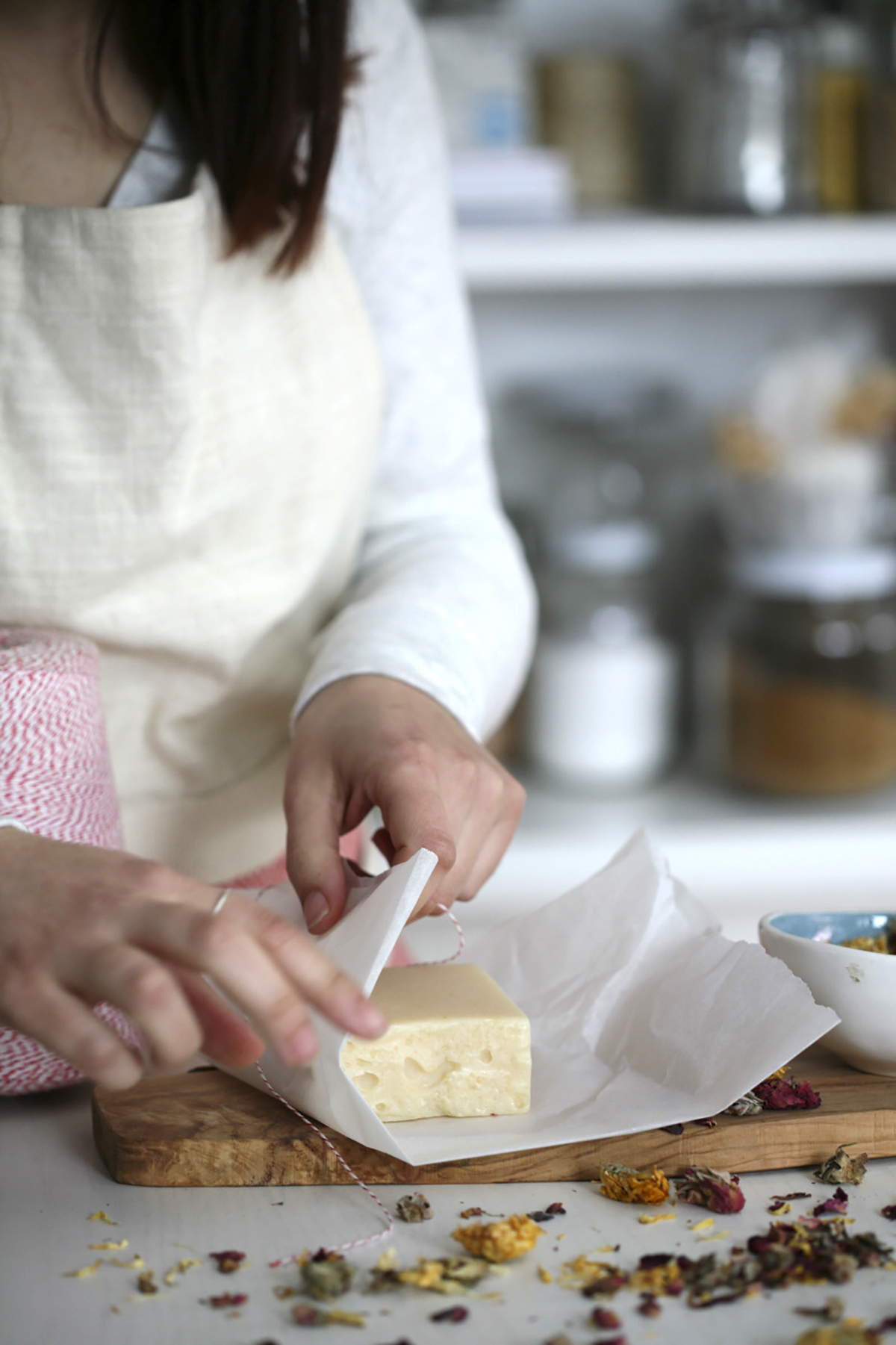 Before you get started, note that all ingredient amounts are by weight unless otherwise stated. Also know that this recipe calls for lye, which requires a few very specific precautions to follow:
Use only stainless steel equipment, as lye will react with other metals. 

Make sure you use only 100% pure lye (sodium hydroxide) crystals, rather than liquid, and that lye isn't contaminated with any debris.

Wear appropriate safety gear including long-sleeved clothing, gloves, and safety goggles. Wear a charcoal mask (a cloth mask will not block the fumes,

which must not be breathed in

).

Mix lye and water (preferably distilled) outdoors. It is not advisable to mix indoors, even with an exhaust fan.

Always add lye to water—water should never be added to lye.

When cleaning up after making a batch of soap, wear protective gloves and clean all equipment in hot soapy water—the soap left on equipment will still be caustic!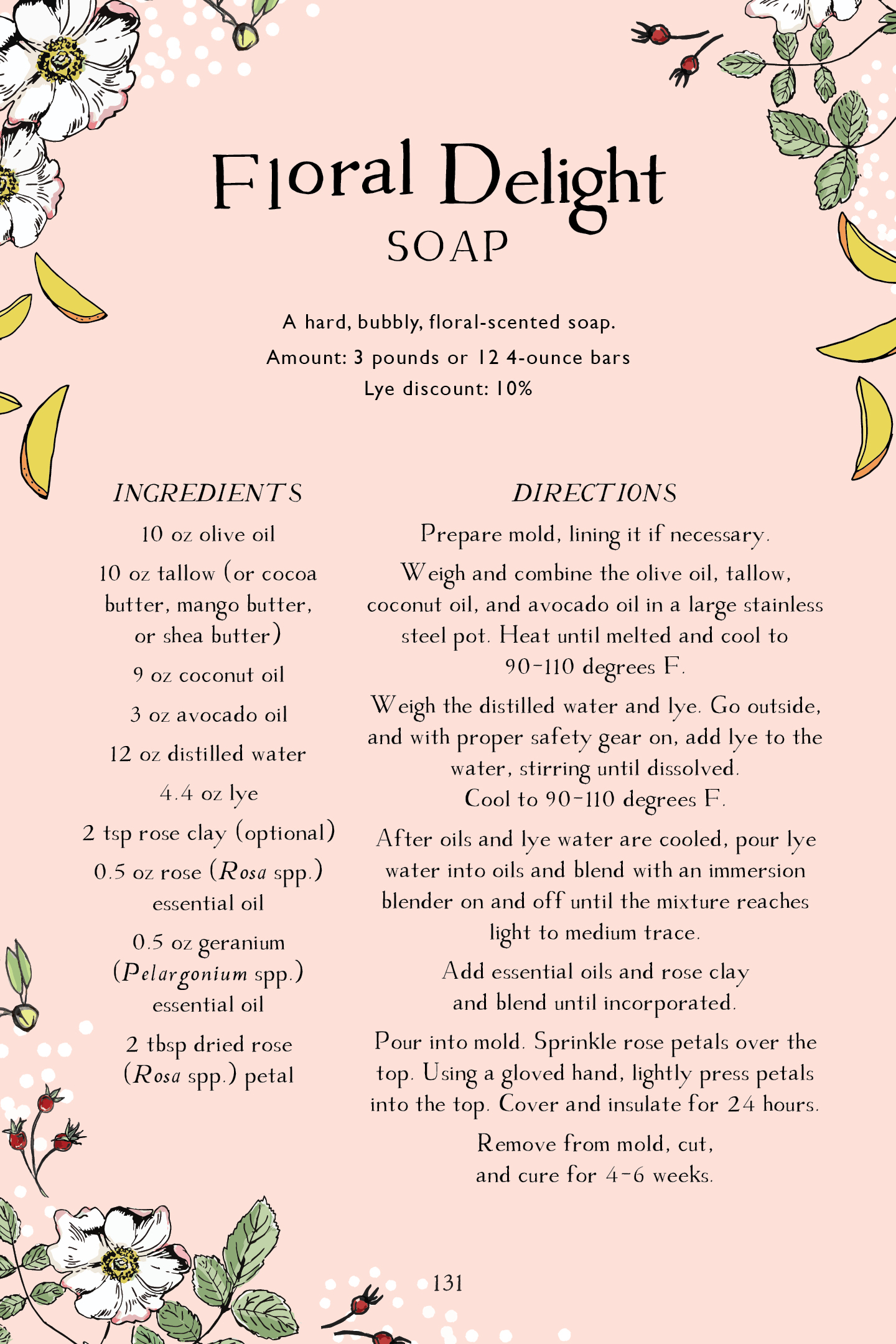 This Floral Delight Soap Recipe page comes from the Botanical Skin Care Recipe Book.
DIY Floral Delight Soap Recipe
Floral Delight Soap
A hard, bubbly, floral-scented soap.
Amount: 3 pounds or 12 4-ounce bars
Lye discount: 10%
Ingredients
10 oz olive oil
10 oz tallow (or cocoa butter, mango butter, or shea butter)
9 oz coconut oil
3 oz avocado oil
12 oz distilled water
4.4 oz lye
2 tsp rose clay (optional)
0.5 oz rose (Rosa spp.) essential oil
0.5 oz geranium (Pelargonium spp.) essential oil
2 tbsp dried rose (Rosa spp.) petal
Directions
Prepare mold, lining it if necessary. 

Weigh and combine the olive oil, tallow, coconut oil, and avocado oil in a large stainless steel pot. Heat until melted and cool to 90-110 degrees F. 

Weigh the distilled water and lye. Go outside, and with proper safety gear on, add lye to the water, stirring until dissolved. Cool to 90-110 degrees F.

After oils and lye water are cooled, pour lye water into oils and blend with an immersion blender on and off until the mixture reaches light to medium trace.

Add essential oils and rose clay and blend until incorporated.

Pour into mold. Sprinkle rose petals over the top. Using a gloved hand, lightly press petals into the top. Cover and insulate for 24 hours. 

Remove from mold, cut, and cure for 4-6 weeks.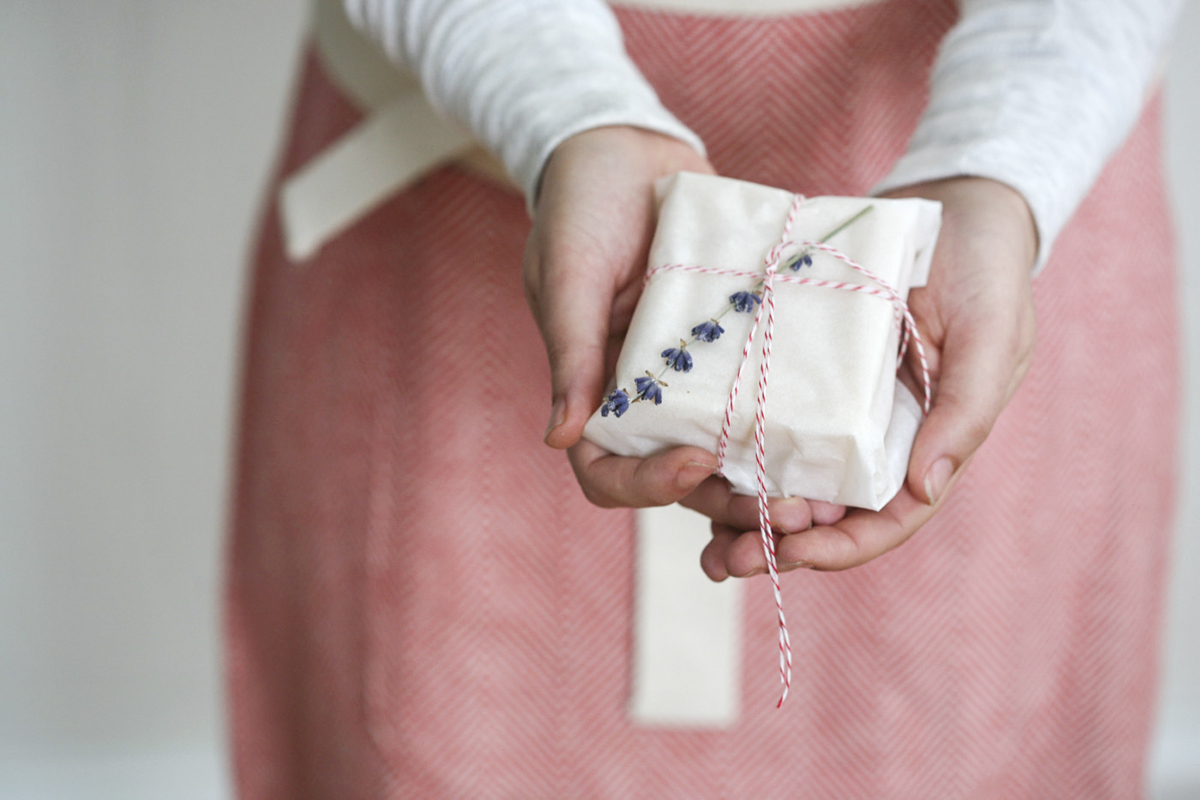 Botanical Skin Care Course
Are you ready to embark on an exciting skin care journey? If so, we'd like to invite you to join us in our new online Botanical Skin Care Course! As you'll soon discover, your skin is your largest organ, and it's important to overall health in so many ways. This delicate system is often overlooked in our total body care regimen, but the health and appearance of our skin can have a big impact on our physical and emotional wellbeing.
Fortunately, we have many beloved herbal allies that can help us support the skin, and this course will teach you all you need to know! The Botanical Skin Care Course covers internal use of herbs in teas, tinctures, and foods, using an inside-out approach to skin care, as well as the use of topical herbal skin care products to soothe, tone, moisturize, and generally give a healthy, long-lasting glow to our skin!