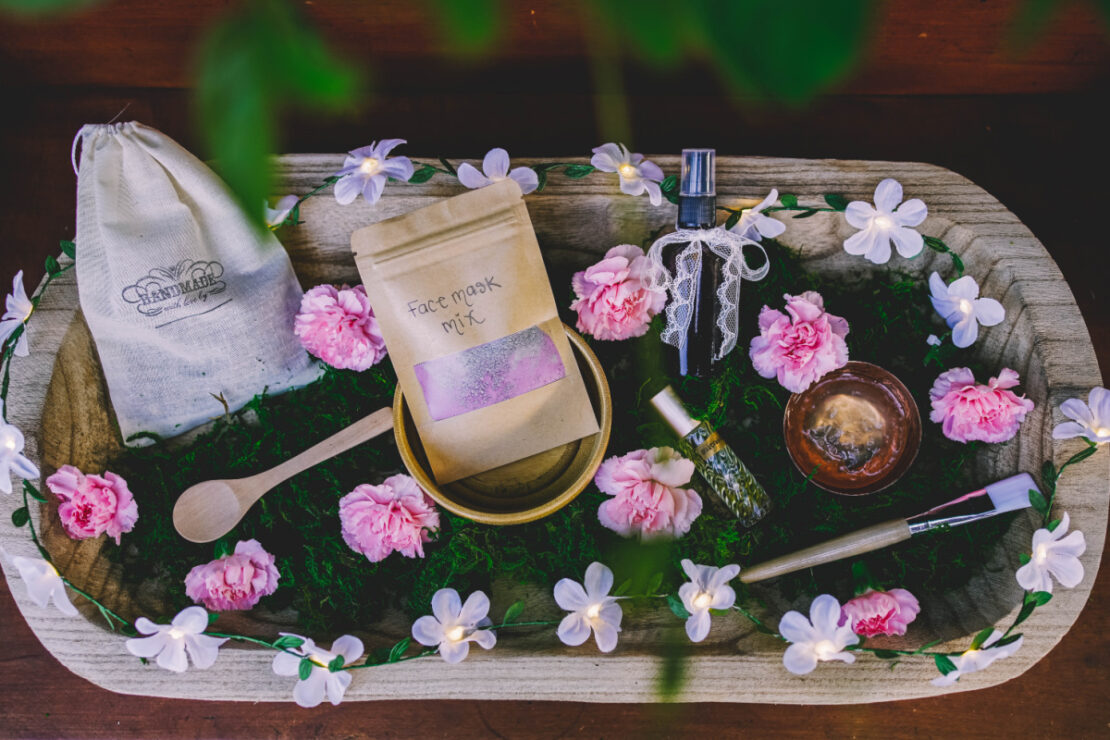 Make Your Own Herbal Facial Care Kit for Mother's Day
"The days are long, but the years are short" is a saying so true it can almost define parenthood. Sleepless nights during infancy, navigating the rough waters of toddlerhood, answering the infinite questions of a young developing mind, tending the delicate balance of raising a teen, and managing the worries of a young adult child building their own life means being a mom is a challenging rollercoaster of a job. Parenthood and caregiving is full of ups, downs, and so much heart and soul. There are no days off! Yes, some days are easier than others, and in the end, it is one of the most fulfilling roles. 
However, oftentimes parents and caregivers forget to take a moment for themselves. This beautiful floral-inspired facial care kit is a perfect way to make time for yourself or to give as a Mother's Day gift as a way to express your love and appreciation to mom or the mother figures in your life.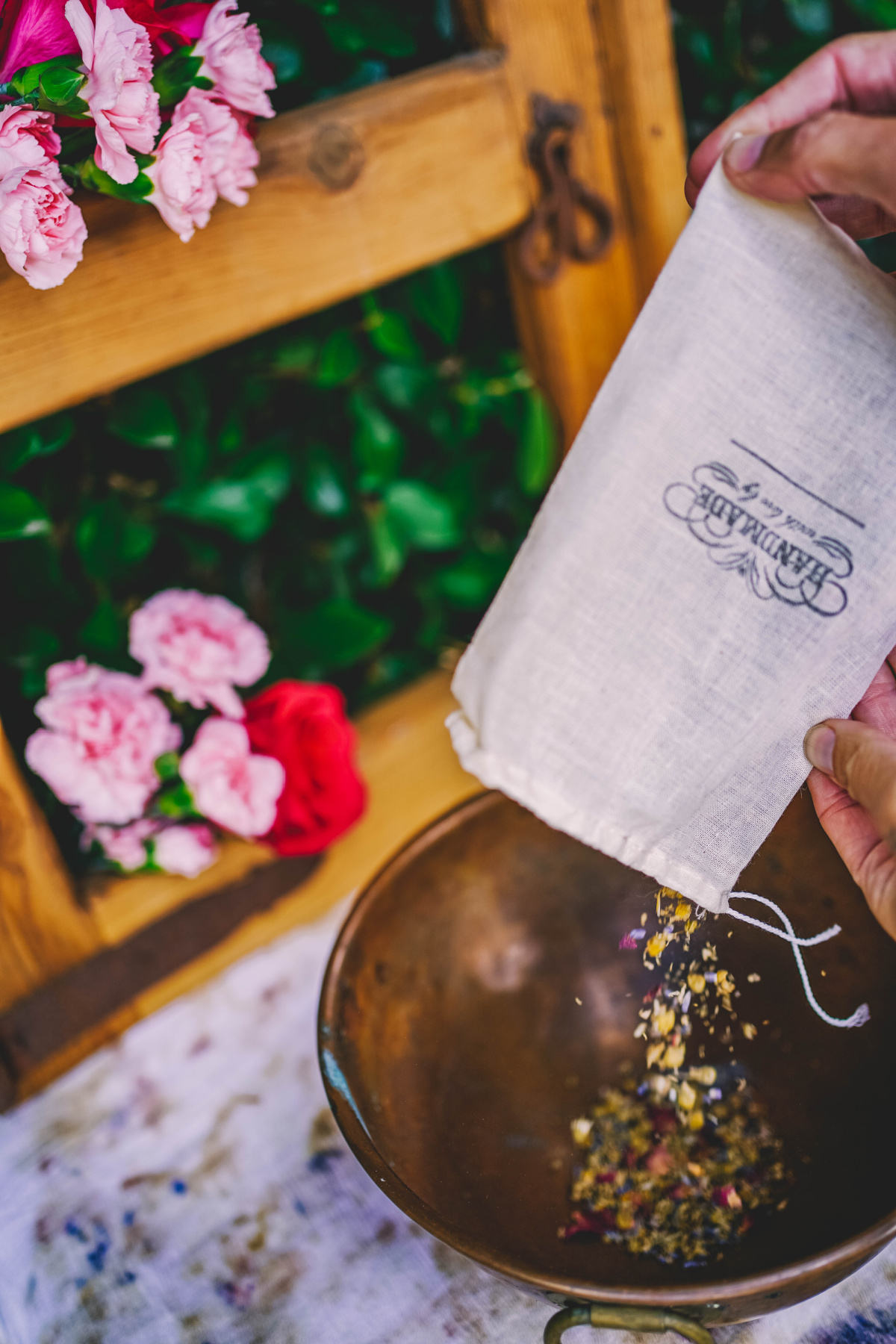 Make Your Own Herbal Facial Care Kit for Mother's Day
This Mother's Day, whether you make this facial care kit for yourself or create it to give to your own mom or those who provide a mothering presence in your life, it is a wonderful way to give back to the nurturing aspect within you or someone else. By crafting something special, you can honor the mother figure(s) in your life with a much-deserved gift of pampering.
Floral Facial Steam
Herbal facial steams are an experience of an aromatic burst of florals as steam billows over your skin. This floral facial steam is the first step in the kit and opens your pores, relaxes your mind and body, and primes your skin to receive the next step in the facial kit. What a way to start! The flowers swim in a hot bath, and as the petals soak, they release in the water while their aromatic oils rise with the steam. Drops of flowery dew kiss your skin, covering you in plant magic. 
To create the floral facial steam for the herbal facial care kit, use dried aerial parts of the following flowers: chamomile (Matricaria chamomilla), lavender (Lavandula spp.), and rose (Rosa spp.).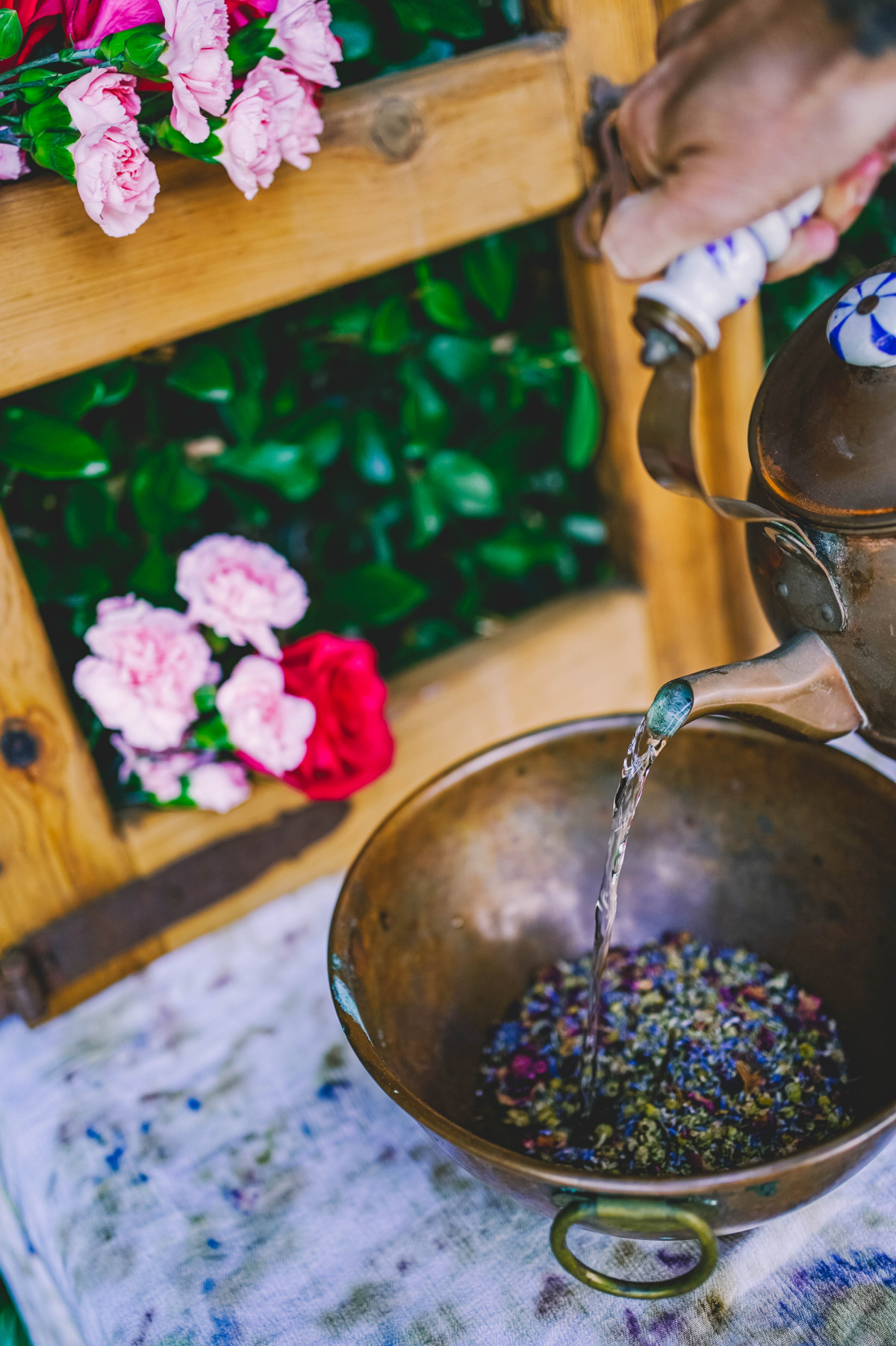 Floral Facial Steam
This combination is great for dry/sensitive skin and these aromatic florals are also lovely nervines, so this doubles as a calming, meditative practice as well (Herbal Academy's Botanical Skin Care Recipe Book, 2019).
Ingredients
2 tablespoons rose (Rosa spp.) petals
2 tablespoons lavender (Lavandula spp.) buds
2 tablespoons chamomile (Matricaria chamomilla) flowers
Directions
Place the dried flowers into a muslin sachet or tie them up in a square of fabric. 
Simply pour the flowers into a bowl, then pour hot water over the top of the flowers. 
Sitting at a table, place your face over the bowl and take in that beautiful steam (be sure to position yourself at a comfortable distance so the steam doesn't burn your skin). For an even more immersive experience, put a towel over your head and the bowl to really capture all the benefits. 
A facial steam is best experienced if you're able to relax there for about 10 minutes.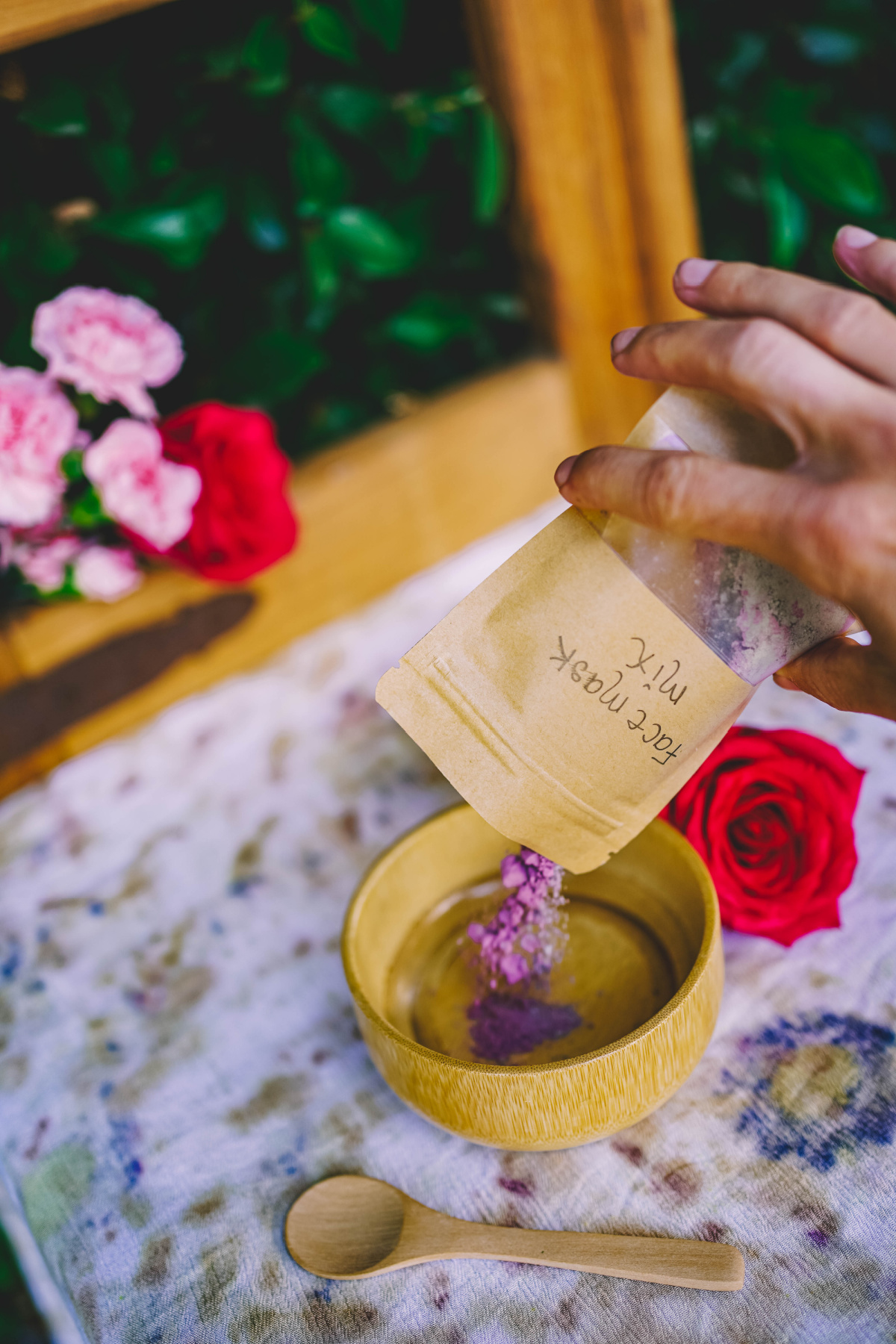 Rose Clay Mask
There is nothing better than cooling down hot skin from a facial steam with the cold swipe of a face mask. Brushing it onto your warm cheeks instantly refreshes and calms the heat. The aloe base of this clay mask creates a refreshing and moisturizing sensation on your skin, thanks in part due to its cooling and moistening energetics (Easley & Horne, 2016). Rose is an astringent and will help to reduce the size of pores and tighten the skin (Maury, 2020). The French green clay also helps to draw out impurities, clearing unwanted blemishes from skin (Anderson, 2020).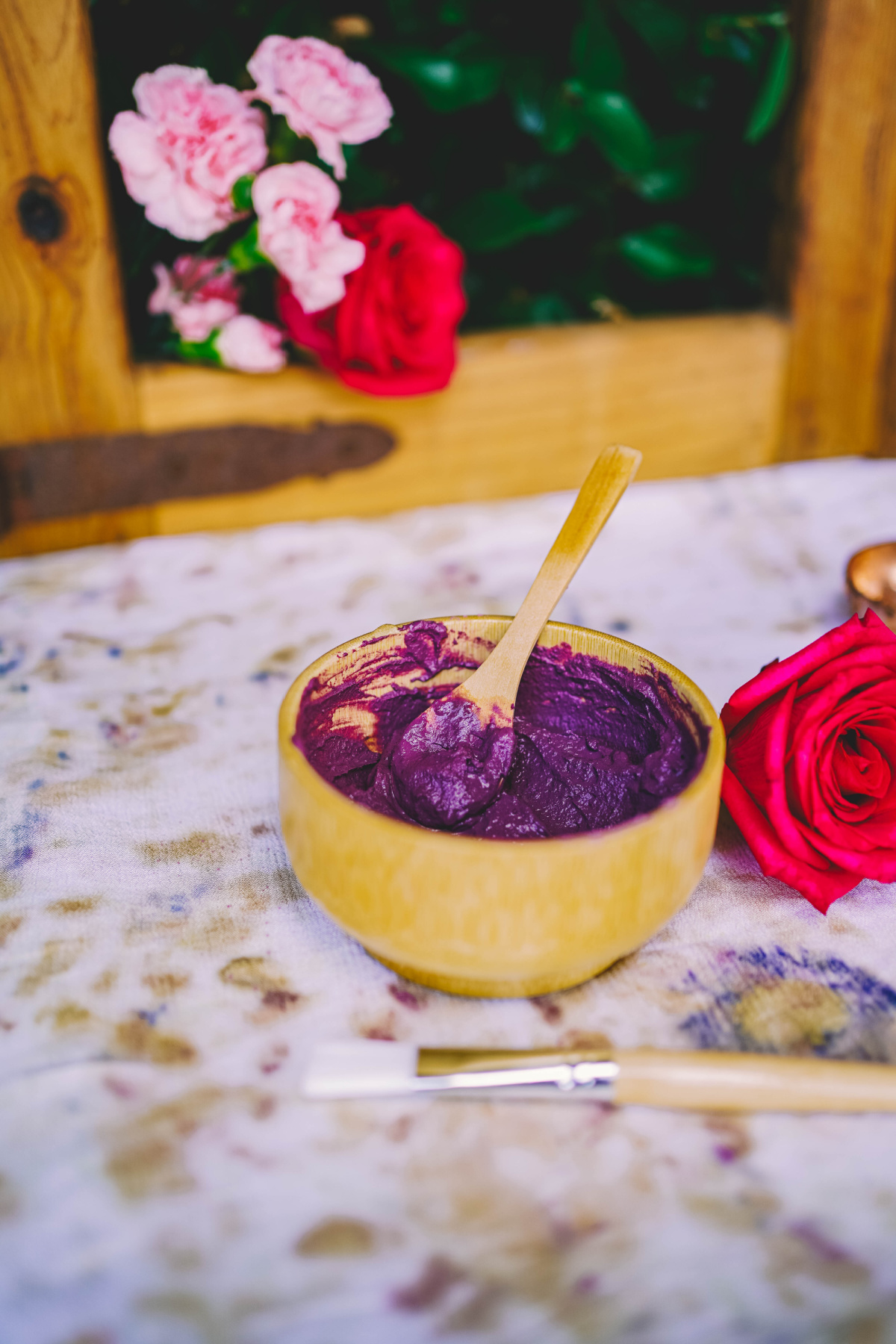 Rose Clay Mask
Infused with lavender and mixed with rose powder, this mask will give mom or any mothering caregiver some much-deserved pampering. 
Ingredients
½ cup aloe vera (Aloe barbadensis) gel
2 drops lavender (Lavandula angustifolia) essential oil
2 tablespoons rose (Rosa spp.) powder
1 tablespoon French green clay powder
Directions
Start by combining aloe vera gel with lavender essential oil. Mix the two together and place in a bowl. Store this aloe base in the fridge if not using it right away. 
Add in powdered rose and French green clay. 
Stir the mixture until the mixture forms a thick paste. 
Brush the clay mask onto your skin and let it work its magic!
Keep the rose clay mask on for about 15 minutes. Then, using a warm washcloth, gently wipe it off.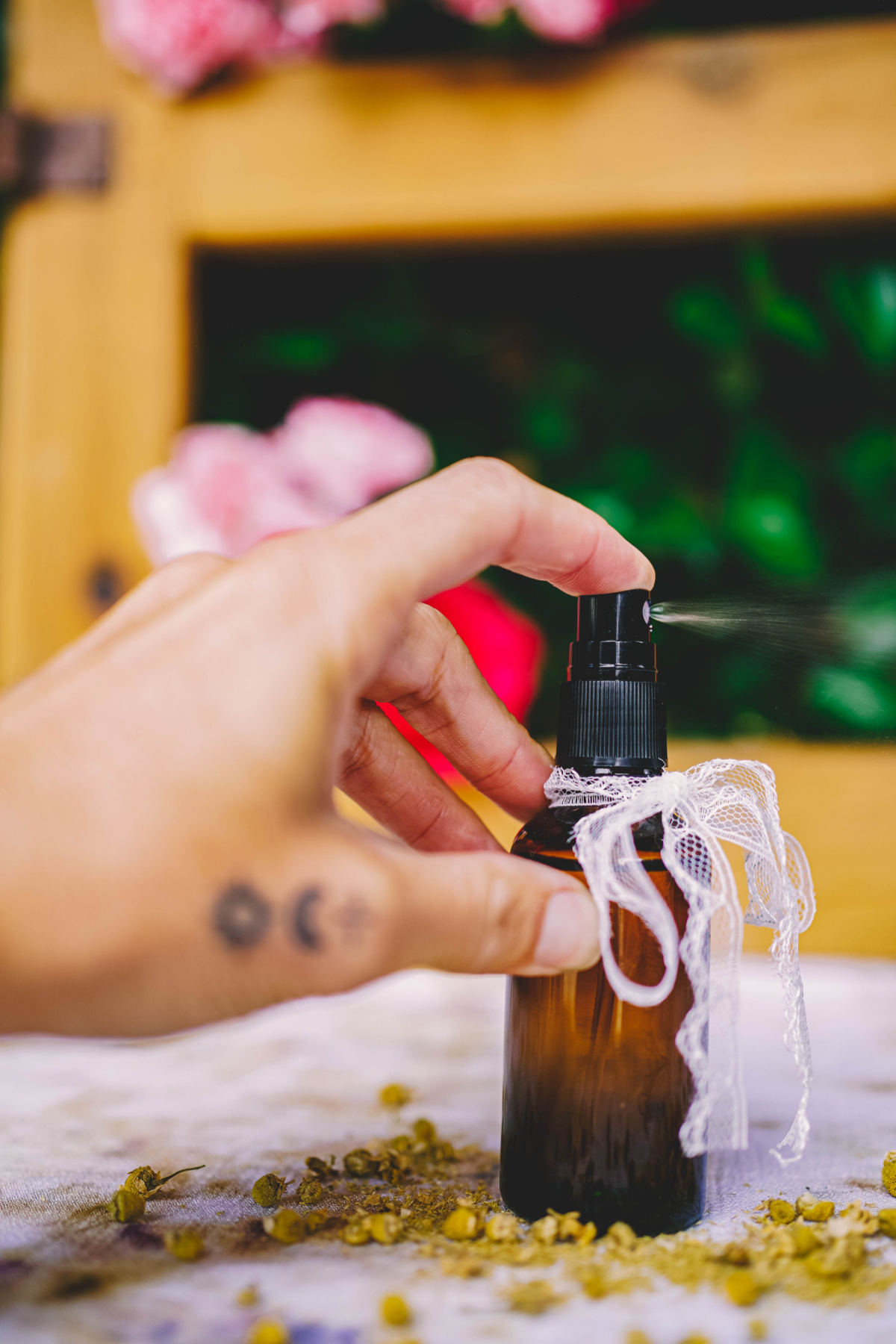 Chamomile Hydrosol Spray
A face mask often leaves skin feeling tight. As an astringent, the rose in the rose clay mask above works to tighten and shrink pores. For this next step in the facial care kit, we will add some soothing moisture with a spray of chamomile hydrosol, a liquid perfect for soothing and restoring the skin. One of the active ingredients found in chamomile is the terpenoid levomenol, which is an anti-inflammatory and natural moisturizing agent that has been found to diminish the signs of sun damage, reduce skin itchiness, and improve skin texture and elasticity (Stallings & Lupo, 2009). 
Have you ever made a stovetop hydrosol before? If you haven't, fear not! It is an easy and wonderful way to extract all the soothing benefits of chamomile. Here is a blog post on how to make your own. This method will apply to any herb you wish to turn into a hydrosol. 
Chamomile Hydrosol Spray
Each spritz of chamomile hydrosol relaxes that taut feeling and the smell alone is like taking in a big relaxing hug. 
Ingredients
1 cup chamomile (Matricaria chamomilla) flowers
1 cup distilled water
Small bag of ice
Directions
Place a small ramekin turned upside down inside the large pot.
Fill the surrounding area of the pot with chamomile flowers.
Add in water, filling it to just under the ramekin bowl.
Place a larger bowl on top of the upside down ramekin. 
Cover the pot with the lid, but have the lid turned upside down.
Place a bag full of ice on top of the inverted lid.
With the stove on medium, allow chamomile to just slightly simmer. You will see condensation form on the lid as the steam hits the cold lid. That condensation will then drop down into the bowl as the amazing chamomile hydrosol. You will need to switch out your bag of ice periodically as it melts. 
After about 30 minutes of simmering, gently remove the lid and carefully take the bowl out of the pot. Pour the liquid into a jar and store it in the fridge.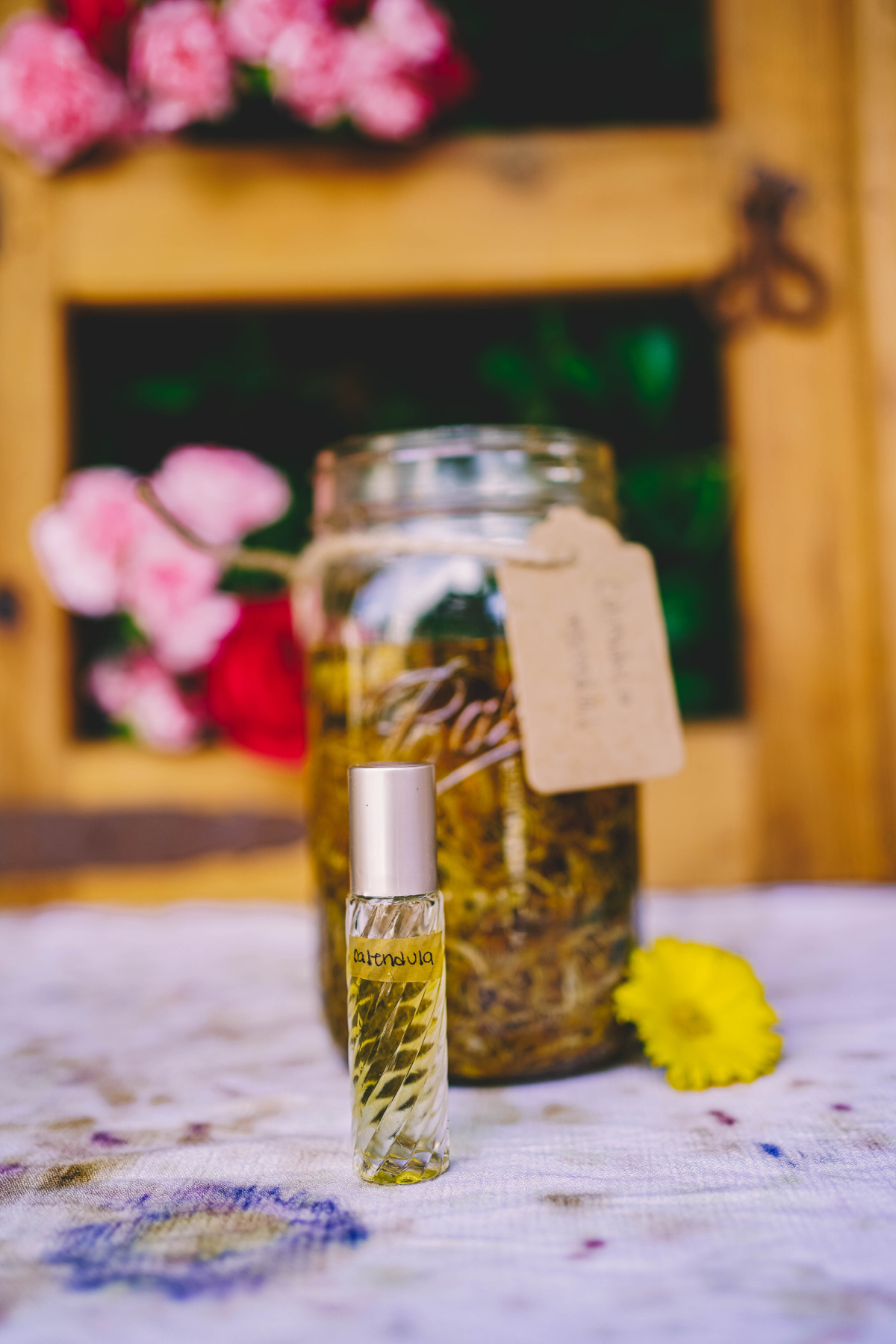 Calendula Oil
Finish off this special Mother's Day facial kit with none other than the liquid gold benefits of calendula (Calendula officinalis) oil. Calendula's ability to help tissue repair makes it the perfect topical plant ally for all things pertaining to skin issues (Easley & Horne, 2016), helping to ease and diminish burns, dry skin, eczema, and scars with consistent use of this herbal oil. It's basically the icing on the cake of this herbal facial care kit!
Calendula Oil
Perfect for sealing in all the goodness of the herbal facial, calendula oil closes out the experience just as we started—with a burst of flowery plant magic.
Ingredients
¾ cup dried calendula (Calendula officinalis) flower
8 ounces avocado oil
Directions
Fill a glass jar with dried calendula flowers.
Pour carrier oil of choice over the flowers, filling up the jar.
Cap the jar with a lid and let it infuse for 4 weeks.
After 4 weeks, strain out the flowers using a fine mesh strainer and cheesecloth.
Reserve the liquid in a jar or bottle it up to share.
If you are short on time, you can use the heated method to create your infused oil. Find a blog post on it here.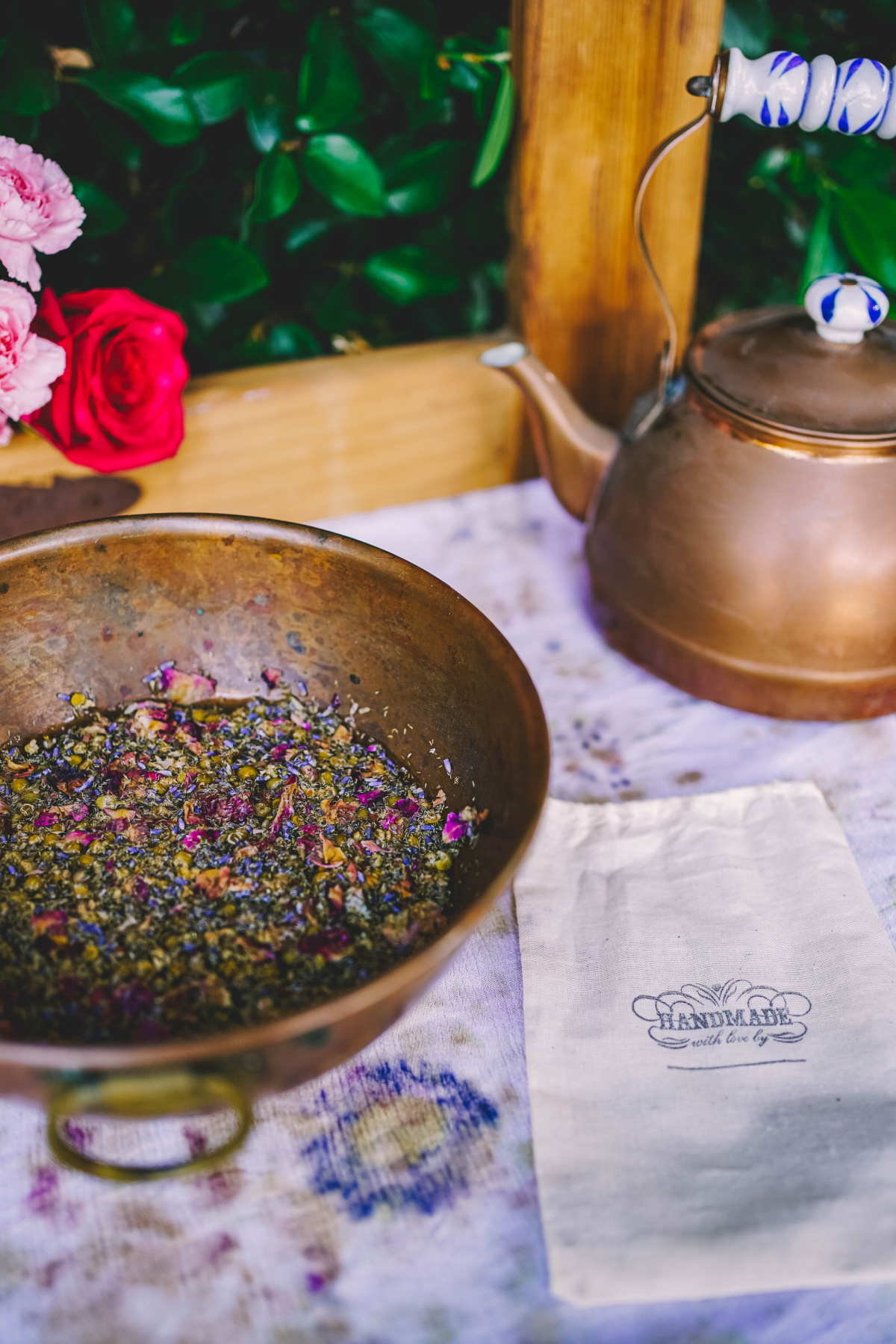 In Closing, 
This Mother's Day, treat the mother figure in your life to something special. This DIY facial care kit will be reminiscent of the days when handcrafted goods were gifted as a show of love. Your inner child will squeal with excitement as they've come a long way from the stick figure drawing years, but mom will love this just as much as that sentimental piece of paper. From start to finish, your loved one will be enveloped in plant magic. Bursts of florals, a cleansing of clay, soothing sprays of chamomile, and a finish of liquid gold make a kit that's sure to be a hit! (P.S. My tip is to double the batch and keep one for yourself!)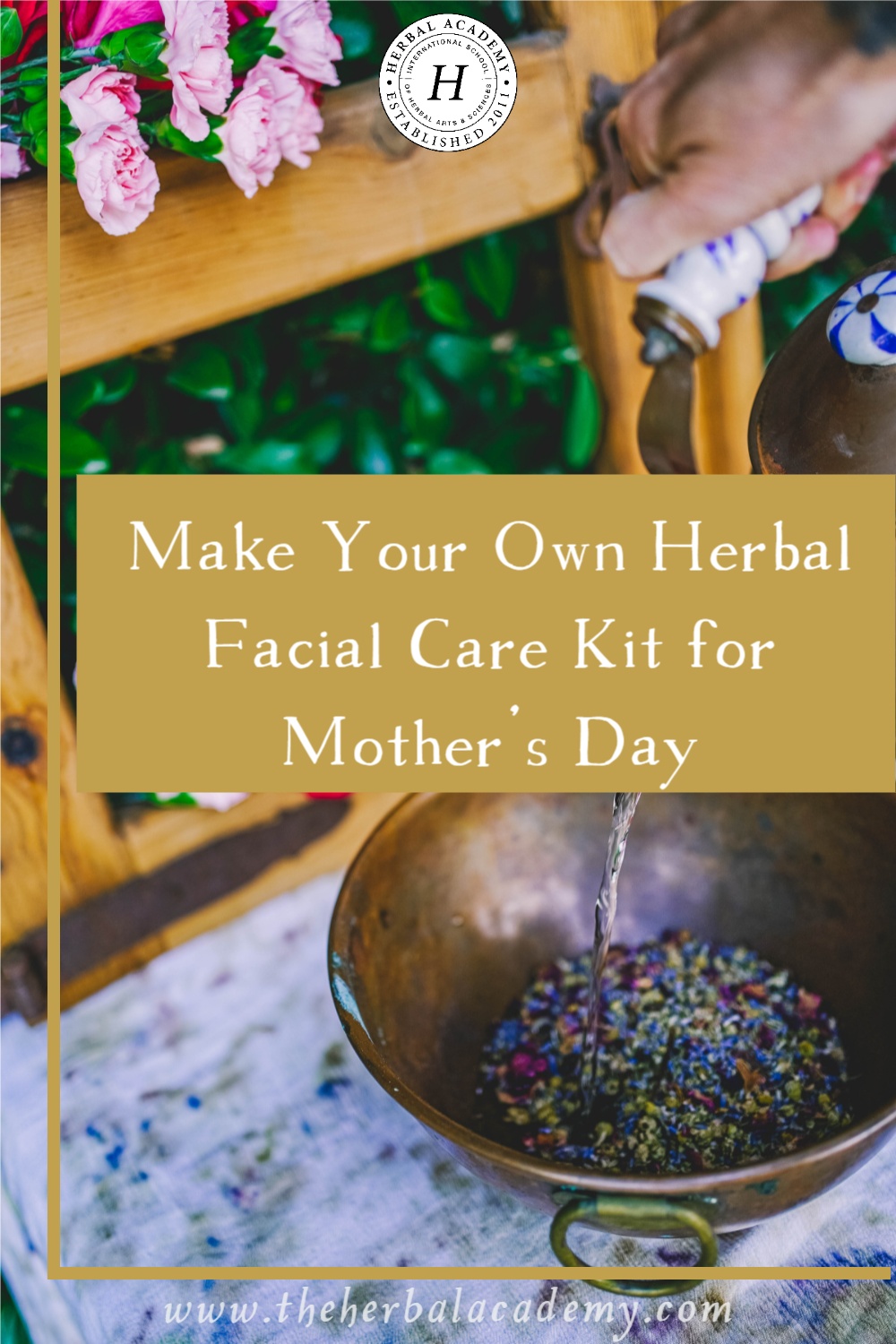 REFERENCES
Anderson, J. (2020, April 27). Want to Try Green Clay? Here Are 11 Things to Know. Healthline. https://www.healthline.com/health/beauty-skin-care/green-clay
Botanical skin care recipe book. (2019). Herbal Academy.
Easley, T., & Horne, S. H. (2016). The modern herbal dispensatory: A medicine-making guide. North Atlantic Books.
Maury, M. (2020). Natural homemade skincare. Page Street Publishing.
Stallings, A. F., & Lupo, M. P. (2009). Practical uses of botanicals in skin care. The Journal of Clinical and Aesthetic Dermatology, 2(1), 36–40. https://www.ncbi.nlm.nih.gov/pmc/articles/PMC2958188/