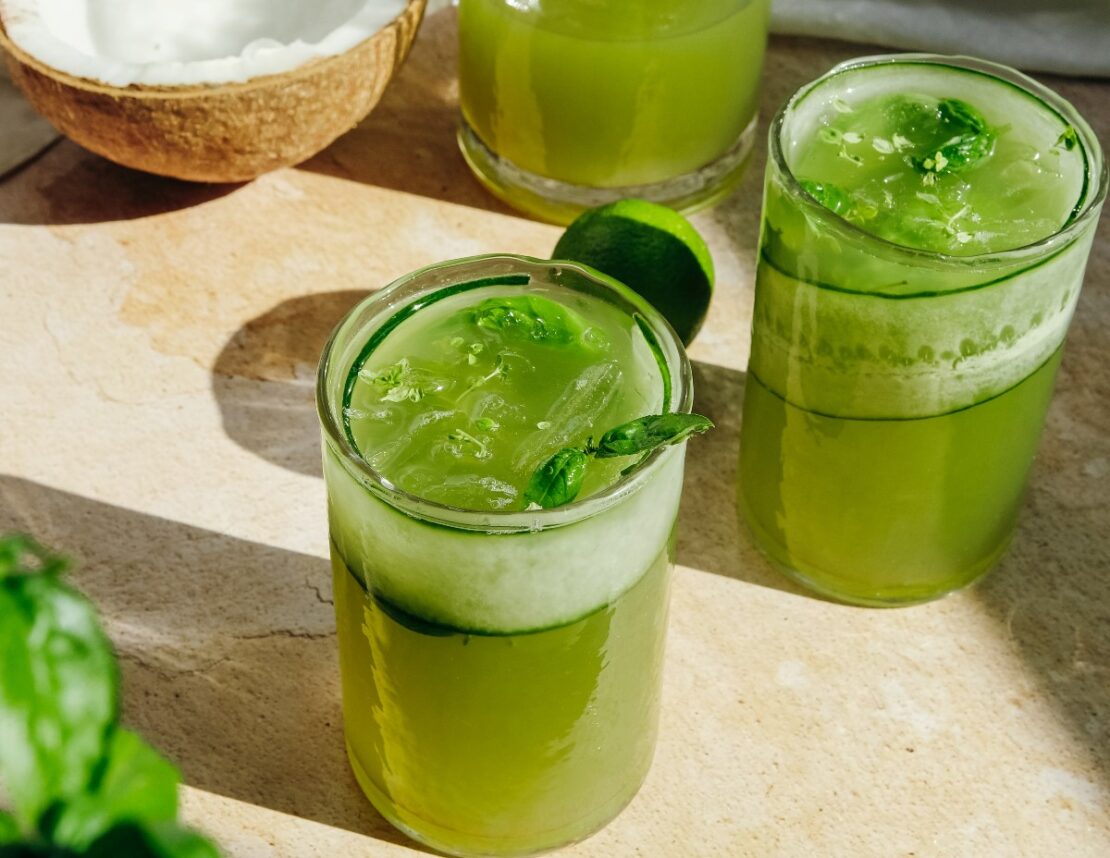 A Refreshing Basil & Thyme Coconut Water Limeade
If you are reading this in mid to late summer, depending on the part of the globe where you reside, the summer heat may be as strong as it gets. This means that staying hydrated during this time is more important than ever. But we hear you—drinking plain water in the necessary amount of 2-3 liters per day can be quite challenging. Finding more ideas for delicious and refreshing beverages is a fun way to keep our bodies well hydrated, and can call upon our creative use of herbs and botanicals. This coconut water limeade is a refreshing alternative to plain water, with added benefits! 
Our bodies regulate internal temperature and prevent overheating by producing sweat. However, sweating causes us to lose both water and essential minerals such as magnesium and potassium, which are crucial for the optimal function of our nervous and cardiovascular systems. It is important to replenish those important minerals by drinking mineral water or adding mineral drops to our drinks, especially since our foods are not as rich in minerals as they once were. Choosing organic produce is another way to consume more minerals with our food, since organic farms are more conscious of adding essential nutrients back into the soil (Haas, 2006).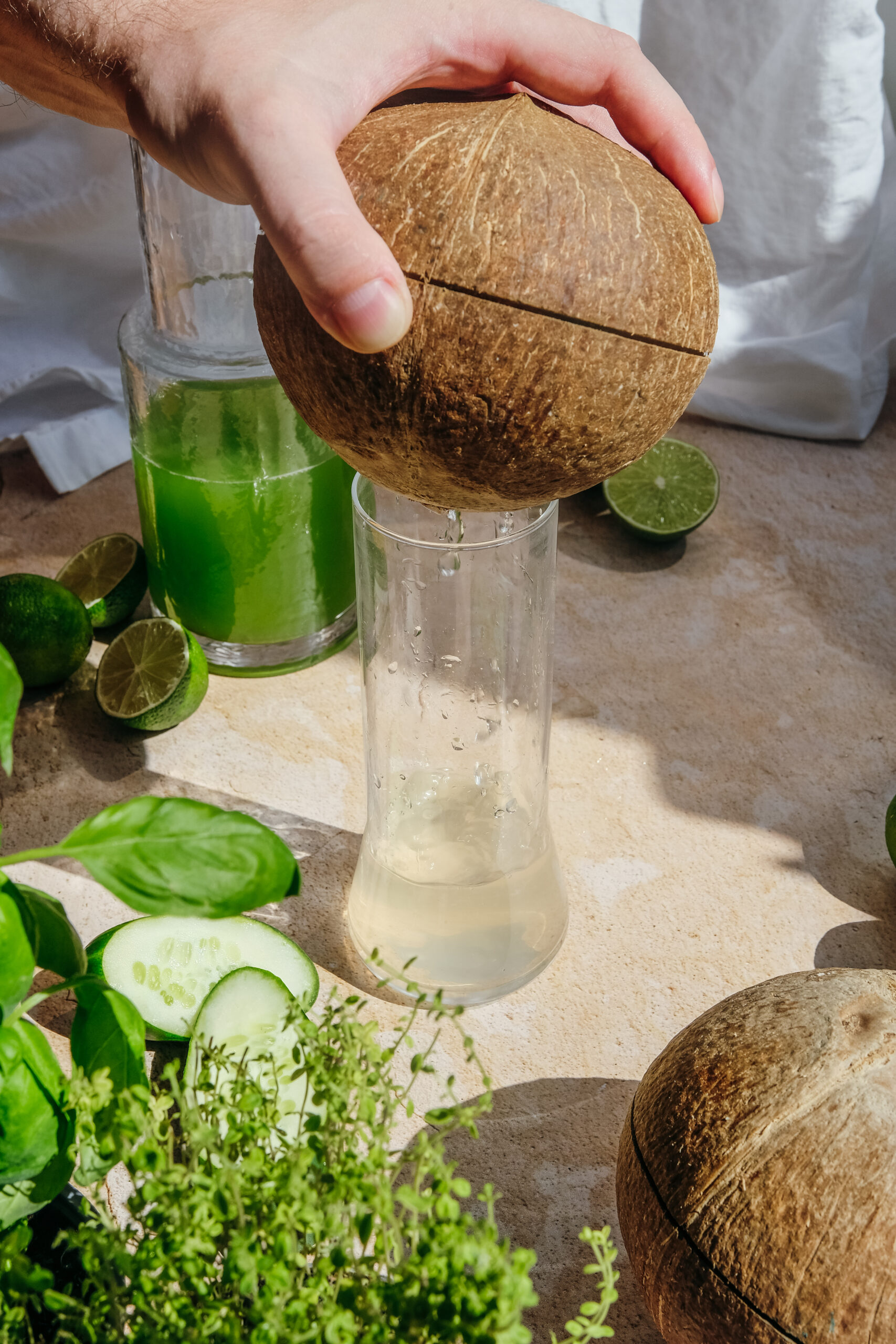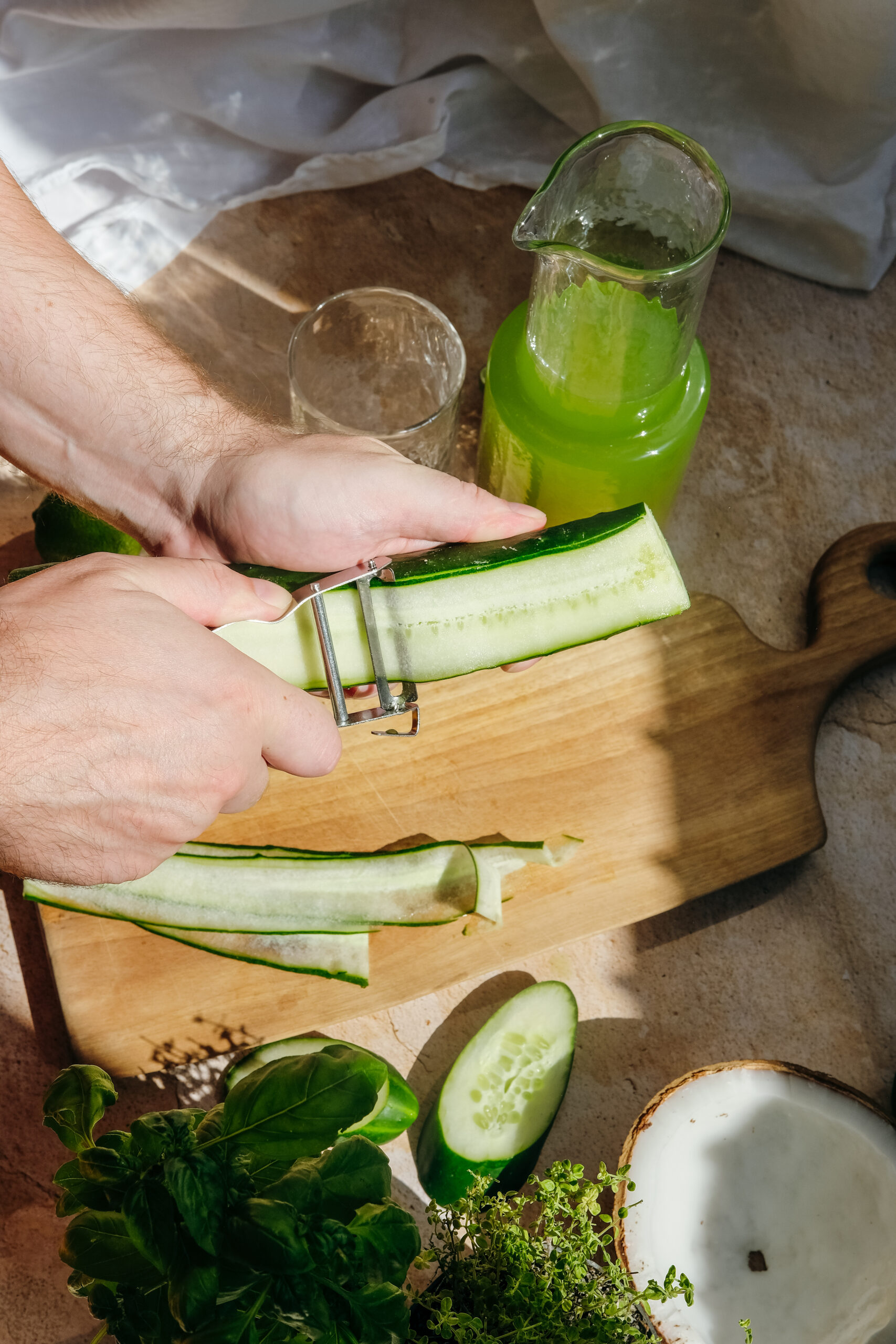 Basil and Coconut Water Limeade Ingredients
In order to keep up with your intake of minerals and boost hydration, try adding more fresh watery fruits and vegetables into your diet during the hot summer season. Cucumbers are a great way to do this. They might not be as nutrient dense as kale (which you can totally add to this limeade while making the juice, by the way), but they still have more to offer than a glass of plain water. 
Coconut water is another ingredient that will help us stay refreshed during the summer. Choose organic coconuts or coconut water from the store—be sure to check the ingredients list for added sugars or flavorings. Coconut water is rich in minerals and electrolytes like potassium, calcium, manganese, and antioxidants. This is great news in terms of hydration.
Adding fresh herbs to your summer beverages (and culinary creations) adds extra flavor, taste, and health benefits. Nutrient-dense herbs are often abundant in farmer's markets during the warmer times of year.  In addition, organizing a little windowsill or balcony garden with your favorite herbs could make enjoying the benefits of freshly picked herbs on a daily basis even easier. Besides, even some occasional and small in-city-apartment gardening can contribute to lower stress levels overall. Getting our hands into the soil is a great way to feel more in tune and connected to the Earth and the natural world we live in. 
Thyme (Thymus vulgaris) descends from the wild thyme of southern Europe; it is now cultivated worldwide. The constituent thymol, a volatile oil in thyme, is a strong antimicrobial. For this reason, thyme may be applied as an antifungal. Thyme is an excellent tonic, especially for the respiratory system; it is used as a respiratory support, as in cases of chest and throat infections, and is a useful expectorant. Also, as an antispasmodic, thyme helps open and relax air passages (Chevallier, 2021). This makes it extra helpful for hot summers as the density of oxygen is lower in high heat environments and breathing can become more challenging to some people. 
Sweet basil (Ocimum basilicum), also known as basil, is likely native to India. Over 150 varieties are now grown around the world. Basil is enjoyed for its appealing flavor and the taste, aroma, and the benefits of its volatile oils. Sweet basil has a mildly sedative action; its indications include nervous irritability, depression, anxiety, and difficulty in sleeping (Chevallier, 2021).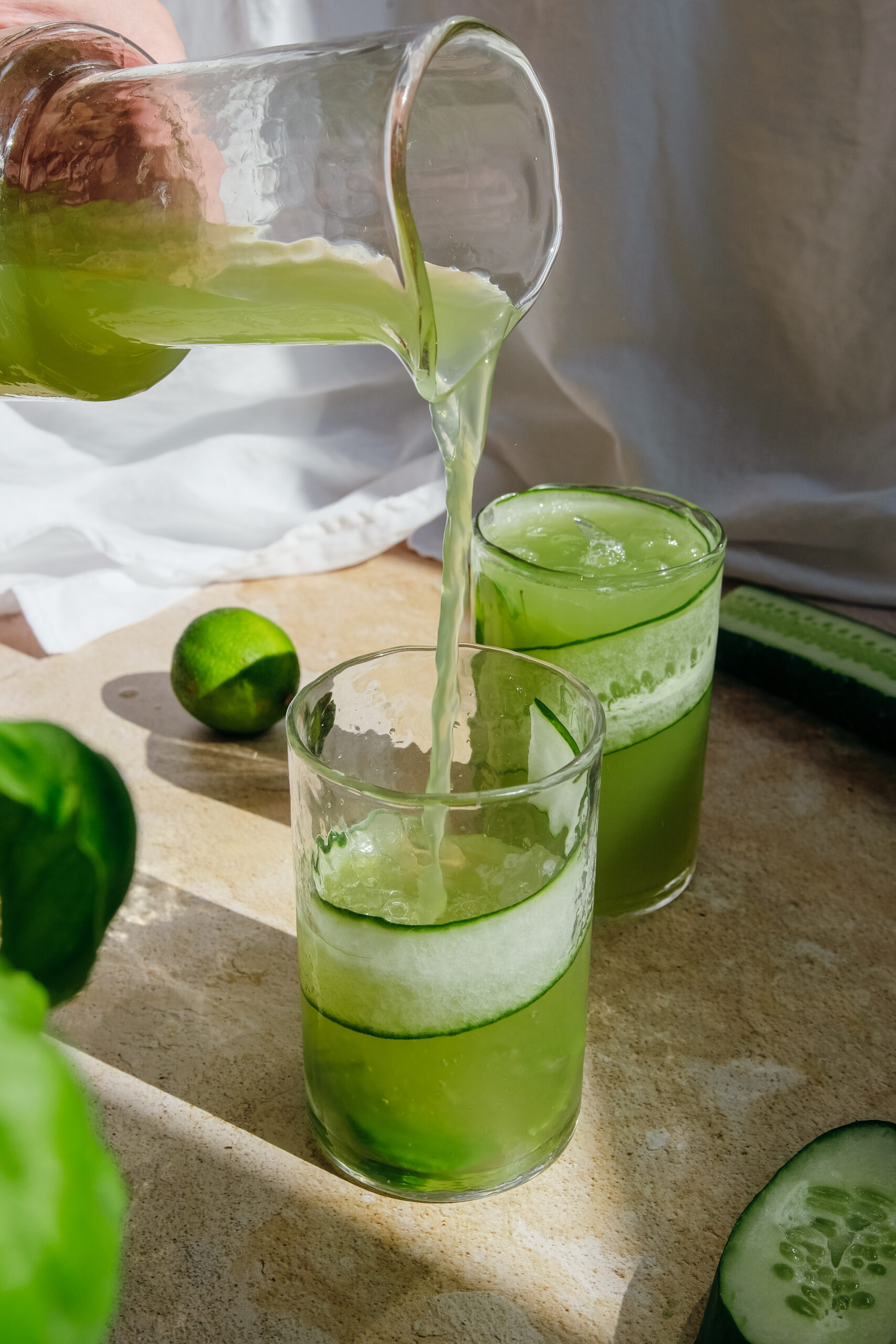 A Refreshing Basil & Thyme Coconut Water Limeade
Basil & Thyme Coconut Water Limeade
Basil and thyme added to the coconut water limeade in this recipe add a beautiful aroma reminiscent of the Mediterranean, making you feel like you are somewhere on the shores of Côte d'Azur inhaling the herb-infused air and enjoying refreshing winds. 
Yields: 3 portions. 
Ingredients
2 long cucumbers
1 cup (8 fluid ounces) water + 1-2 tablespoons additional water, reserved
12 basil (Ocimum basilicum) leaves
4 sprigs of thyme (Thymus vulgaris) (fresh, leaves only)
2 cups (16 fluid ounces) coconut water (from fresh coconuts or packaged box)
1 tablespoon coconut sugar
2-3 limes (to taste)
Crushed ice
Mineral drops (optional, added in the end in amount suggested on the bottle)
Directions
Make long slices of cucumbers with veggie peeler (for serving). When you have three to six beautiful long strips, put them aside and cut the remaining cucumber plus the other whole cucumber into chunks and blend it with half of the basil and thyme leaves and 1 cup of water in a blender. Strain through a nut-milk bag or three-layered cheese cloth. (Alternatively, you can, of course, make cucumber juice with no water added at all, if you have a juicer at home. This way, the finished result will be more intense in taste). 
Make a coconut syrup by simmering 1 tablespoon of coconut sugar with 1-2 tablespoons of water in a small pot. (You can use agave, store-bought coconut syrup, or maple syrup—whatever you prefer and can source.) 
Squeeze the juice from limes.
Pour cucumber-herb juice water, coconut water, lime juice, and coconut syrup in a ½ gallon jar. Mix with a long spoon. Adjust the taste to your preference—add more lime juice for acidity or more coconut syrup for sweetness. Make this drink enjoyable to you!
Lay out the cucumber strips on the walls of your serving glasses. Put some fresh basil and thyme leaves along with some crushed ice in the glasses. Then pour the limeade into the prepared glasses. Optionally, add the mineral drops. Enjoy this cool, refreshing, hydrating botanical beverage immediately!
In Closing,
Try this particular recipe, but then also experiment with new juice combinations. Try apple, spinach, pear, try different herbs or switch citruses, from lime to grapefruit. The green market and the kitchen is your playground, and the idea of drinking something hydrating, nourishing and fun at the same time is within your reach. Caring for yourself should be extra special – because you are!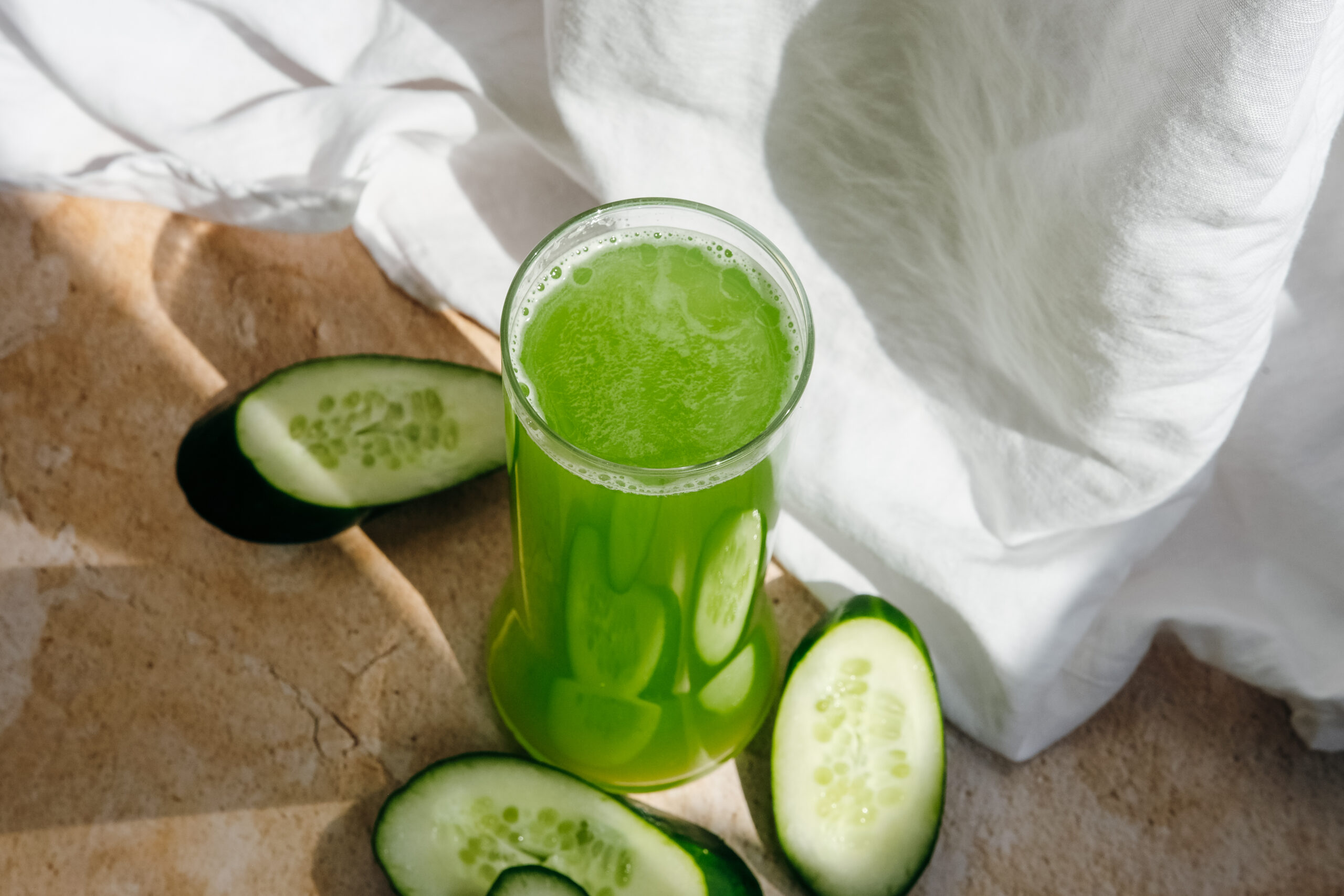 REFERENCES
Chevallier, A. (2021). Encyclopedia of herbal medicine: 550 herbs and remedies for common ailments. Dorling Kindersley.  
Haas, E.M., & Levin, B. (2006). Staying healthy with nutrition: The complete guide to diet and nutritional medicine. Celestial Arts.