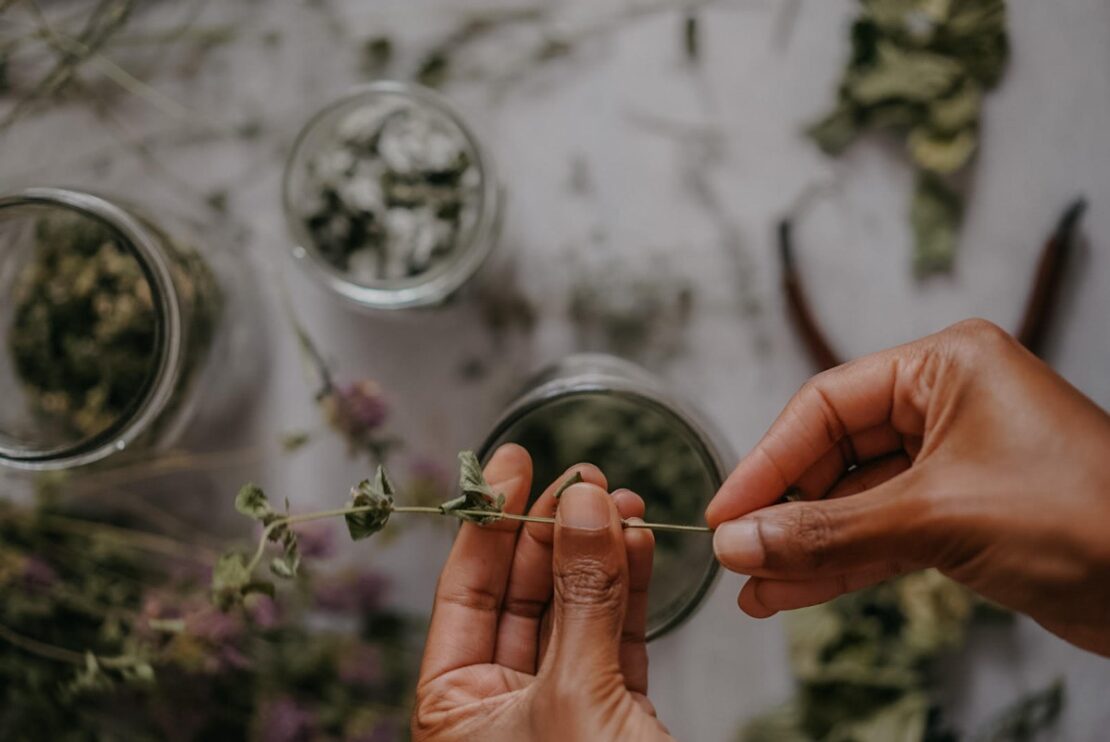 9 BIPOC-Owned Herb Shops to Support
We herbalists know that curating our home herbal supply is a labor of love that doesn't exactly happen overnight. It takes time to line our cabinets with plants and products, whether homegrown, foraged, made, or gifted. And oh, how sweet it is to take our time with the plants! While there are many places you can source herbs and botanical products, we're highlighting a special selection below. Though in no way an exhaustive list, the following herb shops are owned and operated by herbalists and botanical entrepreneurs of color, and each one is full of lovely offerings of all kinds to add to your herb cabinet! 
Building out your home herbal collection can be both exciting and overwhelming. However, in perusing the abundance of options, it may help to remember that a home herbal collection naturally grows and expands alongside our studies and deepening journey into herbalism. Many start with just a small handful of herbs to get to know well before introducing a multitude of plants into a home practice. We love this approach—it allows students to acquaint themselves with each herb one at a time, a beautiful way to deepen one's herbal understanding.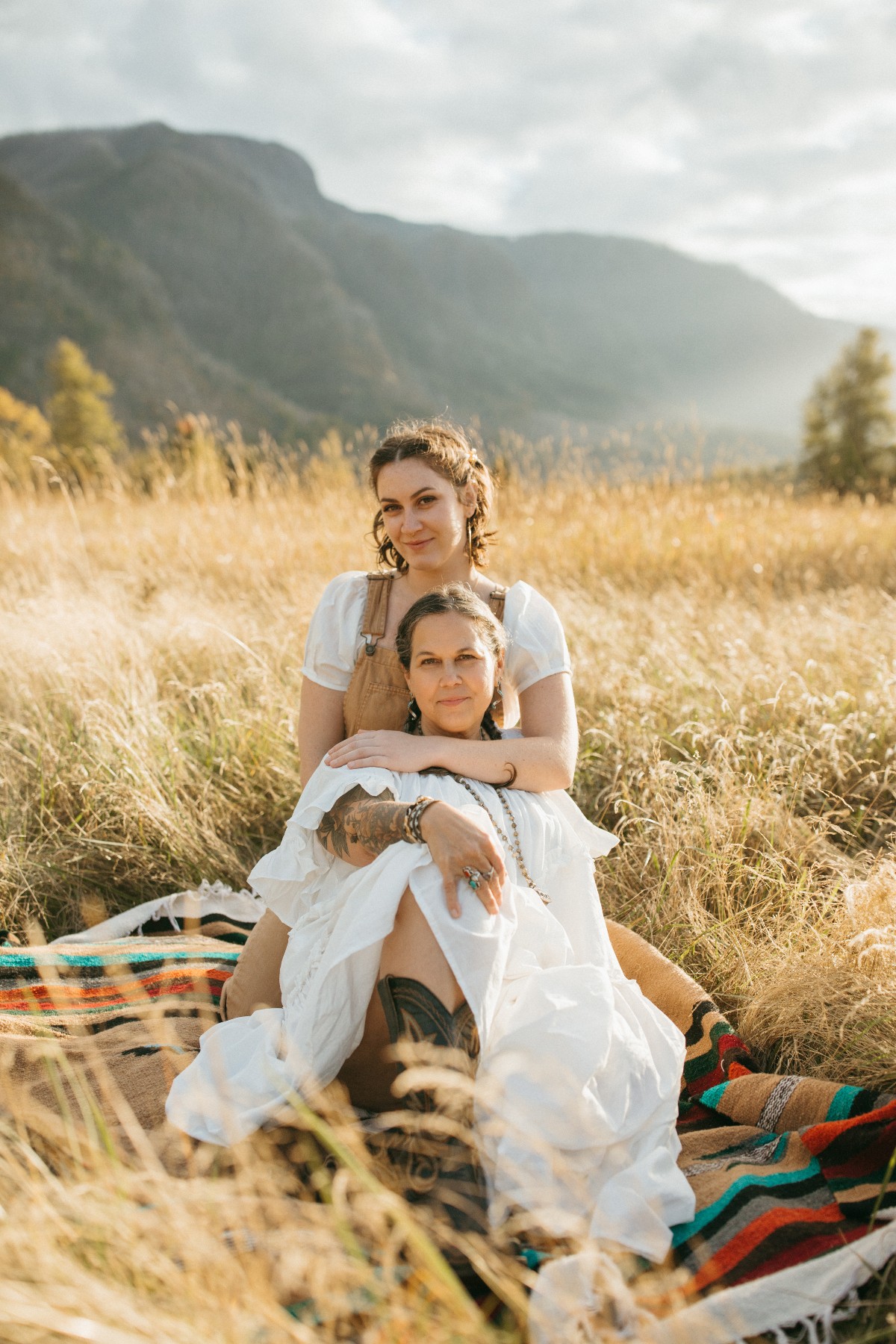 Make & Mary
Online + Portland, OR
High vibrations abound in each one of Make & Mary's hemp-infused botanical creations, and we can't get enough! Latina-owned, community-care driven, and intergenerationally inspired, this brand offers nourishing herbal blends for body, bath, and soul both online and from their Portland, Oregon-based flagship store.
What began for founder Yvonne Perez Emerson as a workshop series in 2016 blossomed into a much-loved product line—both created with the goal of sharing the beauty of plant wellness with all. Featuring powerful botanicals and full-spectrum hemp extract, the Make & Mary collection is a worthwhile addition to your herbal stock.
Explore Make & Mary's aromatherapy inhalers, skin serums, bath time treats, thoughtfully crafted tinctures, and more for your everyday wellness rituals.
What we love: The shop's comprehensive, easy-to-use Ingredients List that details background information, key benefits, and products in which each ingredient is found for easy reference.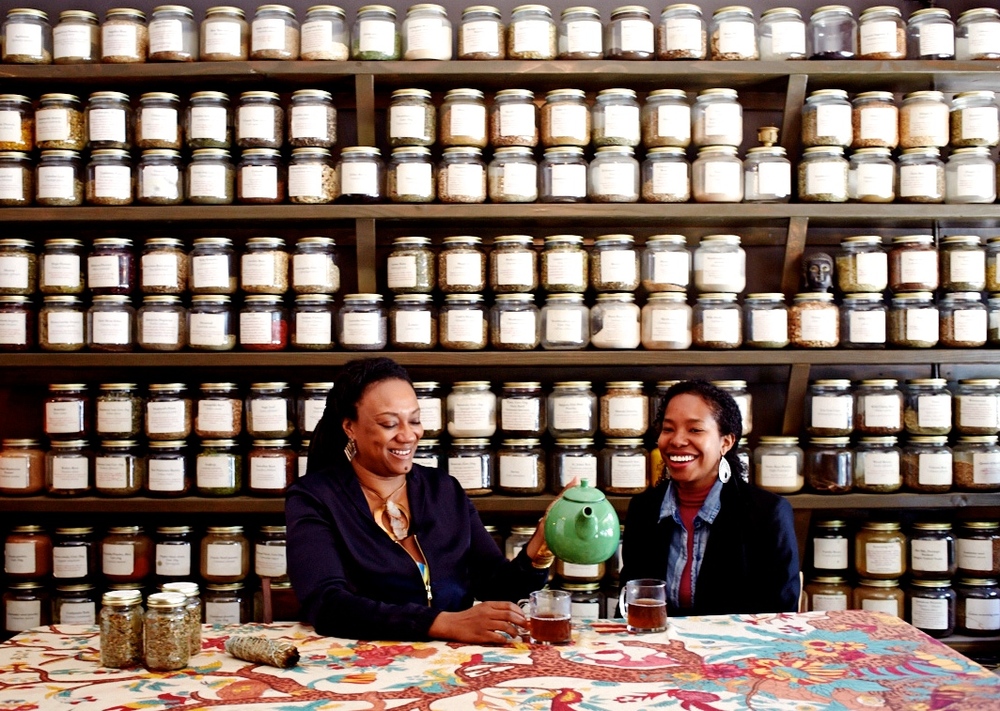 Sacred Vibes Apothecary
Online + Brooklyn, NY
Connection is at the heart of Brooklyn, NY-based Sacred Vibes Apothecary, owned and operated by seasoned herbalist Karen M. Rose. Drawing on the many wellness traditions she encountered in her native Guyana, she shares a breadth of ancestral knowledge through offerings focused on supporting the mind, body, and spirit. 
Established in 2009, Sacred Vibes Apothecary, along with its offshoots Sacred Botanica and Sacred Spice, centers on social and racial justice while bridging Eastern and Western herbal wisdom in offerings that include supportive herbal formulas, custom community events, consultations and workshops, as well as an extensive selection of loose herbs by the ounce.  
What we love: The Art & Practice of Spiritual Herbalism by Karen M. Rose—add this book to your herbal library!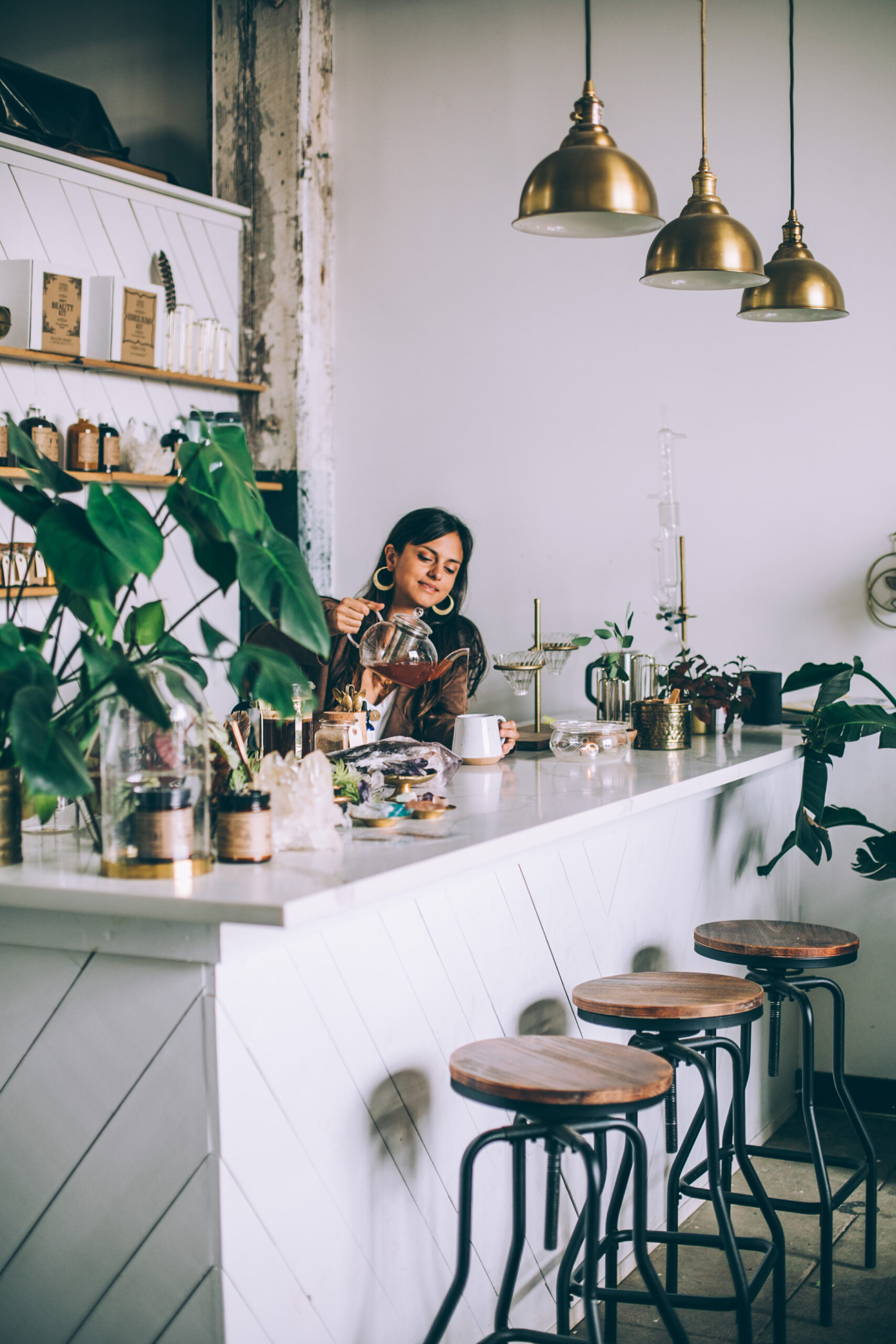 Anima Mundi Herbals
Online + New York, NY
Following a deep and diverse study of Indigenous botanical practices, astrology, cosmology, consciousness, and biodynamics, Costa Rican clinical herbalist Adriana Ayales conceived of Anima Mundi Herbals to bridge ancient preparations and the modern world. A globally inspired shop, Anima Mundi features a wide variety of organic, wildcrafted, and ethically grown botanical treasures, all sustainably sourced from around the world.
Enjoy an ever-expanding collection of bulk herbs, potent elixirs, tea accessories, superfoods, and delightfully unique herbal powders crafted with the highest manufacturing standards. With a beautiful online storefront coupled with two New York City brick-and-mortar locations, Anima Mundi's impact reaches far and wide. 
What we love: All the thoughtfully curated kits and bundles, including Rose Magic Kit, Adaptogenic Shroom Set, and Goddess Magic!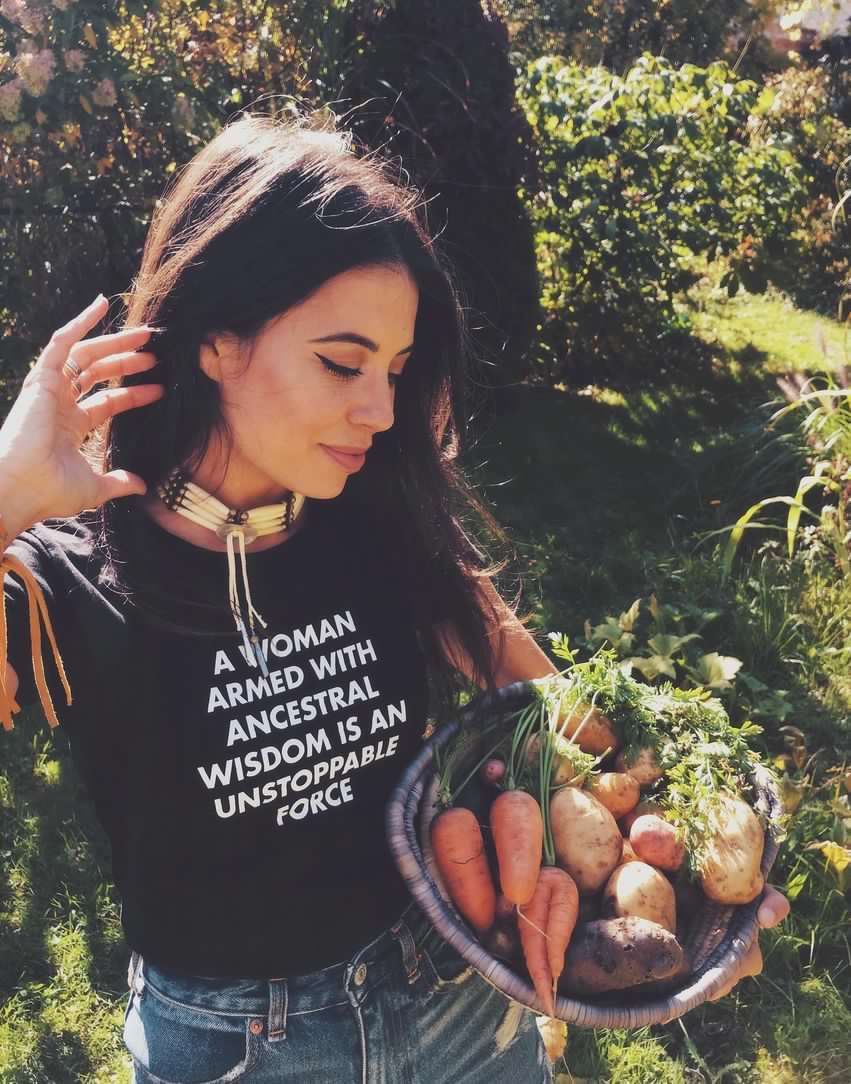 Xálish Medicines
Online
Born of a passion for reconnecting folks to the land and its gifts, Canada-based Xálish Medicines was founded by mixed Indigenous naturopathic doctor, Dr. Jacqui Wilkins. Rooted in relationship, many of Xálish Medicines' creations feature herbs grown by Dr. Jacqui, ND, and all are made with high intention around solar and lunar cycles.
Each offering invites one to remember and restore one's relationship with the natural world while tapping into ancestral teachings. Flower essences, adaptogenic elixirs, and electuaries are just a few of the inspired herbal supports available, with new products added in seasonal releases.
What we love: A beautiful Flower Essence Trio designed to support inner child work, forgiveness, and heart expansion—yes, please!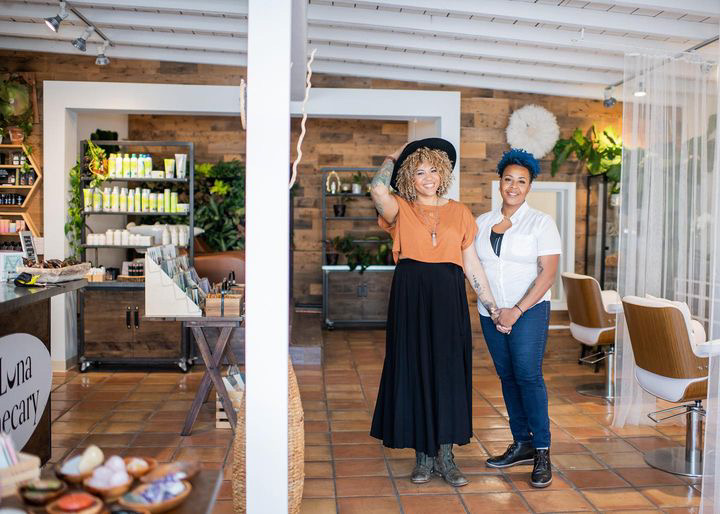 Pura Luna Apothecary
Online + Santa Barbara, CA
With its mission to provide safe alternative methods and modalities for people to improve their health and feel empowered in doing so with the help of the community, Pura Luna Apothecary is an herb shop we adore! Wife duo and owners Ashe and Christin bring their experience as longtime entrepreneurs to support holistic wellness inside and out with their apothecary and botanical line.
A true sanctuary space, Pura Luna Apothecary is a sensory delight with shelves lined with all the self-care essentials, from body and skin care goodies, sacred space cleansing tools, herbal tea blends made in-house, and the creations of many other minority- and women-owned businesses.
What we love: Seasonal subscription boxes that feature small-batch handmade items, including guidance on crafting your own at-home wellness rituals.


The Herbal Scoop
Online + Callicoon, NY
Plant-curious folk are sure to fall in love with The Herbal Scoop, a discovery-based herbal apothecary where education takes center stage. Serving Callicoon, NY, and beyond, the shop is owned and operated by herbalist, farmer, and HA alum Kendra Payne, who has a knack for making herbalism feel welcoming to all.
Mindfully organized, The Herbal Scoop features an easy-to-navigate herbal wall in-store and a pleasant virtual shopping experience allowing shoppers to find herbs by wellness need, support diverse brands, and learn about building an herbal regimen. We certainly resonate with Kendra's mission to support everyone in eating more plants and drinking more leaves!
What we love: The many fun and creative tea blend names, including LuLLL Yourself to Sleep (can you guess which L-herbs are in here?)! 
Herb Folk
Online
Created by herbalist, Japanese acupuncturist, and author Erin Masako Wilkins, Herb Folk's botanical products highlight centuries of Asian American herbalism culture in a lovely selection of teas, herbal formulas, and broth herbs. With a background in Eastern energetic theory, Erin helps others work on their wellbeing with products that center on food for physical and spiritual restoration.
Found both online and in various retail locations across the United States, Herb Folk's collection artfully shares generations of tradition in an elevated yet approachable way. 
What we love: Deliciously creative broth herbs to incorporate into soups, smoothies, grain dishes, and other recipes!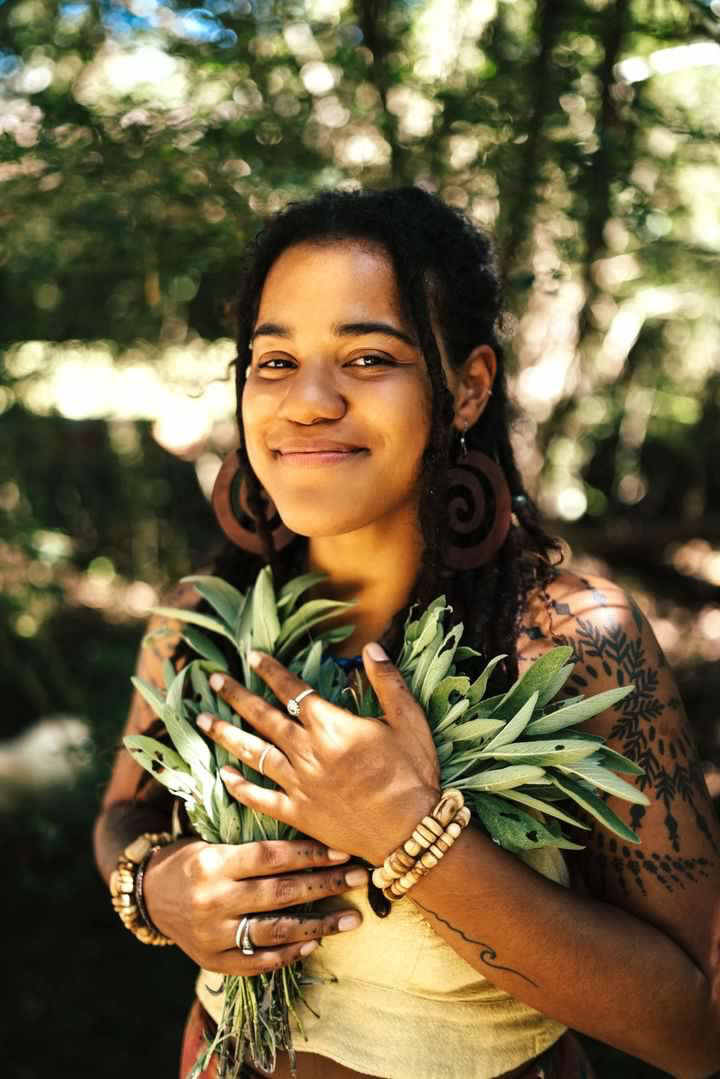 Veladya Organica
Online
Herbalist, holistic wellness educator, and Herbal Academy course contributor Veladya Chapman is the maker behind Veladya Organica, a much-loved brand specializing in 'potent herbal allies for the soul.' From her homestead in rural Georgia, Veladya crafts an assortment of homemade products to support collective wellbeing.
Find lovingly made tinctures, flower essences, and one-of-a-kind accessories in-store, along with special herbal bundles for convenient shopping. Many items are limited release—don't hesitate to support this online herb shop if something catches your eye!
What we love: Veladya's Respiratory Rescue tincture, which features one of our favorite herbal allies, mullein (Verbascum thapsus) leaf!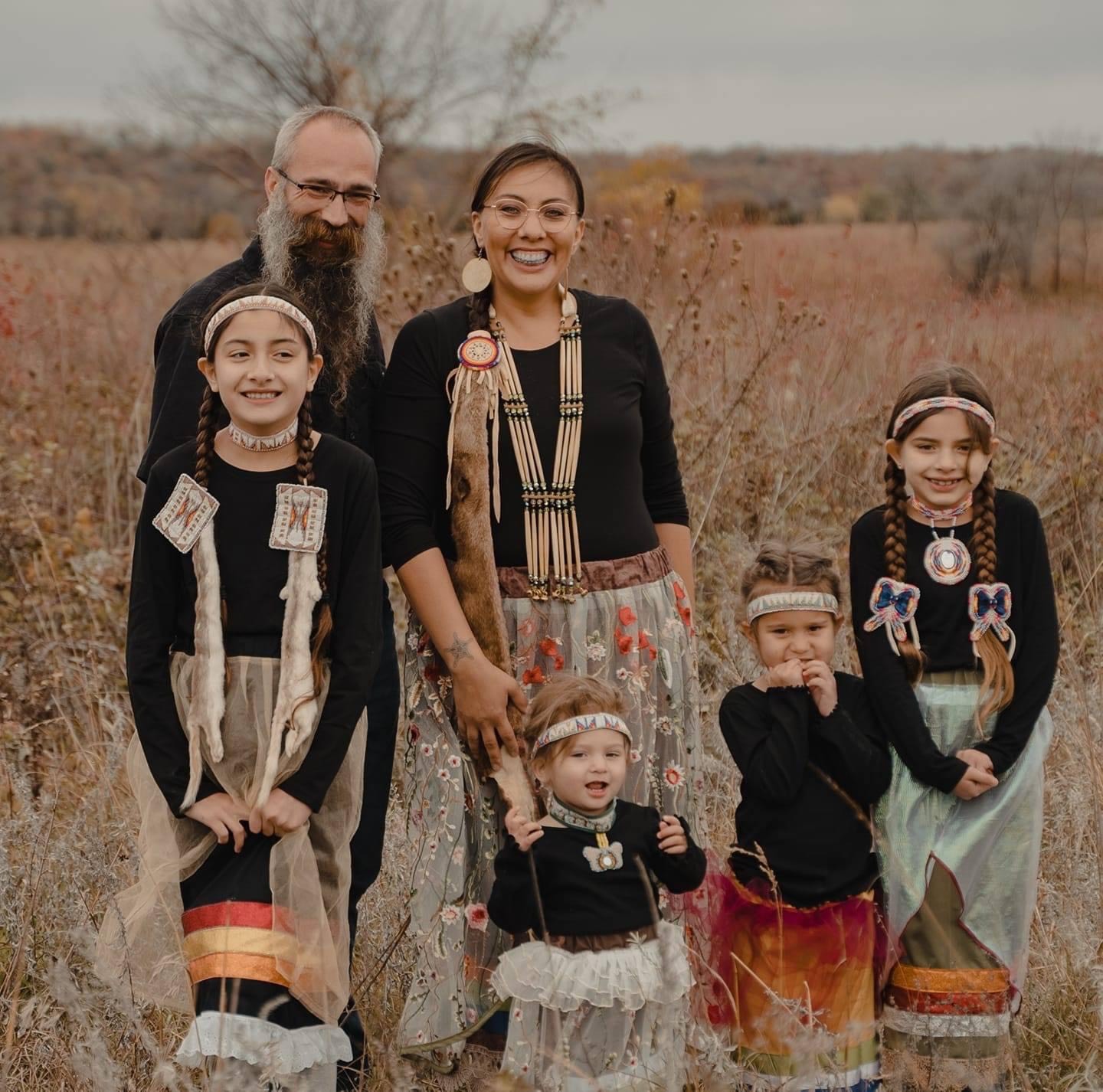 Lakota Made
Online + Mankato, MN
Established in 2018, Lakota Made is owned by Indigenous traditional herbalist Megan L. Schnitker and operates as a family-run business in Mankato, MN. Lakota Made specializes in eco-friendly personal care goods including plant-based soap bars, infused oils, and cologne balms, as well as small-batch made herbal goods such as glycerites, salves and syrups, bath teas, and tonics, just to name a few!
Sustainability is top of mind in each offering, featuring ingredients like organic essential oils, ethically sourced beeswax, and sustainably grown or wild harvested herbs. Peruse the online store to find a wide variety of traditional preparations to add to your herbal supply.
What we love: Gorgeous and giftable wellness baskets crafted with intention that feature a variety of Lakota Made products to share with loved ones.
In Closing,
Many options await you as you shop for herbs and other botanical creations, and simply exploring the available offerings is half the fun! Be sure to check out these herb shops to discover your new favorite herbal goodies as you grow your home herbal collection. Happy shopping!