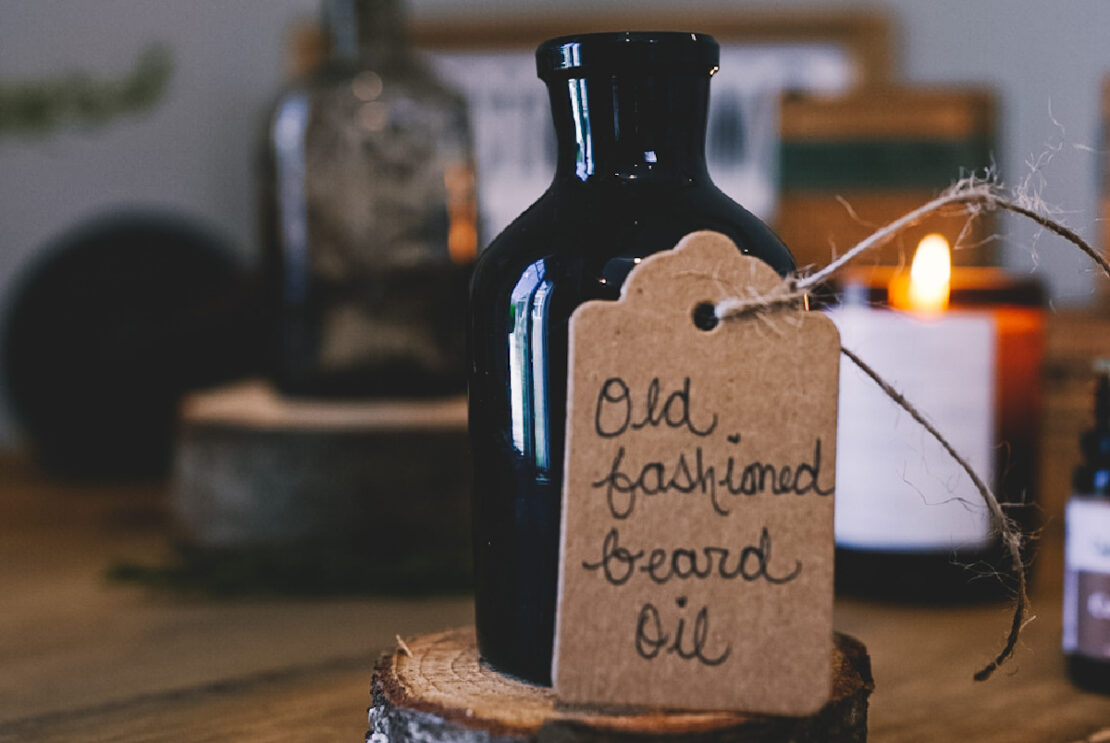 DIY Old-Fashioned Beard Oil: A Perfect Father's Day Gift
A child's first hero, protector, provider, teacher, and best friend, a father figure can be such a guiding force in a child's life. The dad jokes, advice, and many memories throughout the years are something to be cherished. Families are a unique complexity as we all know. Some families you are born into and some are created along the way. Whether your father figure is a neighbor, a teacher, a family friend, or your own dad, having someone to count on shouldn't go unnoticed. As a special thank you to the father figure(s) in your life, craft this old-fashioned beard oil for a perfect Father's Day gift. Dad doesn't sport facial hair? Not to worry! This nourishing beard oil can double as a soothing aftershave treatment.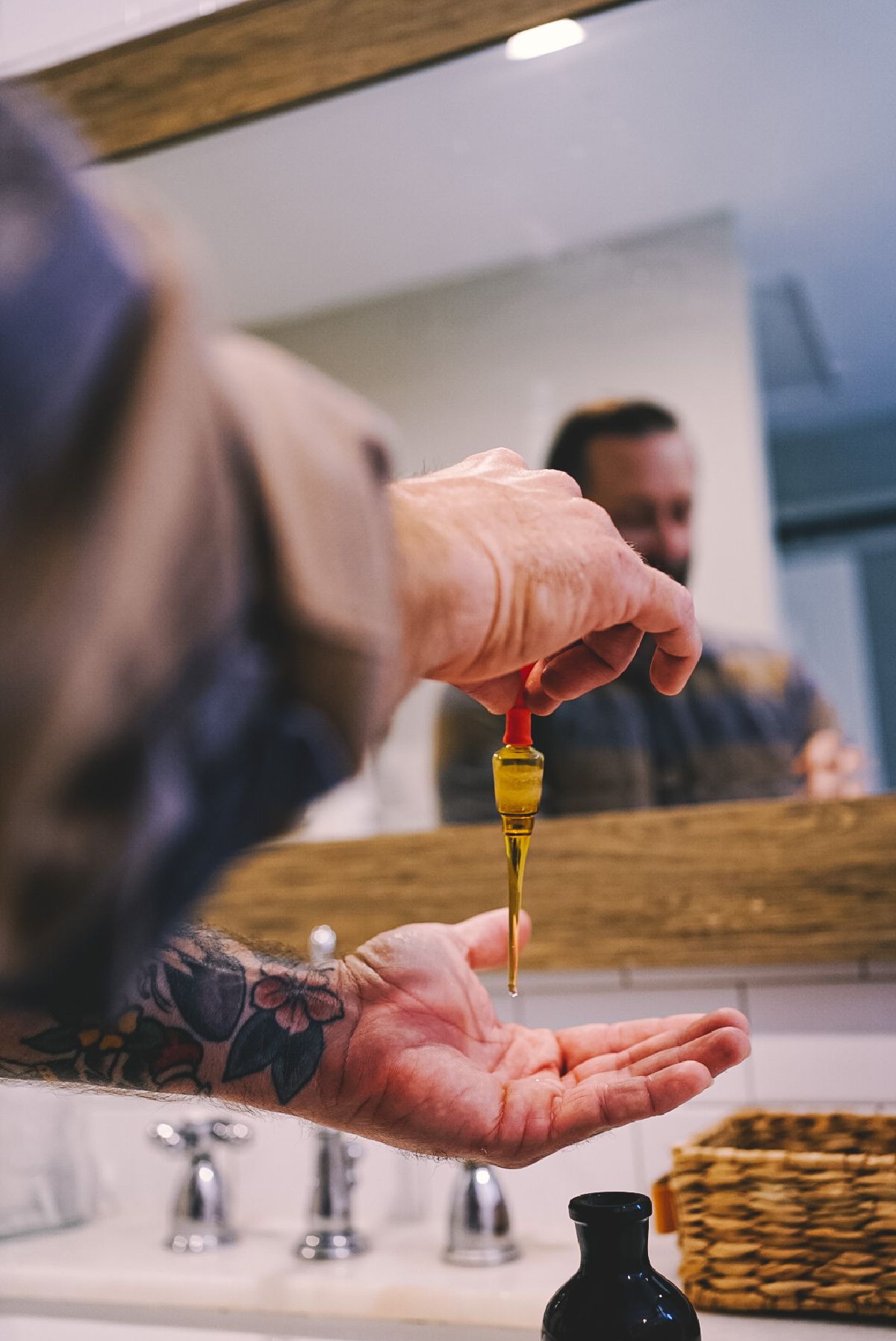 Why Beard Oil
Much like the hair on our heads, facial hair needs care and attention. Sometimes, dads are the wash-and-go type of groomers, but adding a beard oil to the vanity cabinet will be a welcome step to maintaining a glowing appearance. 
Beard oils condition, tame, and retain the moisture in facial hair. A couple of drops and the hair and skin are instantly refreshed! Crafting your own oil blend for Father's Day allows for customization and control of the ingredients. There are many recipes out there to try, but this old-fashioned beard oil is a great place to start when making your own; you just need a few simple ingredients. 
Base Oils
The base oils in this recipe provide a powerful hit of moisture and stimulation for hair growth, a win-win! Each drop is rich and lustrous and a little goes a long way. 
Avocado (Persea gratissima) oil is the primary oil in this recipe and while there aren't very many scientific studies to back the benefits of applying avocado oil on hair, sometimes personal experience and results hold their own. Applying avocado oil on coarse hair like beards provides light moisture to tame unruly frizz and livens up a dull appearance. Avocado oil is also a great option for its versatility and is suitable for all skin types, including dry or mature skin (Worwood, 2016). Applying oil on a regular basis protects hair from damage, from breakage, enhances shine, and diminishes friction (Gavazzoni Dias, 2015). 
Castor oil is the secondary oil used in this recipe. Oil extracted from the Ricinus communis castor bean plant is used in many skincare recipes and for good reason. This ultra-thick oil locks in moisture and has been touted for years to promote hair growth. Much like avocado oil, castor oil has a bigger reputation than the scientific studies account for—at least so far. What we do know is the ricinoleic acid found in castor oil may boostcirculation when applied to the scalp and subsequently promote healthier and stronger hair (Brennan, 2016). An oil that is both moisturizing and cleansing, castor oil also promotes smoothness and softness (Goyal et al., 2022). With or without evidence from clinical trials, many castor oil users see a positive result with consistent use. 
Essential Oils
Frankincense (Boswellia frereana) essential oil is old fashioned in its truest sense. Used for centuries, this precious oil made from tree resin has many beneficial properties. It is antibacterial, antimicrobial, antiseptic, and even has some wound-mending abilities (Worwood, 2016). Frankincense is also prized for its inflammation-modulating and skin rejuvenating properties (Han et al., 2017). Finding a sustainable source of frankincense essential oil is important as these trees are endangered. You can also substitute frankincense with essential oils that are more sustainable like cinnamon (Cinnamomum spp.), costus (Saussurea costus) root, Virginia cedarwood (Juniperus virginiana), lavender (Lavandula angustifolia), vetiver (Chrysopogon zizanioides),or  helichrysum (Helichrysum italicum).
If there is a smell that evokes rugged, woodsy comfort, Virginia cedarwood (Juniperus virginiana) essential oil would be it. The musk and woody notes of this essential oil are the perfect addition when making your own beard oil blend for that special father figure in your life. Additionally, it can help with hair loss and regrowth (Hay et al., 1998). This helps to keep a prized beard nice and full without those unwanted patches. Additionally, cedarwood can help promote a flake-free beard and scalp when added to your favorite shampoo or in this case, beard oil (Gupta et al., 2010).
The strong volatile oils in tea tree (Melaleuca alternifolia) essential oil come with strong antifungal properties. This bright-smelling oil is perfect for taming an overgrowth of yeast that causes dandruff on the scalp or beard (Mertas et al., 2015). No more itchy beards for dad. Plus, tea tree is known to have remarkable effects on irritated skin by helping to ease inflammation and promote health (Pazyar et al., 2013).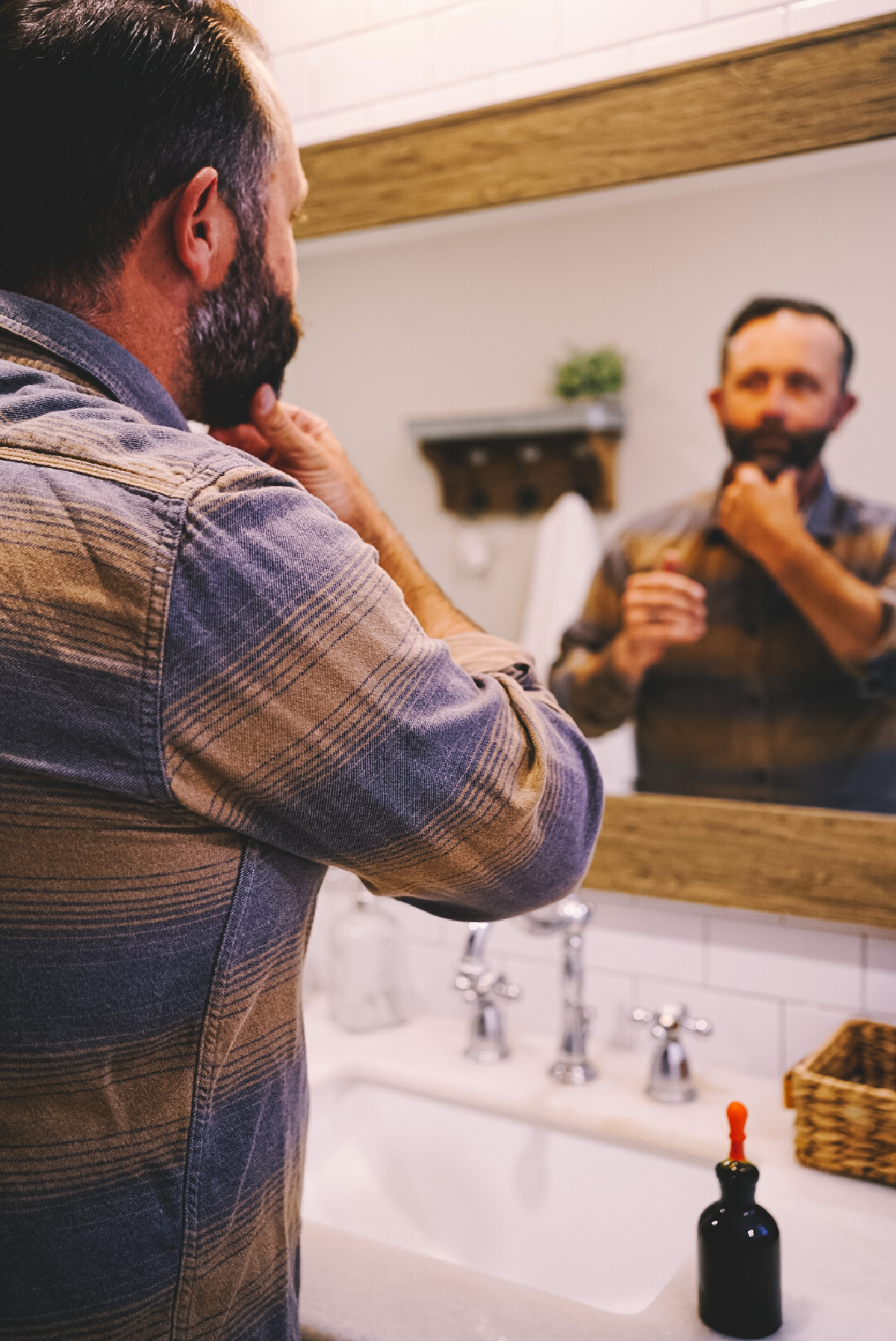 Make Your Own Old-Fashioned Beard Oil
When nostalgic dads say, "they don't make it like they used to," they must have been talking about beard oil. Unfortunately, some facial care products today, including beard oils, have so many added ingredients that can be harmful. Take it back to the basics with this old-fashioned beard oil! This special blend has everything the father figure in your life needs without the laundry list of additives and chemicals you can't pronounce. 
DIY Beard Oil
Take it back to the basics with this old-fashioned beard oil that doubles as a soothing aftershave.
Ingredients
3 ounces avocado (Persea gratissima) oil
1 ounce castor (Ricinus communis) oil
4 drops frankincense (Boswellia frereana) essential oil
2 drops virginia cedarwood (Juniperus virginiana) essential oil
2 drops tea tree (Melaleuca alternifolia) essential oil
2 drops vitamin E oil
Directions
In a measuring cup, add in the first two ingredients–the base oils–and mix together. 
Next add in each essential oil and mix together. 
Carefully pour beard oil into an amber glass dropper jar. 
Store in a cupboard. 
Shelf life for beard oil is an estimated 6 months.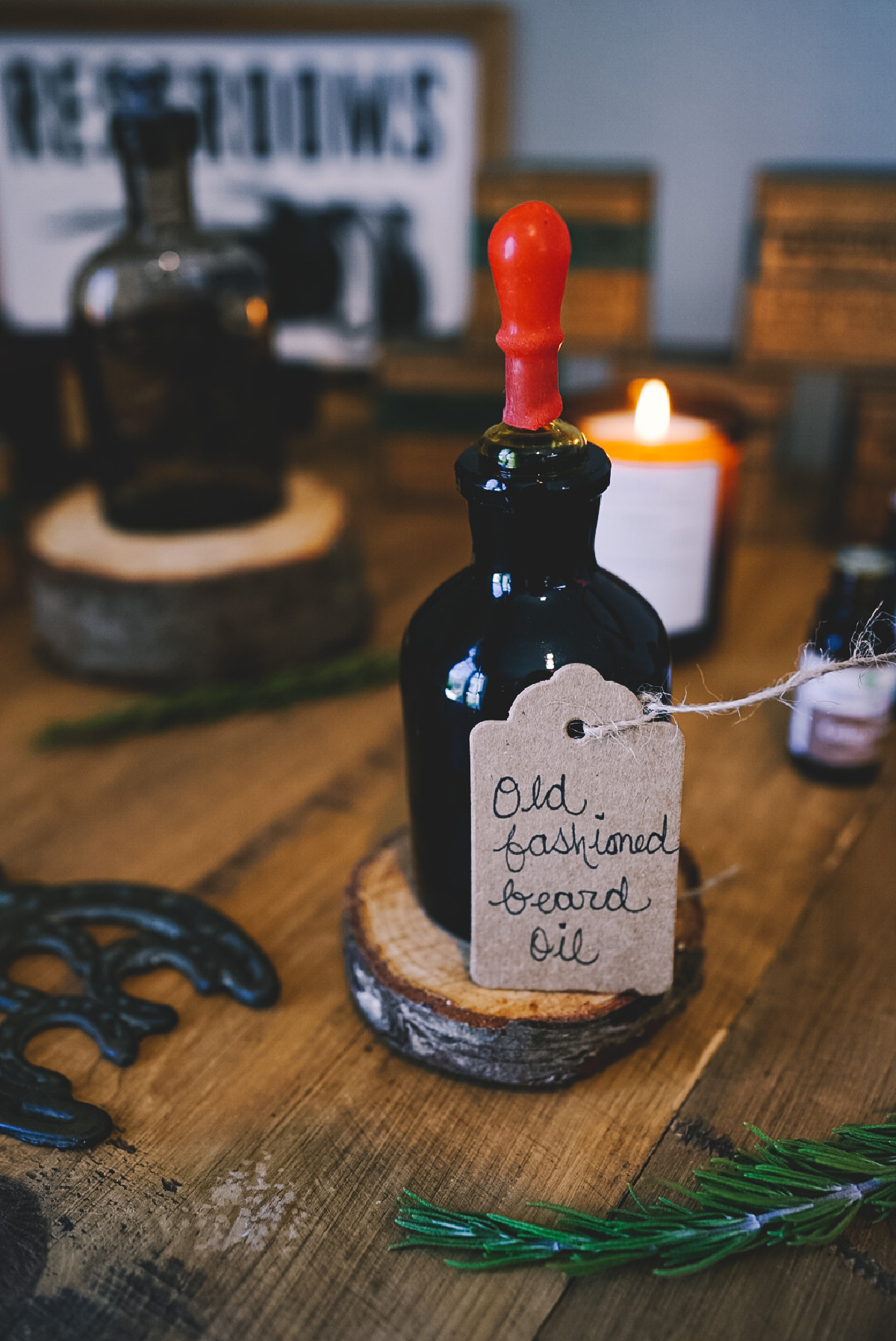 In Closing, 
Thoughtful, unique, and sentimental all at the same time, homemade gifts are like giving a piece of the heart. Put a smile on your loved one's face upon opening up this moisturizing gift full of good, clean ingredients. The next big hug you get may just smell of old fashioned goodness as a result of this easy-to-make beard oil recipe.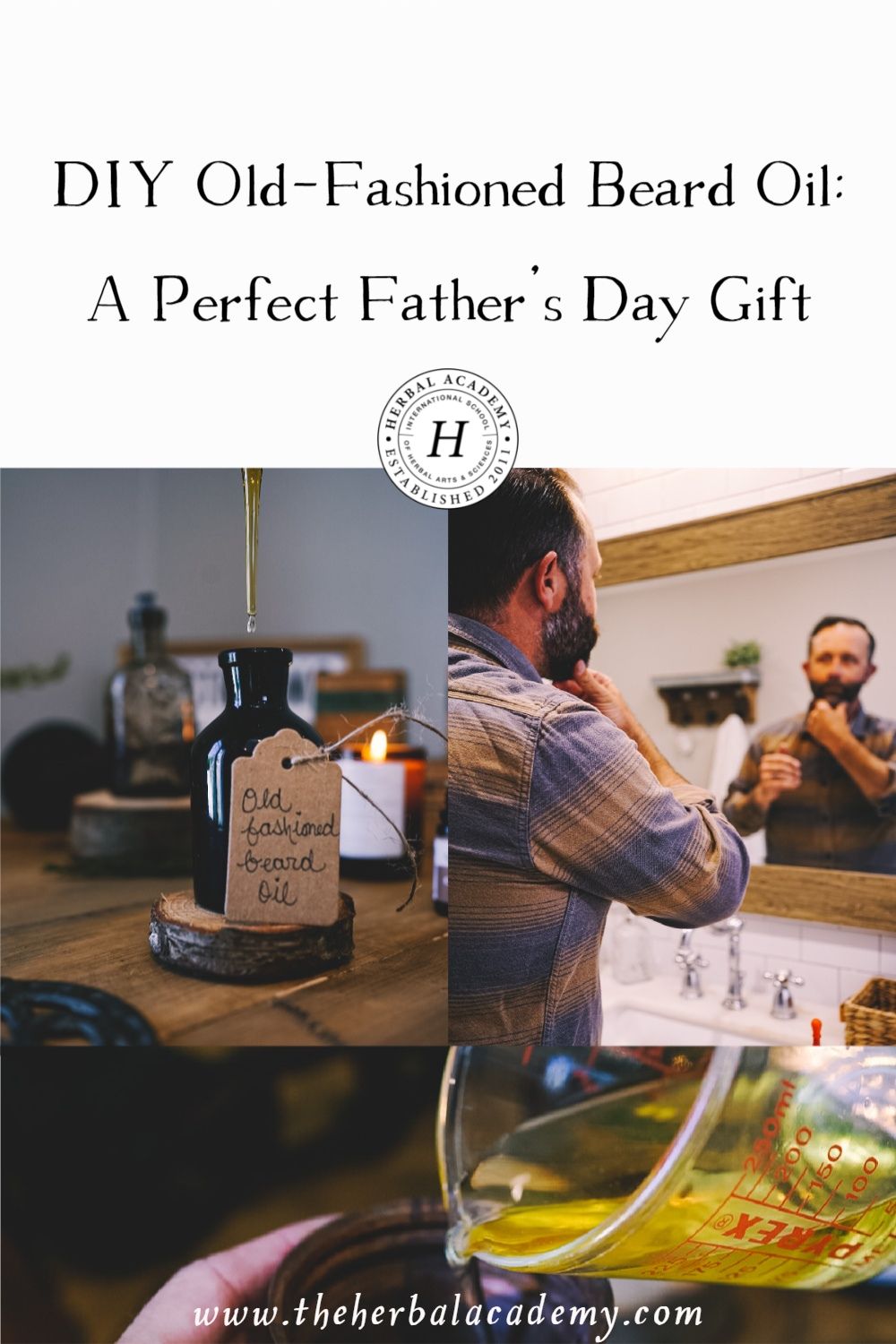 REFERENCES
Brennan, Dan. (2016). Castor Oil: Are There Health Benefits? WebMD. Retrieved From: https://www.webmd.com/diet/castor-oil-health-benefits
Gavazzoni Dias, M. F. (2015). Hair cosmetics: An overview. International Journal of Trichology, 7(1), 2. https://doi.org/10.4103/0974-7753.153450
Goyal, A., Sharma, A., Kaur, J., Kumari, S., Garg, M., Sindhu, R. K., … Rahman, M.. (2022). Bioactive-Based Cosmeceuticals: An Update on Emerging Trends. Molecules, 27(3), 828. https://doi.org/10.3390/molecules27030828
Gupta, A., Malviya, R., Singh, T. P., & Sharma, P. K. (2010). Indian medicinal plants used in hair care cosmetics: A short review. Pharmacognosy Journal. 2, 361–364. https://doi.org/10.1016/S0975-3575(10)80110-5
Han, X., Rodriguez, D., & Parker, T. L. (2017). Biological activities of frankincense essential oil in human dermal fibroblasts. Biochimie open, 4, 31–35. https://doi.org/10.1016/j.biopen.2017.01.003 
Hay, I. C., Jamieson, M., & Ormerod, A. D. (1998). Randomized trial of aromatherapy. Archives of Dermatology, 134(11), 1349–1352. https://doi.org/10.1001/archderm.134.11.1349
Mertas, A., Garbusińska, A., Szliszka, E., Jureczko, A., Kowalska, M., & Król, W. (2015). The influence of tea tree oil (Melaleuca alternifolia) on fluconazole activity against fluconazole-resistant candida albicans strains. BioMed Research International. https://doi.org/10.1155/2015/590470
Pazyar, N., Yaghoobi, R., Bagherani, N., & Kazerouni, A. (2013). A review of applications of tea tree oil in dermatology. International Journal of Dermatology, 52(7), 784–790. https://doi.org/10.1111/j.1365-4632.2012.05654.x
Worwood, V. A. (2016). The complete book of essential oils and aromatherapy: over 800 natural, nontoxic, and fragrant recipes to create health, beauty, and safe home and work environments. New World Library.