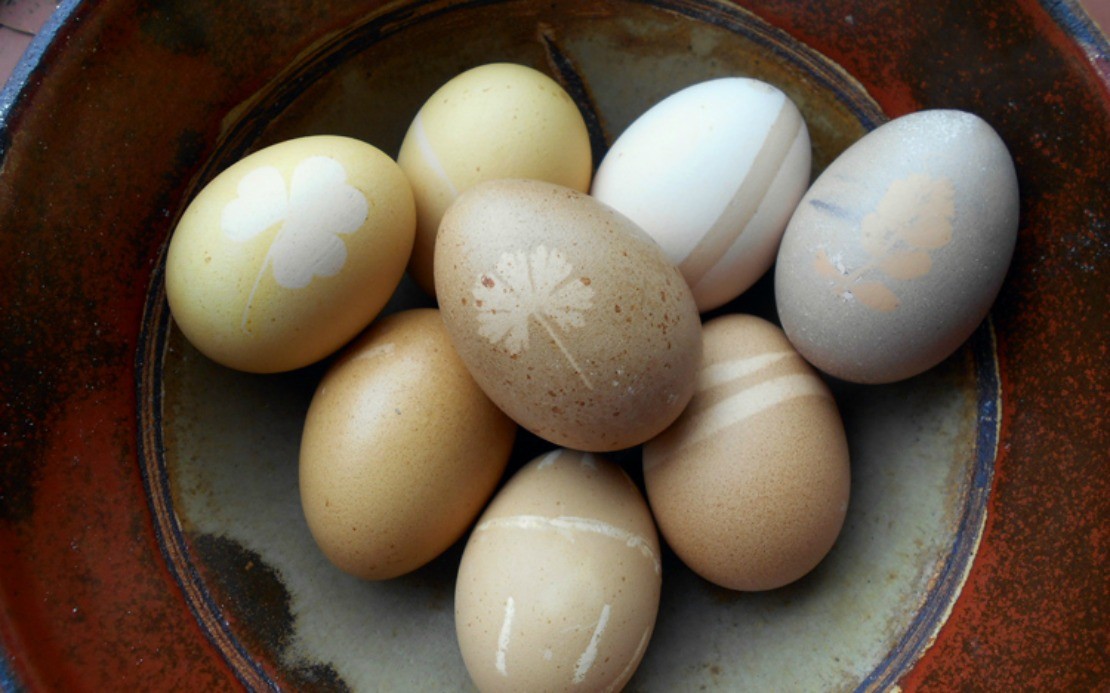 4 Easter Egg Decorating Techniques
Easter is right around the corner, and dyeing eggs is a much loved tradition on this holiday. This spring, add some herbal fun to your celebrations with these ideas for natural egg decorating techniques! Using natural dyes for eggs is a great way to offer children an opportunity to connect with herbs and nature. Involving children in the process of gathering the supplies and preparing the dyes helps them to learn more about each plant as they work with it. Children are often drawn to the natural world, and each time they connect with it through direct experience,  nature offers them new appreciation for plants and other natural materials. Fun projects like this can be a good way for children to learn about art and nature. For older kids, this project could even be a starting point to learn more about plant dyes and the ways various cultures use these plants in their traditions.
Egg Decorating Techniques
Natural Easter Egg Dyes
Fruits and vegetables offer a fun option for egg dyeing: see this article for instructions.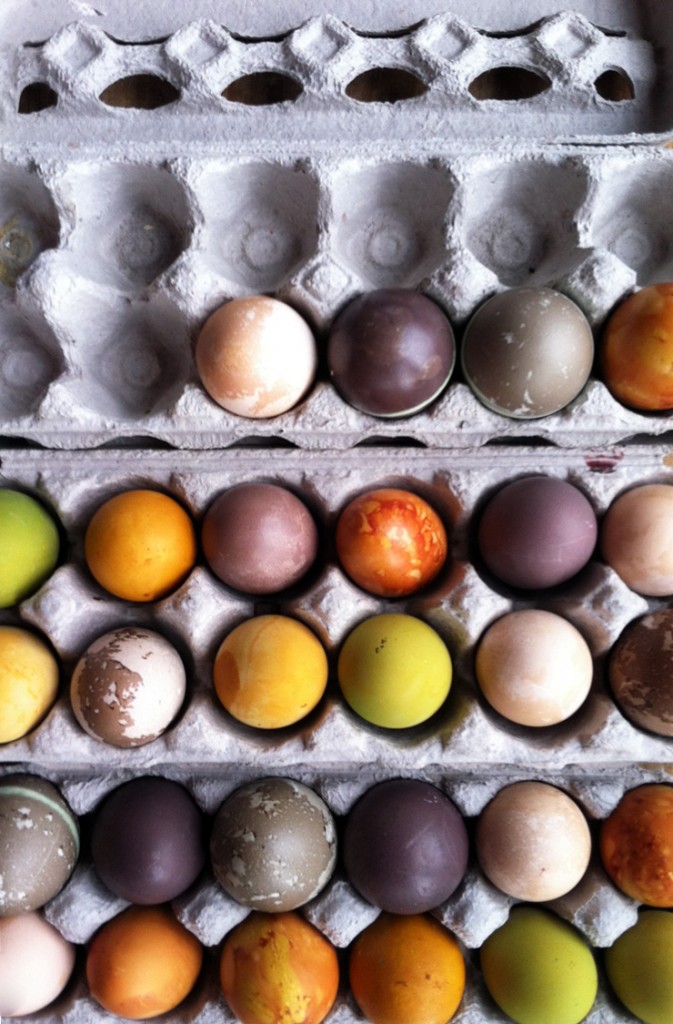 Many herbs and spices also contain fun colors, so you can create lovely shades with items you probably already have on hand. Below is a list of possibilities. Feel free to branch out, and try any other herbs you have in your pantry.
Turmeric
Coffee
Nettle
Spirulina
Hibiscus
Onion skins
Black tea
Elderberries
Try a tablespoon of herb/spice material, a teaspoon of vinegar (which works as a fixative to help the eggshells take color) and enough hot water to fill a pint jar. I heat the water in a tea kettle and pour it into the jars. Use caution when pouring hot water if children are nearby, and allow it to cool slightly before allowing children to work with the dyes.
Let eggs soak in the dye mixture for 10 minutes or longer, even several hours, depending on desired shade (and patience). Natural dyes often give softer, earthier hues than conventional dyes.
There are a variety of ways you can decorate your eggs beyond simply dyeing them solid colors. Try these ideas for adding more variation and creativity to the eggs!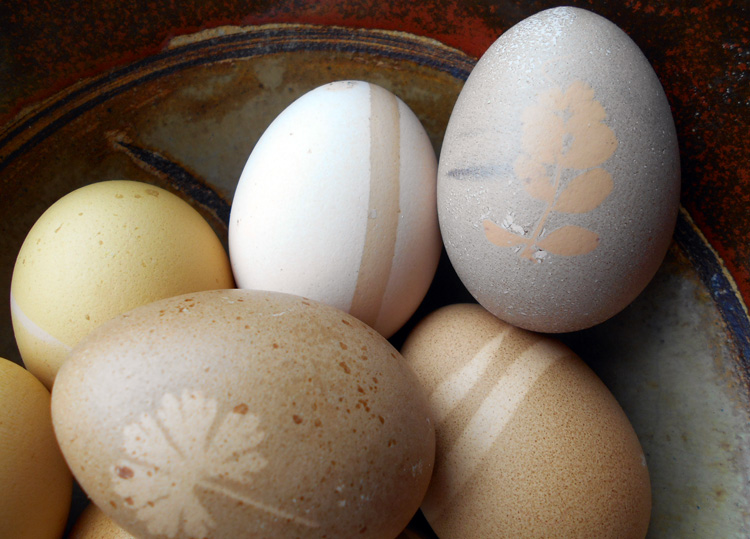 Wax resist
This technique draws on the fabric dyeing method known as Batik. Using a wax crayon or plain beeswax, draw designs on the eggs before putting them in dye. When the eggs are dyed, the wax will stay in place so any shell under the wax will not take the dye and the designs will show up on the finished egg. Be sure the water has cooled just a bit before putting these eggs in so the wax will not melt.
Rubber bands
This method mimics tie dyeing! Collect a few rubber bands, and wrap them around the eggs in any pattern. Dye the eggs, and then remove the rubber bands to reveal fun designs!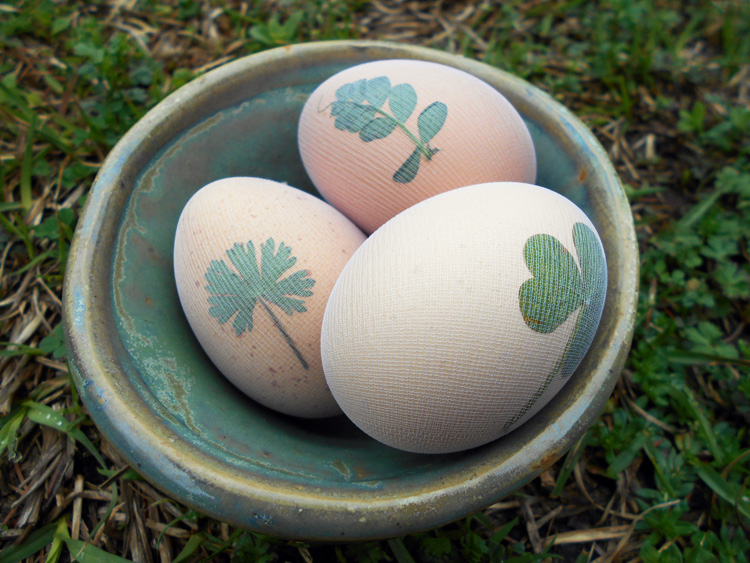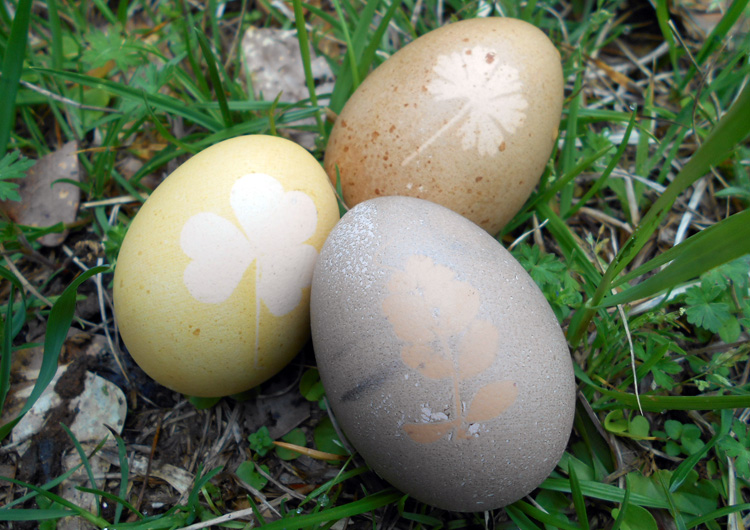 Leaf and Flower Prints
This technique is my favorite! You will need a few freshly picked leaves and flowers, nylon stockings, twist ties, and scissors.
Put one or more of the leaves onto an egg and wrap the whole egg in nylon. Pull the nylon tightly around it to hold the leaf in place and secure with a twist tie. Cut off the excess nylon and dye the egg. When the nylon and the plant materials have been removed from the egg, you will be left with a perfect outline of the leaf or flower!