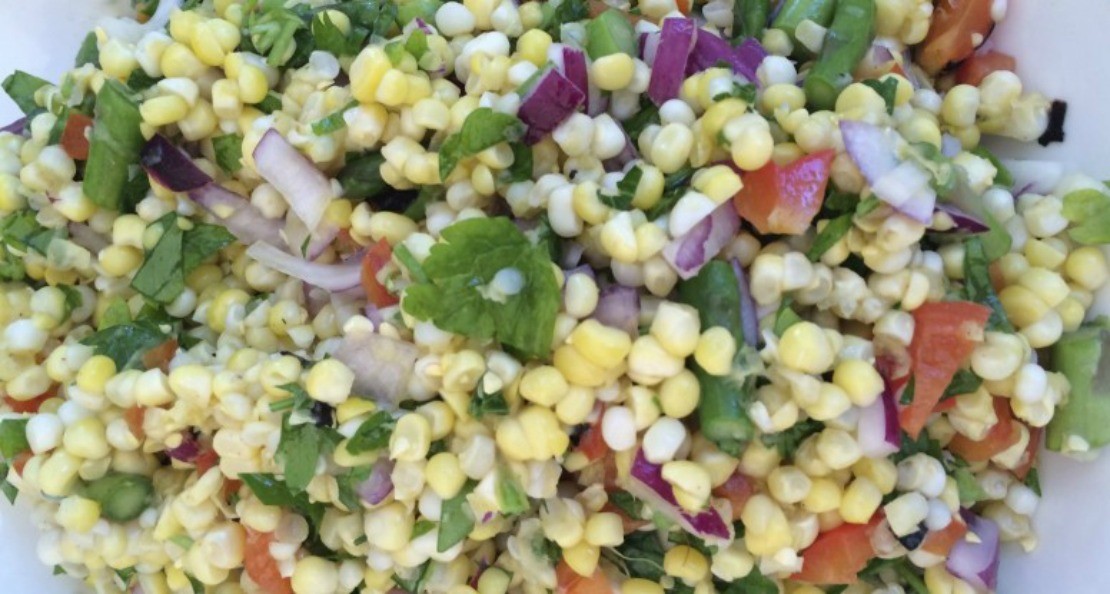 Driving on a familiar road, I saw the long-awaited "Corn for Sale" sign propped up against the side of a tree. It took me no time at all to change the direction I was going and make a quick pit stop at the farm. You see, every spring I start pining for the first load of summer corn and it seems like forever. I crave my special summer corn salad recipe. But then, just when you least expect it, the sign is out and the crowds start forming for that sweet, golden goodness that screams of summertime fun and barbecues.
It's hard to find non-GMO corn these days, but I'm lucky enough to live near a local farm that sells just that. The farm had everything I needed for this corn salad recipe: freshly picked heirloom red onions, newly cut spring asparagus, long tied-off sprigs of leafy parsley, and bright red bell peppers.
Summer Corn Salad
Ingredients
1 dozen ears of fresh corn
1 red pepper, halved and cleaned of seeds and white ribs
1 red onion, chopped into ½" dice
Half a bunch of spring asparagus, hard ends trimmed off
Handful of fresh parsley (about ¼ cup minced)
1-2 small limes, juiced
¼ cup of extra virgin olive oil
1 Tablespoon raw honey
1 teaspoon sea salt
Fresh pepper to taste
Directions
Grill the red peppers over a charcoal grill or over a gas burner. Using tongs (long ones work best) turn the peppers until they get a nice dark brown char. Do not let them blacken or overcook; they should be tender crisp. Once they have a nice char on them, set aside to cool for 10-15 minutes while you prepare the rest of the recipe. Once cool, peel off any black skin and chop into ½" dice. Put into a large mixing bowl.
Steam the asparagus for 3-5 minutes until crisp tender. Immediately drop into an ice bath to stop the cooking. Rinse and drain. Chop the asparagus into bite-sized pieces and add the asparagus to mixing bowl, along with the chopped, red onion, and chopped parsley.
Steam the corn in a large stock-pot for 5 minutes. Quickly submerge in an ice bath to stop the cooking and cool the ears down. Drain and using a sharp knife, cut off the corn kernels. Add to the bowl and gently stir the vegetables all together. Set aside and make the dressing.
In a small bowl whisk together the olive oil, the juice from 1 lime, the honey, salt and pepper. Taste. Add the juice from another lime if you like more tartness. If you like a sweeter dressing, as a teaspoon more honey. Whisk until combined.
Pour the dressing over the corn salad and gently stir to get dressing all over the vegetables.
Serve immediately or let sit in the refrigerator for a couple hours to encourage the flavors to marry.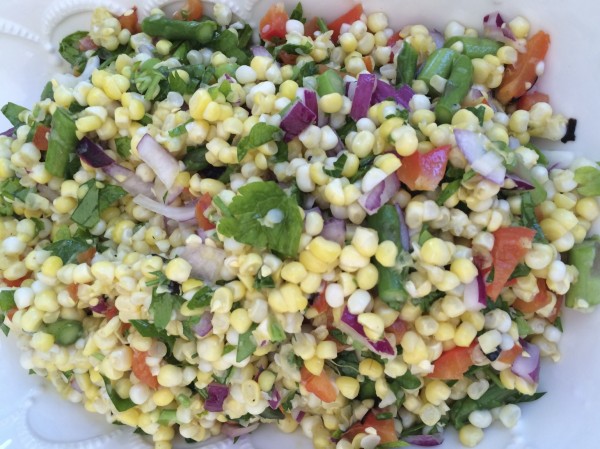 Kitchen Medicine or Why This Is Good For You
Fresh Corn – contains lutein and zeaxanthin, two phytochemicals that help protect the eyes and promote healthy vision
Asparagus – loaded with fiber and vitamins and minerals, especially high in vitamin K, folate, copper, vitamin B1, B2, B3 and B6, selenium, vitamin E, and fiber
Red Pepper – loaded with fiber and vitamins and minerals, especially high in vitamin A, vitamin C, B6, lutein and zeaxanthin, beta-carotene, and lycopene
Red Onion – high in the anti-oxidant quercetin, which is known to be anti-inflammatory.
Parsley – a powerful anti-oxidant loaded with vitamin C that can be used medicinally, but also tastes great.
Raw honey – full of potassium, magnesium, zinc, iron, vitamins B2, B3, B5, B6 and vitamin C
Extra Virgin Olive Oil – filled with anti-inflammatory polyphenols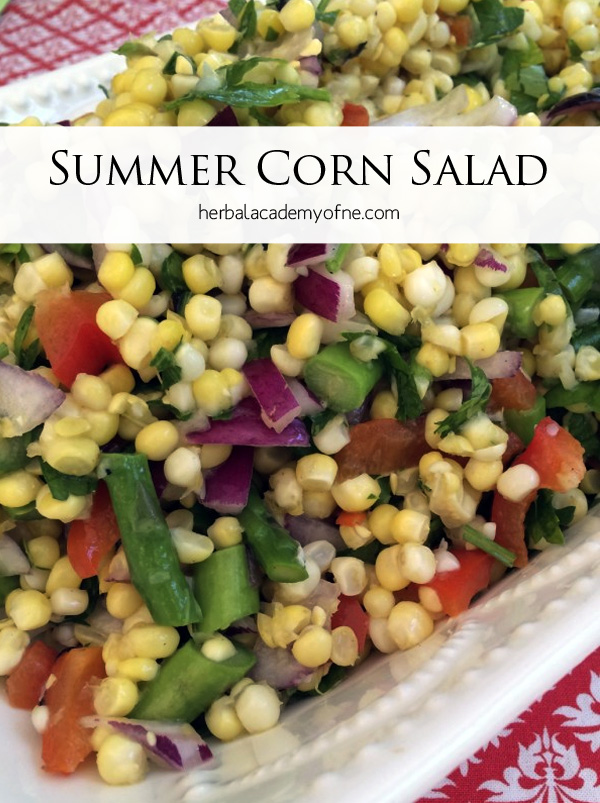 This post, and the images in it, are courtesy of Kimberly Klibansky. Kimberley is an aspiring herbalist and student at HANE. Always learning and growing, Kimberley is a full-time Montessori elementary teacher, Montessori Instructor Trainer and Intern Supervisor, Stott Pilates® instructor, yogi, beekeeper, and a trained mixologist. Her passion is in the kitchen where she combines her culinary skills, love of parties and entertaining, and kitchen medicine to create recipes. She writes the food blog FamilyFriendsFoodFun.