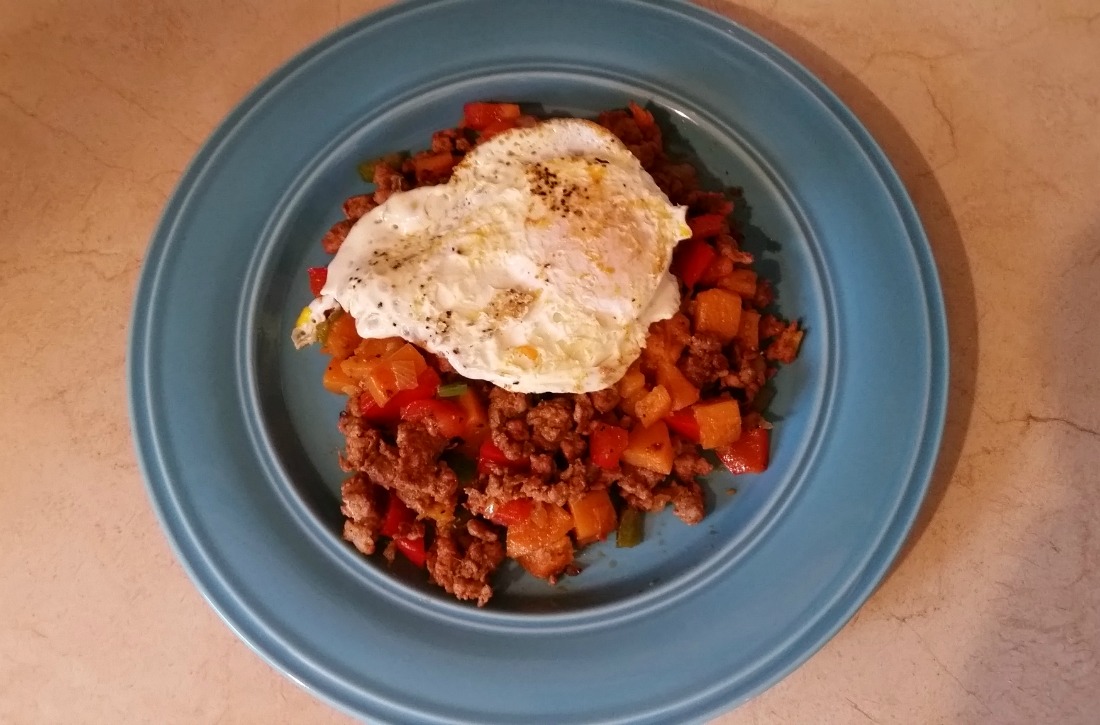 Spicy Chorizo And Sweet Potato Hash With Eggs
Do you eat breakfast every day? I mean, isn't it supposed to be the most important meal of the day anyway? Today I want to share a bit about why I have decided to start eating breakfast in the morning as well as give you a delicious, easy to make breakfast recipe for Spicy Chorizo And Sweet Potato Hash With Eggs. Yum!
Why Breakfast, And How It Is Helping Me
I have to admit… breakfast is my least favorite meal of the day. In fact, most days I just skip it altogether and fuel up on several cups of coffee to get me through my day homeschooling and taking care of my five kiddos. The problem with this approach is that by 2 or 3 o'clock in the afternoon I'm dragging, tired, and pretty irritable. And by dinner time I'm beyond hungry, which leads to overeating. So a couple weeks ago (two to be exact), I decided to make a change. I became a breakfast eater!
Now, let me just say that at first, it wasn't easy. As a matter of fact, the first handful of days, I would finish eating and not like how I felt… that full feeling first thing in the morning wasn't sitting well with me. But I'm happy to report that after those first few days, I started to get used to eating food for breakfast instead of coffee. I found that I was no longer hitting that afternoon wall of fatigue and irritability, and because I'm now eating breakfast and lunch, I am not overcome by hunger when dinner time approaches. Another bonus is that I have lowered my daily coffee intake from 4 cups to 2 cups… so I still get my little caffeine boost, but it's not all that is filling my stomach in the morning.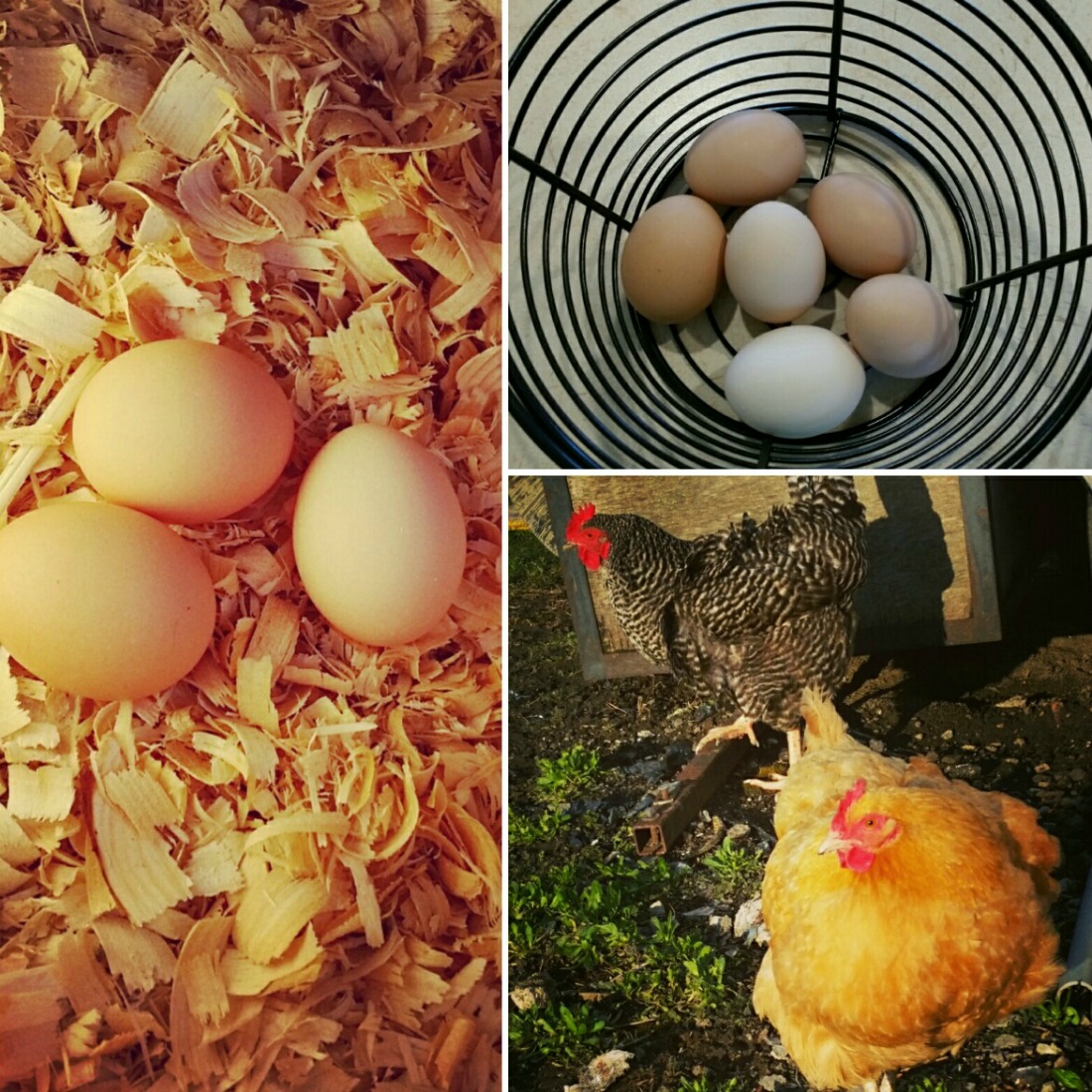 What to Eat
For me, I've found that making sure my morning breakfast is protein packed is a must. I try to stay away from breads, cereals, etc. and stick to high protein foods and healthy starches. Some of my breakfast favorites so far are:
Eggs – and there are SO MANY ways to prepare them.

Yogurt – opt for the plain and then add your own sweetness to them with fresh fruit or raw honey.

Nuts

Overnight oats – top with nuts or fruit in the morning.

Leftovers – seems crazy, but I tried this and love it. I just eat whatever protein we had for dinner the night before (chicken, hamburgers, steak, whatever!).
This is just a short list of items I've tried over the last two weeks, but there are many more out there!
So, feeling inspired by my new breakfast eating habit, I decided to create a yummy breakfast combining some of my favorites. I introduce the spicy chorizo and sweet potato hash with egg!
Eggs have been one of my favorite go-to items in the morning so far. They are a blank slate of sorts, pairing nicely with a large variety of foods… plus we have four lovely hens on our homestead, so they are readily available in our backyard!
Breakfast meat is also another one of my favorites. Typically my family goes for bacon or breakfast sausage, but I wanted to change it up a bit with some spicy chorizo.
And finally, the sweet potato. I'm going to be completely honest here and share with you that I do not love sweet potatoes. I actually wasn't even going to add it into the recipe and use plain old white potatoes instead (which you can totally do!). But recently I've been trying to add more healthy carbs to my meals, so this was a good opportunity to do that, and it turned out to be delish!
Breakfast of Champions: Spicy Chorizo And Sweet Potato Hash With Eggs
So here's how you make this yummy, protein packed, breakfast hash:
First, after peeling and chopping a sweet potato into about ½ inch chunks, place them into a pot of boiling water to cook. This will soften them up, cutting down on the cook time, and getting your meal on the plate quicker.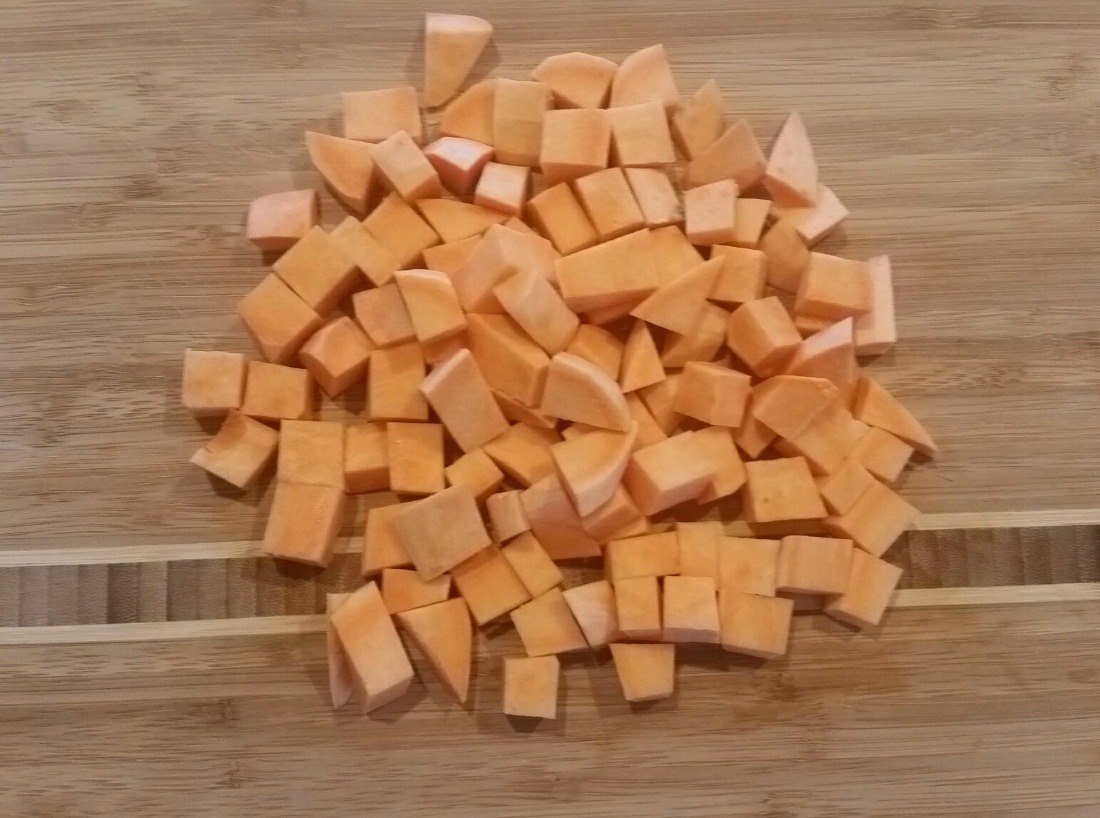 While the potatoes cook. Start browning the chorizo in a pan. Once it's browned, put the cooked chorizo on a plate or in a bowl and set aside, but leave the fat in the pan to cook the veggies.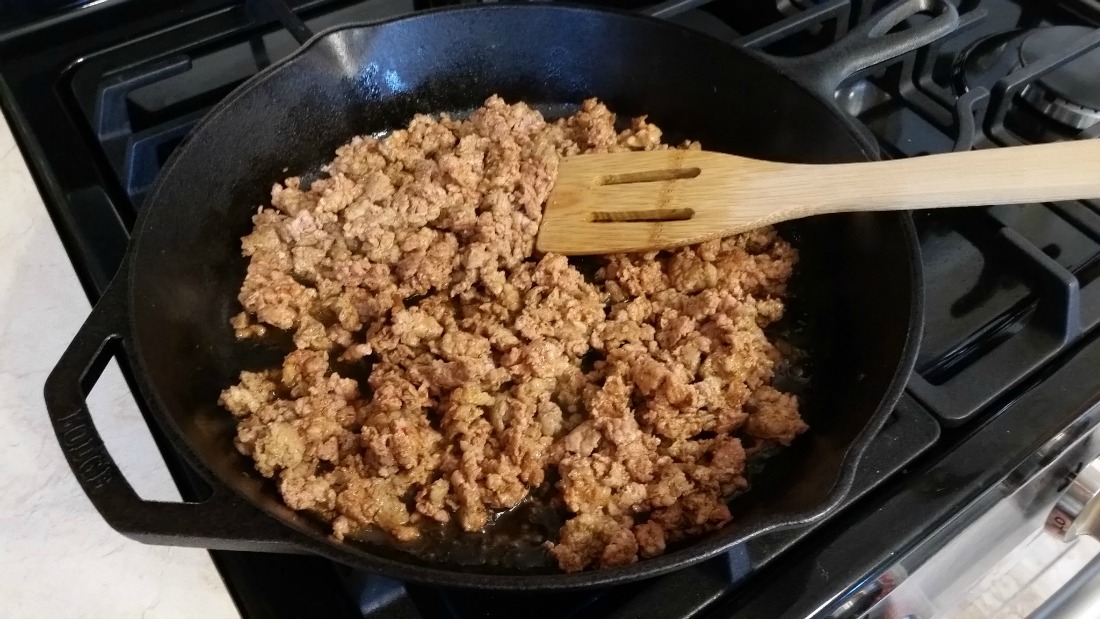 Peppers and onions are the next ingredients to add in. You can go ahead and chop these while the chorizo is cooking. Or, if you know you are going to be making this for breakfast, go ahead and chop them the night before and store in the refrigerator until you need them. This is where you have some creative freedom. Feel free to choose whatever peppers you wish. I wanted this to be a spicy dish, so I used some hot peppers (jalapeno, Anaheim, serrano), along with some sweet red bell peppers. The possibilities are many here, so have fun trying new pepper varieties.
When I sauté the veggies, I like to start the onions first and get them cooking down a bit first before I add the peppers, but feel free to do both at the same time. Cook them down in fat from the chorizo, adding a little extra virgin olive oil, butter, or coconut oil if needed.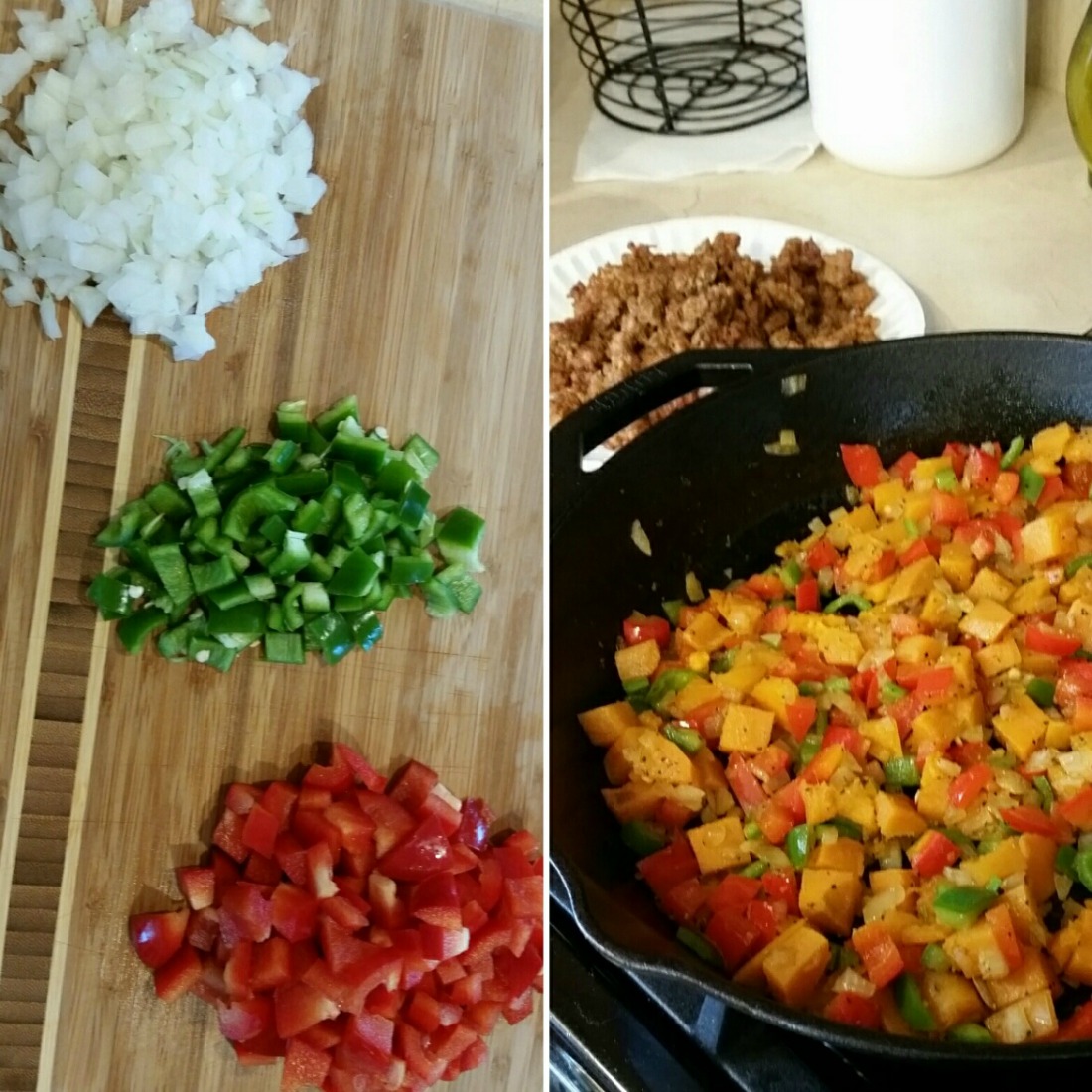 At this point, the sweet potatoes should be soft and ready to add to the skillet with the veggies. Strain the potatoes out of the water and then pour them out on a towel. You want to make sure you pat them dry before adding them to the pan so they can do a bit of caramelization while cooking.
After they are patted dry, toss them in the pan with the peppers and onions. This is where you can add some seasoning. I used salt and pepper to taste, plus about ½ tsp. of cumin. You'll want to taste the hash again when it's all done to make sure you don't need to add more salt or pepper. Tasting is truly the best way to tell if you have seasoned your dish enough. Cook the potatoes and veggies until they are softened and the potatoes have some color/crust happening. Then toss the chorizo back into the pan.
Now is the time to get those eggs going. At our house, we are fortunate to raise our own hens. They eat organic feed and organic fruit/veggie scraps, along with all the yummy things they find while free-ranging on our property. But not everyone has the ability to do this. The next best thing is to find local farm eggs near you, or purchase the free-range eggs at your local grocery store. And stock up! Eggs are an amazing little wonder food that comes in super handy for quick, protein packed breakfasts and lunches.
I like my eggs a little runny, so I cook mine over easy… but to each their own! Feel free to cook your eggs however you fancy! Eggs don't take long to cook so you want to save this step for when the rest of the hash is almost ready to take off the stove.
Everything should be done and ready to get on the plate! I took a generous scoop of hash and topped it with my gorgeous drippy egg. That way when I cut into the yolk, all the golden deliciousness mixes into the spicy hash. It is amazing!
You can also add some extra toppers to your hash before digging in:
fresh herbs – A generous sprinkling of cilantro, parsley, or chives would go great with this. Garlic scapes would be another seasonal herb that would add a mild garlic flavor

salsa

avocado or guacamole

sour cream

cheese
I left mine plain Jane, and it was pretty tasty. And I have to say… even my kiddos thought this was a pretty great breakfast, sweet potatoes and all!
So go ahead, start enjoying some breakfast today!
Spicy Chorizo And Sweet Potato Hash With Eggs
Ingredients
1 pound bulk chorizo
1 sweet potato – peeled and diced into ¼ to ½ inch pieces
½ small sweet onion – diced
2 – 3 peppers, sweet or hot – diced
Eggs – 1 to 2 for each person eating
Salt and pepper to taste
½ teaspoon ground cumin
Butter, extra virgin olive oil, or coconut oil as needed
Directions
Add the diced sweet potato to a small pot of water and boil until soft. Once cooked, strain, pat dry, and set aside.

In a skillet, brown the chorizo. Once cooked, remove from the pan and set aside, leaving the fat for sautéing the veggies.

In the same skillet, cooked the diced onions and peppers, adding some extra fat if needed (butter, extra virgin olive oil, or coconut oil). At this point, add back in the dried sweet potatoes, salt and pepper to taste, and the cumin. Cook until the veggies are softened and the sweet potatoes have some coloring/caramelization.

In a separate heated skillet (low heat) cook the eggs as you prefer (fried, over easy, scrambled, etc.).

Serve hash on a plate, topped with eggs and any extras (herbs, avocado, salsa, etc.). Enjoy!
Are you a breakfast eater? What are some of your favorite healthy choices?