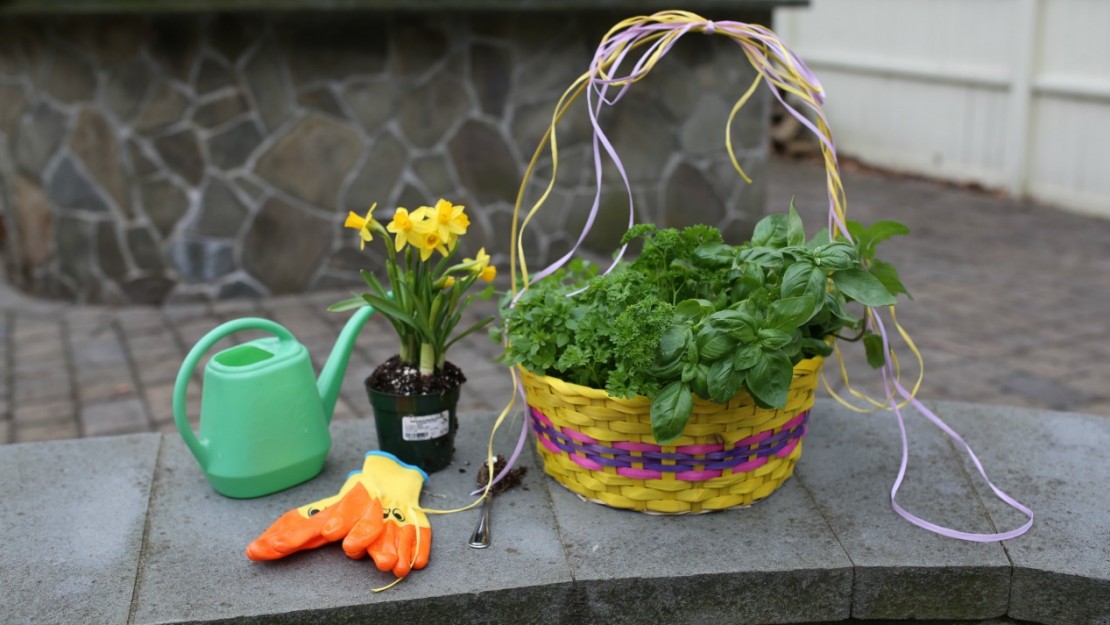 How To Make Easter Crafts for Kids With Herbs: Planting A Living Easter Basket Tutorial
Springtime is here filling the air with the fresh scents of new life and sunshiny days! And with Easter just around the corner, there is no better time than now to enjoy some bonding craft-time with the children in our lives.
If you are looking for a break from the ordinary Easter crafts for kids, this activity is sure to please! Planting a living Easter basket full of child-friendly herbs and flowers might be easier than you think and it is a great way to introduce children to herbs!
Make this adorable Easter craft for kids extra special by including little bunnies and baby animals for a boost of cute whimsy, and your springtime celebrations will be off to a lovely start. This herbal craft for kids also makes a delightful gift for surprising any child on Easter or as a unique child-made treat given to special relatives in your child's life.

Basic Supplies You Will Need For Your Living Easter Basket
This craft can be as simple or elaborate as you would like it to be. If you are making this with your child include them in selecting items for this craft.
You will need:
A basket or container, this can be an actual Easter basket or any kind of wicker basket. Be sure to choose something that is deep enough to accommodate the roots of your chosen plants.

Plastic for lining the basket. A thick plastic grocery bag works wonderfully for this.

Potting soil for planting

Rocks for drainage

Plants (see below for suggestions)

A pretty ribbon to tie on the handle

Optional items to add a bit of extra fun to your basket (see below)
Herbs & Flowers to Choose From 
These plants can be enjoyed by children in foods and teas, and even munched on during play! Feel free to mix and match growing plants with seeds. Plant the seeds in little patches and add a tiny sign to mark the spot where these little baby plants are sprouting into life.
Pansies & violets (

Viola odorata

)

Globe Basil (Ocimum basilicum minimum)

Mints of all kinds, such as peppermint, spearmint, and apple mint

Sages (Salvia spp.), pineapple sage is especially nice for little ones

Lemon balm (Melissa officinalis)

Calendula

(

Calendula officinalis

)

German chamomile (Matricaria recutita)

California poppy (Eschscholzia californica)
Creeping herbs for ground cover:
Roman chamomile (

Chamaemelum nobile

)

Creeping thyme (

Thymus species

)

Creeping rosemary (

Rosmarinus officinalis' Prostratus'

)

Corsican mint (

Mentha requienii

)

Creeping oregano (

Origanum vulgare

)

Extra Items for Whimsical Fun! 
While not at all necessary for creating a beautiful living Easter basket, including a few of these items can help make this fun craft extra special. Check the floral section of your local craft store and anywhere that garden miniatures are available for things that catch your eye.
Some suggested items include:  
Ceramic animals such as bunnies, hedgehogs, lambs, puppies, and kittens

Little birds, butterflies, and ladybugs

Fantasy beings like baby fairies and dragons

Pretty glass stones and crushed rocks for creating pathways

Hardscape items such as sign posts, arbors, and fences
Steps For Creating A Living Easter Basket With Kids
Gather up all of your supplies and follow the steps below! This project can get messy, especially with little ones involved, so be sure to choose a place to create your basket that is easy to clean-up! If you or your child is new to gardening you may want to visit our special post, Introduction To Herbs For Kids: Start Your Herb Garden, for basic gardening tips and plant selection ideas.
1. Prepare Your Basket 
Start by preparing your basket for planting. To do so simply spread plastic over the bottom and the sides of the basket. Then poke a few holes in the plastic for drainage. Spread rocks around the bottom of the basket. The goal here is to keep the dirt in the basket while facilitating drainage to keep the plants healthy and happy.
2. Plant Your Child-Friendly Herbs 
Next, fill the basket with potting soil. Tuck any edges of the plastic along the side of the basket down into the dirt. Arrange and plant the herbs in the basket. You may want to group taller plants together as a focal point. If you are working on planting the basket with a child, this is a great time talk about basic botany and enjoy looking at all the plant parts.
Help your child dig the holes for each plant and carefully put the roots down into the dirt. Give your new garden a drink before moving on to the next step. Be forewarned that your basket may leak when watered so take it outside or place it over the sink before watering.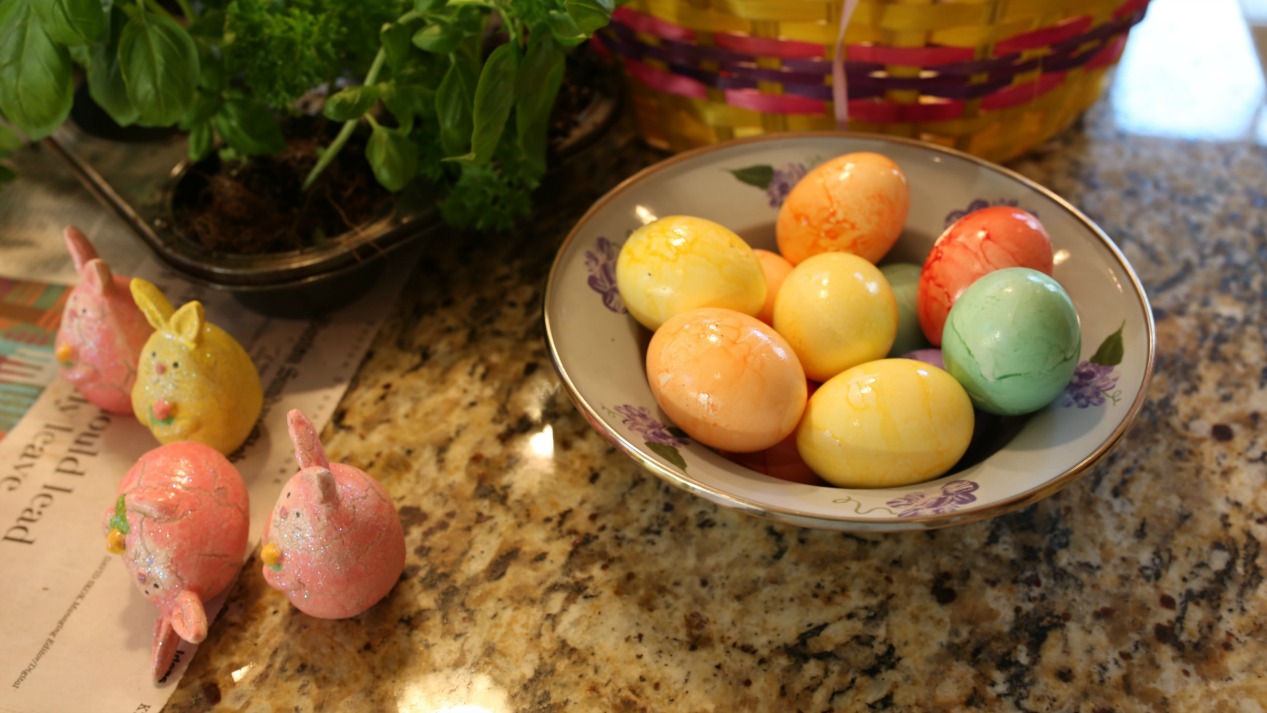 3. Time to Decorate! 
Let your imagination and intuition guide you while decorating your garden! Gather any of those extra whimsical items you have decided to include and place them in the basket. Little animals can nestle down on soft beds of Roman chamomile and fragrant thyme. Or they can hide under lemon balm leaves and pansy flowers. Use mini signposts to point the way and arbors for definition in the garden. You can sprinkle crushed rocks or use glass stones to create paths among the plants. Tie a pretty ribbon on the basket handle as a final touch. This part of making your adorable Easter craft for kids is so very, very fun!
Whether creating a unique living Easter basket as a fun craft with your child or making it as a special treat to share with your beloved child, you are sure to enjoy the special herbal craft for kids!
Enjoy some of these other Easter & Garden crafts for kids from the Academy:
Have you ever made an herbal Easter craft with your children? We'd love to hear about it!