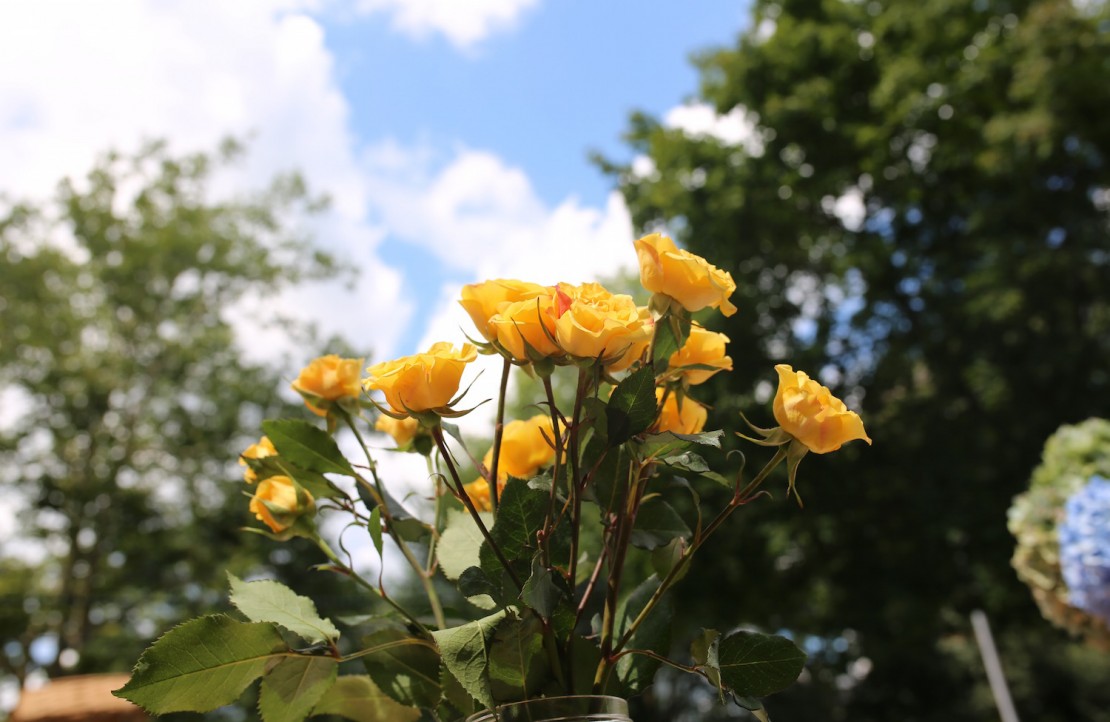 How To Make A DIY Mother's Day Bouquet Using The Language of Flowers
Mother's Day is approaching, and what mother wouldn't be happy with a bouquet her children or other special person picked out for her? Most all moms love pretty flowers!
But this year, how about trying something a little different? Consider the nearly forgotten art of "The Language of Flowers" or floriography.
Instead of buying a premade flower bouquet for mom this year, how about sending her a bouquet with a hidden meaning known only to those with the "key" (or florigraphic dictionary)?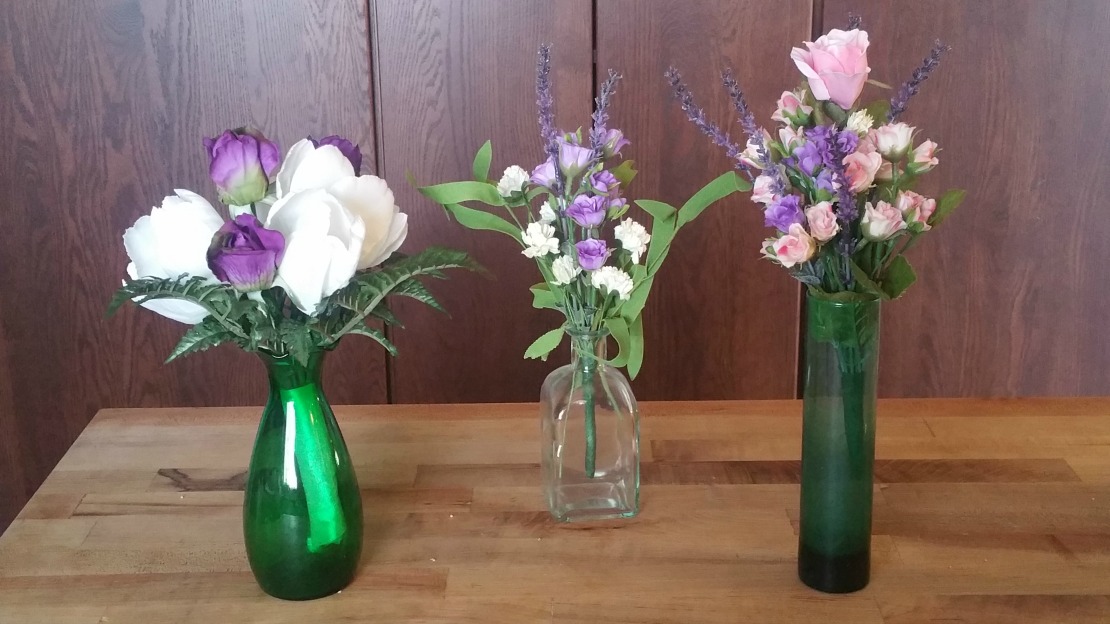 What Is "The Language of Flowers?"
In Victorian times, meanings were given to various flowers, herbs, and even trees. When you received a bouquet, you would sit down with your dictionary and try to decipher the intended message. The language of flowers was primarily used for romance, but bouquets were sent for any occasion such as get well messages for illnesses, congratulatory wishes for births or engagements, or maybe just to tell someone you were thinking of them.
Of course, bouquets (or tussy mussies as they were called) were often sent in hopes of acquiring a chance to "call on" that special someone. Many times that encounter came to pass, but I heard of an instance where a young lady let her bouquet sit for a few days and then returned it to the sender, wilted. What a cold way to turn someone down!
The language of flowers seems to be making a comeback lately. More recent publications have lists of plants and ideas for messages, and even Kate Middleton helped the royal florist choose the flowers in her bouquet with care.
She chose:
Lily of the valley: return of happiness
Sweet William: obvious reasons, but also it means chivalry
Ivy: love and friendship, fidelity
Hyacinth: constant love
Myrtle: marriage and love. (The myrtle in Kate's bouquet, and other royals before her, came from a sprig of myrtle bush started when Prince Albert gave Queen Victoria myrtle in a bouquet more than a hundred years ago. It was planted and through propagation, still grows today.)
Many of the old books or dictionaries with the meanings of the plants still exist today. In Victorian times, new books incorporated the old meanings and added more. It is wise, however, to include a note with your message since some of the meanings differ greatly. I've been collecting these meanings for years and currently have over 600 on an Excel spreadsheet.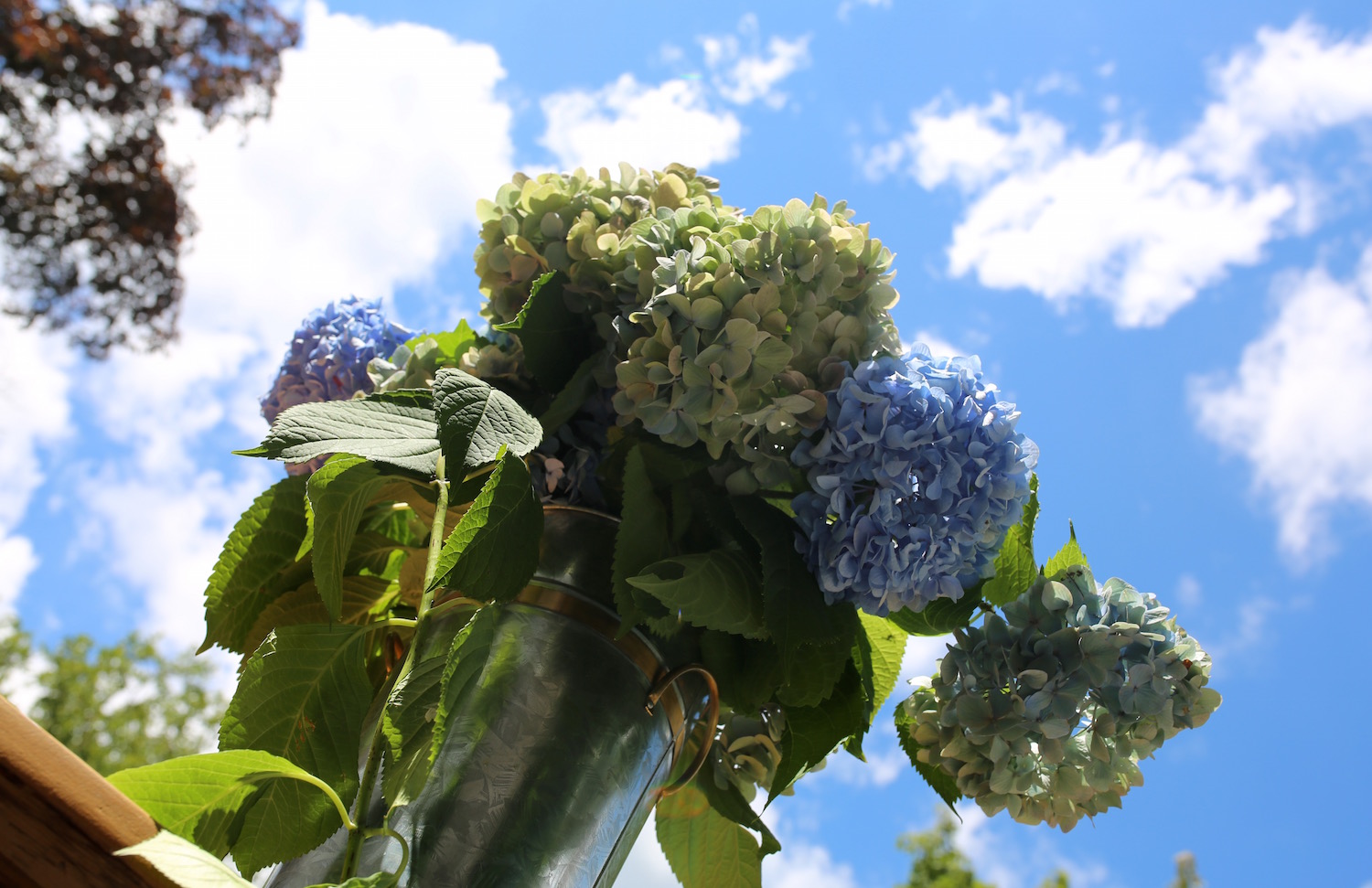 How Did Plants Get Their Meanings?
Some of the meanings of plants come from the medicinal uses where others come from religious symbolism or mythology.
An example of mythology lending a meaning can be found with elecampane. Helen of Troy was said to have been picking elecampane when she was abducted. The meaning of elecampane is "tears."
Some of the meanings of different flowers (taken from various books listed in the bibliography) that might be used in Mother's Day bouquet's include:
Angelica – inspiration
Basil – best wishes, love
Bluebells – gratitude
Carnations – bonds of love, woman's love, generally devoted love, admiration, good luck, sweet, lovely
Carnations – Pink – maternal undying love, woman's love, any type of love
Daffodil – chivalry, respect
Daisy – patience, beauty, cheerfulness, loyalty
Dahlias – my gratitude, dignity
Daylily – mother
Dogwood – love undiminished by adversity, durability
Echinacea – strength and health
Ferns – confidence, magic, sincerity
Forsythia – good nature
Hydrangea (blue or white):  devotion, remembrance, thank you for understanding
Ivy – affection, friendship
Lavender – deep attachments, success, soothing, devotion
Magnolias – sweetness, beauty, love of nature, dignity
Mulberry – wisdom
Orchids – refinement, love, nobility, luxury, thoughtfulness
Pansy – Pink – merriment, you are in my thoughts
Pansy – White or yellow – loving thoughts
Peonies – beauty, welcome
Peppermint – warm feelings
Pussy willows – motherhood
Roses – Pink – grace and beauty, perfect happiness, appreciation
Roses – Lavender – dignity, rarity
Sage – wisdom
Sunflowers – loyalty, adoration
Tulips – memory, happy years
Violets – thinking of you
Zinnia – lasting affections and remembrance
How To Make A DIY Mother's Day Bouquet Using The Language of Flowers
Bouquets can be of any size, but many were nosegay sized tussy mussies.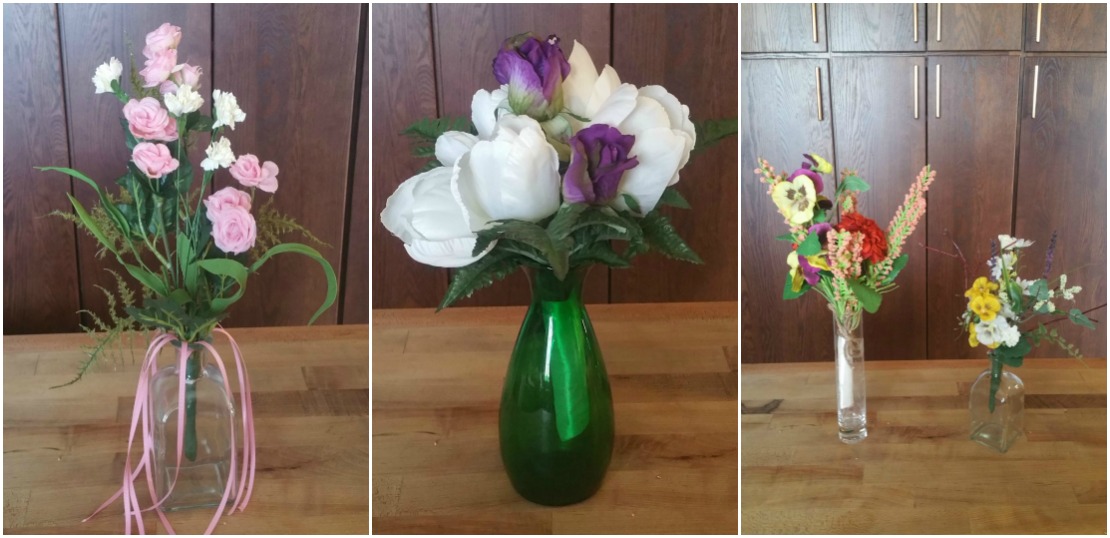 For our Mother's Day bouquets, we made the following bouquets:
Lavender roses/white carnations/lavender (deep attachment/dignity/love/woman's gift)
Pink roses, ferns and white carnations (grace, thankfulness, sincerity)
Lavender roses/white tulips (deep attachments, happy years, memories)
Light and dark pink pansies, ivy, ferns, dogwood stems (you are in my thoughts today, affection, sincerity, love undiminished by adversity – maybe for a son or daughter to give his/her mother when things have been tense)
Making a tussy mussy from silk flowers is fun and somewhat addictive. Below you'll find the steps to take if you want to make your own Mother's Day bouquet using the language of flowers.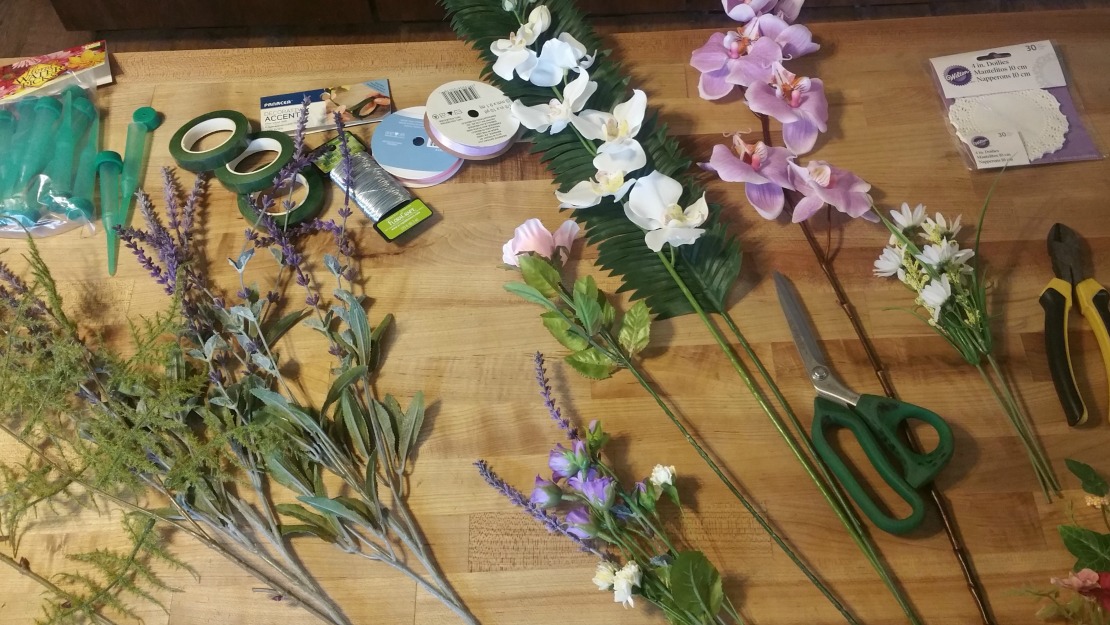 DIY Mother's Day Bouquet
Ingredients
Silk flowers – I watch for the 50% off at our local hobby store and stock up. Armed with my lists for specific purposes, I go flower hunting.
Florists tape (get two rolls)
Ribbon (optional)
Wire (optional)
Paper doilies (optional and found in the cake baking section)
Small floral gold stones (optional but they look nice in vases)
Good wire cutters
Scissors
Directions
Start with the idea you had when you were picking out your flowers. I favor the smaller flower groupings, so I usually end up cutting the flowers apart so they are individual stems with some leaves. I can control the length of the stems this way.
Put your flower groupings together. I like to lay the bouquet out to check for color and height. If I'm making a bouquet with more flowers, I use an appropriated sized vase to ensure I get the right effect. Then I'll add greens if I feel they are needed. Sometimes I'll add a sprig of rosemary to symbolize remembrance.
Next, I wrap all the stems tightly using the florist tape. Be sure to cover the base. You don't want any of the metal stems poking out! This takes more tape than you might think. Working with shorter pieces is far easier than working with longer pieces. You can add the paper doily (kids loves these more than adults) and ribbons at this time, or you can use a vase that fits your bouquet. Sometimes I'll use a wider ribbon and cover the floral tape with that for a more elegant handheld bouquet.
At times, simplicity is better. See the picture of the orchids with only one additional sprig with each. One is with a fern (sincerity, love and thoughtfulness) and the other I put with lavender (devotion, love and thoughtfulness).
Last, add a small note telling your recipient what it means. Sometimes, I'll add the list of flowers with their meanings and let them figure it out. You can add the note with a piece if ribbon or slip it in the vase or box.
Using Fresh Flowers & Spices
To work with fresh flowers, you will need to have a vase and arrange the flowers you are using for your message in the vase as you go, but don't forget the note card!
I've also used the following spices: cinnamon sticks, star anise and cloves in a small bouquet. The technique that worked best for me was using ½ of a Styrofoam sphere. I use transparent glue and place the stars on first. Where they don't quite match up, I stick the cloves in. The cinnamon sticks I wire around the outside and use florist tape and then ribbon over the tape. These arrangements smell wonderful.
But what about the meaning of these spices?
Cinnamon means love and beauty.
Clove is about love (specifically I have loved you and you have not known it).
Star Anise means exciting, invigorating, good luck, justice, clairvoyance, protection, love, and passion; take your pick.
See the importance of sending the intended message?
If you were to make a DIY Mother's Day bouquet, which flowers would you include based on their meanings?
REFERENCES
Adamich Laufer, G. (1993). Tussie-Mussies: the language of flowers. New York, NY: Workman Publishing.
Kirby, M. (2011). A victorian flower dictionary. New York, NY: Ballantine Books.
Tanese, N. (2016). The Language of Flowers: 800 Flowers and Their Beautiful Timeless Meanings. Kindle book.