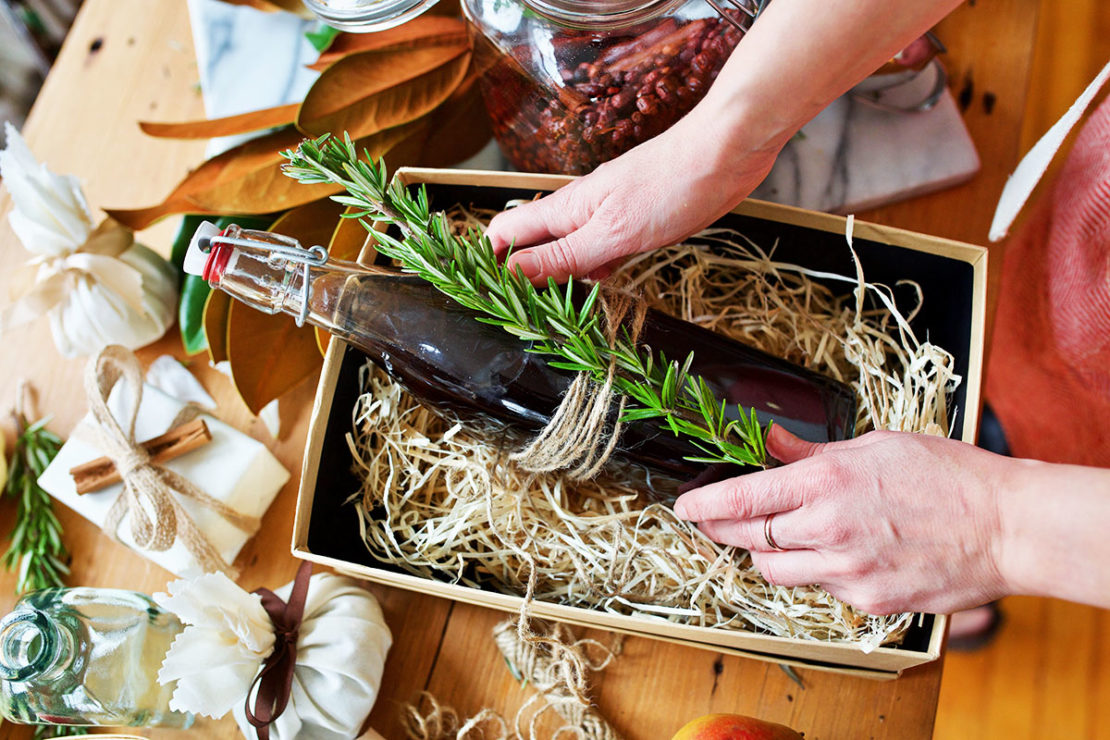 8 Herbal Holiday Preparations to Start Brewing Now!
The holiday season can feel like a whirlwind with the days tumbling from one to the next, and if you are anything like me, too often your dreams of herbal crafting are lost in the flurry. You may even find that you no longer have the time needed to brew up those special herbal holiday preparations you were planning to make for friends and family! 
If you can relate, then now is the time to get started on those herbal preparations that require time to brew and macerate so you can turn your herbal crafting dreams into reality! The beauty of these preparations is that they don't take much time to set up, and you will have a better result if you start early. This is a great way to start off the season and even lessen holiday stress, so you can enjoy the special moments the season brings! 
In this article, we are going to share some of our favorite gifts and treats to share with others during the holidays—those that require a bit of hands-off time to steep—in an effort to inspire you!
Let's get started!
8 Herbal Holiday Preparations to Start Making Now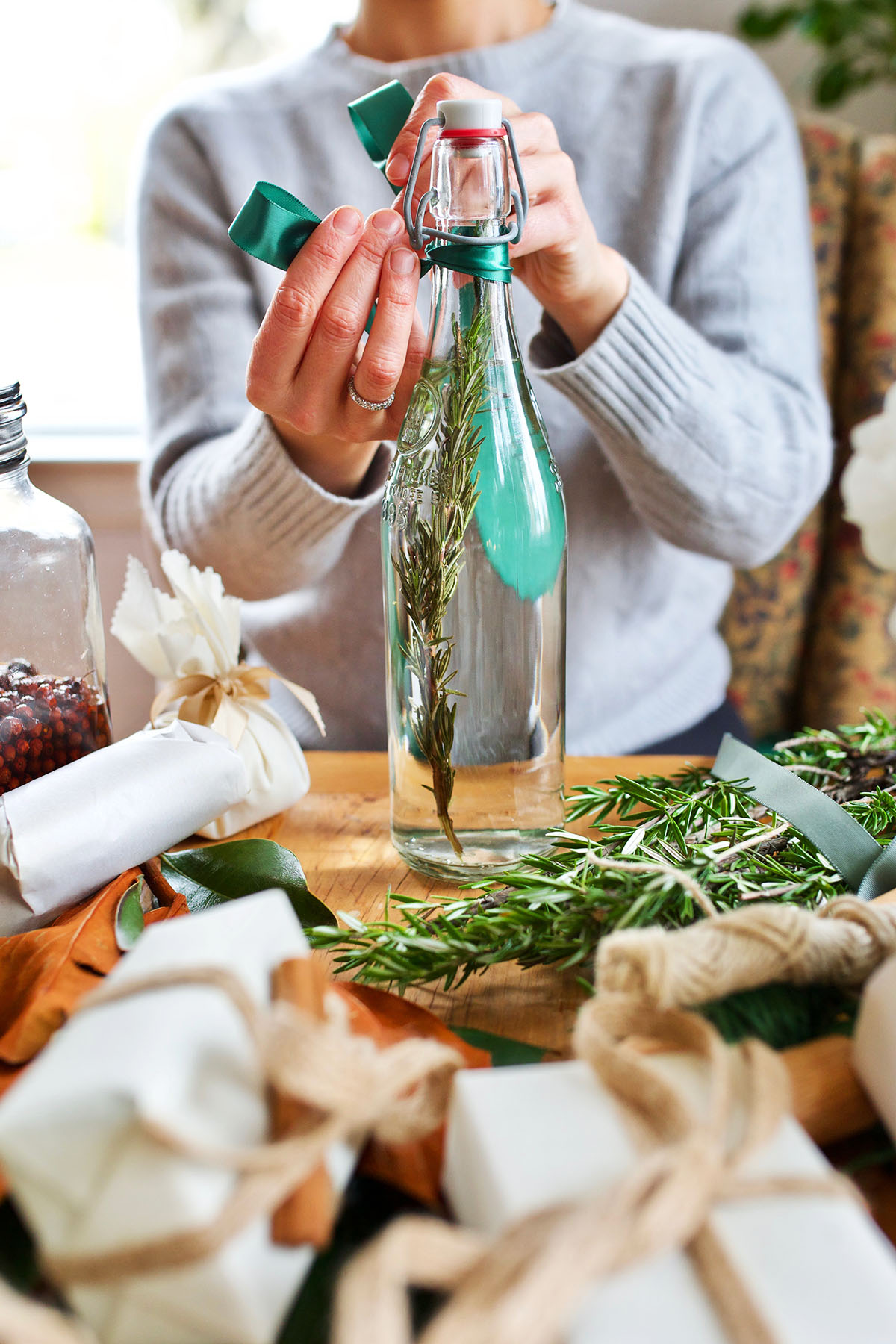 Infused Vinegars & Oxymels
Herbal vinegars are truly a lovely addition to any herbal cupboard. They have a myriad of uses from augmenting cooking with nutrition and flavor to their use in safe, effective home cleaning products or in decadent skin and hair care recipes. Not only do these preparations have many beneficial uses, but the sky's the limit when it comes to making the herbal blends you will use, so have fun! 
Making an infused vinegar involves steeping herbs in vinegar for a period of time to extract the goodness of the herbs right into the vinegar. Vinegar is especially good at pulling vitamins and minerals from herbs, making these nutrients accessible for easy digestion and absorption. If you use culinary herbs and spices, or other broadly safe herbs in your infused vinegars, those you give this gift to can use it in their cooking just as they would any other vinegar! 
With the addition of honey to an herbal vinegar, you can create an herbal preparation called an oxymel. Oxymels provide a unique and delicious way to enjoy the benefits of herbal infused vinegars and are often used by herbalists to support the body during cold and flu season. Perhaps the most well-known type of oxymel is fire cider—an herbalist favorite! 
Learn how to make herbal infused vinegars here and oxymels here!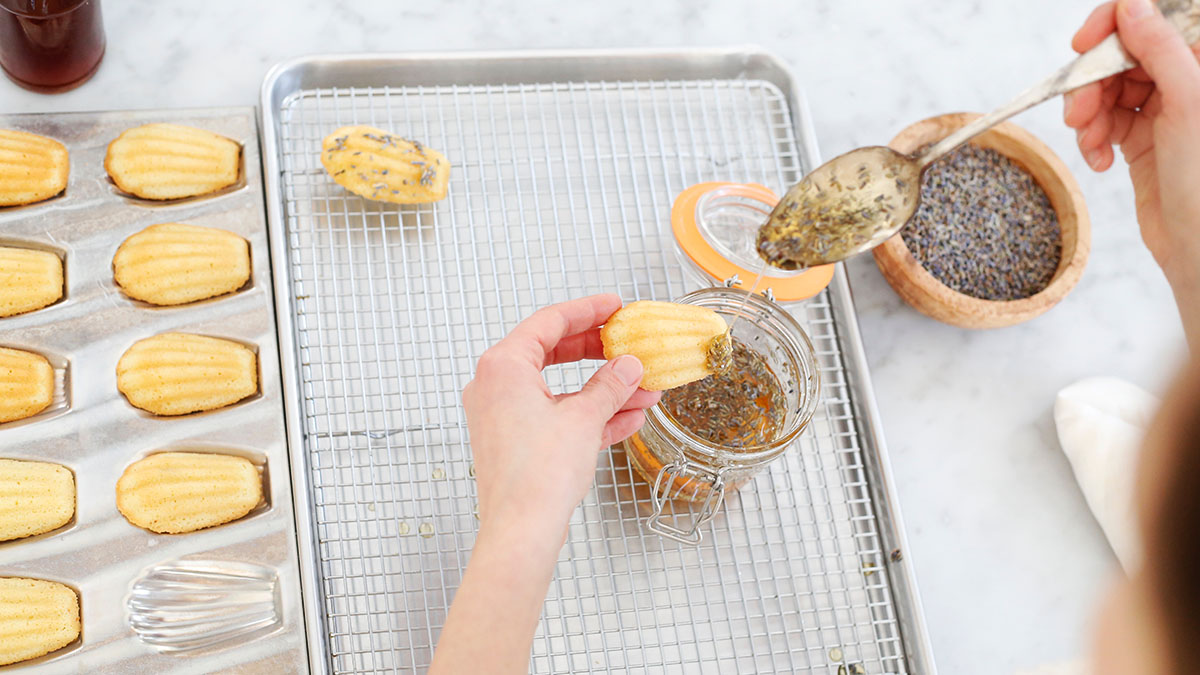 Herbal Honeys
The tasty flavor of herbs infused right into honey is easy to achieve. Infused honeys are a divine way to enjoy herbs and share the wonder(s) of herbalism with others.
To make herbal honey, you will cover the dried herb of your choice with honey and keep the herb submerged while letting the honey infuse for up to 4 weeks—if you can wait that long! When the time is up, strain out the herbs and enjoy! (By using dried herbs, no water is introduced to the honey, thus reducing the chance of mold or bacteria growth). 
Discover the simplicity of making herbal honey with this video here, and you can find more instructions for making herbal honey in this post about making herbal honeys with kids—this is a great project to share with children!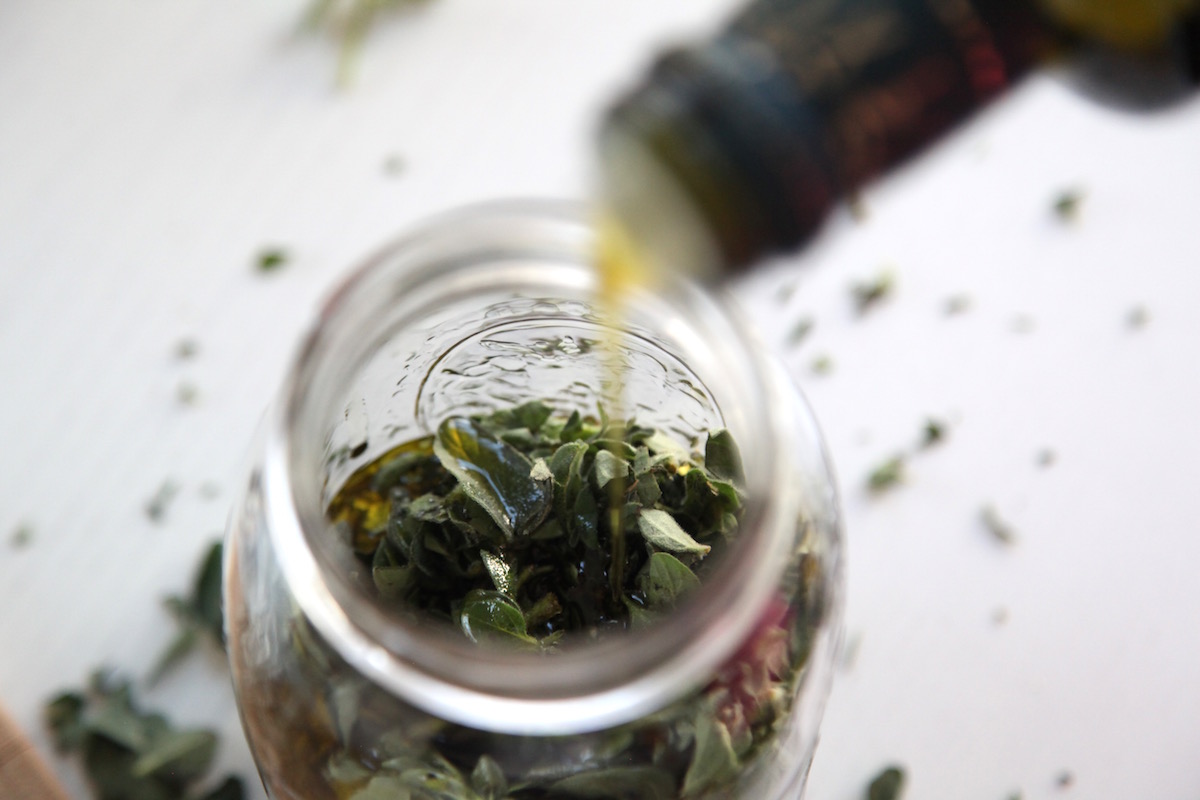 Infused Herbal Oils
A wonderful way to capture the beauty of herbs, especially for topical use, is by infusing herbs into carrier oils. These infused herbal oils can then be used directly for massage or as a base for preparations such as salves, lip balms, creams, lotion bars, and more! While herbal oils can be made using heat to encourage quick extraction, when time allows, a long extraction time can yield a wonderfully beautiful oil! 
Learn how to make your own infused herbal oil here!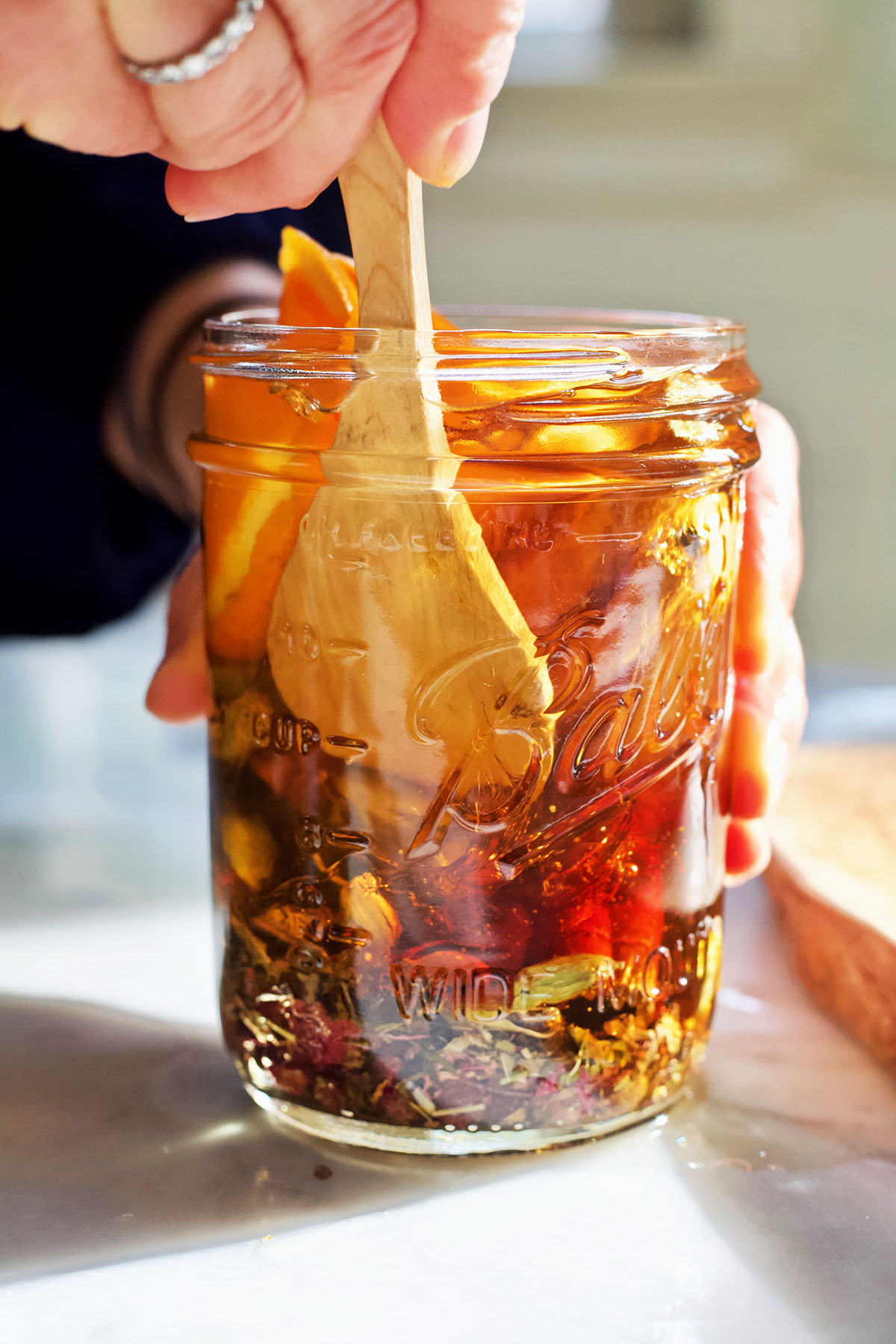 Delectable Cordials and Elixirs
These delicious preparations are a great addition to any celebration and make much-appreciated gifts, and when started early, they are easy to prepare! 
Cordials and elixirs are made by macerating herbs in alcohol, often along with sweet spices and even fruits, to extract the goodness of the plants into the alcohol. Sometimes honey is included during maceration, but if not, once the herbs are strained out of the alcohol, honey or even sugar is added to sweeten the mixture. These tasty brews can be enjoyed in small amounts on a long winter night by the fireside! 
Find one of our favorite recipes for delicious and useful elixir here, and you can find a few conifer cordial recipes for winter here!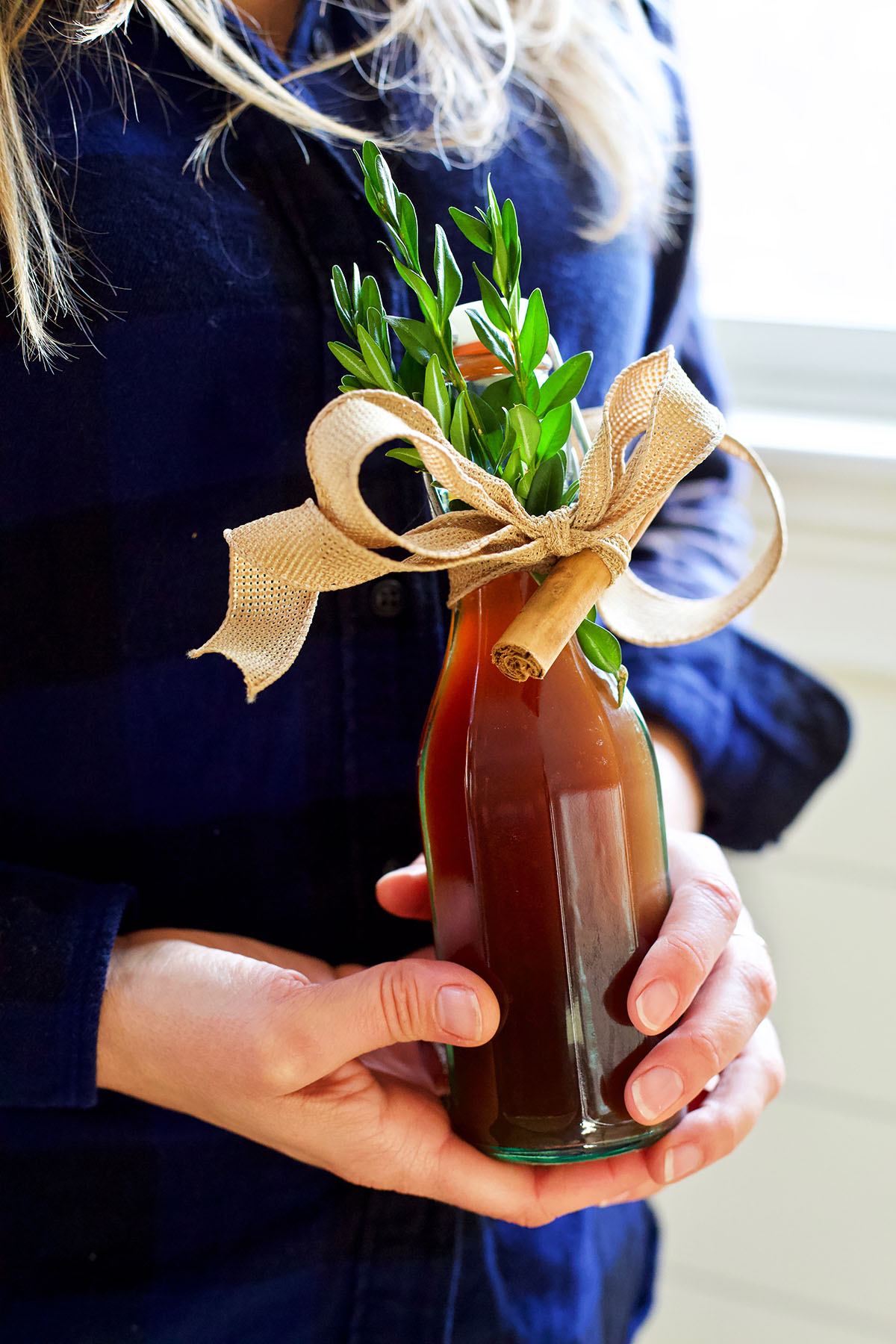 Deliciously Fermented Herbal Meads and Wines
Fermented and tasty—what could be better than cracking open a bottle of herbal mead or wine to share with loved ones during the holiday season? 
Start right now to make your own herbal mead or wine for upcoming celebrations and to give as gifts as these preparations usually need 4 weeks to ferment before they are ready to bottle. However, you can cut the fermentation process off a few days early if needed! 
Herbal meads and wines are made by combining yeast and a sweetened herbal liquid together. Then this is set aside for a period of time to allow the fermentation process to take place. 
Discover the basics of these exciting herbal preparations here! 
Want to learn more or know someone who would love to learn the Craft of Herbal Fermentation? Check out our course here. It is filled with lots of bubbly fun! 
Herbal Holiday Preparations Planner Printable
Use this free herbal holiday preparation planner to help you chart out your herbal brewing goals! Just click the button below, save it to your computer, and print out as many copies as you need!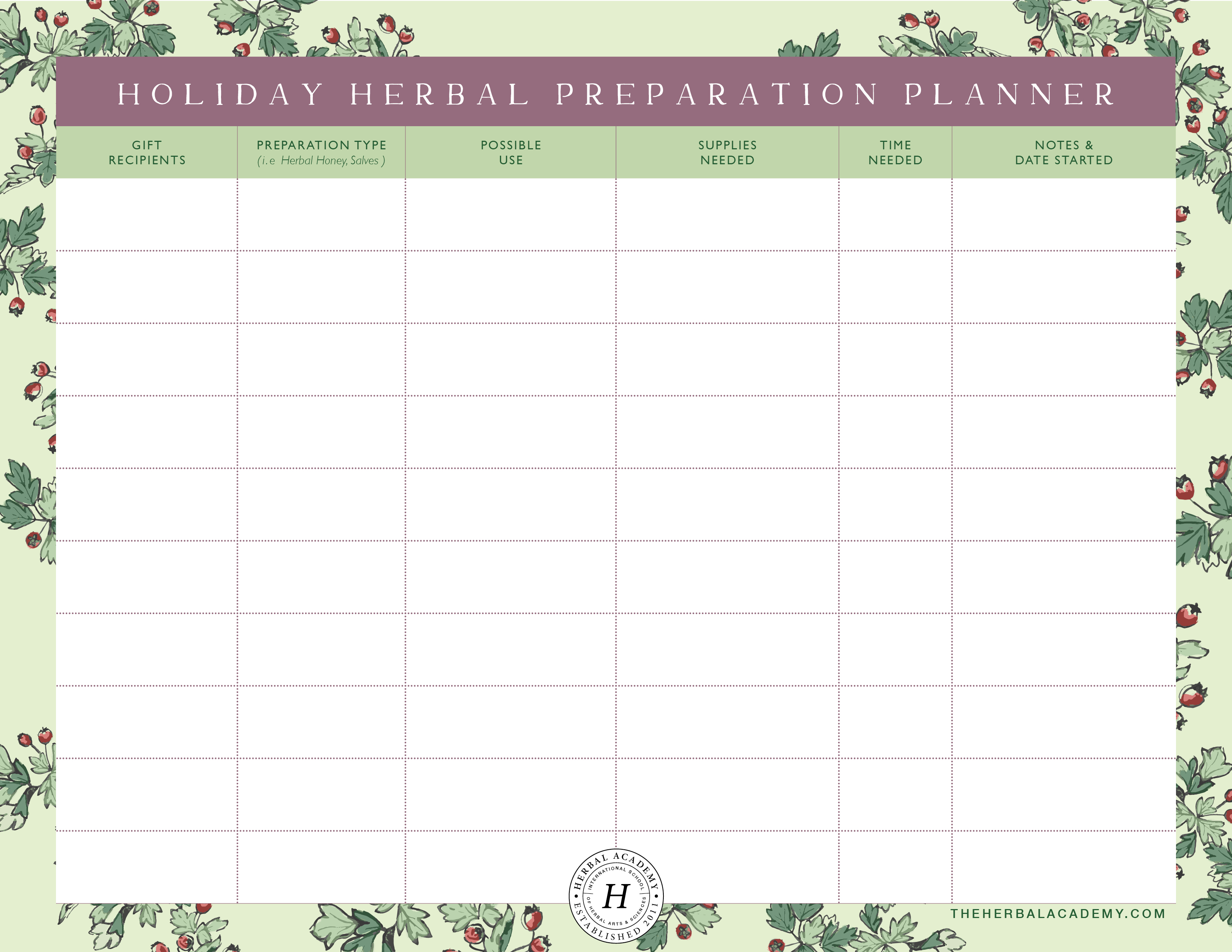 Click Here to Get your Free Holiday Planner!
Wondering how long your herbal preparations will last? Check out this helpful
herbal preparation shelf life
resource!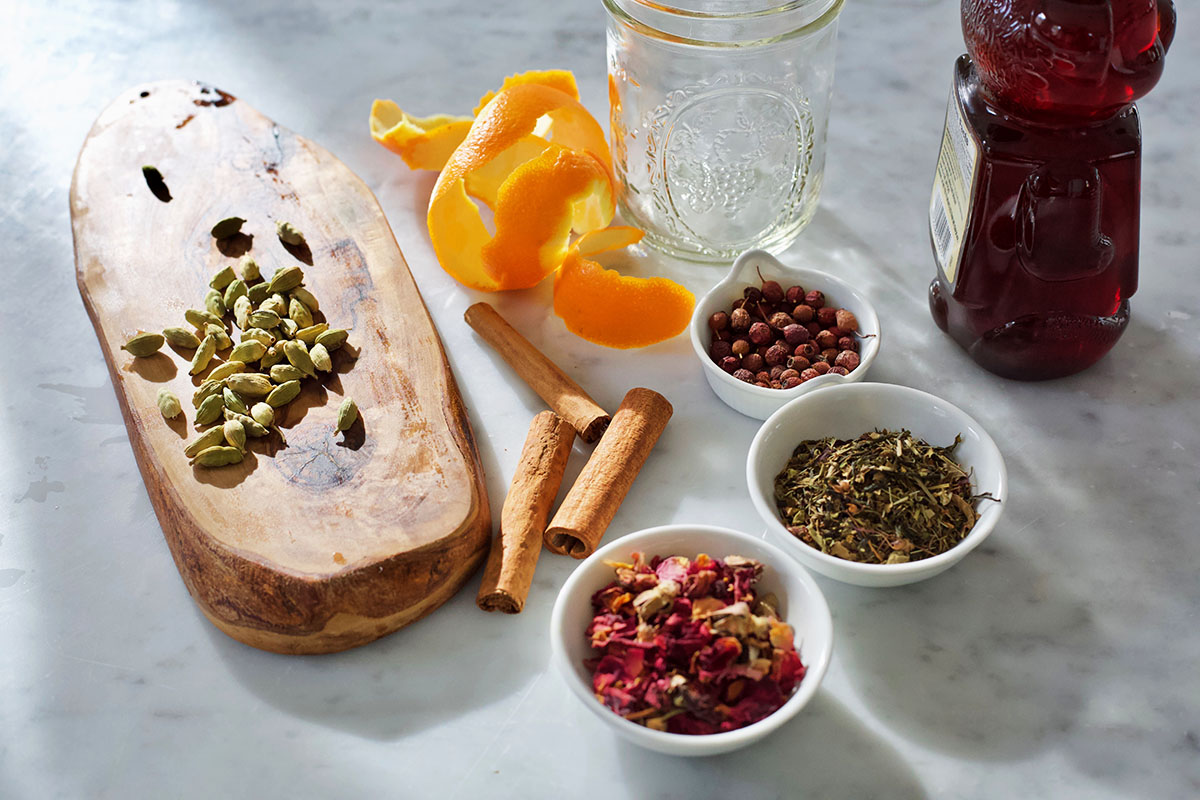 Herbs to Choose From for Herbal Holiday Preparations
Plenty of herbs make their way into lovely herbal holiday preparations that can, in turn, become beautiful gifts and accompaniments to long winter evenings by the fireside. 
Choosing the herbs to use in your herbal holiday preparations is a great deal of fun and invites a satisfying depth of creativity. Find a guide below to get you started!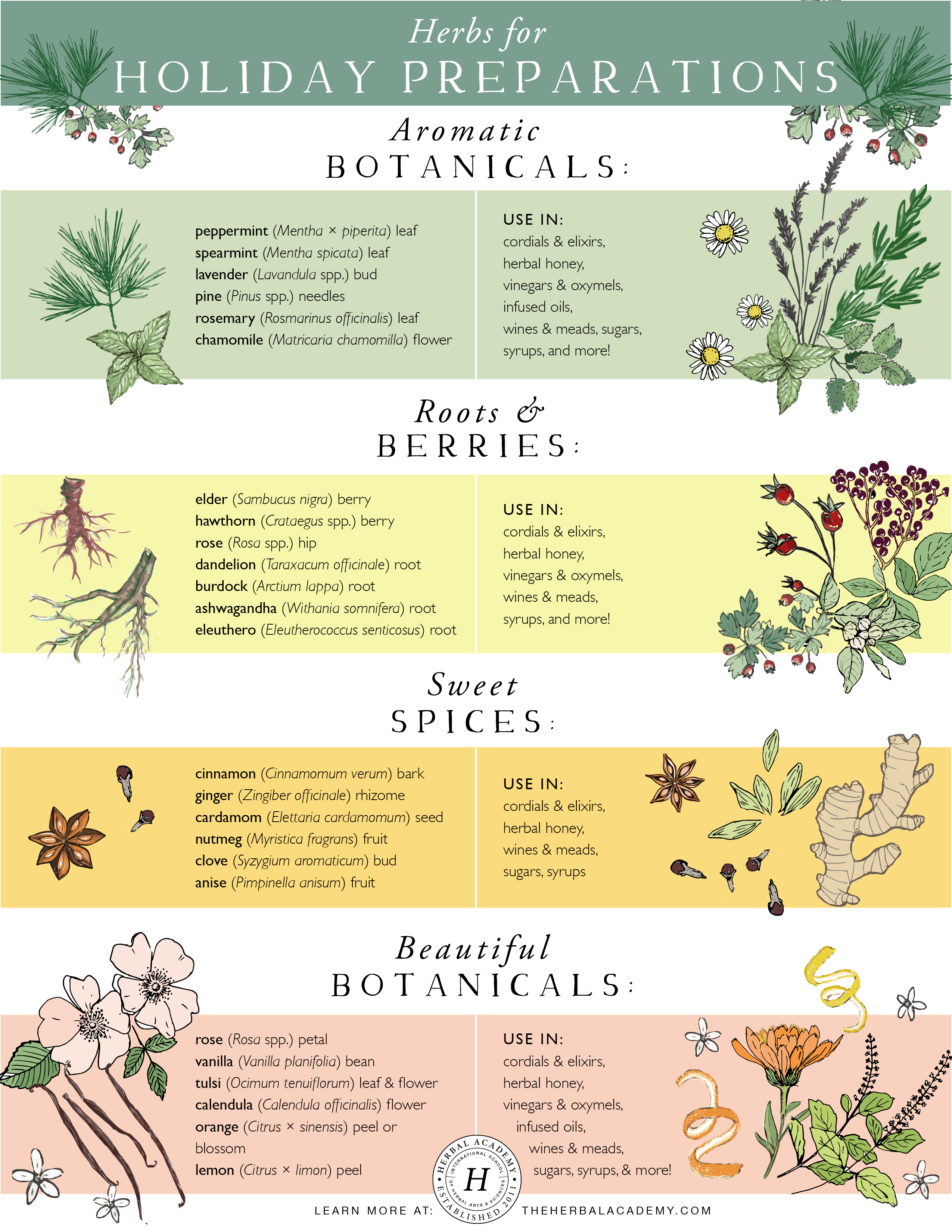 Click Here to Get your Free Download!
To give you a sample of an herbal holiday preparation you can start brewing now and have ready in time for the holidays, we're sharing a sweet and spicy elixir recipe with you below.
A Spiced Tulsi Rose Elixir Recipe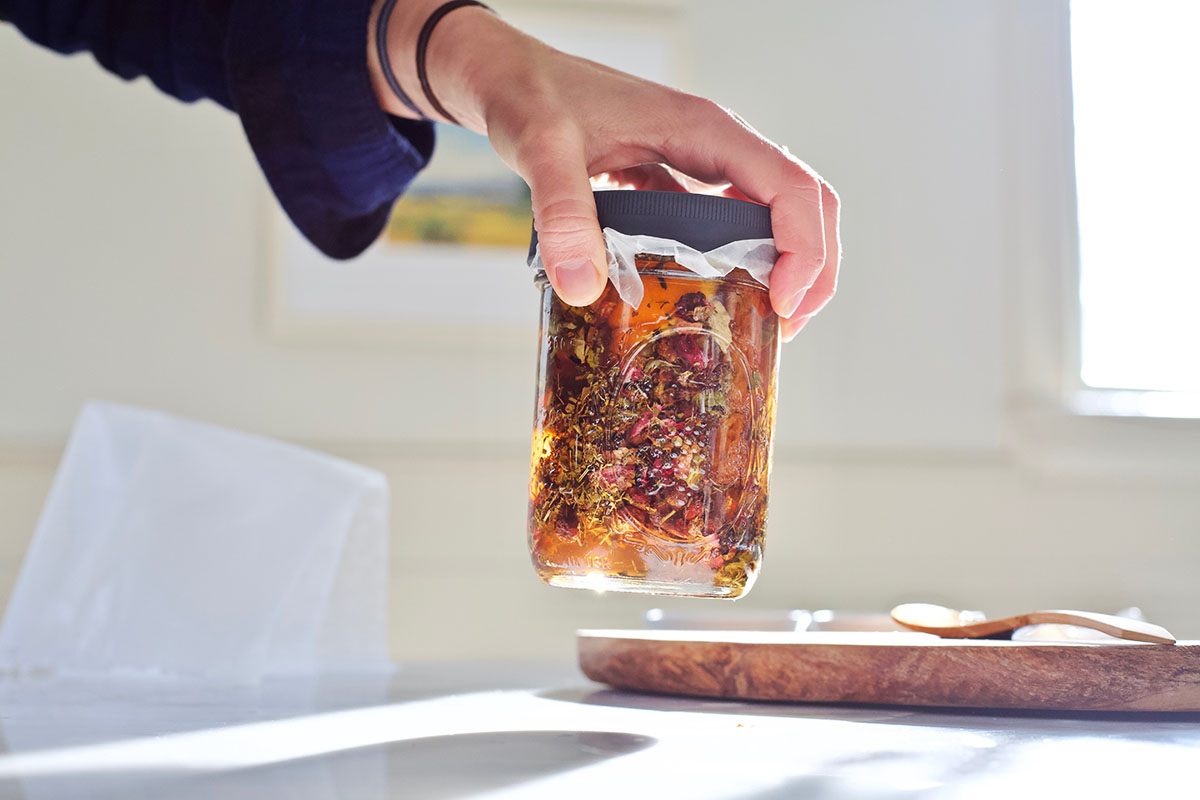 Spiced Tulsi Rose Elixir
This tasty elixir combines the adaptogenic goodness of holy basil with delightful heart-opening rose and warming spices. It is a lovely preparation to sip on a cold winter night and would make a sweet holiday gift to a dear friend! All herbs are dried. 
Ingredients
⅓ cup tulsi (Ocimum tenuiflorum) leaf
⅓ cup organic rose (Rosa spp.) petal
3 tablespoons hawthorn (Crataegus spp.) berry
3 cinnamon (Cinnamomum verum) sticks
1 teaspoon cardamom (Elettaria cardamomum) pods, slightly crushed
Fresh peel from one organic orange (Citrus × sinensis)
1 ⅓ cups brandy or rum
⅔ cup honey
Directions
Place all of the herbs in a clean, sterilized canning jar. 

Cover with the honey and brandy or rum. Press the herbs down so that the alcohol and honey cover the herbs completely. 

Cover with a lid, using a piece of wax paper between the lid and elixir to prevent corrosion of the metal or leaching of chemicals from the lid to the liquid. 

Store in a cool, dark place, such as a cupboard, for 4-6 weeks. Remember to shake daily if possible. 

After 4 to 6 weeks, strain the herbs out, compost them, and bottle your new elixir. Don't forget to label and date, and enjoy!
I hope this inspires you to get brewing soon so you can enjoy sharing your own amazing herbal holiday preparations with friends and loved ones as the holiday season unfolds!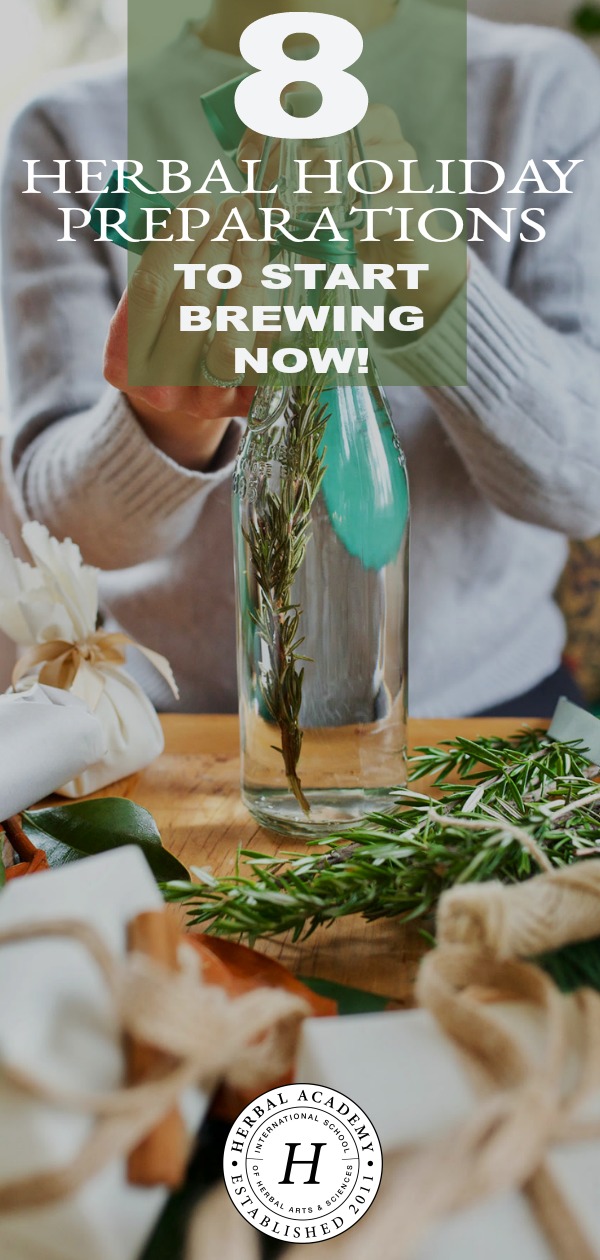 REFERENCES 
Briggs, K. (n.d.). Making custom cordials. Retrieved from http://clinicalherbalism.com/making-custom-cordials/?redirect=false
Saba, H. (2018). How to make an oxymel. Retrieved from https://theherbalacademy.com/how-to-make-an-oxymel/