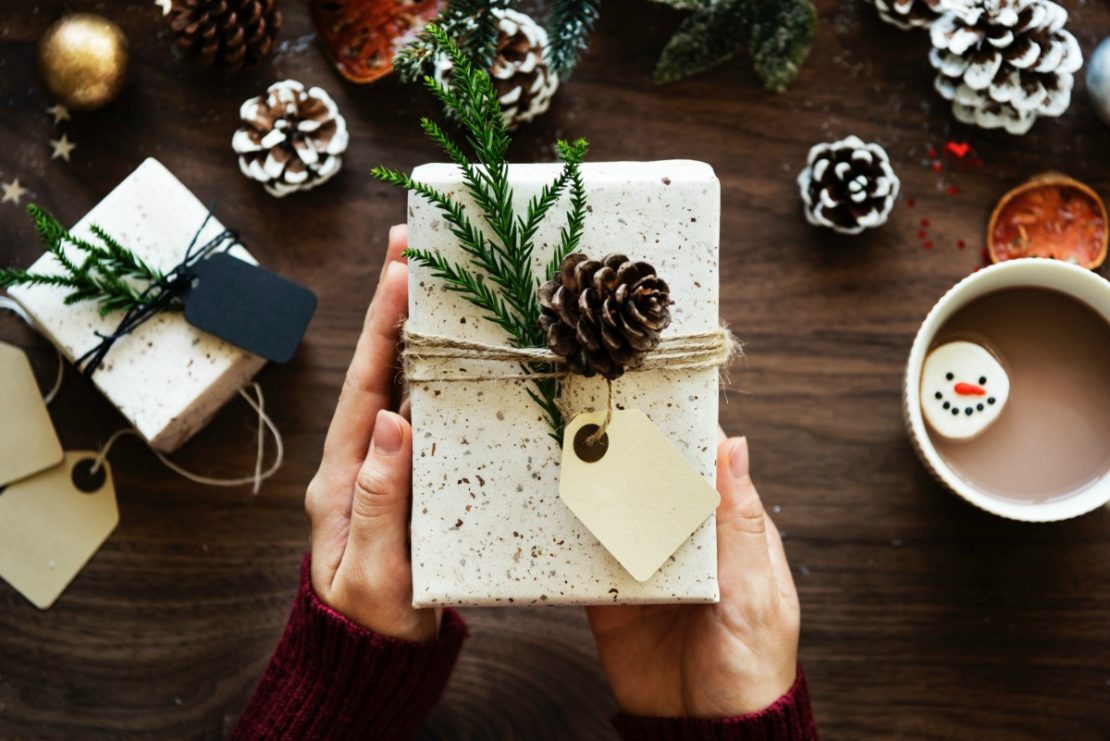 The Ultimate Herbal Gift Guide for Herbal Students, Entrepreneurs, Formulators, and More!
With the holidays right around the corner, it's time to start thinking about gifts for the herbalist in your life! Or perhaps you are the herbalist and want to drop a few hints to your friends and family. Either way, we've got you covered with a comprehensive gift guide for herbalists of all levels and interests—you'll find ideas for beginning herbalists, herbal students, entrepreneurs, formulators, foragers, aspiring botanical artists, and more. From stocking stuffers to business tools, this useful gift guide will help you select the perfect present that's sure to be enjoyed. 
Our gift guide is designed to help you identify products and resources that are well-suited to various areas of herbalism. With this in mind, we have organized the guide into categories that fit a variety of interests. To narrow down the most suitable options, think about the types of activities the herbalist in your life enjoys and consider their passions and areas of expertise. 
Gift Guide for Beginning Herbalists  
Those just starting their herbal journey often enjoy informational resources as well as practical tools that will help them put what they are learning into practice. The following gift ideas from our ultimate gift guide are an excellent match for just about anyone beginning to explore the world of herbalism.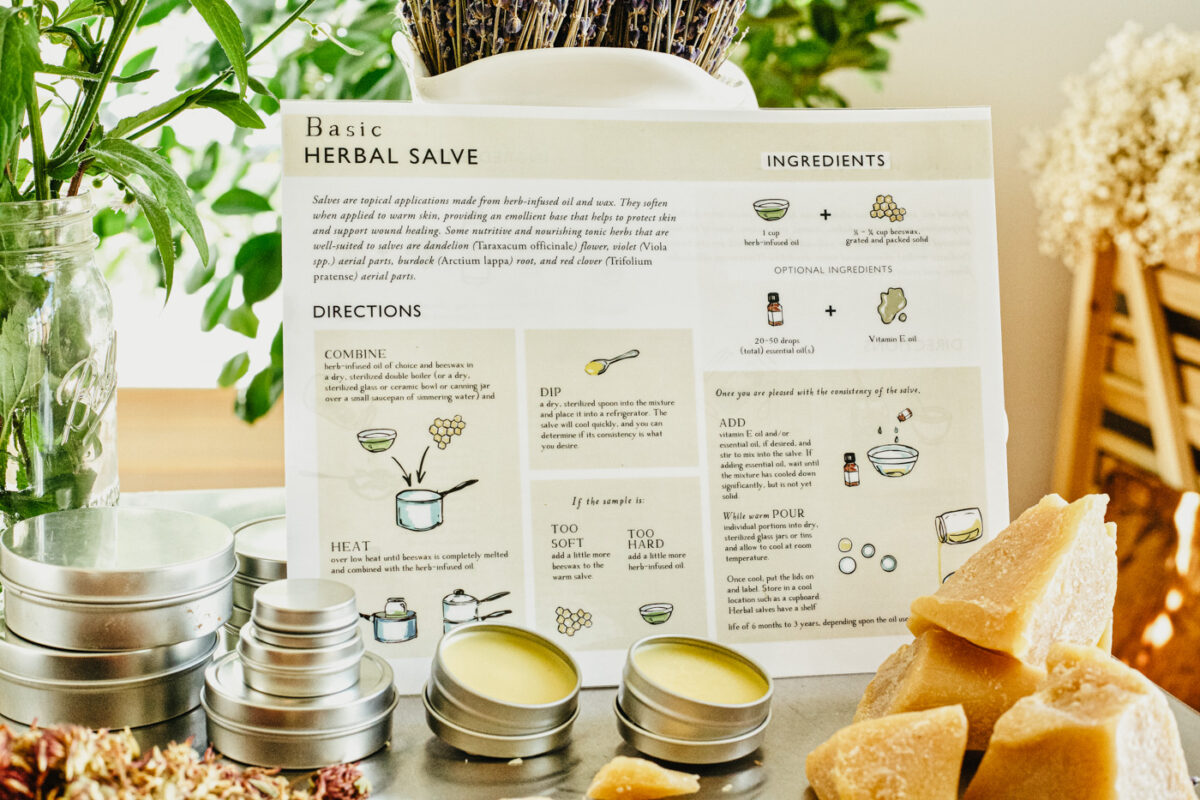 Featuring 32 recipes and tutorials from our Making Herbal Preparations 101 Mini Course, these full color, laminated guides make it easy to get hands-on and start practicing herbal skills.

This beautifully designed planner guides aspiring herbalists in discovering their unique herbal path. It includes all lessons from the Becoming an Herbalist Mini Course along with insightful and clarifying discovery activities.
This set of three books provides the entire Introductory Herbal Course in print. With over 730 pages, beginning herbalists will have monographs, recipes, and in-depth herbal information at their fingertips.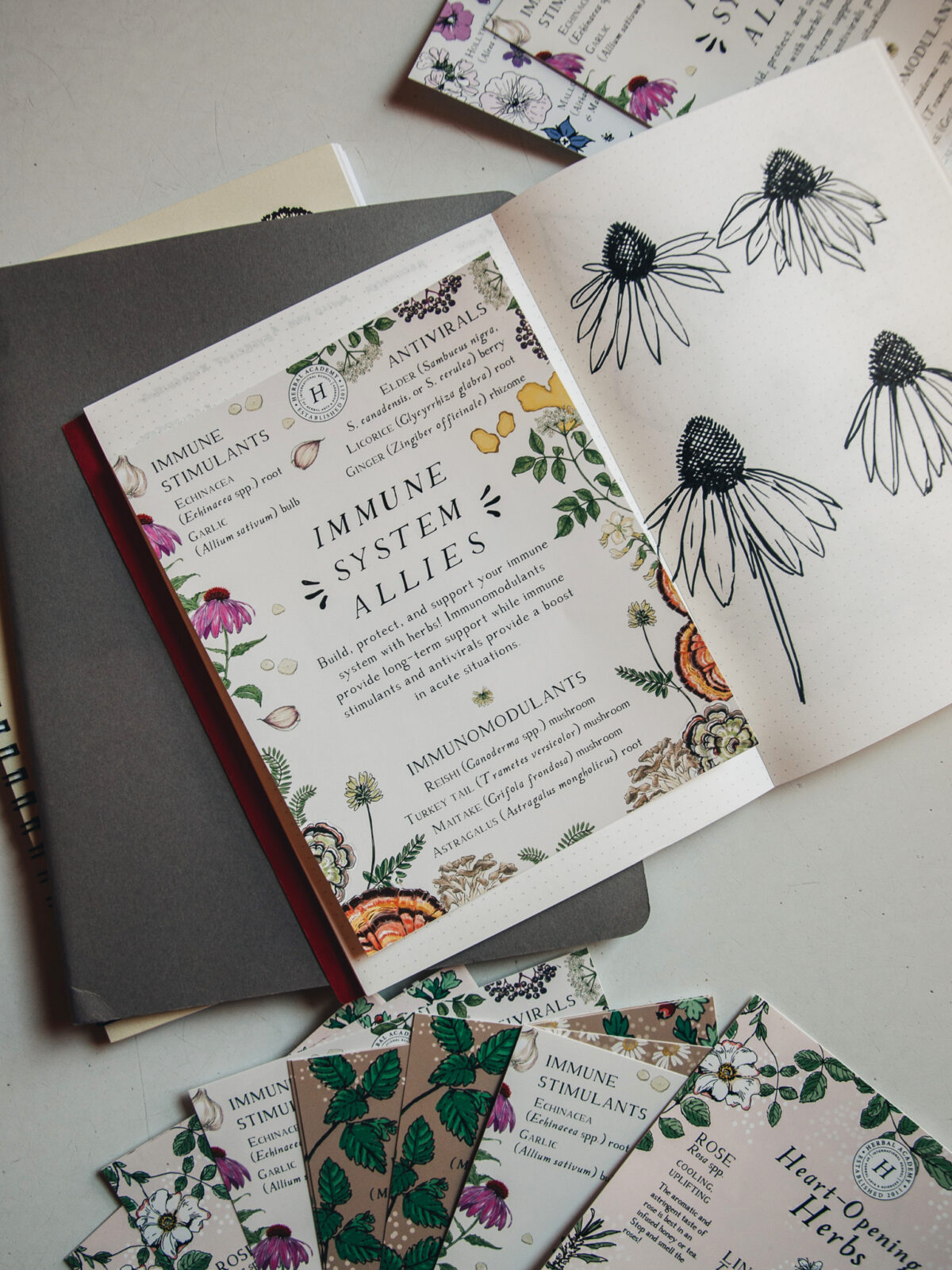 These beautiful stickers are a great way to keep herbal information close at hand. An excellent option for beginning herbalists working to commit herbal information to memory and decorate their workspace, to boot!

The perfect stocking stuffer, these botanical bookmarks are an inspiring way for herbalists to keep their place in textbooks or anything else they may be reading. 
Gift Guide for Herbal Students
Those studying herbalism often enjoy gifts that support learning. Study tools (such as flashcards and textbooks), journals for jotting down notes, and comfy clothing to stay cozy during study sessions are all welcome. Resources for further learning, such as access to new courses, are also appreciated.
This set of 45 introductory level herbal actions terms helps students learn important herbal actions. Each card includes a definition, herbal examples, and botanical imagery—an awesome study tool for Introductory and Intermediate level herbal students. 
Useful for those wanting to gain hands-on experience, this laminated recipe card set includes 25 recipes, covering preparations such as tinctures, salves, bath blends, teas, sprays, and tasty treats such as herbal chocolate truffles and a nourishing herbal broth. This set is a great resource for herbal students of all levels.
Herbal students will enjoy showing off their school pride with these super comfy sweatshirts! These HA team favorites are perfect for cooler weather, and are sure to keep your herbalist friends cozy and warm.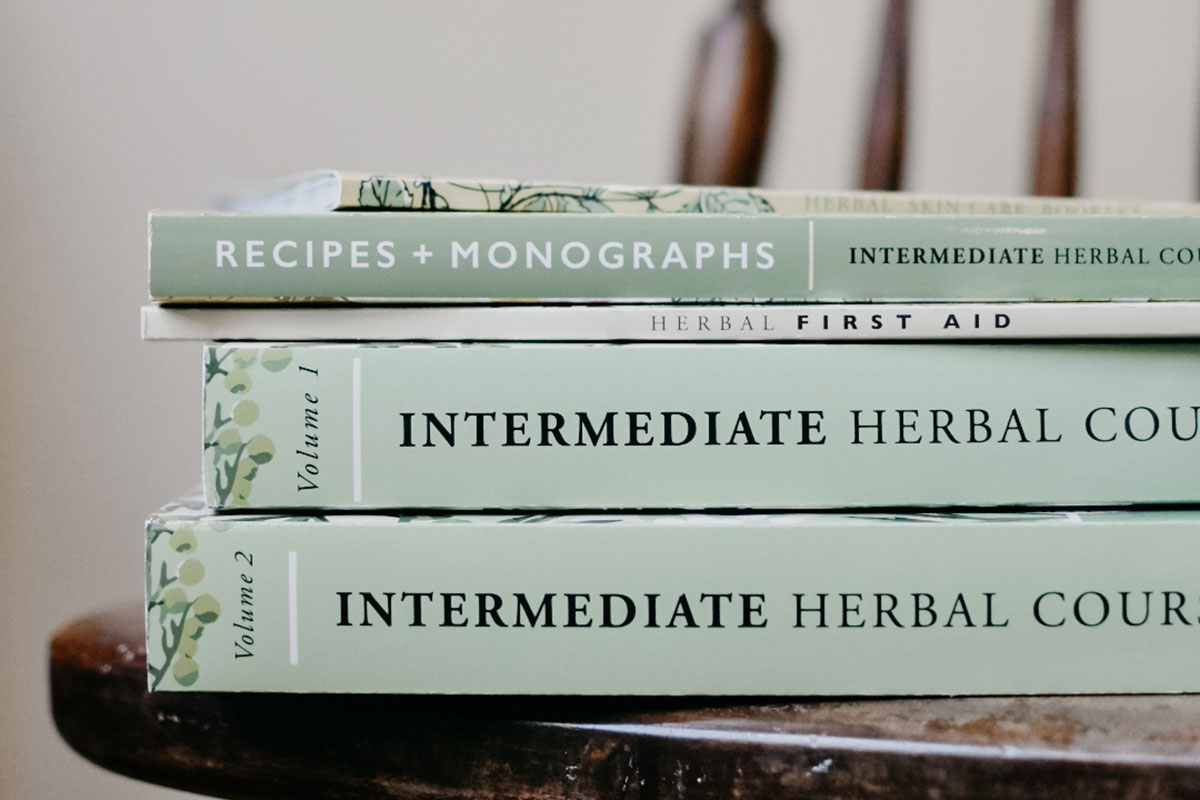 A wonderful resource for those with some herbal knowledge and education under their belts, this set of five books contains over 1,400 pages and presents the entire Intermediate Herbal Course in printed form. All of the course information is available in two volumes along with a compiled Recipes + Monographs Book as well as the program's featured Herbal First Aid Booklet and Herbal Skin Care Booklet. 
This gorgeous journal is a lovely tool for herbalists seeking to organize their herbal studies and create a treasured keepsake at the same time. With room for 50 botanical monographs and additional notes, the Materia Medica Journal also contains useful reference charts on plant identification, herbal safety, and researching tips and tricks.
Give the gift of herbal education with a gift certificate for a specific course or send a store credit gift certificate which provides credit for students to use toward a course of their choice. Virtual gift certificates are an excellent option for easy, last-minute gifting!
Gift Guide for Herbal Formulators and Skin Care Aficionados
Herbalists who enjoy making skin care products and creating their own recipes love resources that provide information and guidance to help inform their craft. Convenient tools for recording formulations and keeping track of ideas and testing results are also useful.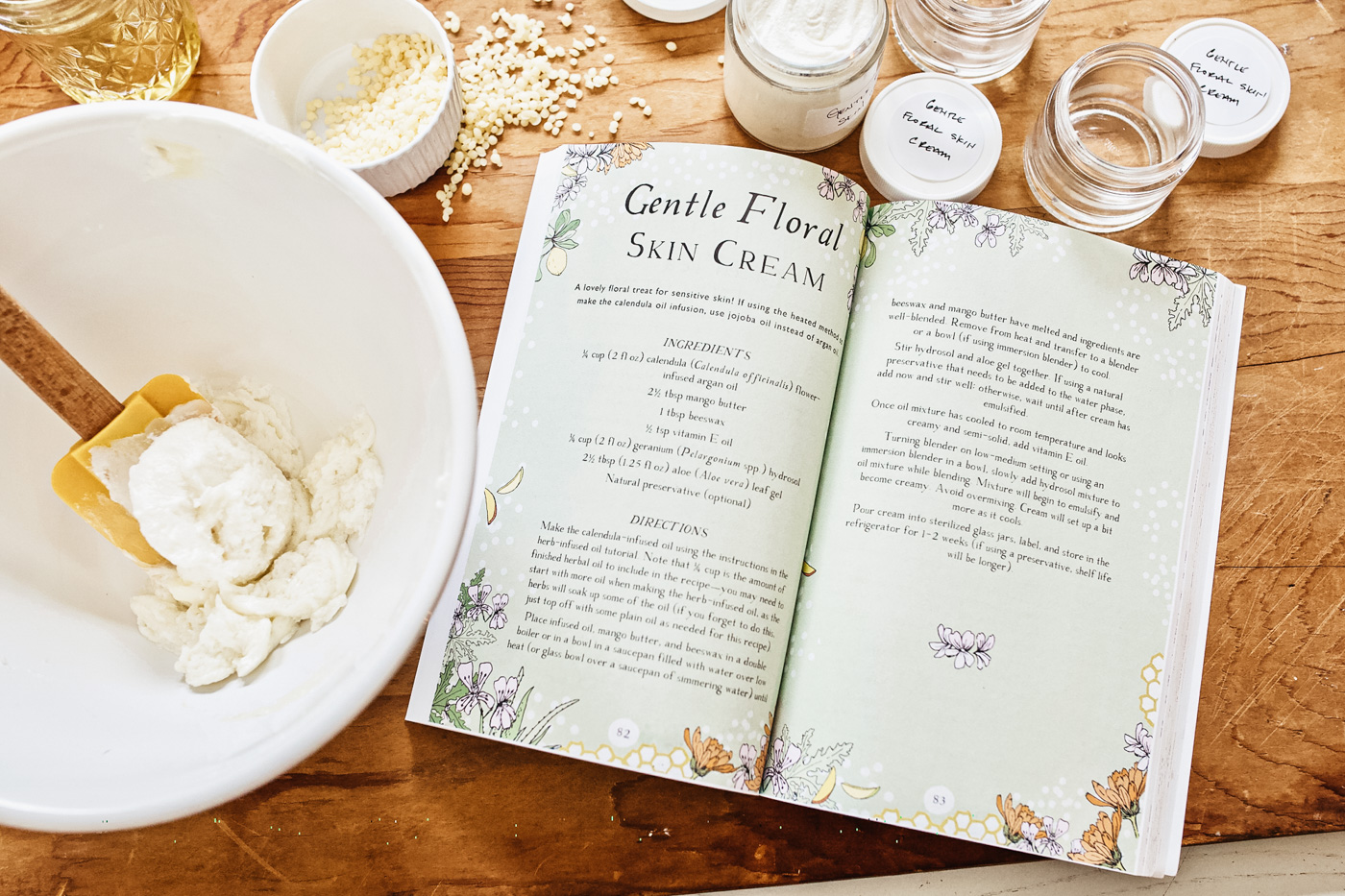 This companion to our Botanical Skin Care Course also makes a great stand-alone gift. This beautifully illustrated book includes 194 body care recipes using herbs and natural ingredients.
Especially for herbalists who want to take their homemade skin care products to the next level with long-lasting storage solutions, this workshop teaches students how to use natural emulsifiers and preservatives to create silky-smooth, shelf-stable lotions, creams, and other emulsions. Purchase a gift certificate for this workshop here: https://theherbalacademy.com/product/gift-certificate/ 
A companion to the Emulsifiers and Preservatives Workshop, this journal provides a convenient way to record and keep track of formulations as ratios are tested and perfected. Record pages include space to jot down ingredients used, preservative specifications, and results of pH and microbial testing.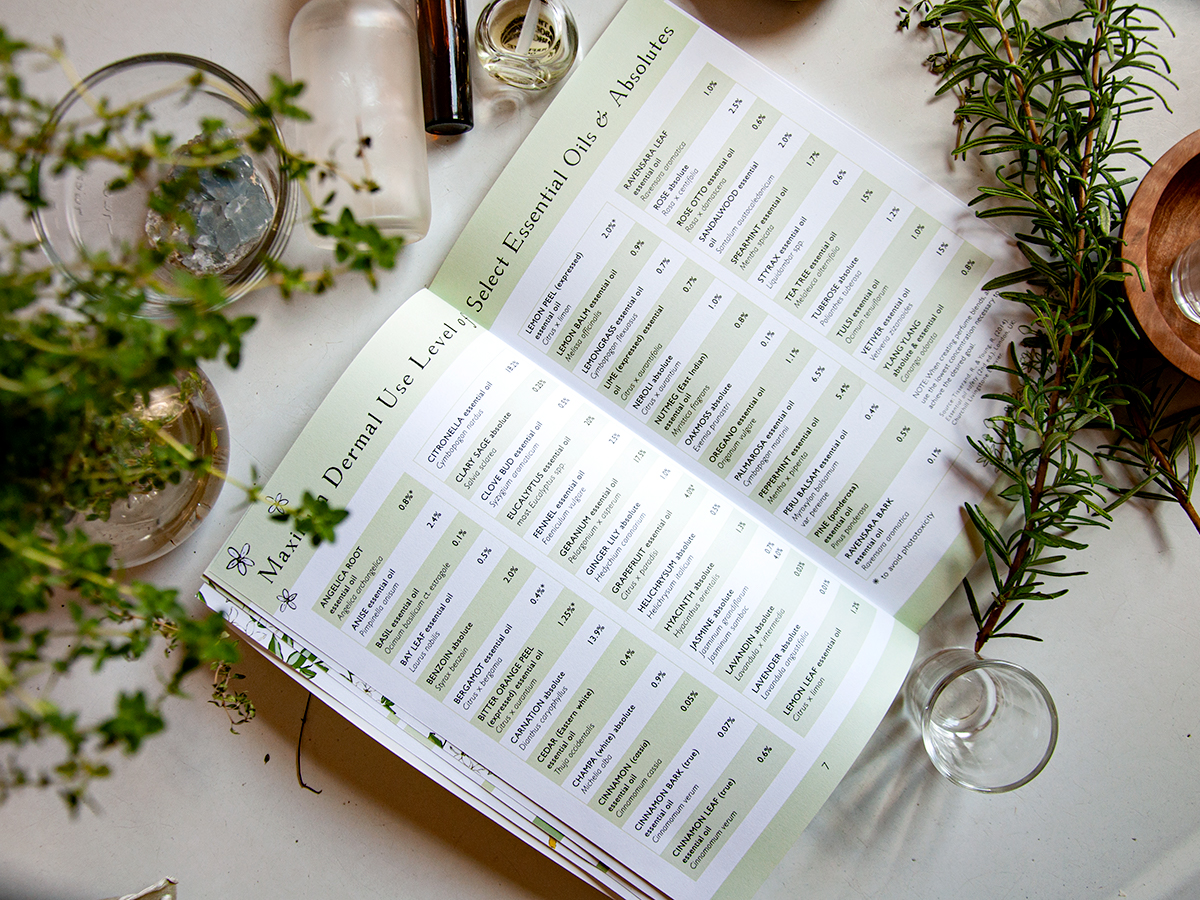 Another of our companion books, this journal was created to accompany the Natural Perfumery Course, but can also work well as a stand-alone gift. This notebook includes 90+ journal entry pages for recording formulations and testing notes, plus a few reference pages filled with handy information. 100 tester strips are also included so scent formulators can sample fragrances on a neutral surface.
Gift Guide for the Herbal Entrepreneur
Herbalists with an entrepreneurial spirit will enjoy gifts that support them in navigating the often confusing world of herbal business. Education, resources for product development, and record-keeping tools are all excellent choices in this part of the gift guide. 
A companion to the Business Herbal Course, the 160-page, full-color Business Planning Guidebook helps herbal entrepreneurs clarify their vision, create the foundation of an herbal business plan, and reflect on all the important details needed to start a business.
This program provides need-to-know information and guidance for those interested in starting an herbal business. Designed to support a variety of plant-based paths, this course is suitable for all business-minded herbalists whether they desire to launch an herbal products business, open a clinical practice or herb store, start a wellness blog, teach herbalism in the community, or grow herbs to sell in bulk. Purchase a gift certificate for the Business Herbal Course on our gift certificate page.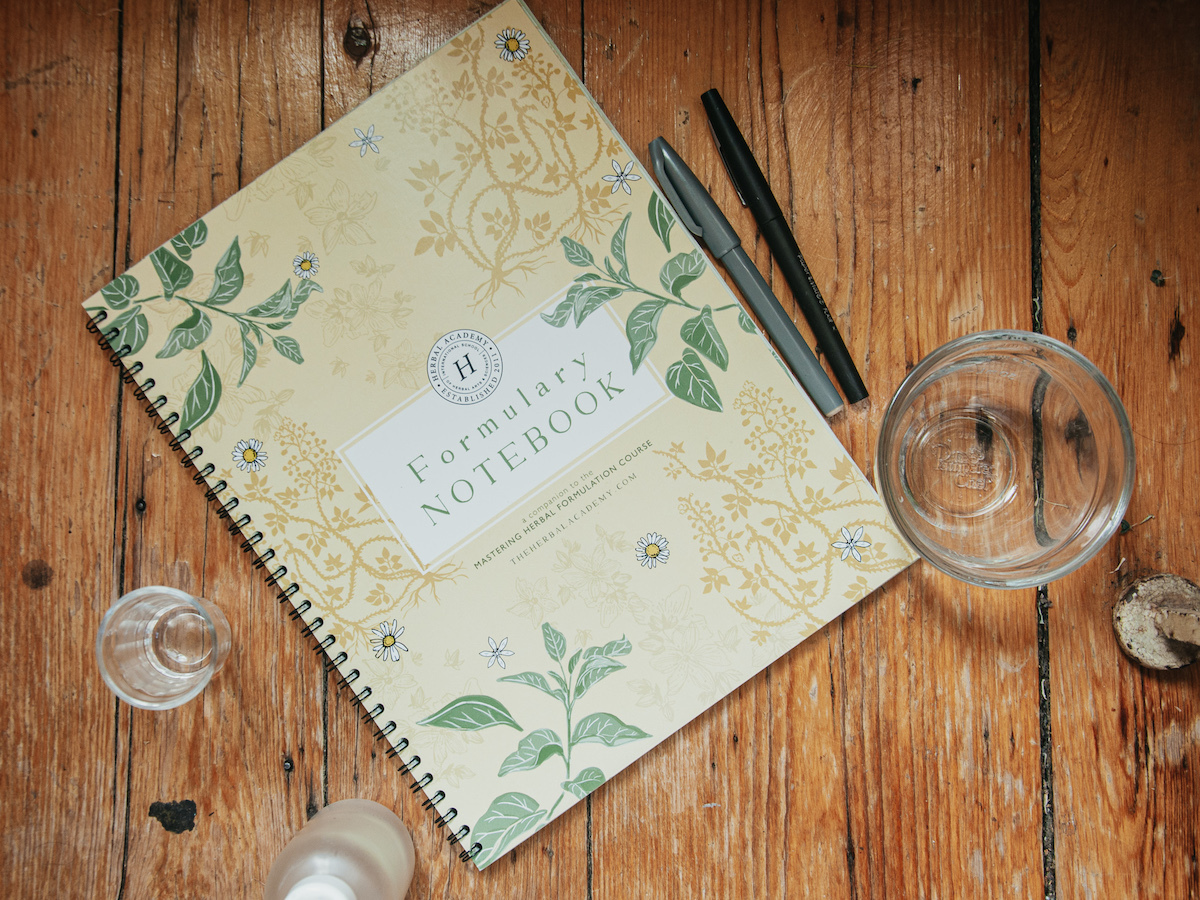 A must-have for any herbal formulator, this three-part set includes a Formulary Notebook with easy-to-reference formulation information and guidelines plus two 50-page tear-off worksheet notepads. Worksheet notepads provide pages to record herbal combinations and calculations.  
Gift Guide for the Herbal Entertainer
Have an herbal friend who loves to bake, cook, or share meals with friends? Why not help them expand their repertoire with our herbal recipe guides? We've also got a few handy tools in this section of the gift guide that will make preparing herbal meals and beverages quick and easy!
Perfect for those who love to host dinner parties and drinks with friends, this delightful booklet includes 13 taste-tested botanical cocktail and mocktail recipes along with helpful information and charts from the Botanical Mixed Drinks Workshop. We've also included 21 blank recipe cards so aspiring mixologists can record their own creations or share favorite recipes with friends.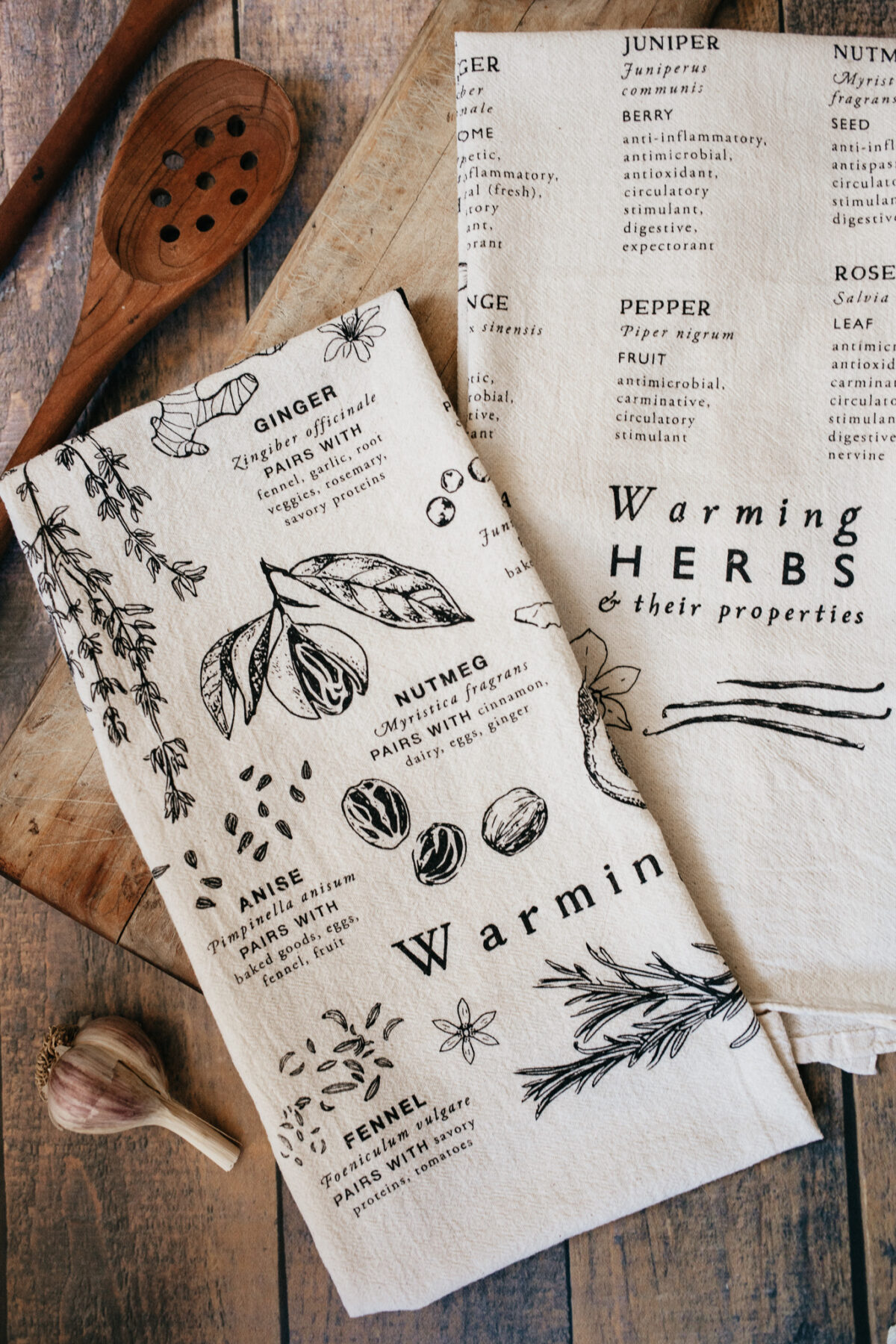 A beautiful addition to any herbalist's kitchen, these 100% natural unbleached cotton tea towels are also educational! The tea towels include information about warming herbs and their properties as well as food-pairing suggestions. 
A gorgeous tool for keeping track of dates and dinner parties, this beautifully illustrated 12-Month Herbal Wellness Calendar includes herbal recipes and holistic lifestyle practices, plant profiles, and apothecary lists of seasonal herbs and preparations.
Handmade from cherry wood in small batches, this herbal stripping tool provides a convenient way to de-stem herbs—the perfect time-saving hack for preparing herb-infused meals and beverages!
These beautifully designed fermentation guides share tutorials and recipes for herbal beer, herbal mead, herbal kombucha, water kefir, and lacto-fermented herbs and foods. A convenient tool for creating beverages and side dishes for daily enjoyment or special occasions!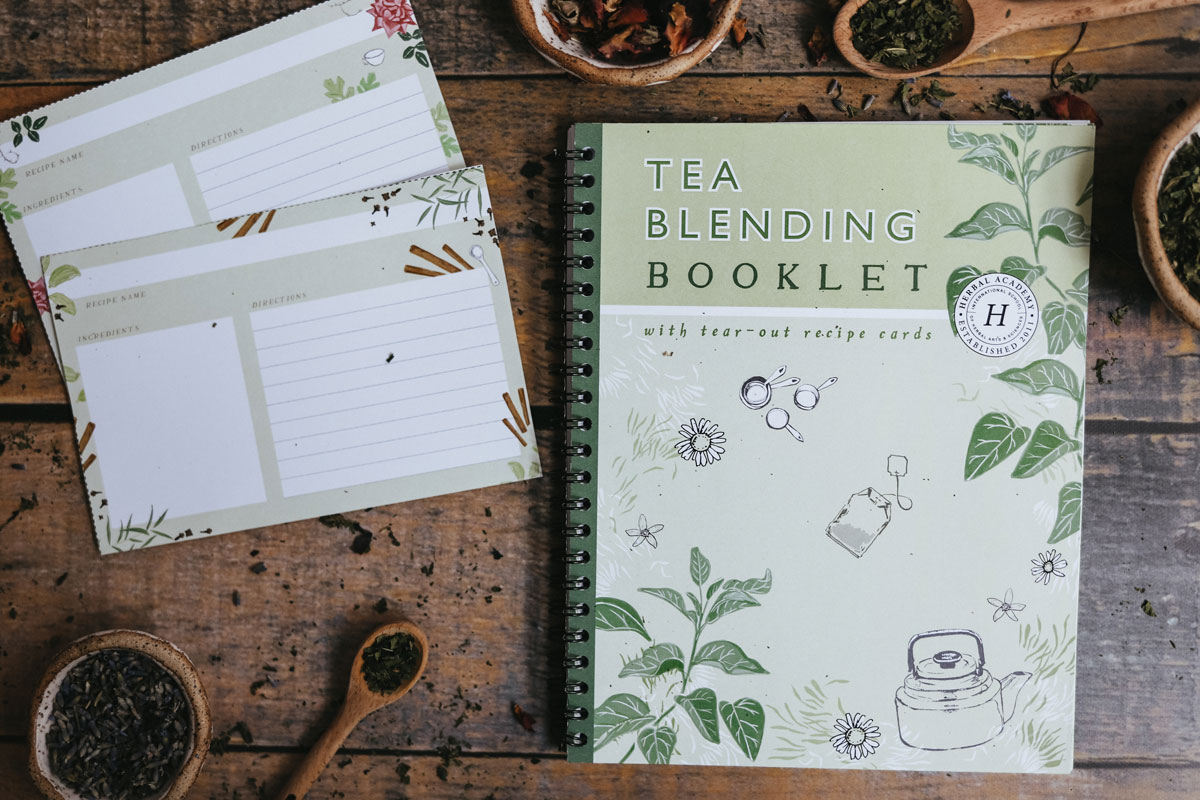 Complete with helpful informational charts, worksheets, recipe cards, and an easy-to-follow tea-blending formula, this compact guide supports herbalists in formulating their own herbal teas and sharing with those they love.
Decorated with full-color herbal illustrations of elder, dandelion, clover, plantain, and rose, this 12-ounce mug is perfect for sipping herbal tea or coffee and a great way to celebrate the world of herbalism!
Gift Guide for the Forager
If you have an herbal friend who enjoys gathering wild herbs and botanicals, we've got some useful tools in this gift guide to make the process even more enjoyable! From identification guides to roomy tote bags, the following items are perfect for those who love to forage (or want to start!).  
An amazing tool for those wanting to begin foraging, this handy kit includes a Foraging Record Book (to capture specifics of gathered plants) and a Foraging Guide Book full of detailed information for 23 commonly foraged plants. This set comes with a drawstring Herbal Academy crest muslin storage bag for easy transport and storage.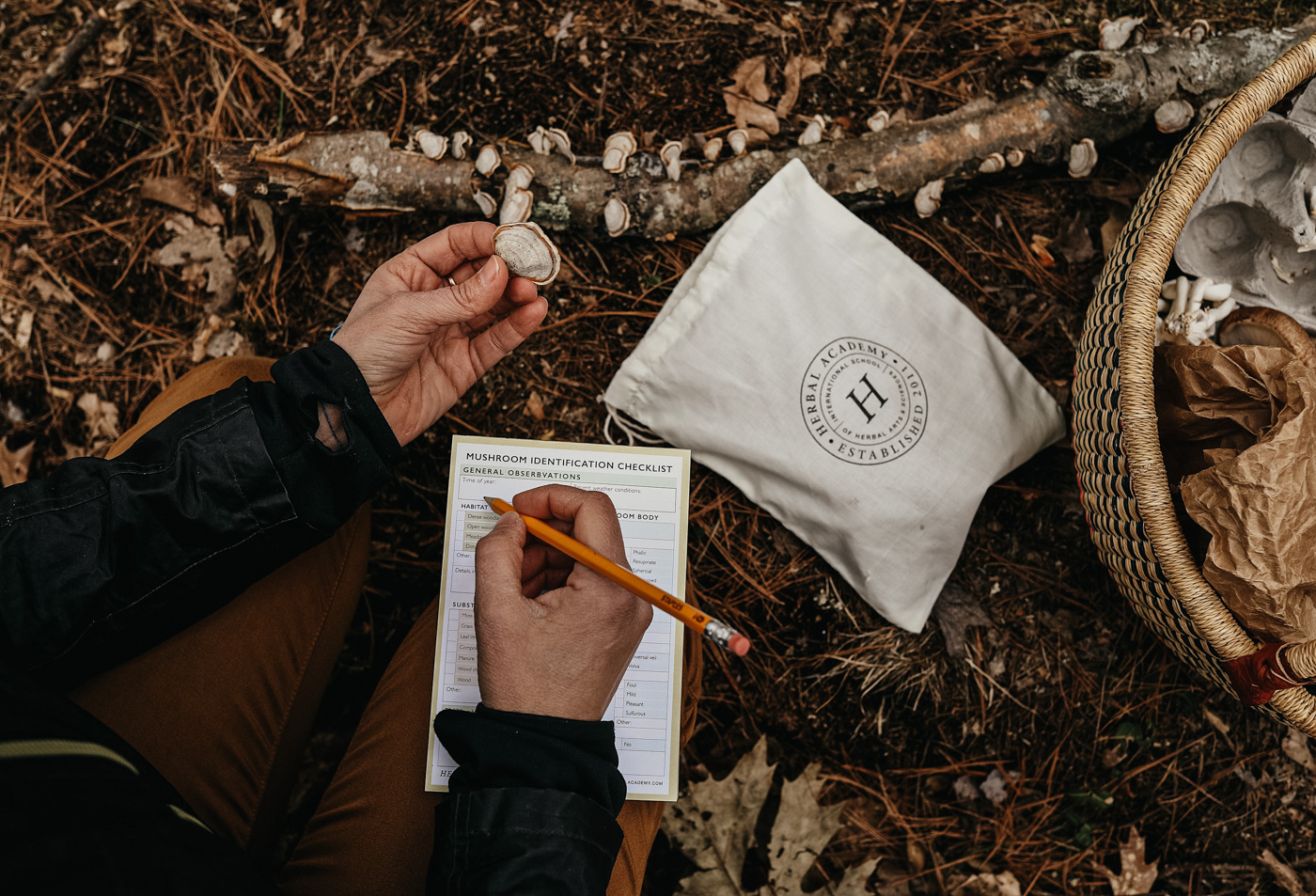 Mushroom enthusiasts will appreciate this handy kit for all their foraging adventures. It comes complete with 8 double-sided laminated mushroom-identification guides, a mushroom identification checklist, tear-off notepad, folder for written field notes, and a muslin bag to carry foraged fungi.
With 25 botanically accurate illustrations of fun-to-forage plants commonly found in the United States, herbalists will enjoy coloring each plant as they learn about its features. Additional blank pages for sketching and note-taking are incorporated along with summary monographs of each plant.  
This workbook pairs beautifully with our Botany and Wildcrafting course but also works well as a stand-alone gift. If you'd like to pair it with the course, purchase a gift certificate here. 
Made of 100% organic cotton, this roomy crossover bag has an easy-to-use plant identification chart on the front panel. Great for carrying foraging tools, books, or plants, it also provides a simple way to learn about plants on the go!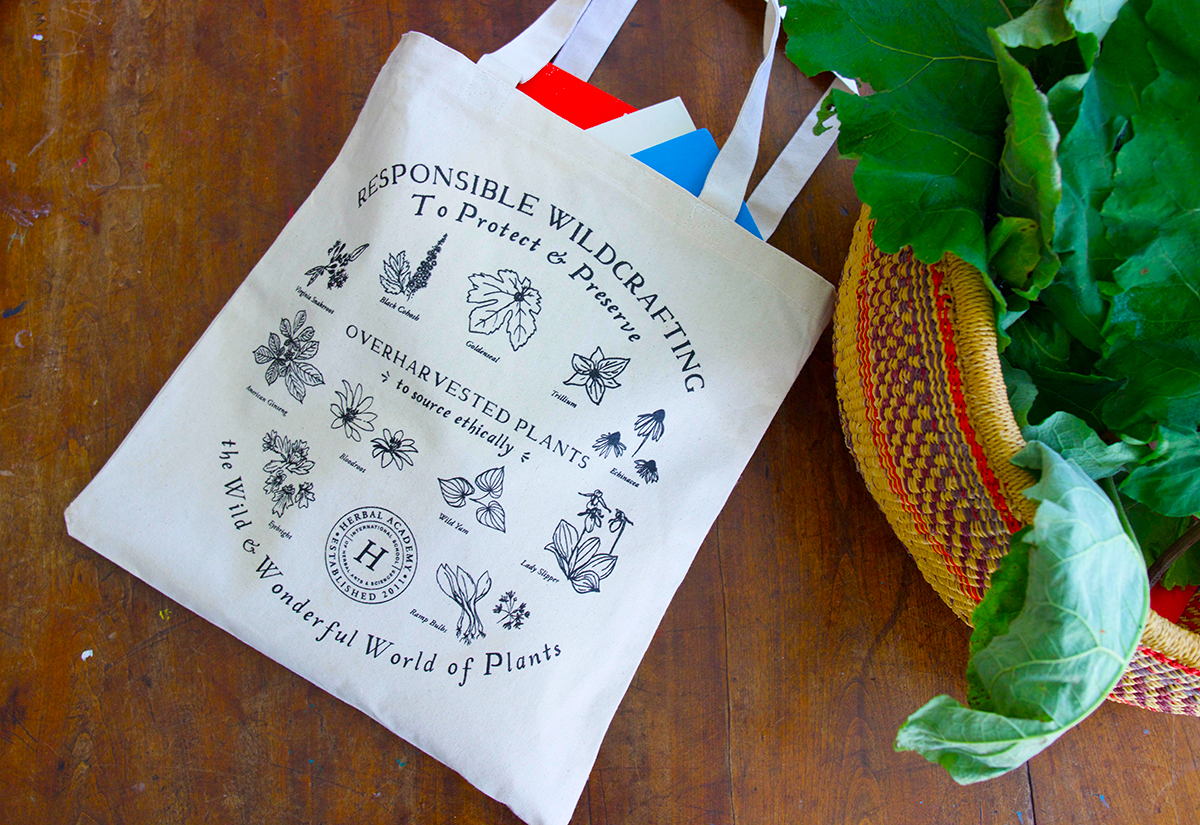 This beautifully designed canvas tote bag combines practical function with an important message about plants facing overharvesting pressure. Along with an informational insert about how to be a plant steward and how to ethically and sustainably wildcraft common and abundant plants, a pin-on button with the three tenets of being a plant steward is also included.
Gift Guide for Aspiring Botanical Artists
Many herbalists seek to express their creativity through botanical arts and crafts. That said, learning the skill of accurately illustrating plants goes beyond creating beautiful artwork; it's also a helpful way to record herbs found on foraging adventures and depict precise details of plants in a materia medical.  
Herbalists wishing to develop their drawing skills will find helpful exercises and guidance inside this unique sketchbook. A combination of botanical information and illustration techniques, plant lovers will hone their artistic skills while learning plant anatomy at the same time
Adding herbal flair to notebooks, water bottles, computers, or just about any surface is easy and enjoyable with these beautifully illustrated herbal stickers. Each sticker is botanically accurate and includes the plant's common name and binomial. These make a great stocking stuffer for anyone who loves herbs!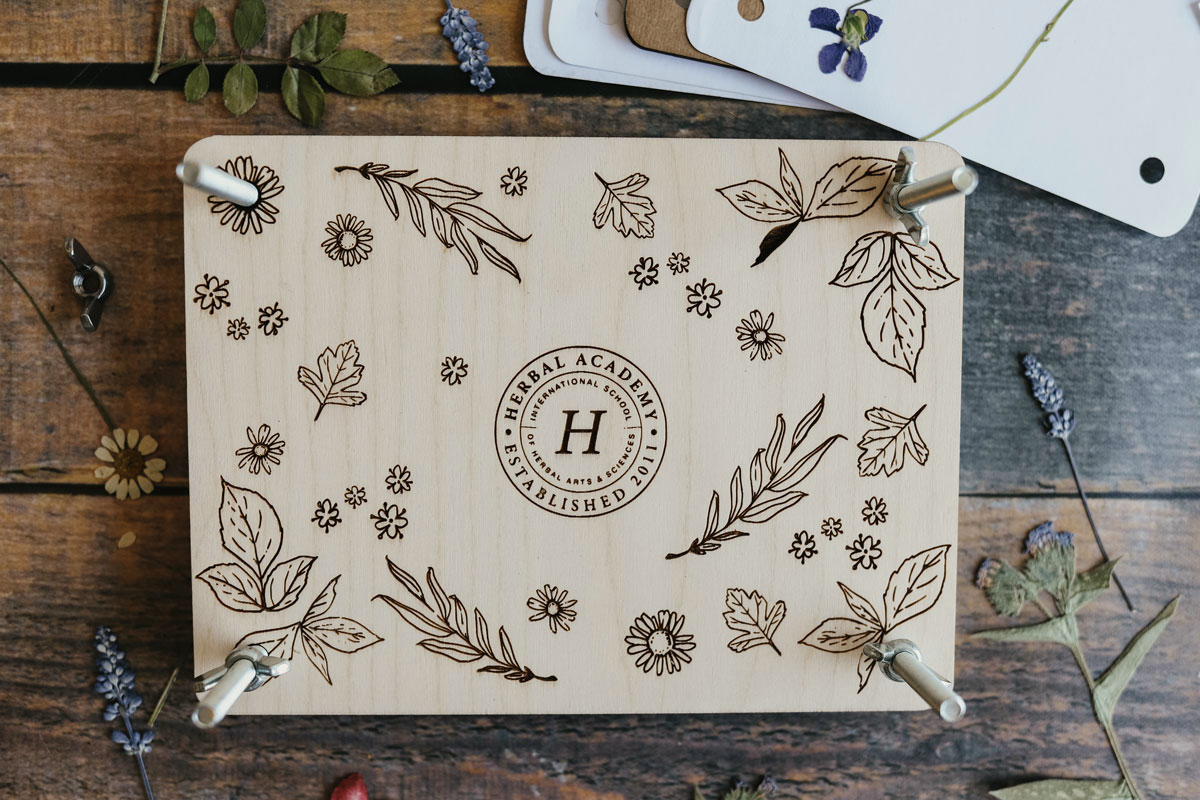 This beautiful handmade plant press is a handy tool for foragers and herbalists who wish to preserve some of their collections for botanical crafts or create a record in their materia medica. The plant press features a natural birch cover with engravings of herb sprigs and flowers—a delightful touch that's sure to be enjoyed! 
Herbal Blessings… 
In spending many of our days among the herbal community, we at the Herbal Academy are keenly aware of the common desire among herbalists to share the joy of herbs with those around us. Knowing you are touched by and wholly support this desire means the world to herbalists! To make your gift even more meaningful, be sure to include a heartfelt note. 
We hope you find enjoyment in selecting from this gift guide as you seek to show love and appreciation to your herb-loving friends. 
Happy gift giving!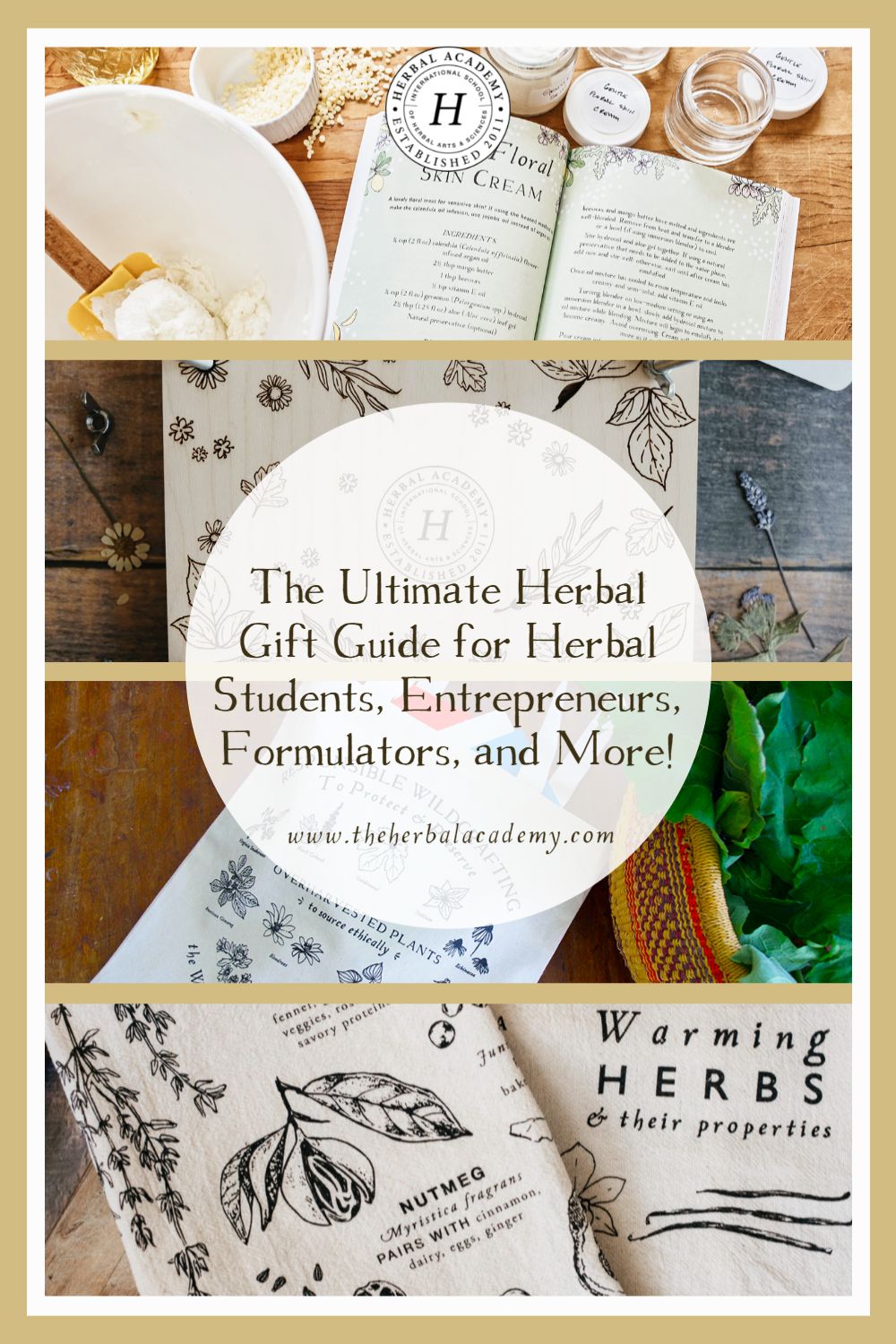 For more gift guides to inspire you this holiday season, see:
Ayurvedic Holiday Gift Guide
15 Heartwarming Herbal Gifts for Plant Lovers