Baby's First Herbal Bath Soak
A bath ritual not only provides cleansing and care for a baby, but also deep relaxation and well-being! Newborns especially feel very comfortable in warm water, as it reminds them of the protected time in the womb. In this article, you will find a recipe for a baby's very first herbal bath soak with natural soothing ingredients for the body and mind.
Nowadays many bath products are marketed for babies. However, on the ingredient list, you will find additives that are not always necessary, safe, or recommended for sensitive skin. A more rewarding alternative is homemade bath additions made from natural ingredients. Newborns get cleaned best with pure water, so soaps are not necessary either, but herbs and moisturizing, nourishing ingredients can be very beneficial. Furthermore, making an herbal bath soak is really simple and quick, and unnecessary waste and plastics are avoided.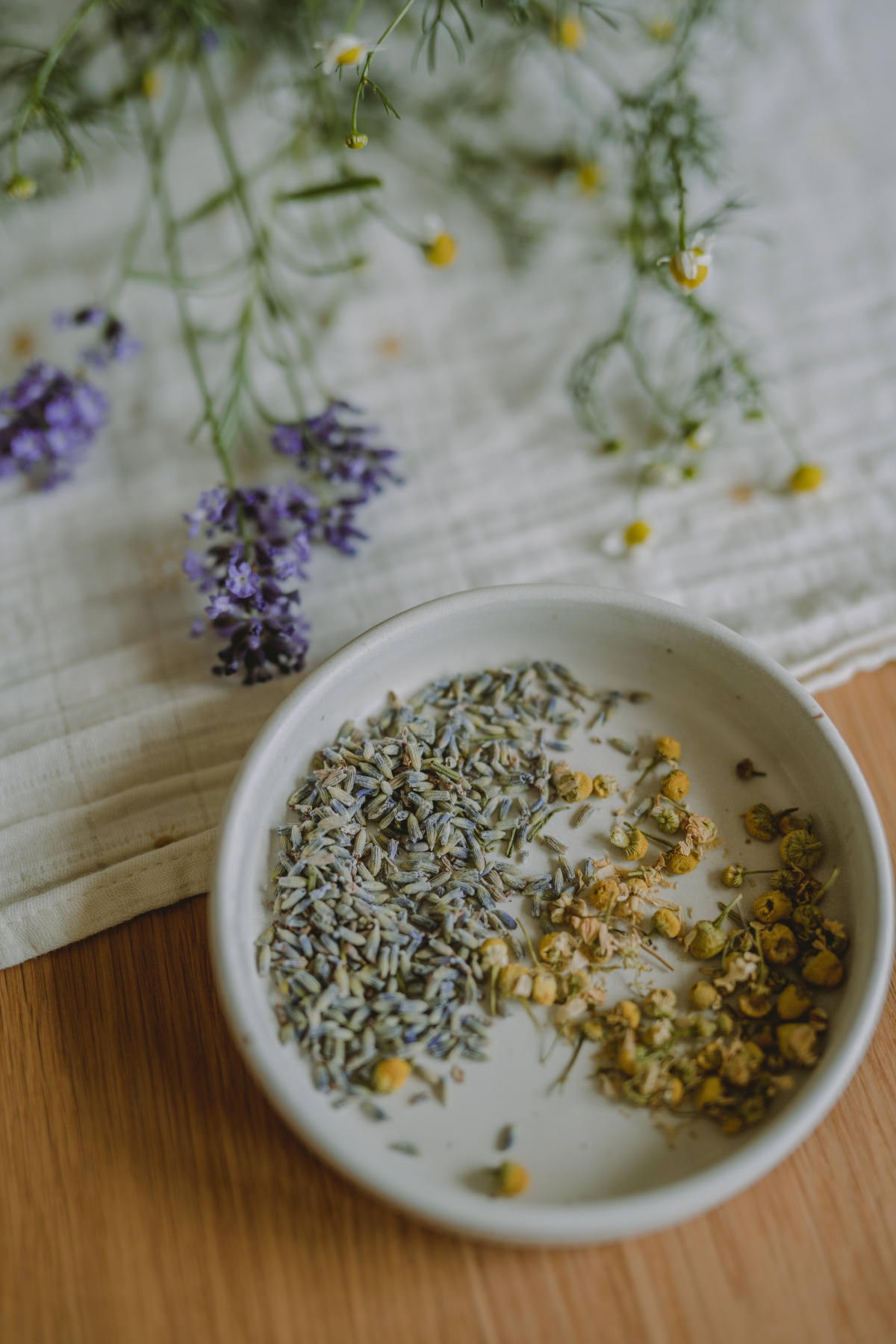 Ingredients for a Soothing Baby Bath Soak
Often, there are already plenty of quality ingredients for a lovely baby bath in your own pantry. Besides using breast milk, which is an excellent bath additive thanks to the abundance of nutrients and fats, the following simple ingredients can also holistically enrich the bath experience: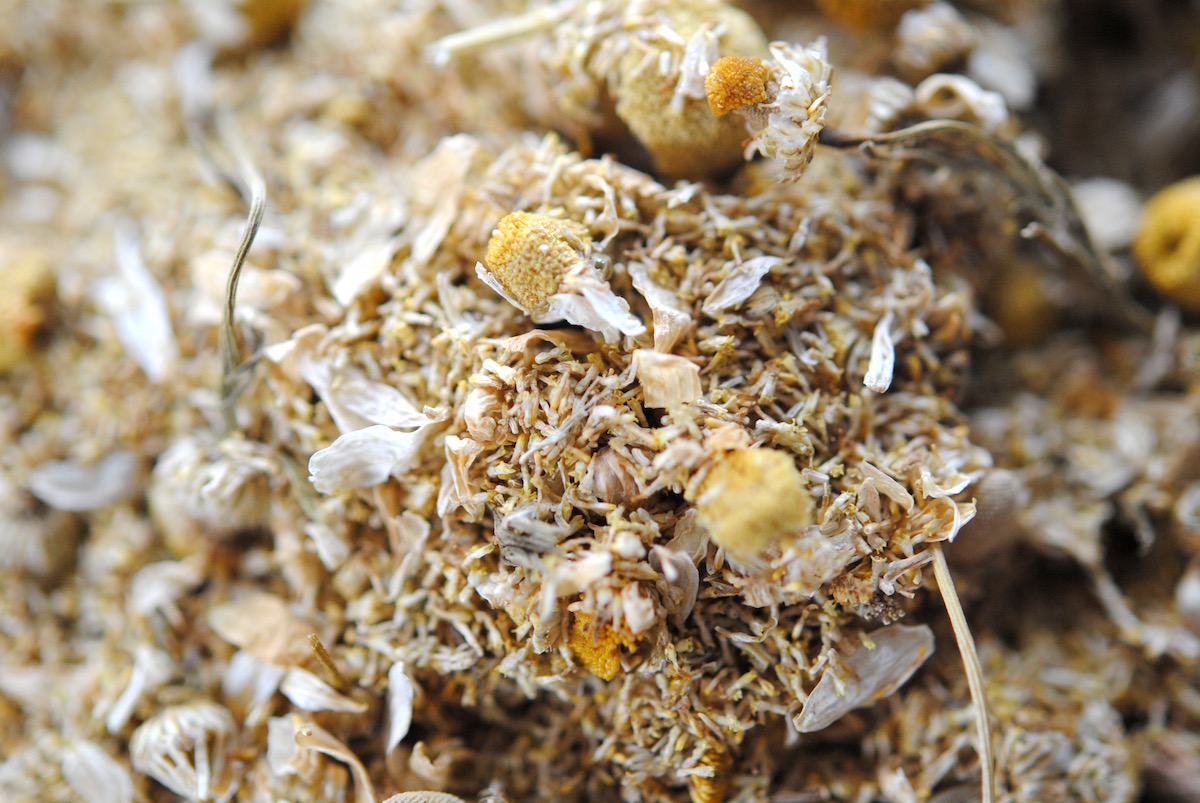 Chamomile (
Matricaria chamomilla)
As a vulnerary and anti-inflammatory herb, chamomile has a long history of use for skin irritations such as rashes, abrasions, insect bites, and poorly healing wounds (Chevallier, 2007). Baths with this herb are popular for babies because of their gentle and soothing effect. 
Furthermore, chamomile works as a nervine. The inhalation of some volatile oils (e.g., apigenin) is responsible for the gentle sedative effect, as these bind to benzodiazepine receptors in the central nervous system (Romm, 2017). 
Lavender (
Lavandula
spp.)
Similar to chamomile, lavender is great for the skin and nervous system. Its beneficial actions are also attributed primarily to its volatile oils, which are responsible for its lovely aroma. Lavender has long been used for cleansing purposes. The name originates from the Latin word lavare, "to wash," since the Romans used it to scent and enrich their baths. Simply inhaling the scent of lavender can calm and relax an anxious mind (Cavanagh & Wilkinson, 2002; McIntyre, 1996).
As both chamomile and lavender are slightly drying, they can be balanced with moisturizing additives like oats and milk.
Oats (
Avena sativa
)
Oats are a great choice for baby skincare. Naturally hydrating to the skin, they release milky emollients and include anti-inflammatory properties. Both of these can especially soothe dry and eczema-prone skin as well as cradle cap. The soothing mucilage, which is created from ground oats combined with water, provides a moistening, protective, occlusive layer that improves the barrier function of the skin and holds moisture (Kurtz & Wallo, 2007; Reynertson et al., 2015; Romm, 2003).
Salts
Salts, such as sea salt, contain a range of minerals and trace minerals that get absorbed through the skin and therefore are great to use as a bath soak. They are a perfect bath ingredient for irritated skin.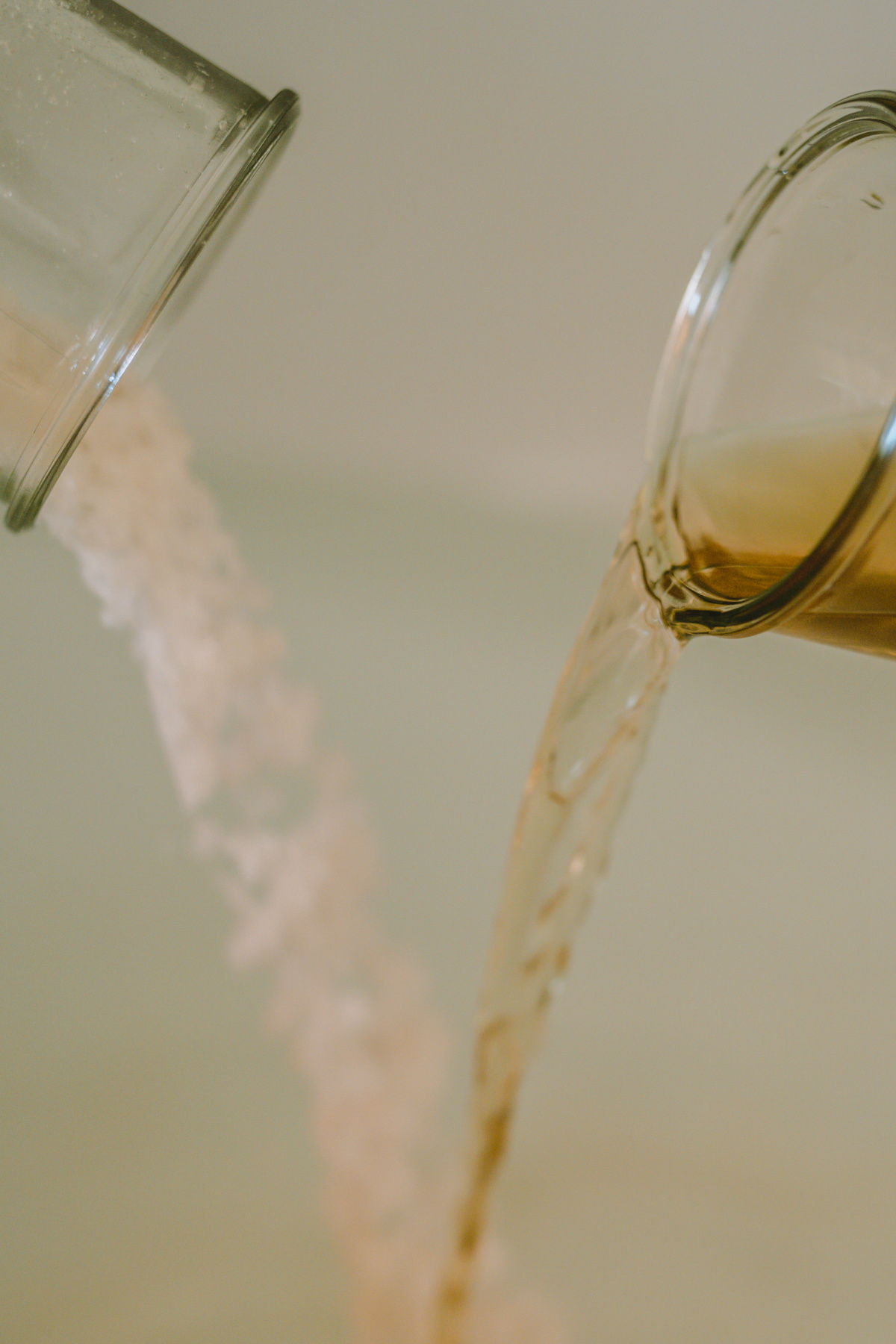 Herbal Baby Bath Soak
Herbal Baby Bath Soak
Chamomile, lavender, oats, and salt baths are wonderful to calm the skin and mind. This soothing bath recipe is not only a treat for your baby, but also for you! It can easily be prepared for a big bathtub as well, so the parent can enjoy this quality time with the baby together for even more relaxation.
Ingredients
2 tablespoons chamomile (Matricaria chamomilla) flower buds
1 tablespoon lavender (Lavandula spp.) flower buds
2 cups filtered water
4 tablespoons ground oats (Avena sativa)
4 tablespoons Dead Sea salt or sea salt
Optional: ¼ cup breast milk or whole milk
Directions
Prepare an infusion of the herbs: combine the chamomile and lavender flowers in a pot, pour hot water over the herbs and let them steep for about 10-15 minutes.
Cover the pot while steeping to avoid losing the volatile oils.
In the meantime, prepare the bathtub for your baby by adding the ground oats, salts, and milk if desired. 
Once the infusion is ready, strain the herbs and pour them into the bathtub.
Check that the water temperature is about 100°F before putting the baby in.
Gift Idea:
Alternatively, if you want to surprise new parents with a little gift, you can easily put the dry ingredients in a muslin bag which can be used to infuse the bath without needing to follow the single preparation steps.
Note: To make a large bath for parent and baby, combine ½ cup chamomile flowers, ¼ cup lavender flower buds, 1 liter filtered water, 1 cup ground oats, 1 cup Dead Sea salt, 2 cups Epsom salt, 1 cup breast milk or whole milk, and follow the directions above.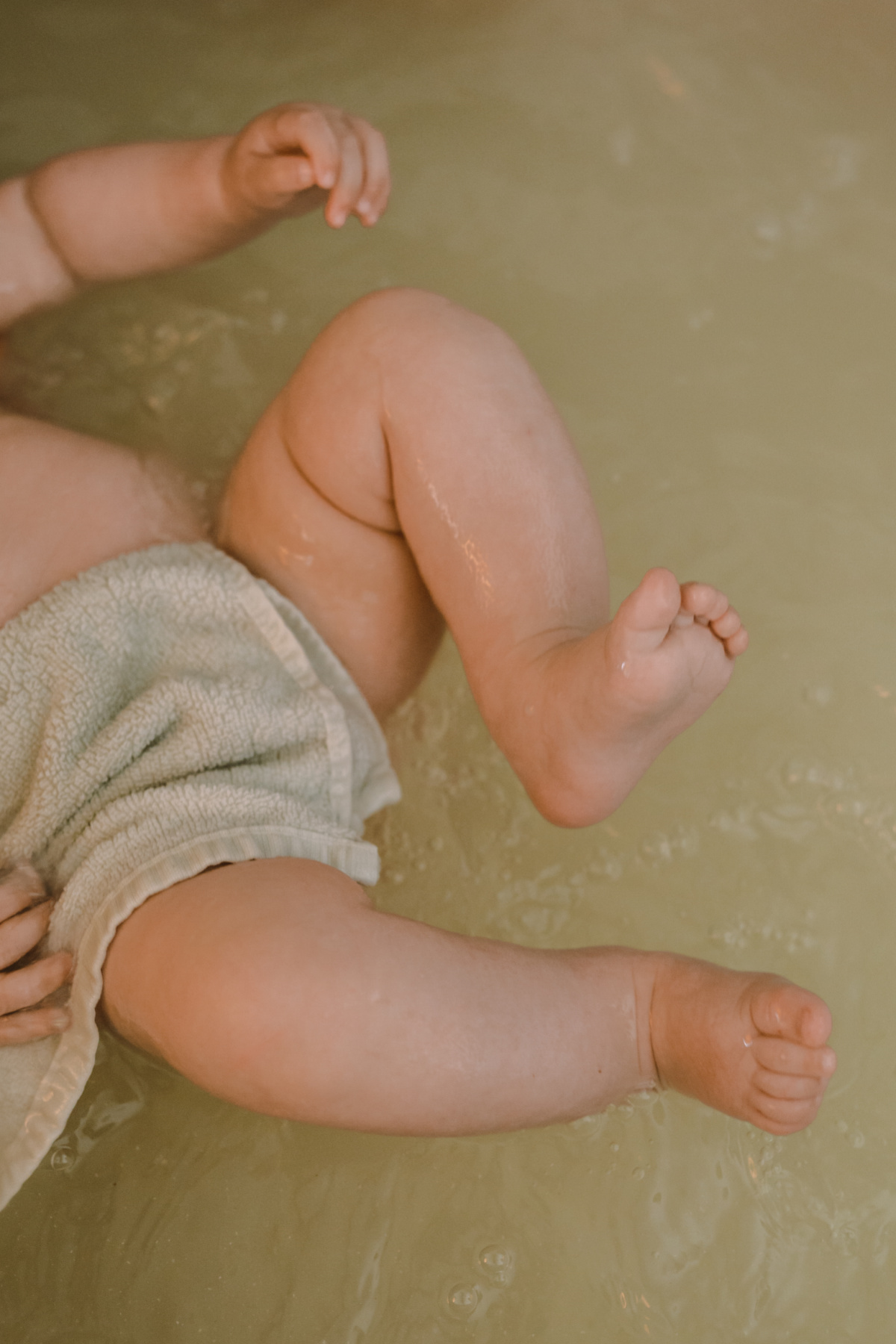 In Closing, 
Often, a gentle herbal bath soak in a bathtub at the end of the day can be the perfect way to deeply relax a baby. To up the relaxation even more, try an ayurvedic abhyanga oil massage before the bath! This can support the function of the immune system by stimulating the lymphatic and circulatory systems and supporting the digestive system. For even more digestive calm, the crampy belly baby oil is a perfect choice for this massage.
Simply start by warming up your massage oil in your hands and begin massaging the baby's head and face. Then continue on the neck, chest, arms, and hands down to the belly and back, then the hips and bottom, and finally to the legs and feet. Afterwards, place the baby into the herbal bath. This allows the pores of the skin to open and encourages the oil and bath ingredients to absorb fully into the skin.
For more on herbal baths, see:
Herbal Bath Tea With Chamomile and Rose
Bedtime Herbal Bath Recipe With Linden, Catnip, Lavender, and More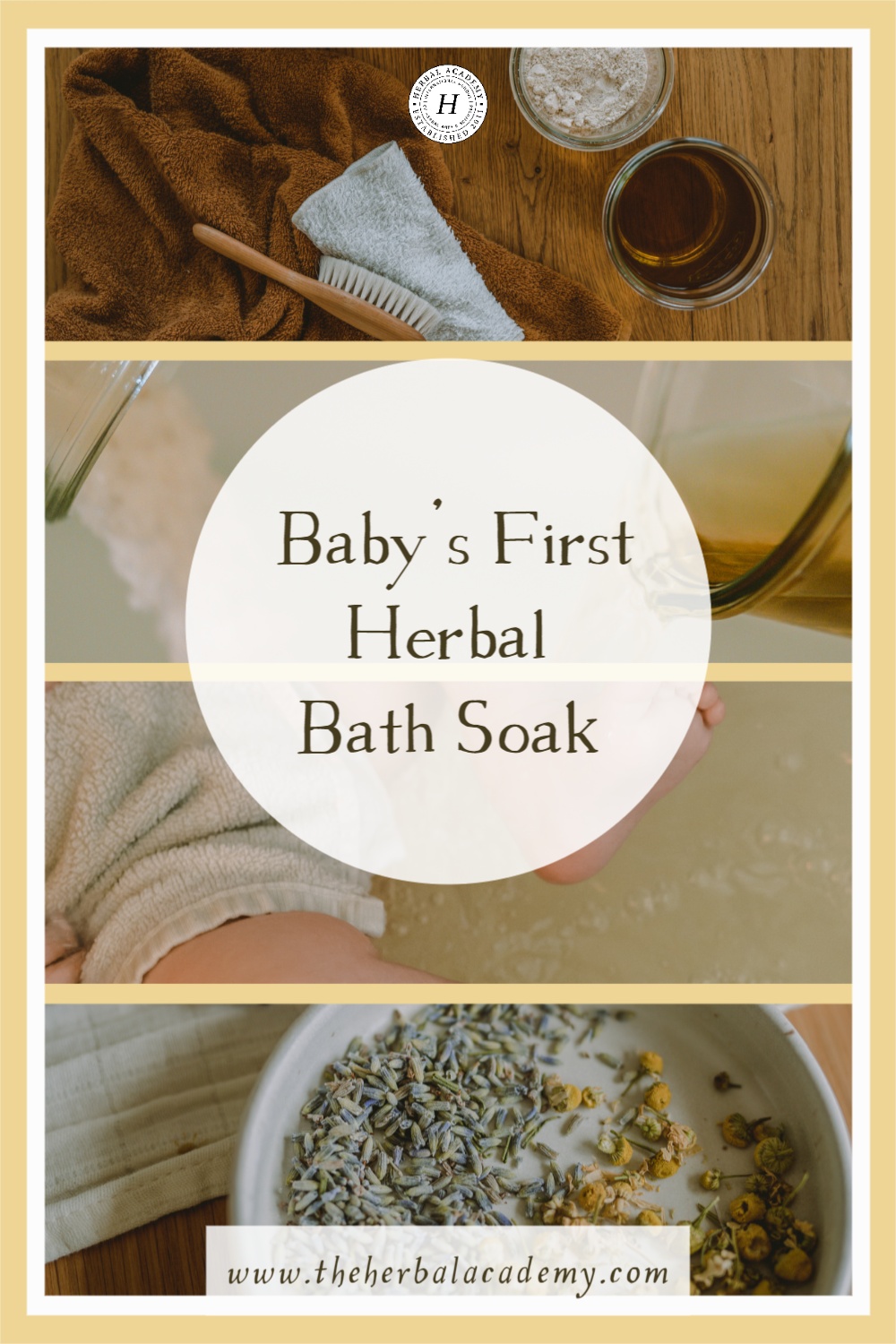 REFERENCES
Cavanagh, H.M.A., & Wilkinson, J.M. (2002). Biological activities of lavender essential oil. Phytotherapy Research, 16, 301–308.
Chevallier, A. (2007). Herbal remedies. DK Publishing.
Kurtz, E.S., & Wallo, W. (2007). Colloidal oatmeal: History, chemistry and clinical properties. ​Journal of Drugs in Dermatology, 6​(2),167-170.
Low Dog, T. (2016). Fortify your life. National Geographic Society.
McIntyre, A. (1996). Flower power. Henry Holt and Company, Inc.
Reynertson, K.A., Garay, M., Nebus, J., Chon, S., Kaur, S., Mahmood, K., … Southall, M.D. (2015). Anti-inflammatory activities of colloidal oatmeal (​Avena sativa​) contribute to the effectiveness of oats in treatment of itch associated with dry, irritated skin. Journal Of Drugs In Dermatology,​ ​14​(1), 43-48.
Romm, A. (2003). ​Naturally healthy babies and children. Celestial Arts.
Romm, A. (2017). Botanical medicine for women's health. Elsevier Health Sciences.