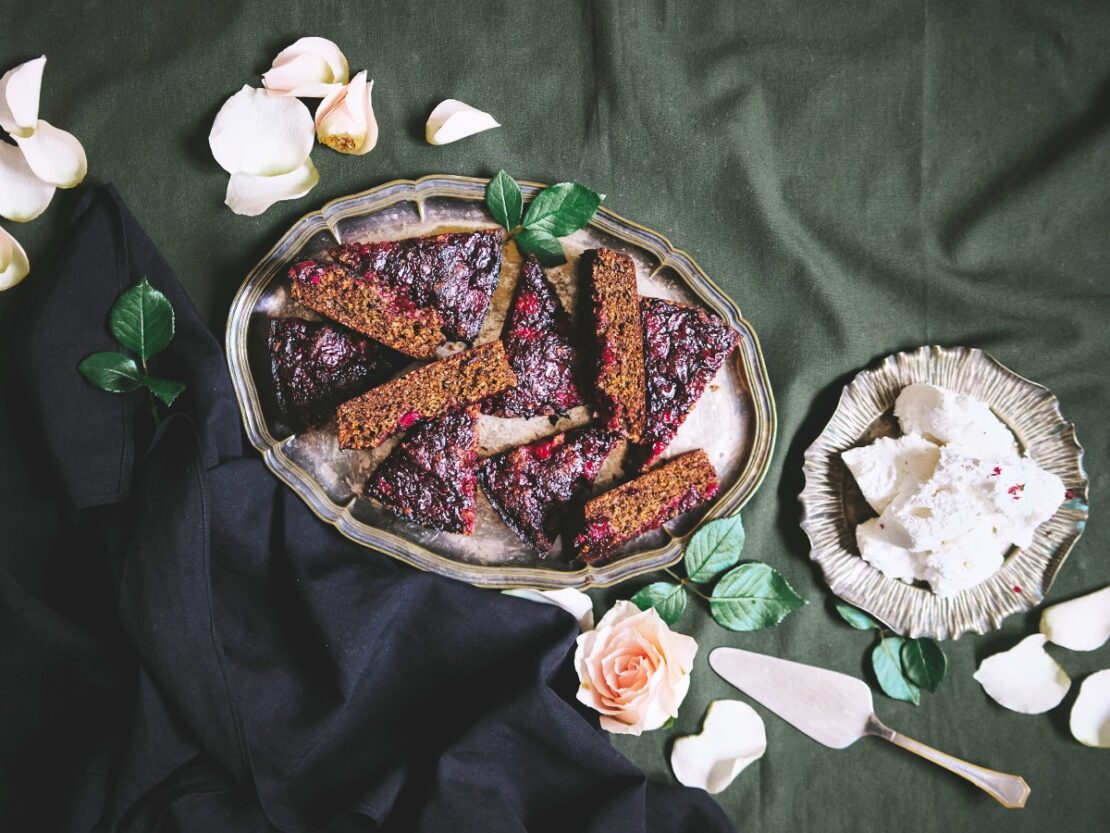 Heart-Supportive Cake With Hibiscus Berry Jam & Rose Ice Cream
We recently celebrated Herbalist Day as a wonderful moment to acknowledge how nurturing herbalism is in our everyday lives and in our deeper soul-searchings. Those who practice this sacred connection on a daily basis know well that it is a celebration that never quite ends. Which is why the Herbal Academy is sharing this celebratory sweet and nourishing recipe to support our gentle hearts — Heart-Supportive Cake with Hibiscus Berry Jam & Rose Ice Cream.
The heart is a place through which we experience love and joy, and from which the joy can travel throughout the body and bring light and healing to our whole being. Anahata, the heart chakra, is responsible for self-love, empathy towards ourselves and others, and our connection with the world. When Anahata is out of balance we may experience depression, loneliness, isolation, or fear of intimacy (Judith, 2004).

By supporting the heart, we support our inner longing to be one with the Earth, with each other, and are able to recognize that although healthy boundaries are important, on the deepest level, separation is an illusion. The joys of celebration come from the heart.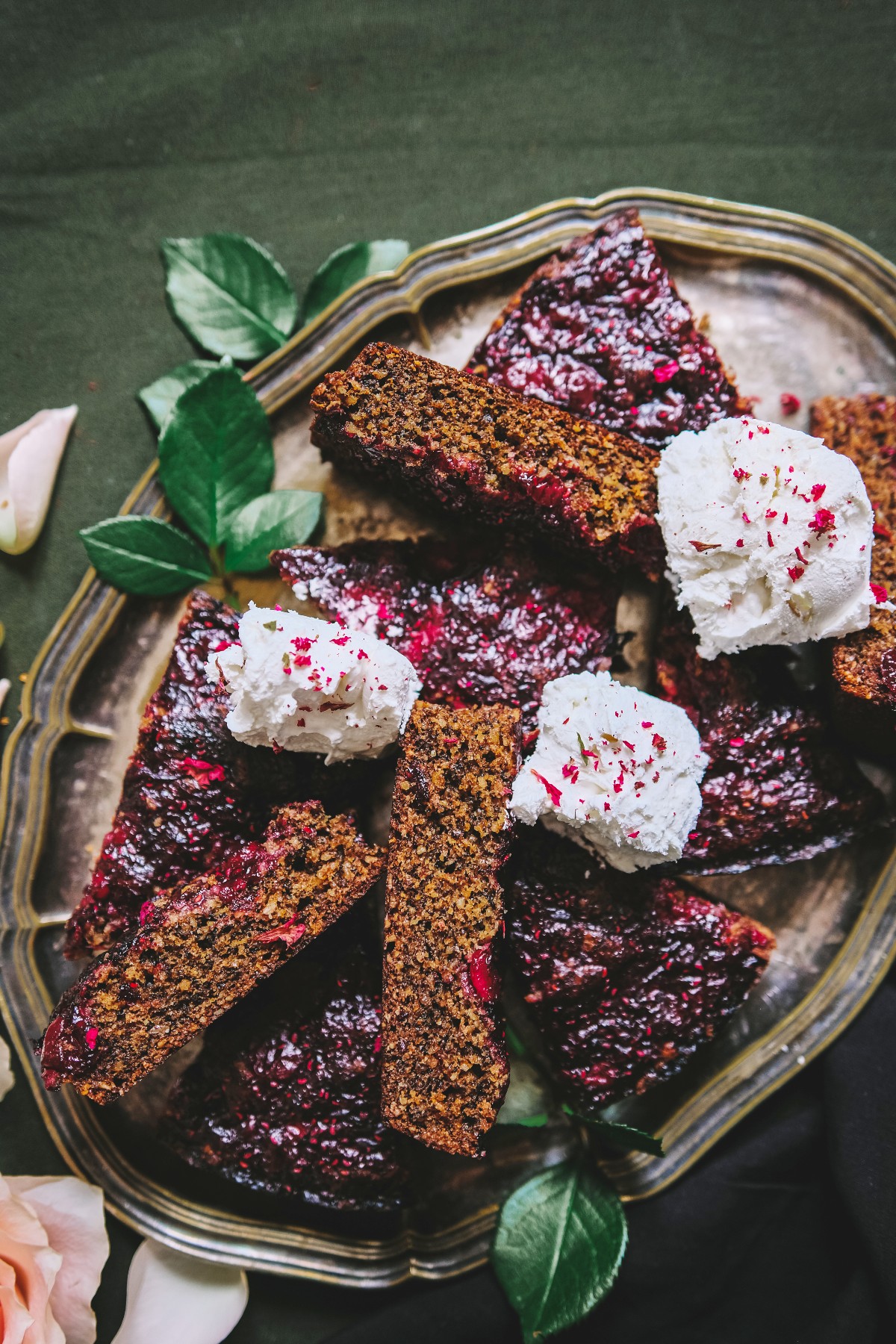 About the Recipe
There are two special herbs that make this recipe supportive for the heart and cardiovascular system as a whole.
Hibiscus
(
Hibiscus sabdariffa
)
Hibiscus (Hibiscus sabdariffa) flowers contain flavonoids, including anthocyanins. Hibiscus helps to lower high blood pressure. Both the calyces and flowers act to reduce cholesterol levels (Chevallier, 2021).
Rose
(
Rosa
spp.)
Rose petals contain volatile oils and flavonoids among other compounds. Rose petals and their preparations are relaxing nervines and have anti-inflammatory and cardiotonic properties. They also reduce cholesterol levels (Chevallier, 2021).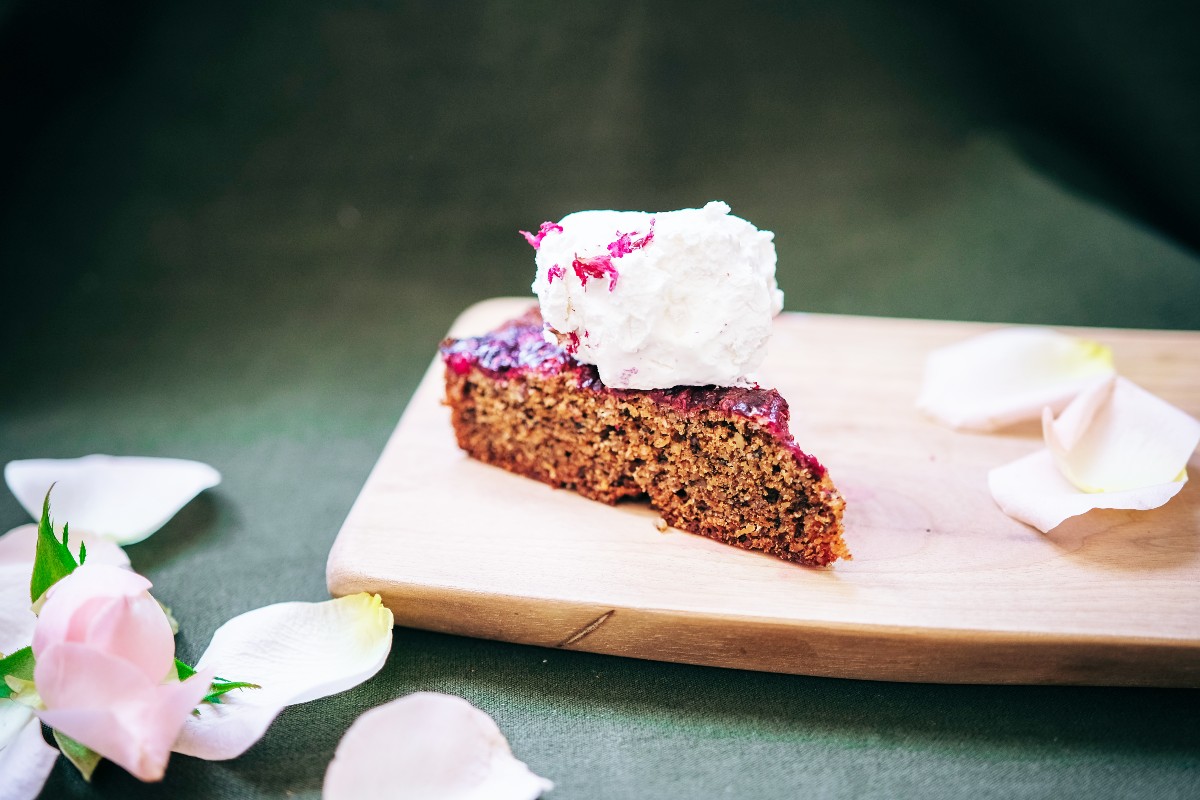 A Wholesome Nourishing Cake 
This recipe's essence is a wholesome nourishing cake with the walnut as its main ingredient, topped with a hibiscus and berry jam, baked, and then served with a rose ice cream. Since making an infusion, cooking a berry-jam, blending walnuts, mixing a cake batter, and baking already add up to a lot of minutes of your precious time, we decided to not over-complicate the recipe and ask you to choose your favorite plain ice cream made from high-quality ingredients and then simply mix it with an organic high-quality rose syrup. 
You can definitely make the syrup on your own if you can get your hands on fresh organic roses. Alternatively, you could also mix Gulkand into your ice cream—a sweet preserve of rose petals originating from India.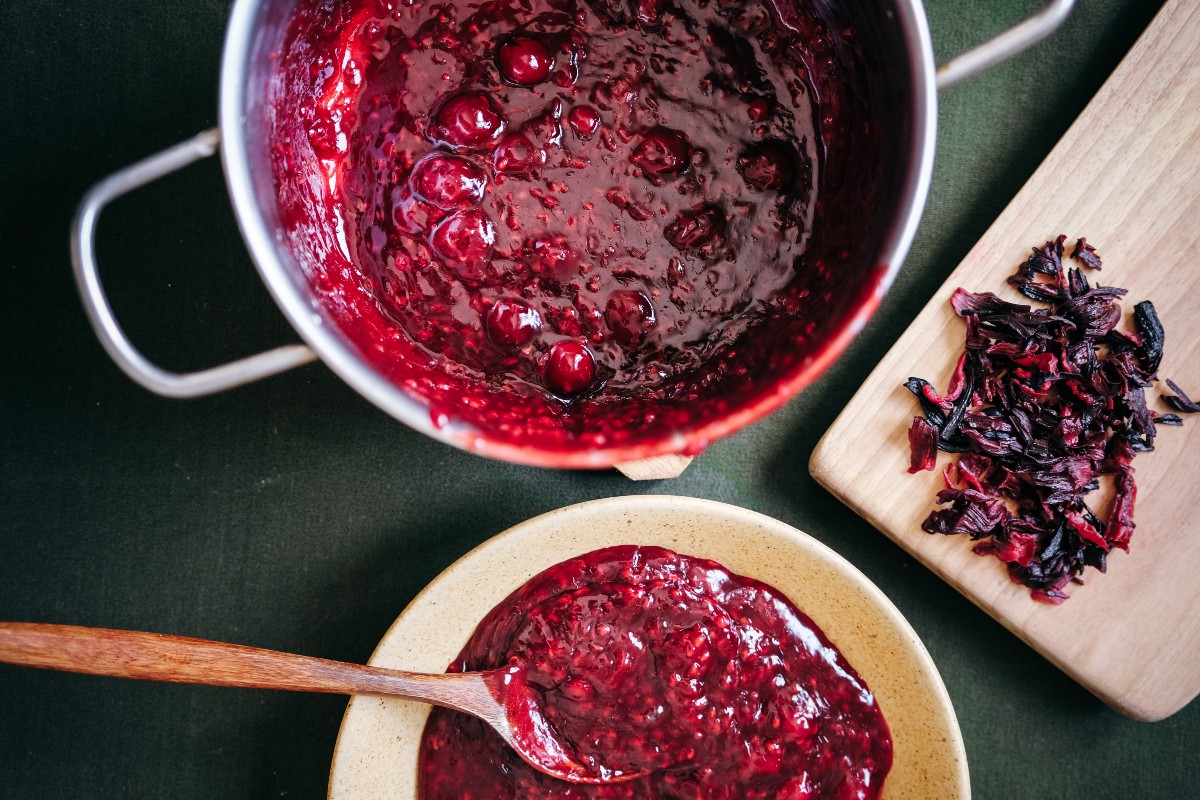 Hibiscus & Berry Jam Recipe
In this particular recipe the jam is baked with a cake, but note that it can be cooked separately and enjoyed on top of a toast, with yogurt, or elsewhere you like—as a great heart-supporting food on its own.
Ingredients
1/8-1/4 cup of dried hibiscus (Hibiscus sabdariffa) flowers 
1 cup water
1 1/2 cups of mixed frozen berries (such as cherry, raspberry, strawberry, red currant, etc.)
4 1/2 teaspoons of cornstarch mixed with 2 1/4 tablespoons of water
Directions
In a medium saucepan combine dried hibiscus flowers and water. Simmer for 15 minutes, remove from the heat, and put aside to infuse for a couple of hours or overnight. 
Strain the infusion through a sieve. You should have almost 1 cup.
In a medium saucepan, combine hibiscus infusion and mixed frozen berries. Bring to a boil and cook for 15 minutes. 
In a separate small bowl mix cornstarch with water. Right before adding it to the berry-mixture stir it well until there are no lumps, then splash it into a saucepan and immediately mix it into the berry-mixture. The cornstarch will thicken the jam. Remove from heat.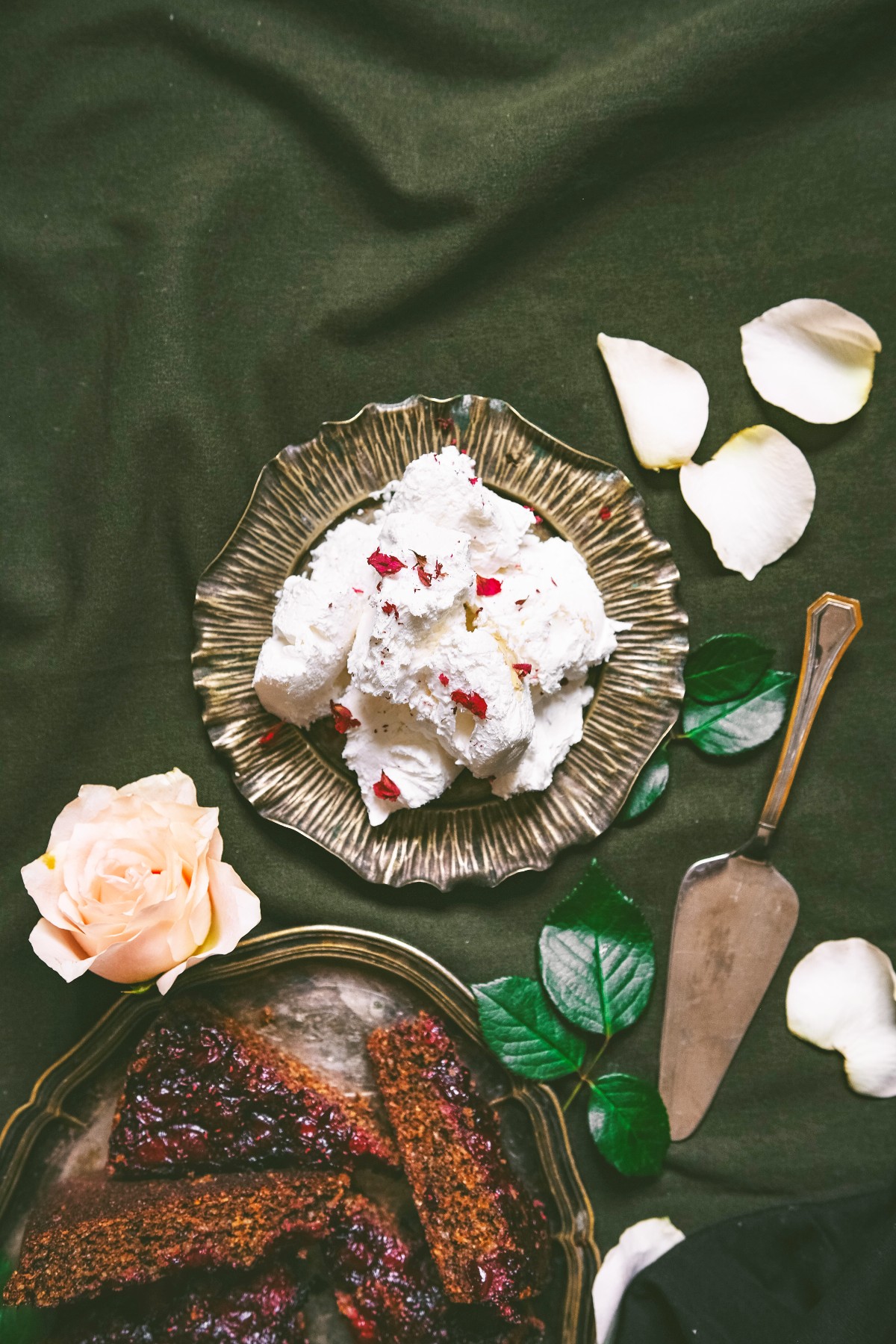 Heart-Supportive Cake with Hibiscus Berry Jam & Rose Ice Cream Recipe
The major component of this recipe is a healthy, nutritional cake with walnuts as its main ingredient. It is then baked, topped with hibiscus and berry jam, and served with rose ice cream.
Yield:
6-8 servings
Ingredients
For the cake:
200 grams finely ground walnuts (use high-speed blender or food processor)
100 grams whole wheat flour (or a GF oat flour if you want to make the cake gluten free)
1 teaspoon baking soda (not baking powder) 
1 teaspoon salt
3 medium eggs 
80 grams coconut oil (melted)
80 grams agave syrup 
1 tablespoon apple cider vinegar 
1 recipe of Hibiscus & Berry Jam (see above)
For the ice cream:
400 grams plain ice cream 
20 mL organic rose petal syrup OR 30 grams Gulkand (add more or less according to your unique taste preference)
1 teaspoon dried rose (Rosa spp.) petals, for sprinkling
Directions
Preheat the oven to 340F (~170C).
In a big bowl, mix together ground walnuts, flour, baking soda, and salt. 
In another medium bowl, beat the eggs, then add melted coconut oil, agave syrup, and vinegar. Mix well. 
Pour the wet mixture into the dry mixture. Mix well.
Grease your baking pan with some oil/butter and lay the bottom and the sides with parchment paper. Pour the cake batter into the baking pan, evening the surface. 
Spoon a layer of hibiscus berry jam on top of the cake. Don't mix the two—this would result in an unappealing gray-ish colored cake. 
Bake the cake at 340F (~170C) for 25-30 minutes. Check readiness with a thin wooden skewer; the cake is ready when a skewer inserted into the cake comes out dry.
Let the ice cream slightly melt, gently mix in the rose syrup or Gulkand, and freeze again. 
Serve warm cake slices topped with a scoop of rose ice cream and a little sprinkle of dried rose petals!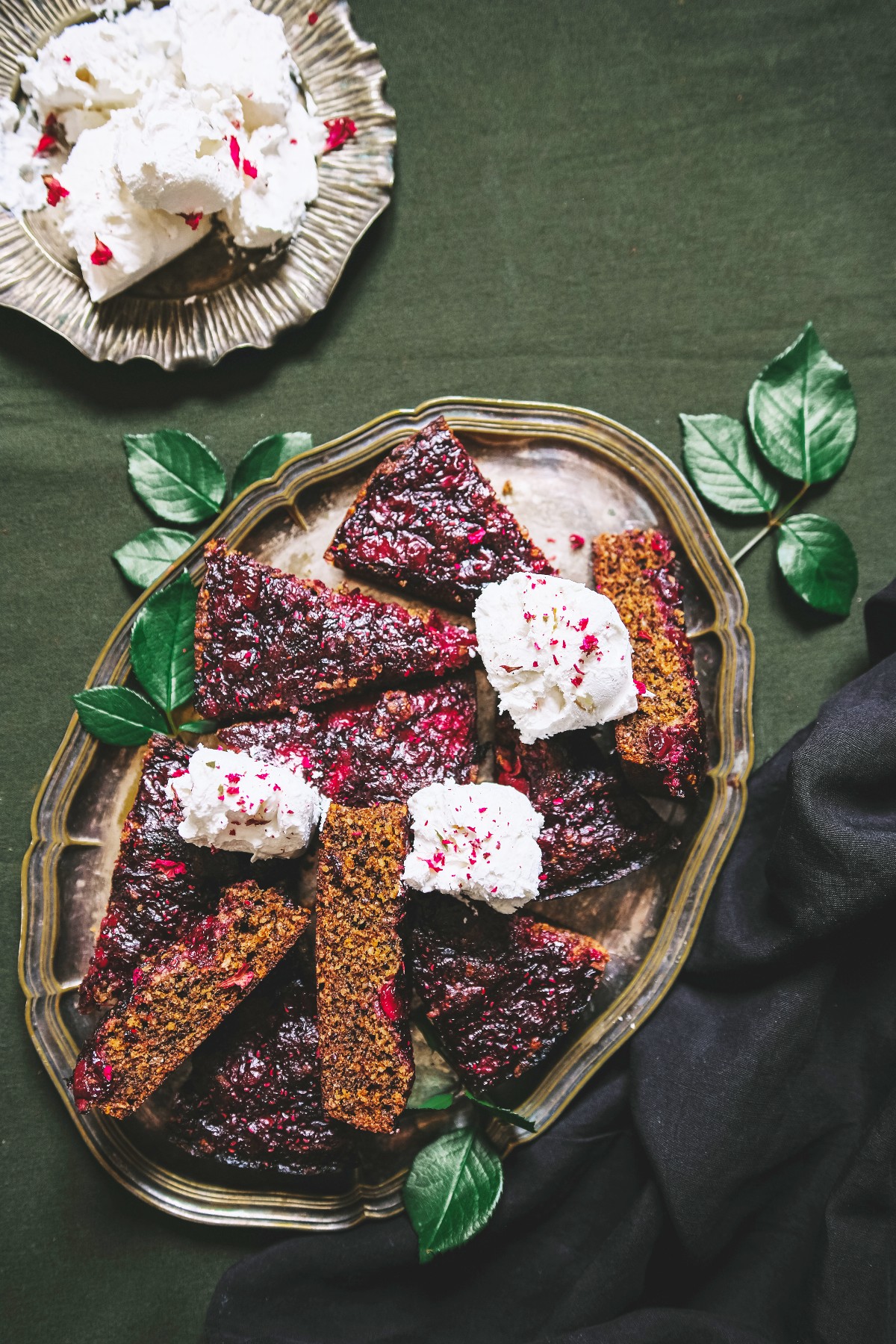 In Closing, 
We hope that you will try this recipe by creating it with your dear ones or offering it as a delicious gift from your heart to theirs. Maybe you will decide to dedicate this act of love all towards yourself, filling your own dear heart with self-caring before you give it elsewhere. Either way, celebrate yourself! Don't forget how far you've come and admire a divine inner calling to keep on discovering nature's offerings and shining your true light.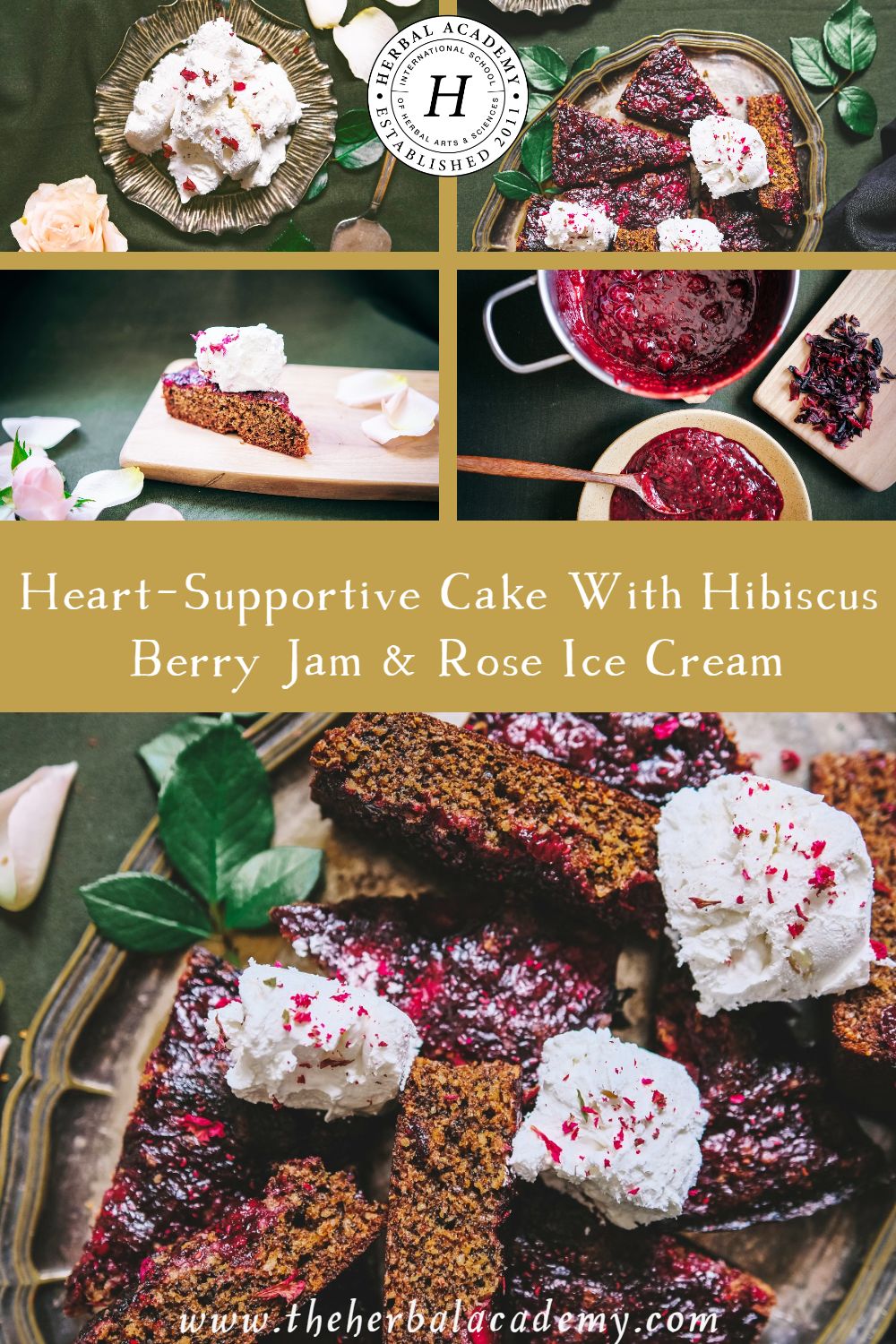 REFERENCES
Chevallier, A. (2021). Encyclopedia of herbal medicine: 550 herbs and remedies for common ailments. Dorling Kindersley.
Judith, A. (2004). Eastern body, western mind: Psychology and the chakra system as a path to the self. Clarkson Potter.