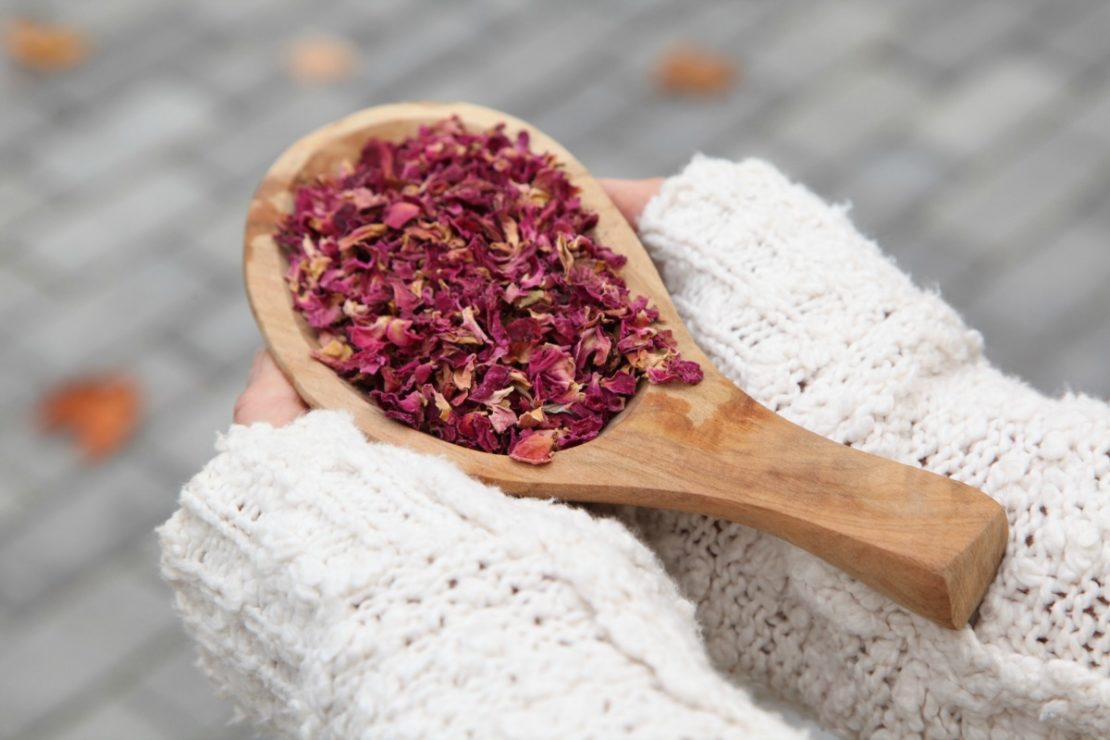 This article is reprinted with permission from the Nov/Dec '03 issue of The Essential Herbal magazine.
Herbal Gifts That Are Good For The Heart
Every year around this time, we find ourselves searching for that special homemade herbal gift to give our friends and relatives.
I've been told by all who receive my gifts that they love homemade gifts the best. Sometimes, I wonder if it's true.
I believe it is as the love and care that goes into preparing these crafts is sure to be heartfelt by the recipient.
Herbal Gifts For The Soul
In this day and age, it's hard to find the time for ourselves. Pampering and relaxing is becoming a lost art. I find it hard to take my own advice sometimes; however, I make every attempt to find time for me. And so, I've been inspired to create delightful Herbal Facial and Bath Relaxation Kits for Christmas gifts.
Hopefully you've worked hard to dry those herbs that grew so lushly this year. They will come in handy when making your gift packages.
Let's go over a few things that may be of interest first.
It's Important To Care For Your Skin
The skin is the efficient body covering that protects our inner parts and guards their processes, gauges our temperature needs, and reflect internal disorders. It is easy to care for and responsive to good treatment.
Taking care of our face and skin can be relaxing and rewarding, and it can be done with natural ingredients and no [hazardous] chemicals.
Here are some wonderful recipes to get started with a beauty regimen and will be great packaged into a holiday basket or box for gift giving.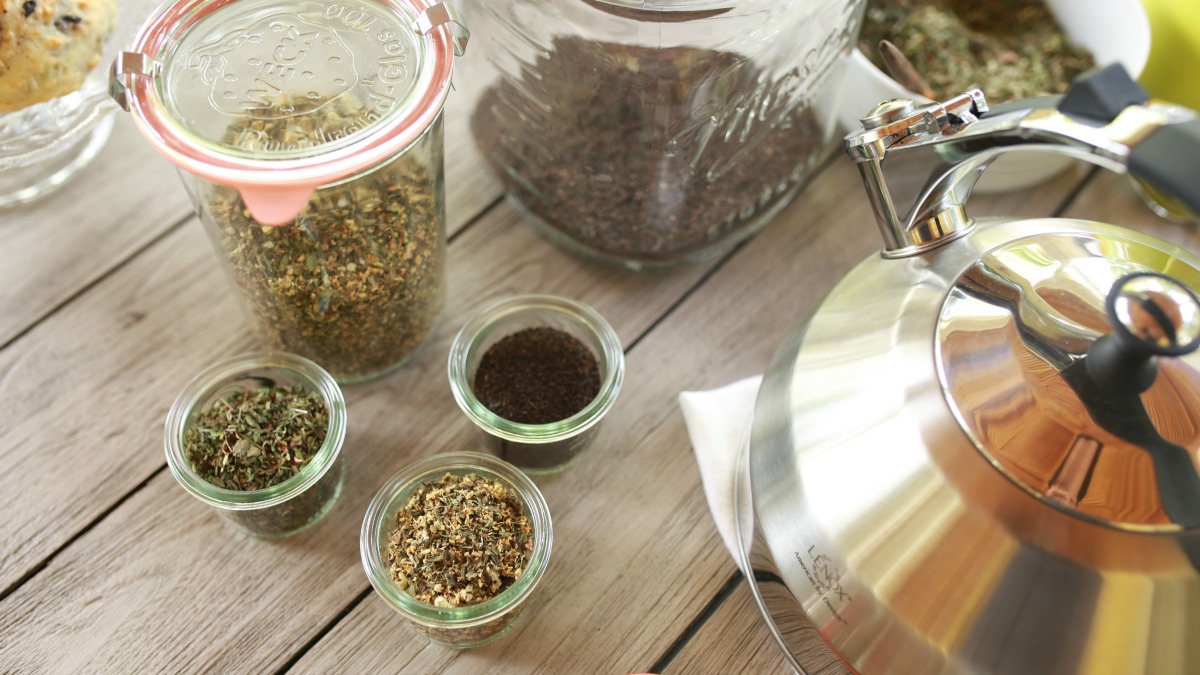 Herbal Facial and Bath Relaxation Kits As Herbal Gifts for Christmas
One of the main reasons for preparing your own beauty treatments is to have fresh, unpreserved ingredients. Remember to make a note with the directions that cosmetics made from these items are just as perishable as though they had been prepared for a meal. Make small quantities at a time and it is best to keep any leftovers in the refrigerator.
Cleansing Mask
Ingredients
4 tablespoons rolled oats
2 teaspoons dried chamomile
2 teaspoons dried parsley
Directions
Blend the dried ingredients to a fine powder using a blender or coffee grinder. Package these in a pretty glass or plastic container and add the following directions*.
*Measure 1 tablespoon of the dried ingredients into a small glass bowl. Add 1 tablespoon honey and 1-2 tablespoons very hot water and mix well. Let stand 5 minutes. If mixture seems to thick add a small amount of hot water. Apply to face using gently circular motions and leave on for 2-5 minutes. Rinse face with warm water. Store unused cleanser in refrigerator and use within 5 days. (Chamomile and parsley are antibacterial and honey & oatmeal are softening.)
An extra touch would be adding a nice jar of honey to the basket.
Follow the cleansing mask with a nice steam facial.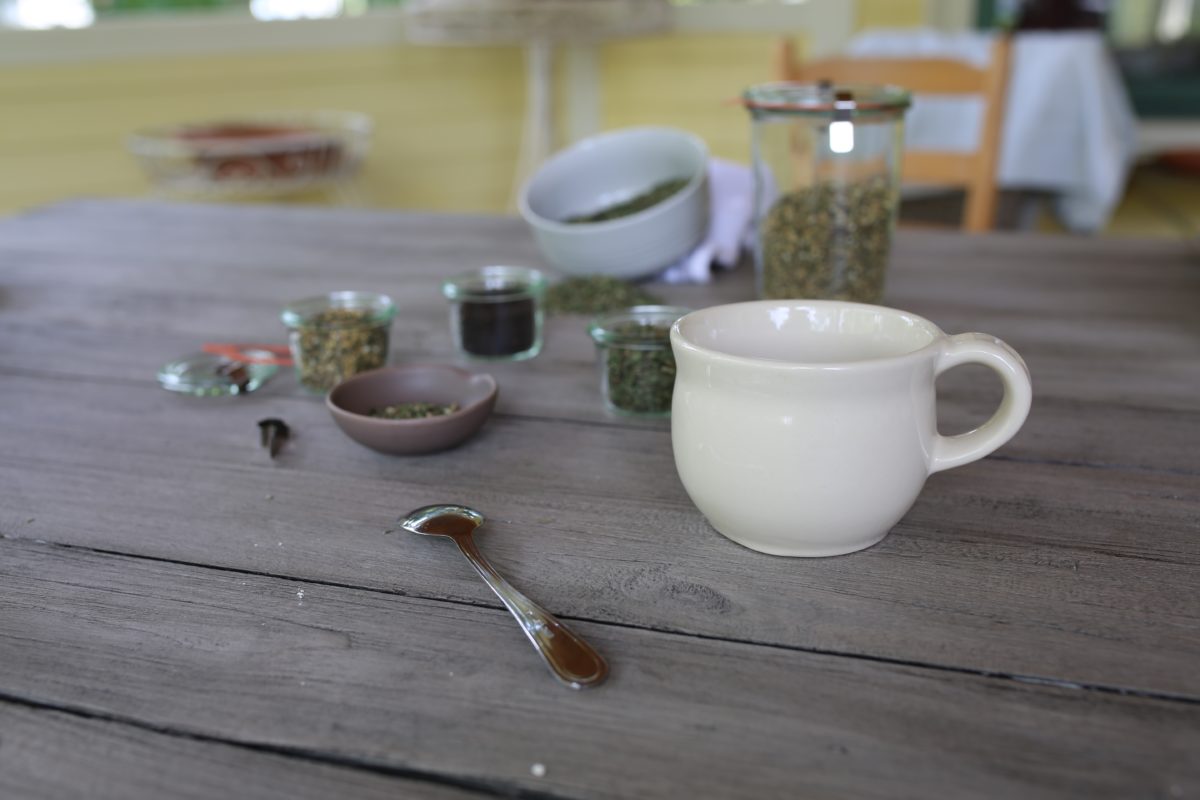 Herbal Steam Facial
Ingredients
2 tablespoons dried chamomile
2 tablespoons dried comfrey
2 tablespoons rose petals
2 tablespoons dried peppermint
2 tablespoons dried rose geranium
Directions
Mix above ingredients all together and package into a nice plastic bag or pretty container and add the following directions*.
*Measure 2 tablespoons of the herbs into a small saucepan and simmer in 2 cups of water for 5 minutes. Pour into a heatproof bowl. Bend over the bowl with a towel draped over your head and allow steam to touch your face and neck for up to 10 minutes. Pat dry.
Follow the steam facial with this toner.
Lavender Toner
Ingredients
4 ounces of witch hazel
15 drops lavender (Lavandula angustifolia) essential oil
5 drops chamomile (Anthemis nobilis) essential oil
Directions
*Apply to clean face with a cotton ball. This helps your skin to return to its normal pH level.
Finally end your facial with moisturizer.
Lavender Geranium Moisturizer
Ingredients
4 ounces of unscented lotion base
10 drops lavender (Lavandula angustifolia) essential oil
5 drops geranium (Pelargonium graveolens) essential oil
Directions
Mix all together and pour into a plastic container with a flip-top spout or wide mouth small jar.

Add a nice label and of course, you can use other essential oils.
*Please make sure you are familiar with the special qualities of the EO before deciding to use them.
*Using purchased unscented lotion base just gives the lotion a longer shelf life.
*Apply to cleansed and toned face nightly.
Here are two recipes for bath items to add to your basket. If you want to make your gift a little more special add a votive candle and perhaps a soothing CD or cassette tape.
Soothing Bath Salts
Ingredients
2 cups Epsom salts
20-30 drops of your favorite essential oil. Lavender (Lavandula angustifolia) or Grapefruit (Citrus paradisi) are good bath choices.
*The Herbal Academy recommends diluting these essential oils in a small amount of carrier oil before incorporating into your salts.
Directions
Place salts into a canning jar and drop in the essential oil. Put on lid and shake, shake, shake it up well. This can be packaged right in the jar itself with a pretty ribbon or piece of raffia tied around the lid. Add a nice label u these instructions*.sing
*After filling up the tub with comfortably warm water, add ½ to 1 cup of the bath salts. Stir around with your feet then sit in, relax and enjoy!
Herbal Bath Tea
Ingredients
½ cup dried lavender flowers
½ cup dried lemon balm
½ cup dried chamomile flowers
½ cup dried rose petals
Directions
Mix all ingredients together and package into small muslin sacks (3" x 3"). Tie a ribbon around the stack of 4 and give with the following directions*.
*Bring about 2 quarts of water to a boil in a saucepan and add the pouch of herb tea. Let steep for 30 minutes. Draw a nice warm bath. Just before stepping in, pour in bath "tea" along with the pouch of herbs. Relax as long as you want in this wonderful bath. Rub the pouch of herbs on your skin for added pleasure.
There you have it. The fun part is putting it all together in a basket. Add some pretty dried flowers, herbs or pinecone and spices. It will be sure to please. Don't forget to make at least one extra basket of goodies for yourself, and take time to relax! 
More information on herbal body care can be found in our Introductory course. This course teaches about making herbal body care products and other herbal remedies that are great for gift giving!