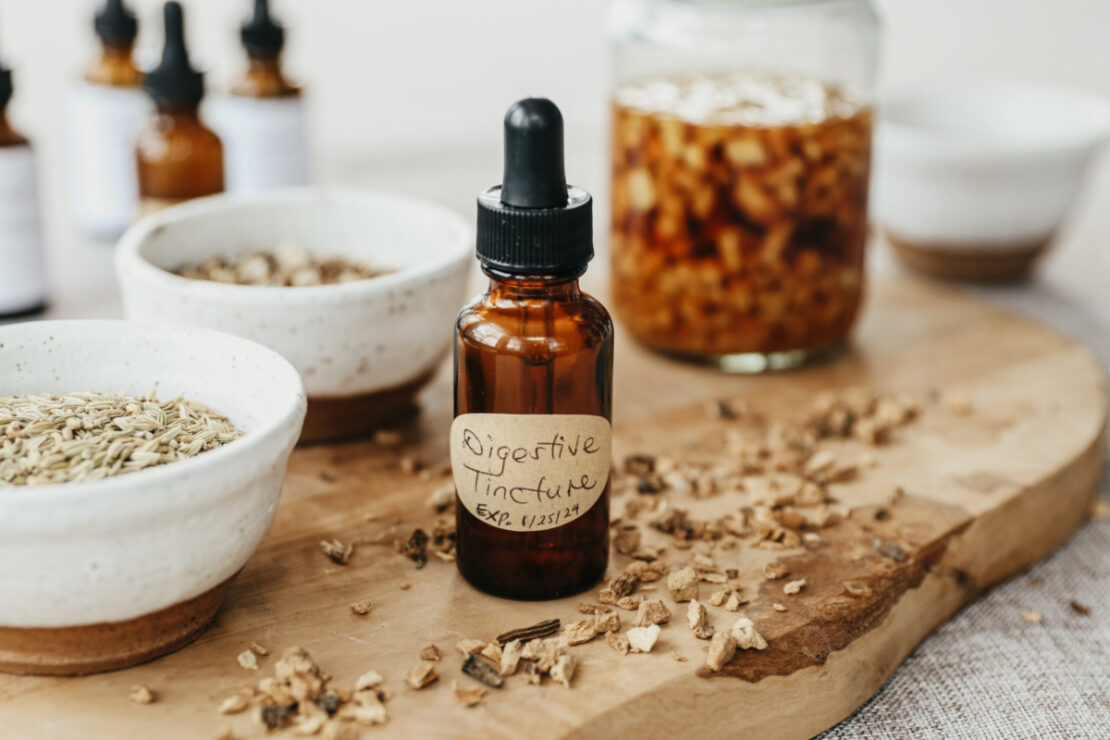 Orange Peel Tincture Blend for Digestive Support
As a student going through Herbal Academy's Introductory Herbal Course, I was inspired by a lesson in which herbalist Guido Masé shared how to make digestive bitters. His enthusiasm was contagious, and I felt excited to create my own orange peel tincture blend. I am constantly amazed at the power of herbs, and I find it incredibly fascinating that the taste of these bitter herbs can impact our digestion so much! 
You can watch a video of me bringing this tincture recipe to life in our free Tincture-Making Series, which airs from February 16th – 24th, 2023. This recipe video will be live for 24 hours on February 24 so make sure you're signed up for Herbal Academy newsletters in advance and following along in real time as the series airs!

Watch the series here.
Each of the ingredients in this blend is included for a specific reason:
Orange peels (Citrus x sinensis):  Much of the magic of orange peels comes from their taste. When you taste something bitter, it sends a signal to your body to kick start the digestive process. The bitter flavor triggers the release of saliva and signals your stomach, liver, and other digestive organs to ready the body for food.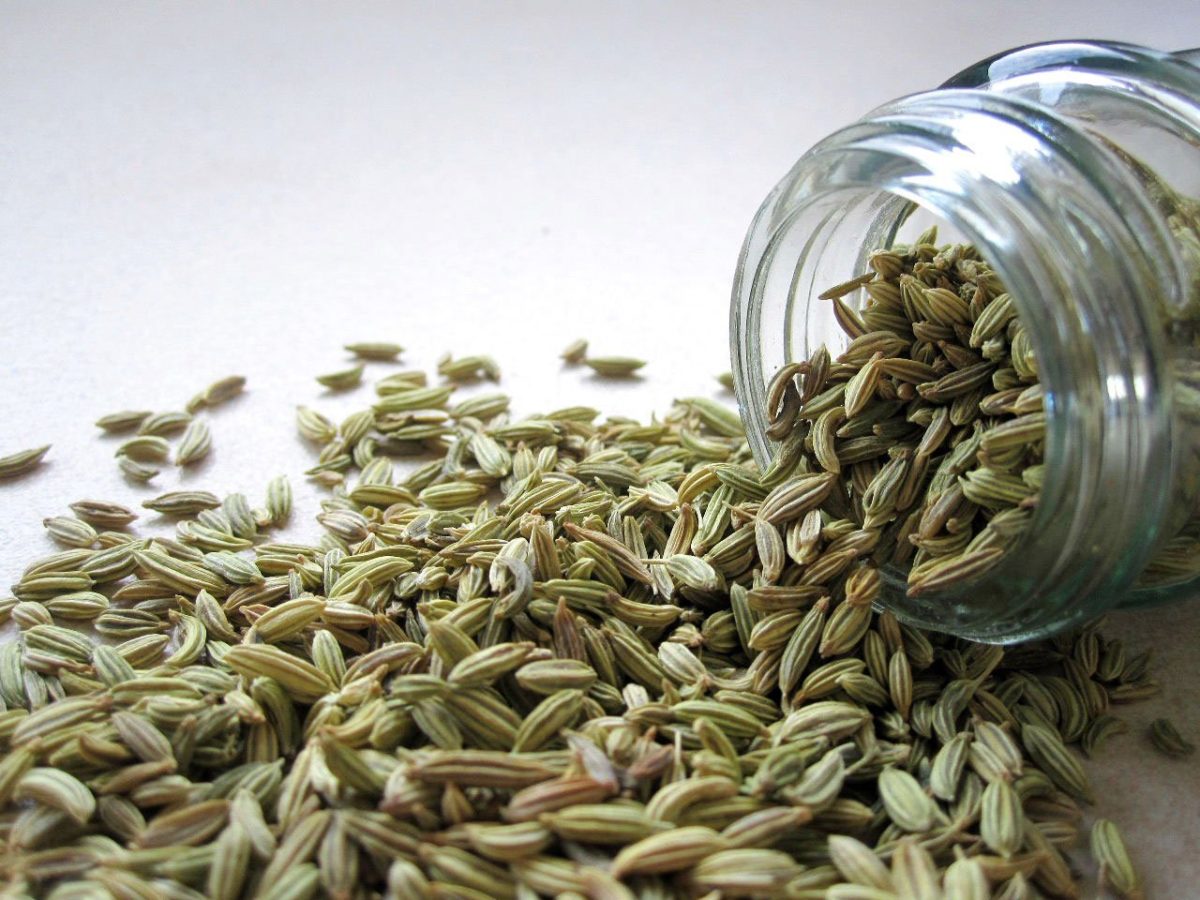 Fennel seeds (Foeniculum vulgare): Fennel seed is a well-known digestive aid due to its carminative and antispasmodic properties. Fennel helps move gas down and out of the digestive system, improves digestive function, and also helps stimulate the appetite. Fennel also helps neutralize excess acids in the stomach. 
Gentian root (Gentiana lutea) – Gentian is a decidedly bitter herb! Gentian has a long history of being used in Chinese medicine to support the liver and gallbladder. Herbalists often turn to gentian to ease heartburn and nausea and to help the body better digest fats.

Gentian is on the United Plant Savers "At-Risk" list, so look for sustainably cultivated varieties. If you can't find any sustainable options, then you can substitute mugwort for gentian in this recipe.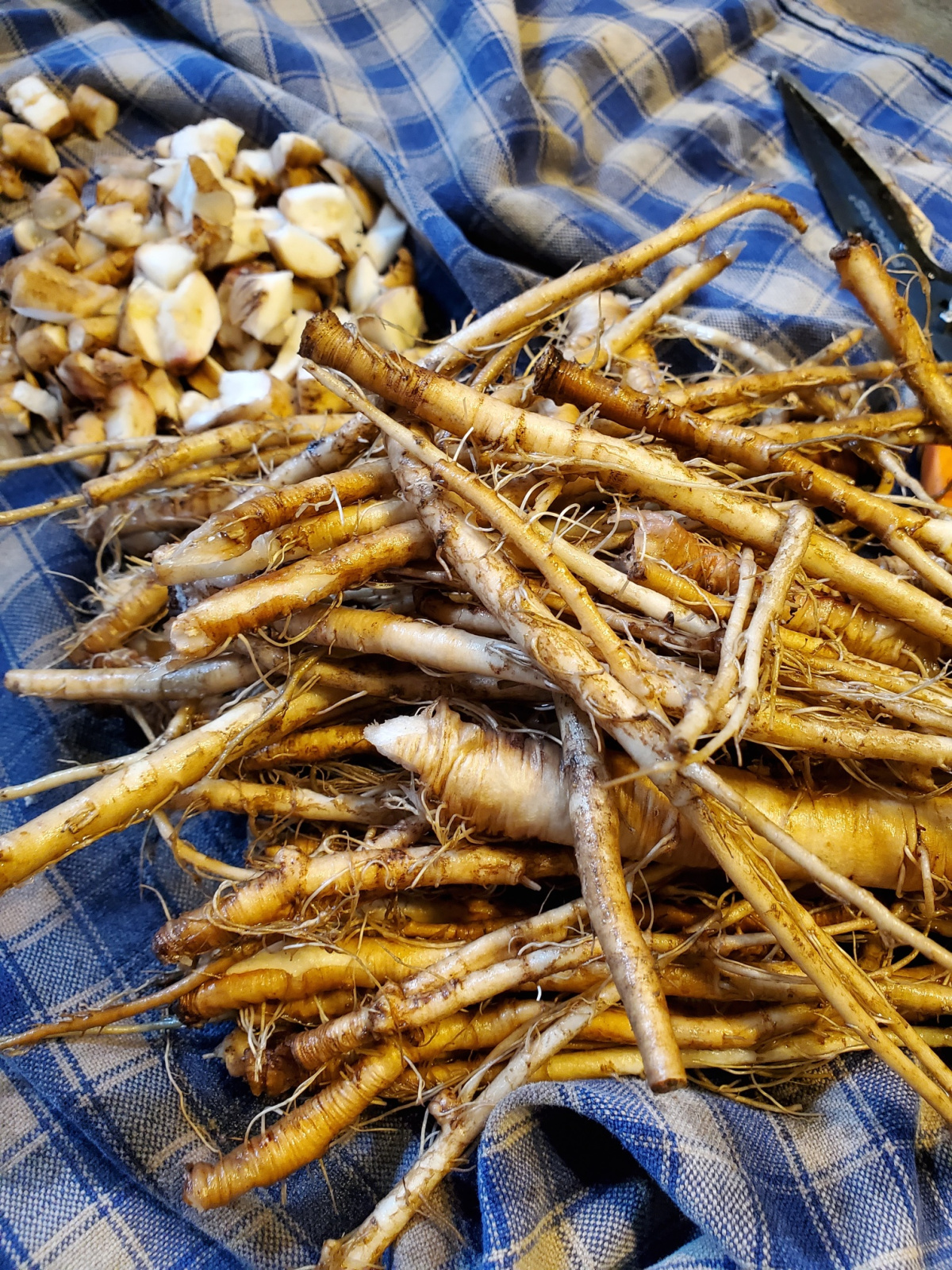 Dandelion root (Taraxacum officinale): Dandelion is a premier bitter herb that helps stimulate the appetite and activate digestion. As a choleretic, dandelion root increases the amount of bile produced by the liver and gallbladder, which aids in the digestion of fats.

You can purchase dried dandelion root online, or you may be able to forage your own right outside your door!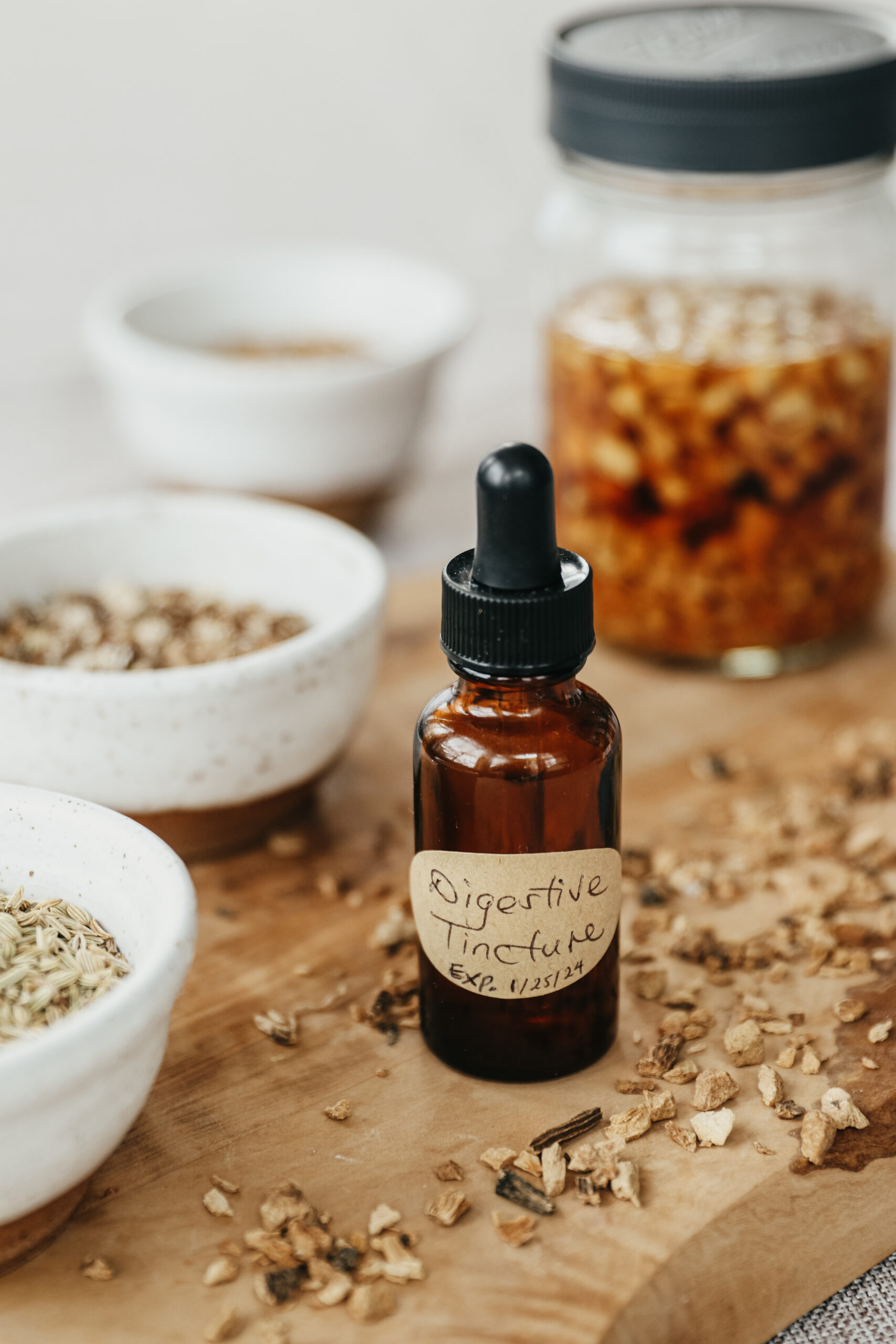 Orange Peel Digestive Tincture Blend
At the Herbal Academy, we recommend tincturing each herb individually (here's how), and then combining the finished tinctures to make a well-formulated blend. Tincturing the herbs individually is helpful for a few reasons: First of all, different herbs may require different menstruums and tincturing processes—especially if you have some herbs that are fresh and others that are dried. Secondly, tinctures made with individual herbs, called "simples," will be easier for you to blend into other tincture recipes that you may like to try.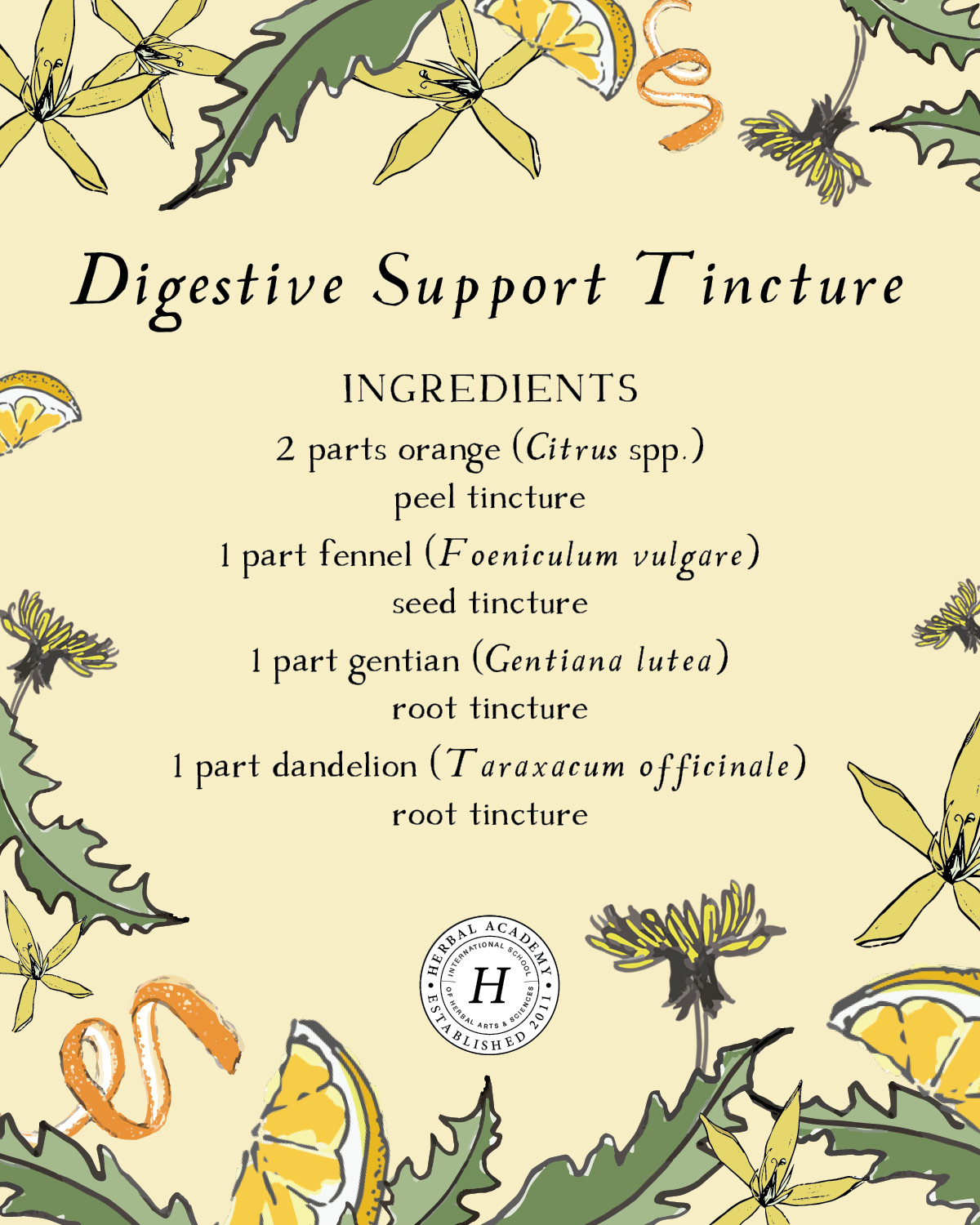 Orange Peel Digestive Tincture Blend
This digestive tincture blend is just the thing to take before meals to aid in digestion and make a healthier you!
Ingredients
2 parts orange (Citrus spp.) peel tincture
1 part fennel (Foeniculum vulgare) seed tincture
1 part gentian (Gentiana lutea) root tincture
1 part dandelion (Taraxacum officinale) root tincture 
Directions
Choose a measurement volume to represent each "part."
Measure the appropriate amount of each tincture, combining together in a clean, dry glass jar or measuring cup.
Transfer to a dark-colored glass container and label.
Store in a cool, dark place.
Dosage: Take 3-5 drops directly on the tongue before meals to aid in stimulating digestion.
Safety: Do not take if pregnant. Individuals with gallstones or gastric or duodenal ulcers should only use this blend if under the supervision of a qualified practitioner.
More Resources
We cover tinctures in-depth in our FREE Tincture-Making Series, which will be running between February 16th and 24th, 2023. Each video is only live for 24 hours. If you miss a video—or want to re-watch the series at a later date—then you can unlock lifetime access by enrolling in ANY Herbal Academy course before February 26th! As a bonus, you'll also receive access to a tincture Troubleshooting Guide and a tincture recipe book after enrollment. 
We also cover tinctures in great detail in many of our online herbalism courses. Our Introductory Herbal Course is one of our most popular courses, and it's a great place to start if you want to get a strong herbal foundation in place. If you're a bit more experienced, then you may want to check out our Mastering Herbal Formulation short course. This unique course will teach you how to blend herbs together to create your own custom formulas and recipes. 
Related Blog Posts
How to Make a Tincture 
How to Make Herbal Glycerites: Tinctures Without Alcohol
Love Your Liver Herbal Tincture
First-Aid Kit Yarrow Tincture