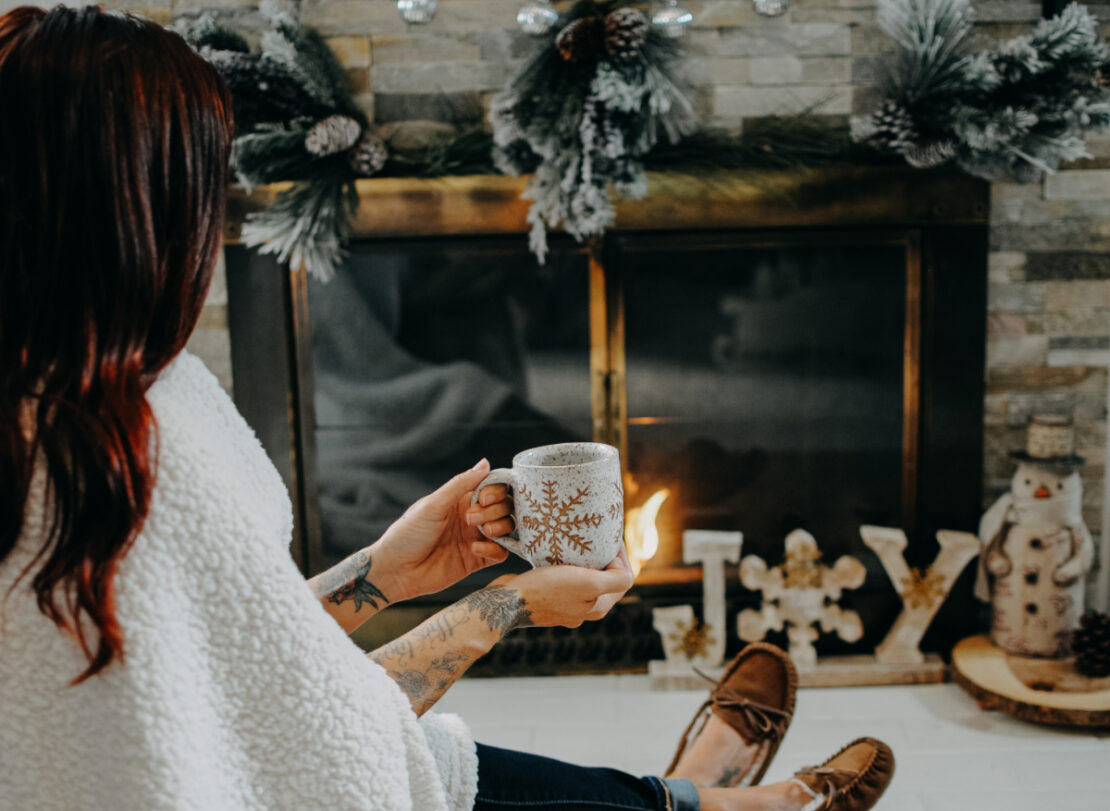 Astragalus Chai With Bone Broth
The fire is lit and roaring. Deep orange flames undulate and flicker as the cold white snow falls just outside your door. The days of winter shed a chill of lower temperatures. These colder months are a time for many to find a slower pace, to seek the shelter of the indoors, and to partake in nourishing, warming foods and drinks. One drink to add to your stovetop this winter season is this rich herbal chai tea recipe—a familiar favorite with added nourishing ingredients to get you through the winter. Read on for astragalus (Astragalus membranaceus) chai with bone broth!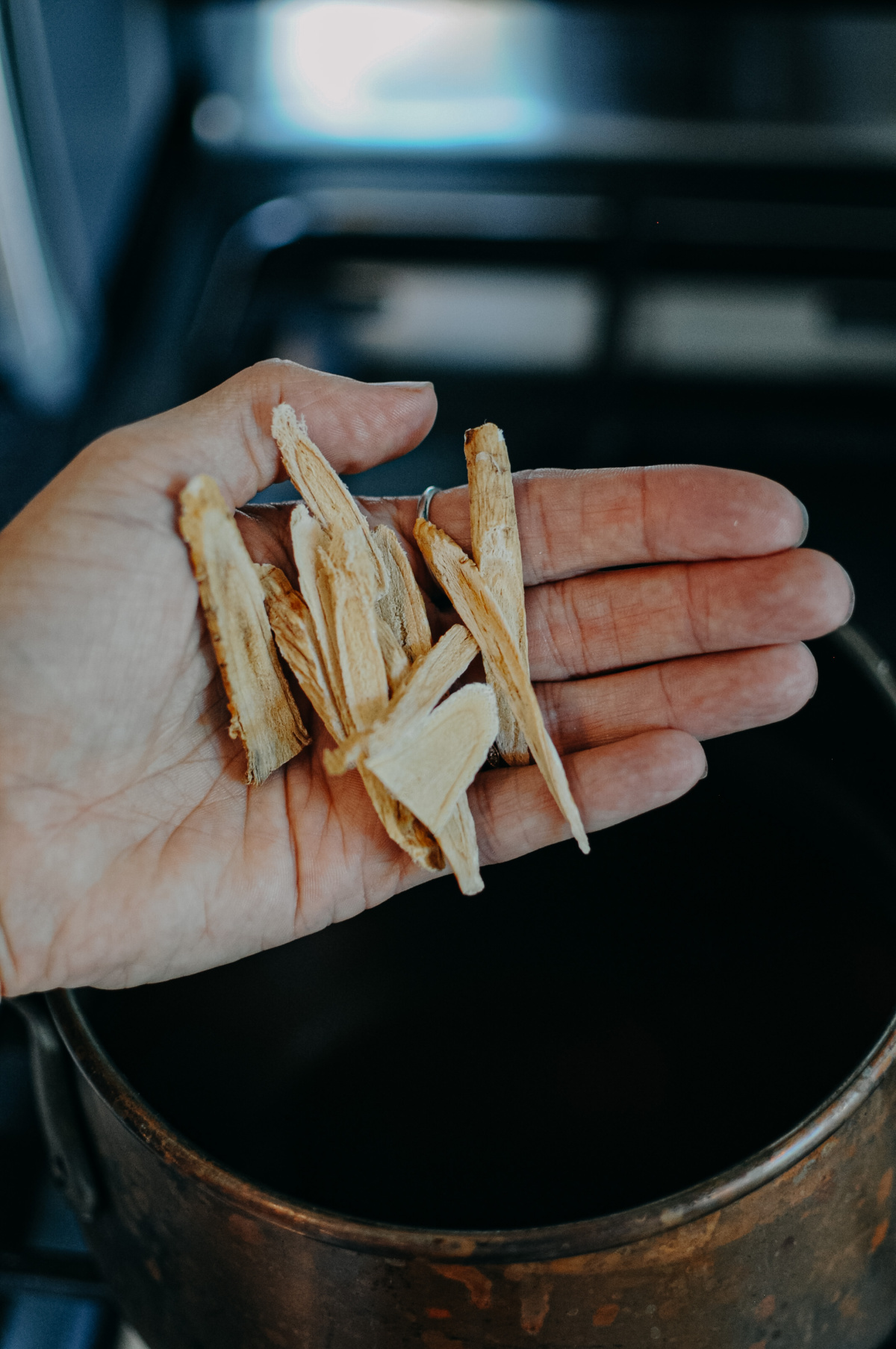 Astragalus: An Immunomodulator
Winter season is notoriously associated with cold and flu season. As you stock your herbal pantry in preparation, astragalus should be on your list! This hardy root has been used for years as an immune strengthener. Classified as an immunomodulator, astragalus balances the response of the immune system by either increasing or decreasing its activity as needed for a particular situation. Astragalus supports the body's natural ability to maintain wellness (Herbal Academy, n.d.). 
Fascinating that a root from the earth, when ingested, knows how to balance and regulate your body. As a budding herbalist, this concept of an herb working with your body to balance and regulate was new to me. I was familiar with immune stimulants and quite honestly thought any herb related to your immune system did, in fact, stimulate it.
However, immunomodulators are entirely different. Take the famed elderberry (Sambucus canadensis, S. nigra) syrup for comparison. Elderberry's effect on the body is by way of stimulating an immune response. The power of elderberries is that it helps to stop virus replication and strengthen cell walls to stop the virus from passing through (Herbal Academy, n.d.). These herbal allies are wonderful to take at the onset of illness to help fight and shorten the duration of the cold or flu. On the other hand, an immunomodulator, like astragalus, can be taken over longer periods of time prior to illness. This is more like the first line of protection—the shield.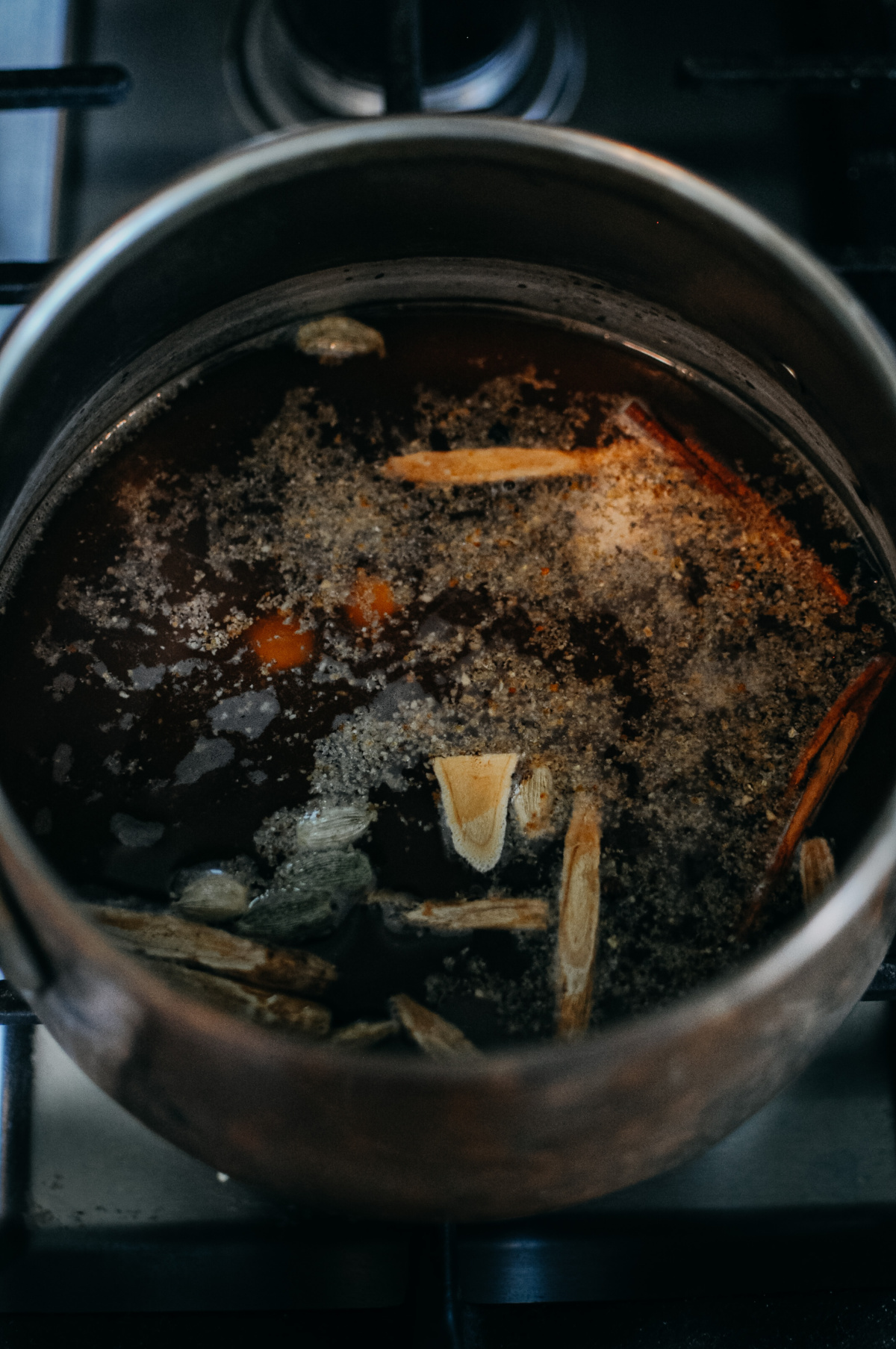 A New Spin on an Old Classic
The warming spices in masala chai are like getting a warm hug on a cold day. Cinnamon, cloves, cardamom, and ginger have deep roots in this traditional recipe, a recipe that is not only delicious but promotes wellness and support. I love masala chai for digestive help, immune support, and for its warming qualities. Creating a new spin on an old classic has brought a whole new adoration for this cup of tea! Traditionally, masala chai is made with black tea, spices, milk, and sugar. This is a spicy, nutritive take on the time-tested classic. 
Commonly, astragalus root is added to soups, broths, and decoctions. In this case, it makes a beautiful addition to a mug of warm chai. This recipe allows the fibrous root to slowly boil and soak into the warm bone broth, pulling out all those polysaccharides. Speaking of broth, you might raise an eyebrow if you haven't tried it yet, but bone broth as the base of this tea is a must! The nutrients and minerals found in bone broth are astounding. Bone broth contains calcium, magnesium, phosphorus, and amino acids (Johnson, 2020). These nutrients are important for overall systemic support and they are more digested in this form versus supplement pills.
Bone broth is a wonderful asset in the winter. Each sip is like taking in a nourishing dose of earth medicine. This also adds a layer of complex flavor to your chai that you didn't know you needed. For this recipe, I chose a dark beef bone broth, but a lighter version would be chicken bone broth. To keep this plant-based, omit the bone broth and use water as the base, or find a beautiful mushroom broth recipe here to try.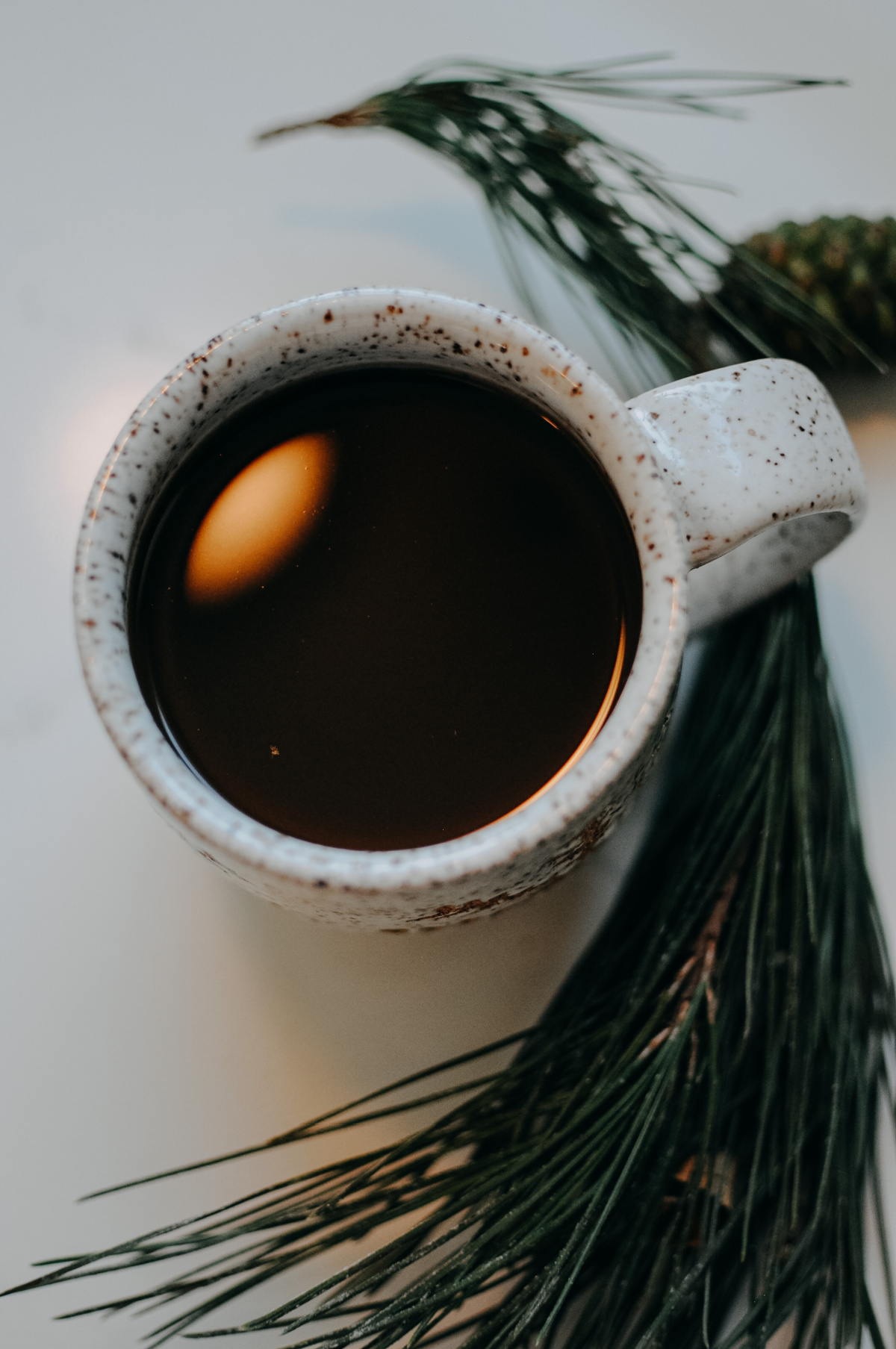 Cozy Up By The Fire
Astragalus Chai with Bone Broth
The next chill that rolls through, remember this recipe and pour yourself a mug, and cozy up by the fire.
Yield: 10-12 ounces.
Ingredients
2 cups of bone broth (or water/vegetable broth/mushroom broth)
10 pieces of astragalus (Astragalus membranaceus) root
2 slices of fresh ginger (Zingiber officinale)
2 sticks of cinnamon (Cinnamomumverum, syn. C. zeylanicum)
3 clove (Eugenia caryophyllata, syn. Syzygium aromaticum) buds
2 whole black peppercorns (Piper nigrum)
½ teaspoon of dried orange peel
6 cardamom (Eletteria cardamomum) pods, crushed 
Directions
Add all ingredients to a pot.
Set stove on medium-low.
Allow decoction to slow boil for 30 minutes. 
Using a fine-mesh strainer, filter out the solids and pour liquid into your favorite mug.
Wrap yourself in a fuzzy blanket and enjoy some tea by the fire.
Sip & enjoy!
Note: This recipe can be doubled and divided, it will keep in the fridge for up to three days.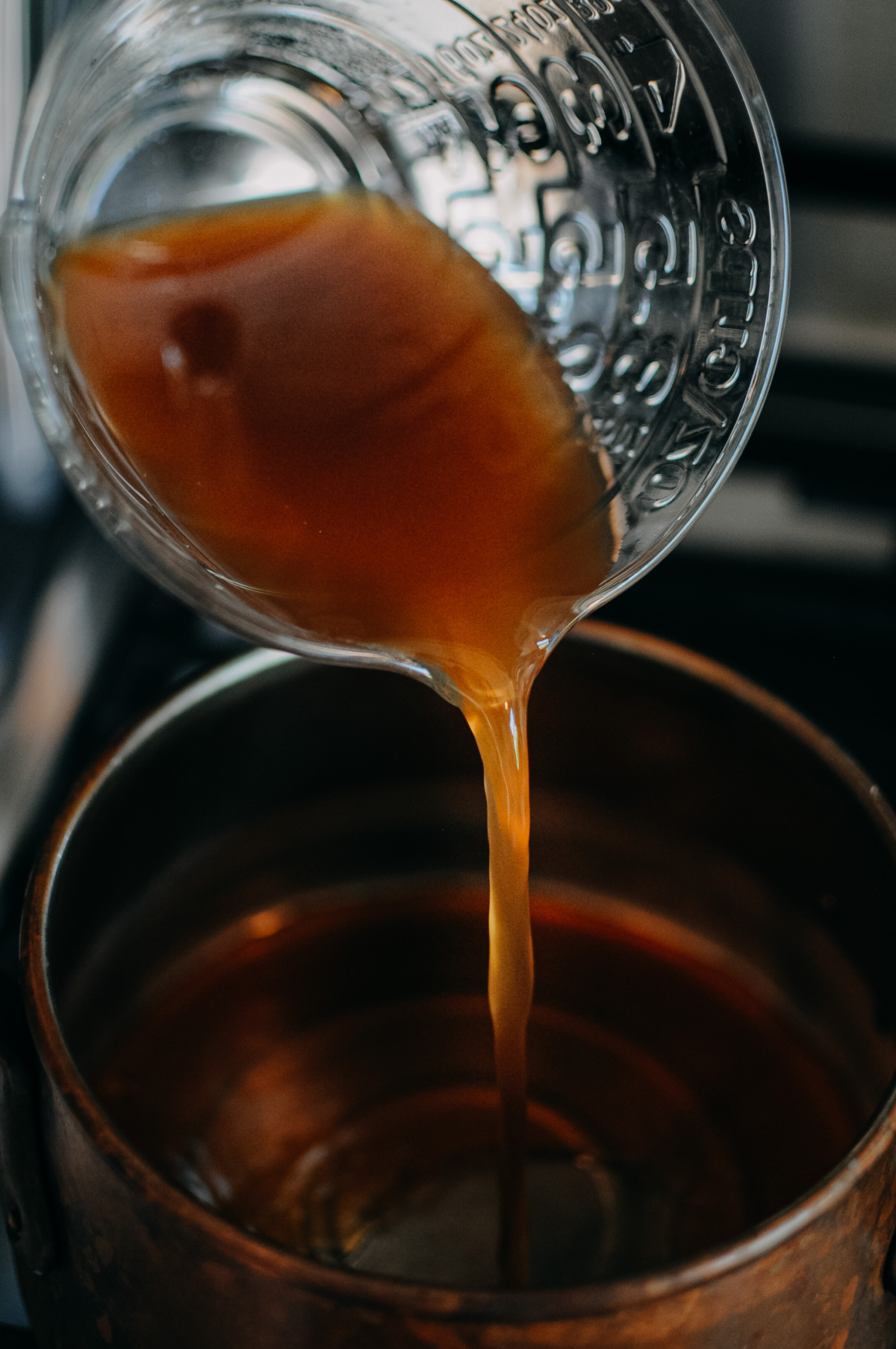 In Closing, 
This dark liquid is your wintertime best friend. Nourishing, warming, and delicious, the sweet taste balances with the savory and each sip is a unique experience.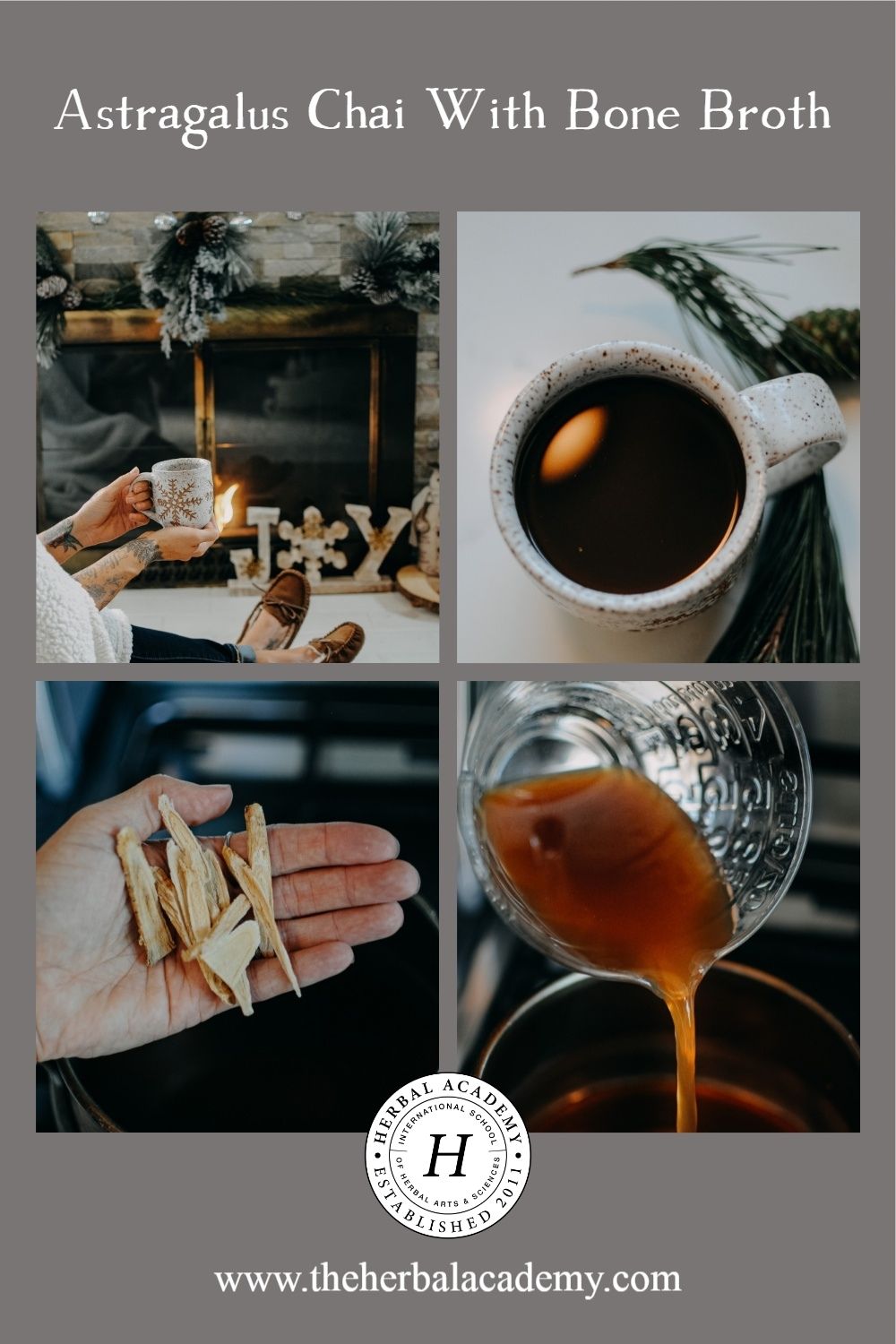 REFERENCES
Herbal Academy. (n.d.). Astragalus monograph [Online Article]. Herbal Academy Herbarium. Retrieved from https://herbarium.theherbalacademy.com/
Herbal Academy. (n.d.). Elder monograph [Online Article]. Herbal Academy Herbarium. Retrieved from https://herbarium.theherbalacademy.com/
Johnson, J. (2020). What are the benefits of bone broth [Online Article]. Medical Newsweek. Retrieved from https://www.medicalnewstoday.com/articles/323903