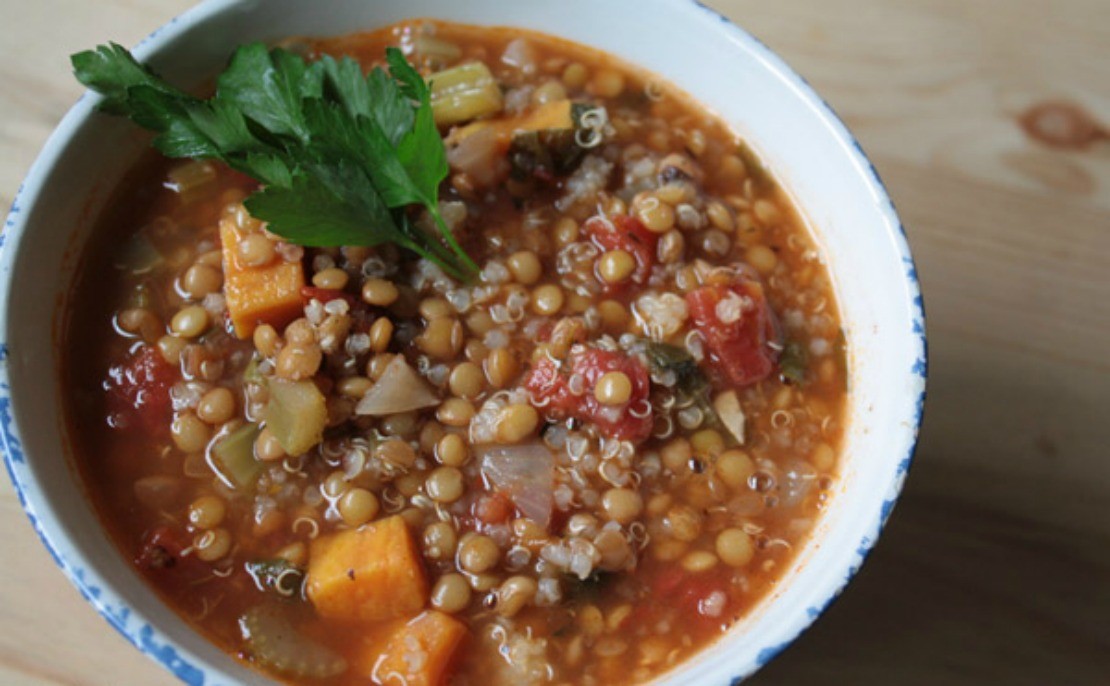 14 Soup Recipe Ideas For Winter
It's February – although we are starting to see the light at the end of the tunnel, it appears the winter chill will be dragging on for several more weeks. So how do you beat the cold? A steamy cup of soup can warm you up from the inside out. Here are some of our favorite healthy soup recipes for the season, gathered from many of our favorite bloggers. Do enjoy!
"Good soup is one of the prime ingredients of good living. For soup can do more to lift the spirits and stimulate the appetite than any other one dish."
– Louis P. De Gouy, The Soup Book 
Best Healthy Soup Recipes
… With a kick! This recipe, by Director Marlene Adelmann, is one of our favorites here at the school.
Pictured above, this recipe is by Lisa, Herbal Academy of New England teacher and blogger at the The Vegan Pact. Super textured, simple, and packed with veggies.
This baked potato leek soup is a pretty generic but yummy vegan soup. Because of its sheer deliciousness and simplicity it's easy to see why it is so desired!
A vegan soup that will surely delight!
Our friends over at Schneider Peeps shared this soup recipe on their website last winter. Add a dash of cayenne pepper if your family is suffering from congestion.
Kohlrabi soup is an easy, healthy recipe and a great way to use this unique vegetable. Learn about the German cabbage and get the recipe at the link.
This rich and flavorful vegan soup isn't lying about the "spectacular!"
This healthy, nutrient-packed soup is one of our own! Pictured above.
Since buttercup squash is a winter crop, with proper storage, it can last up to 4 months! Visit the Five Little Homesteaders to get the recipe!
Roasted Tomato and Veggie Soup with Rice and White Beans
You can't go wrong with white beans, kale, and fire-roasted tomatoes. This soup has all three!
Even if you don't like butternut squash, you'll like this recipe!
This recipe by Learning and Yearning looks fantastic. To make this soup a vegetarian dish, simply replace the chicken broth with vegetable broth.
Here's another recipe that can be made vegetarian by substituting chicken stock with veggie. Check out the Homesteading Hippy's website for the full recipe.
These images will win you over, if not the ingredients included in this recipe. This is a must try!
Soups and Stews Cookbooks
So you want more soup recipes? Here are several soups and stews cookbooks that you may be interested in!
The 30-Minute Vegan: Soup's On!: More than 100 Quick and Easy Recipes for Every Season. Prepare to feast upon a wide array of plant-based soups, from consommés to stews, and chowders to raw and dessert soups.
Vegetarian Soups Cookbook: Delicious, Healthy and Easy Recipes for the New and Seasoned Vegetarian, an ebook by Lisa Graham. With over 25 of the best vegetarian soup recipes to choose from, the only problem you'll have is deciding what to try first!
Soup of the Day (Williams-Sonoma): 365 Recipes for Every Day of the Year. From January to December, you'll find daily inspiration and a seasonal soup that will satisfy any craving or fit any occasion!
What soups are you making this time of year?